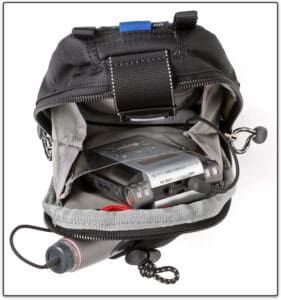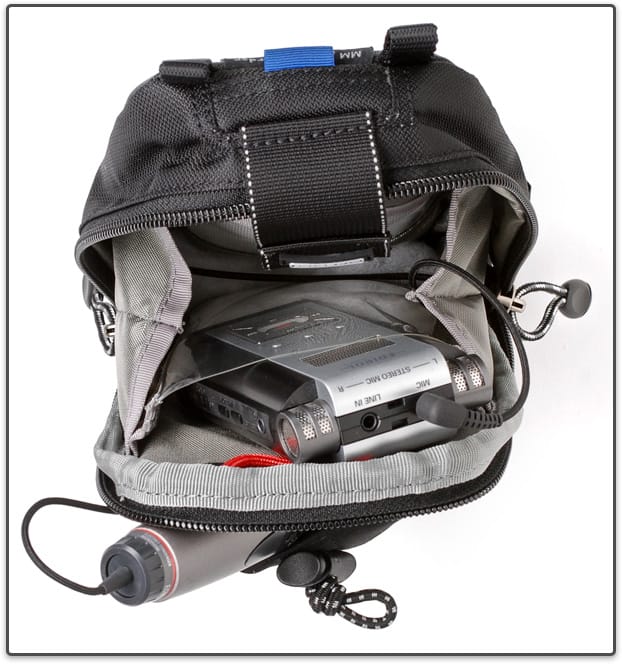 The Audio Recorder is part of Think Tanks new multimedia Wired Up collection.
The on board microphones on many cameras and video cameras just don't cut it. Many multimedia professionals use separate audio recording devices that produce much higher quality sound. Sound,although often overlooked, is a huge part in any video production and many photographers are looking to record ambient sound these days to play along with sideshows.
The Think Tank Audio Recorder is the perfect size for recorders such as the Zoom H4N or the Edirol R-09HR.
A stretchy front pocket can be used to store a microphone and a handy magnetic closing tab can be used when you want to keep the main zip open, but still be able to access the recorder quickly and store it securely. As with the other bags, the Audio Recorder has exit and entry holes for cables at the top and the bottom.
If you decide to purchase any of the bags, Think Tank has a special offer on at the moment. If you go to their website here and enter the promo code AP-316 you will be able to claim a free bag when you get to the checkout!!
Support the site - It's easy!
Did you find this post useful and interesting?
- I've invested thousands of hours into creating the content you find for free on this blog. The best way to say thanks is to use the product links in the post when you make your purchases. I may make a small commission when you do this, and that helps to keep the site running. Click
here
to find more links that support the site, or use these primary ones:
B&H Photo|Amazon|Adorama|Think Tank (free gift on $50+ spend)|MindShift Gear (free gift on $50+ spend)
|
Coffee
Thanks for your
support
and readership!