This winter I set about improving my winter camping setup so that I could spend time in a few new locations for some winter wildlife photography. Aside from getting a new tent (which I'll talk about at a later date) the biggest challenge for me was finding a suitable extreme temperature sleeping bag.
There are a lot of options on the market if you're looking for a -18C (0F) sleeping bag, but should you require anything colder than that, your choices are severely diminished. With temperatures in the Yukon dropping to below -40C at many points in the winter, I was definitely going to need something that was rated below -18C.
An interesting fact that I learnt in my research was that the EN temperature rating system for sleeping bags actually doesn't go below -40C. So when I bag says that it's rated to -40C, that might mean that it can comfortably handle temperatures even colder than that, but the only way to know that would be to test it yourself. Of course, these temperature ratings are also a little subjective and you need to understand your own body as well. The ratings are supposed to be the limit of the bag, and not the "comfort rating", but how that works for you will depend on whether you are a hot or cold sleeper.
So what happens if you want to sleep outside in temperatures in the range of -40C (-40F) in comfort when all of the sleeping bags are only allowed to put a -40 limit rating on them? In theory for comfortable -40 sleeping, you should have a bag that has a limit rating of -50 or below, but the scale doesn't go that far…
The best thing you can do is prepare to wear layers to adjust a -40 bag to your own body. Personally, I sleep very hot at night so I know from previous experience that I tend to be comfortable in bags at their limit rating. I was confident that with a good -40 bag, I could sleep in it comfortably at -40, and if it got colder I would have dry layers ready to add more warmth.
As I mentioned, you are somewhat limited in choice when it comes to this sort of admittedly very niche style of camping. You will find your choice is probably going to come down to bags from Rab, Marmot, Western Mountaineering, Mountain Hardware and The North Face.
Depending on where you live you might find it hard to get actual hands-on time with all these bags. While they are freely available online, they aren't regularly stocked items in most stores due to their niche nature. Thankfully where I live, it's bloody cold and our local store actually did have quite a few for me to have a look at!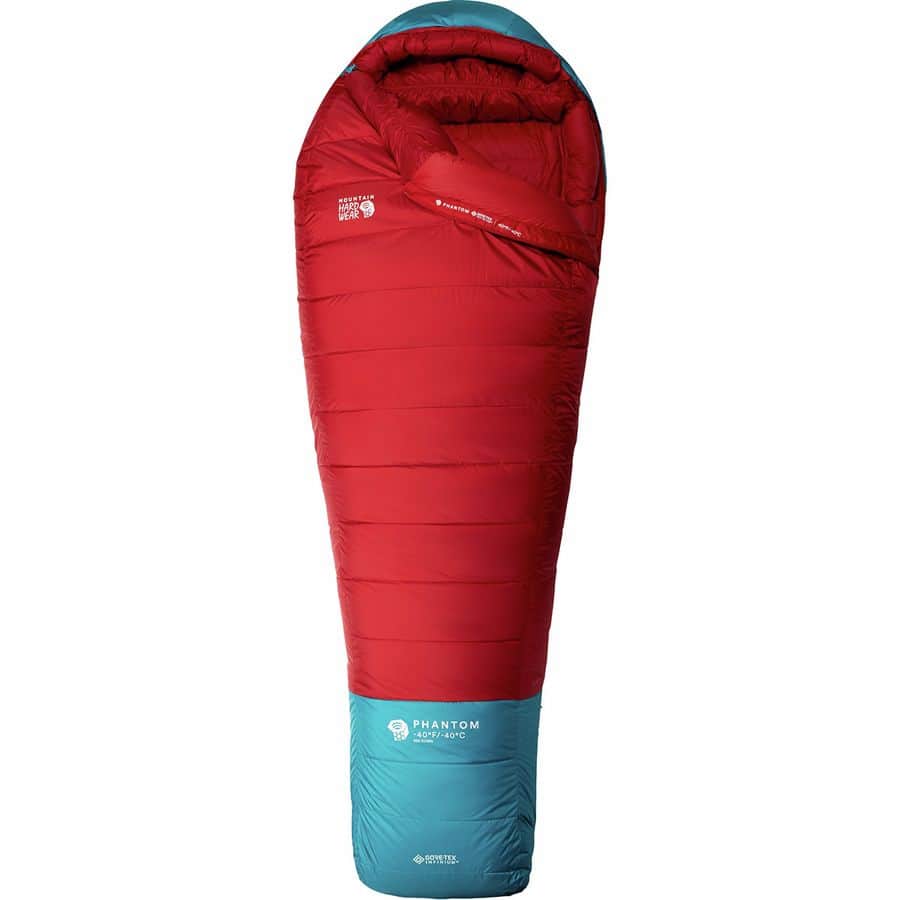 Gore-Text sleeping bags aren't all that common but you will find cold weather bags with this material from Mountain Hardware and Western Mountaineering. Gore-Tex can help prevent the down inside the bag from getting wet and losing its insulating properties, but it does come at the expense of slightly decreased breathability so you have to keep that in mind. I often find that snow finds its way into a tent one way or another during the winter, usually when getting in and out. Gore-Tex will help to keep that moisture out of your bag, and also help if you get a lot of condensation on the outside of the bag. In a pinch, it also means that you could bivvy down in the snow on a sleeping pad and manage to keep things relatively warm and dry.
In terms of bag fit, I also loved how long the Mountain Hardware Phantom bag is. They purposely designed even the regular length of the bag to be much longer than a normal bag so that you have plenty of space to put things like water, fuel and clothing at the bottom of the bag to stay warm. I would estimate there are about 12-16 inches of additional space at the foot compared to regular lengths, and it really makes a difference to have that space at night so that you care sleeping amongst all of that stuff. I can easily put it at the bottom and then not find myself rolling over to find a fuel canister in my armpit at night.
On top of length, I also liked the wide fit at the shoulders for the -40 version of this bag. They also make a -18 version but be warned that the fit is quite different for that one! With the -40 version of the Phantom Gore-Tex bag, there is a huge amount of room around the shoulders which allows you to easily wear a large down jacket if you need more warmth. I have very broad shoulders so I also appreciated this for regular usage.
So, does it keep me warm? You bet!
As luck would have it, temperatures were right around -40C when I first got the bag, so I stripped down to my underwear (much to my partner's amusement) and went onto the deck of our house to have a nap in my new bag. I simply put down a sleeping pad on the snowy deck and went to sleep for an hour or two. Since I was wearing so little during this test, it would immediately alert me to any spots on the bag that were allowing a cold draft into the bag. Thankfully there were none, and I was super cosy!

Since then I have used the bag several times for actual winter camping, and I'm thrilled with it. At around $900 this is a serious investment, but at these temperatures, you are trusting this thing with your life so when you put it like that, it seems like a fair price, right?
The only precaution I take is to vent the bag through the zipper when I first get into it after I have been exerting myself heavily. This allows moisture to escape as your body cools down after the exertion.
This bag is so comfortable that one night when I woke up in my wildlife blind when temperatures outside were about -25C, in the pitch blackness I had one of those confusing moments where you aren't quite sure where you are. At the time, my first thought was "huh, that's odd, I could have sworn I was camping in my blind. But I can't be, I'm much too work and cosy, I'm definitely at home in my bed."
I kid you not! At that moment I was so comfortable I thought I was at home in bed.
So it's a big thumbs up for the Mountain Hardware Phantom Gore-Tex -40C/F sleeping bag from me. It's a new bag for them (19/20 winter season) so there aren't any other user experiences out there at the time of writing this, but I can tell you I have nothing but good things to say about it. It's tough, well stitched, warm and free from drafts and cold spots. Well worth the money in my opinion.