Once again Peak Design have been breaking records on Kickstarter and with their latest product they are now expanding into the tripod sector.
Incredibly, the new Travel Tripod raised over $12million during the campaign!
Whilst the tripod won't be available to the public until the end of this year (2019), Peak Design have sent one to me for evaluation and I wanted to share some initial thoughts on it. Whilst the Kickstarter campaign is now over, people who missed out on that can still place a pre-order on Peak Design's website so that they can secure a place in line when production versions arrive.
Initial Thoughts on the Peak Design Travel Tripod
I'm about to head off on a two week photo expedition to the Arctic Circle, and I'm packing the Travel Tripod in my bag to give it a thorough in-the-field workout. Before I head off though, I wanted to write down a few initial thoughts just in case people are considering jumping right in on the pre-order lineup now.
After unboxing it, the first thing that strikes you is the compact closed length of the tripod. It's a couple of inches shorter than anything else I have used, and that's including the head. The whole thing feels quite substantial though, and actually a little heavier than I expected it to. Fully collapsed, this is a solid little bundle of carbon and aluminum!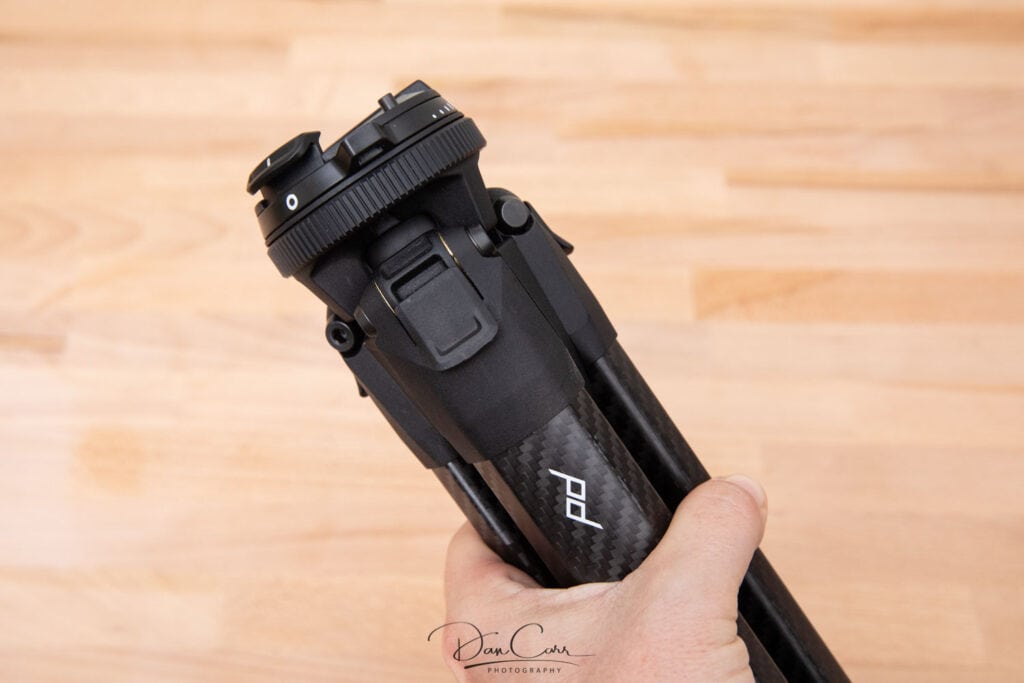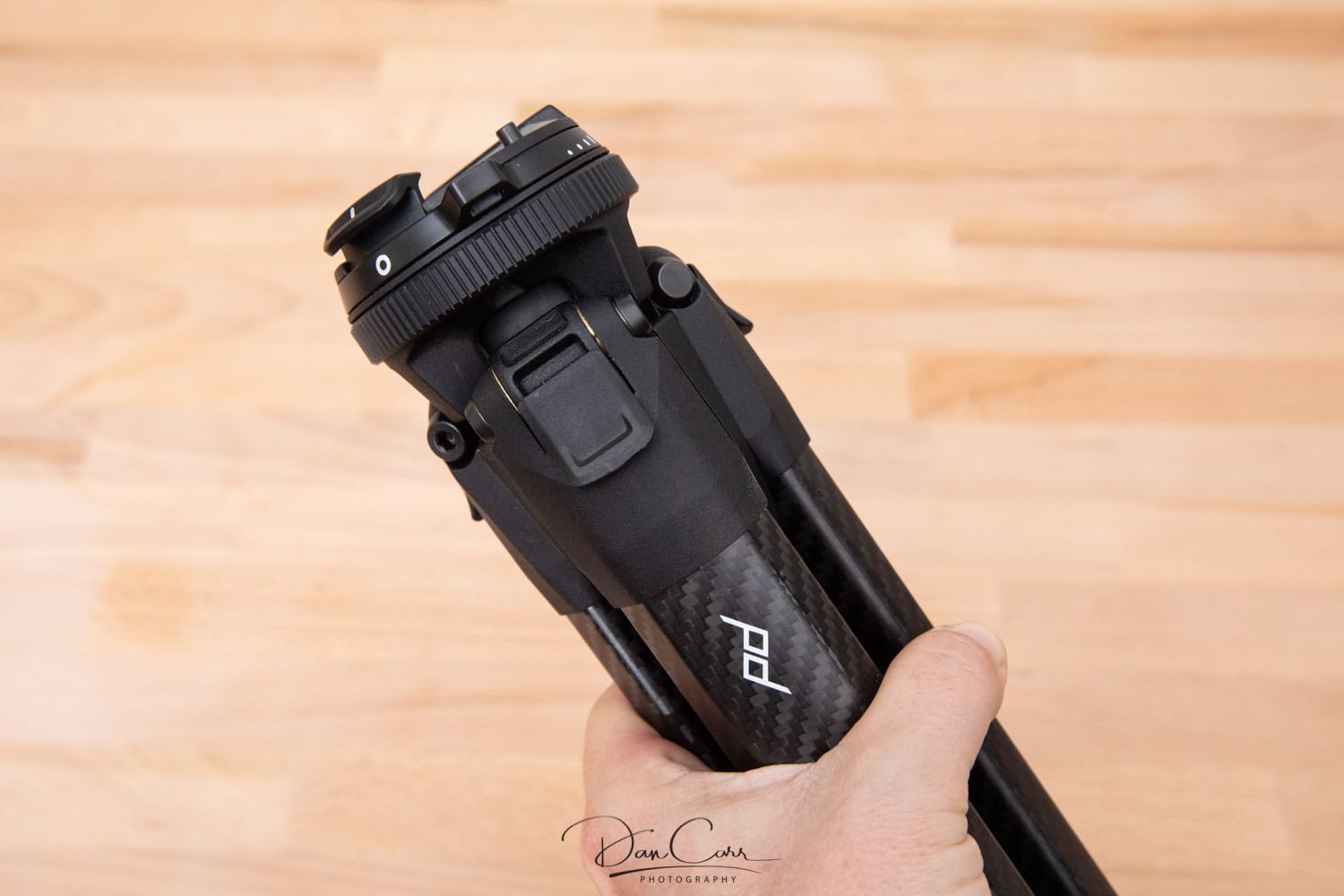 My fingers immediately went to the knurled ring about the head and at this point I realized that you actually have to raise the centre column of the tripod in order to move the head at all. When you see the design of it up close it's clear why, but it's a bit of an annoyance for those that don't want to use the centre column.
Raising the centre column is done by releasing another small knurled knob on the side, and at this point I found that the column is actually very sturdy. In photos is looks skinny and I had concerns about how it might flex, but it's actually very solid and it certainly made me feel more comfortable using it. With other travel tripod I usually don't bother with the column as it adds another point of flex and instability, but the one on the Peak Design Travel Tripod is very good.
The legs are locked together with a set of aluminum levers. They are sturdy, and seem to contribute quite a lot to the weight of the tripod. I guess they didn't use polycarbonate locks so that they could create the wrap-around shape of the levers. This has kept the diameter small, but perhaps the weight higher than it could have been. Swings and roundabouts, as they say.
With the leg lever unlocked, the extension of the legs is quick and smooth. It's really no quicker than unlocking the circular collars found on Gitzo and RRS tripods, though.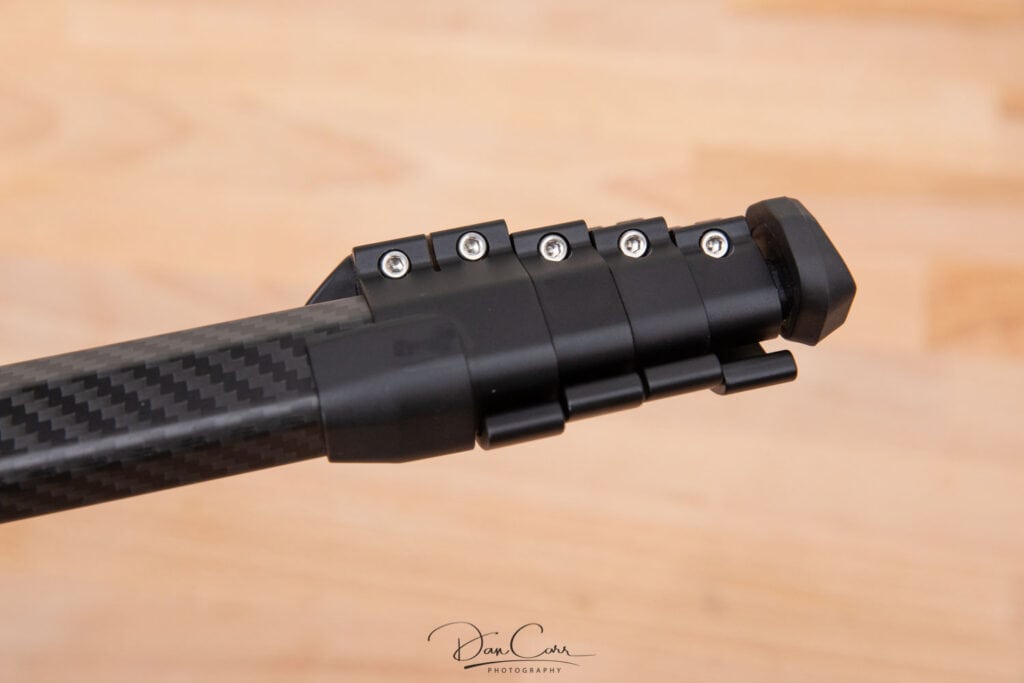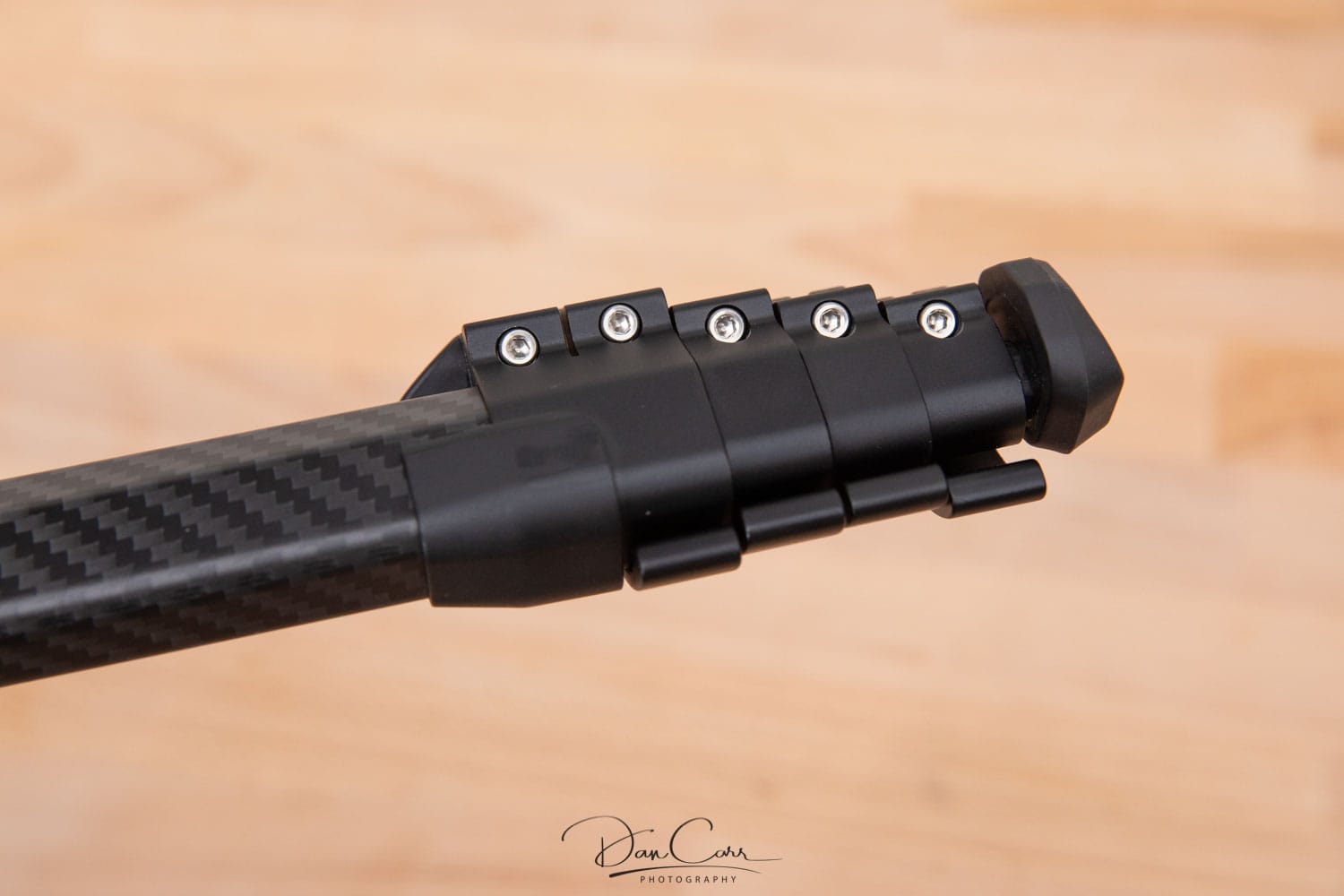 With the legs fully extended I then got a chance to see just how skinny the final leg section is, and boy is it skinny! I mean like, REALLY skinny! When force is applied directly downwards from the tripod head, the legs do a good job at stabilising the load and not flexing, but if there is any lateral load applied to the extended legs, this skinny leg design does show weakness and flexes more than I was expecting.
In most normal operation, it's likely that wouldn't be an issue but I would not expect to get great results outside on a very windy day where this will lead to vibrations, and I would be careful about having too many of the leg sections extended when playing "tripod yoga" and positioning some or all of the legs at odd angles.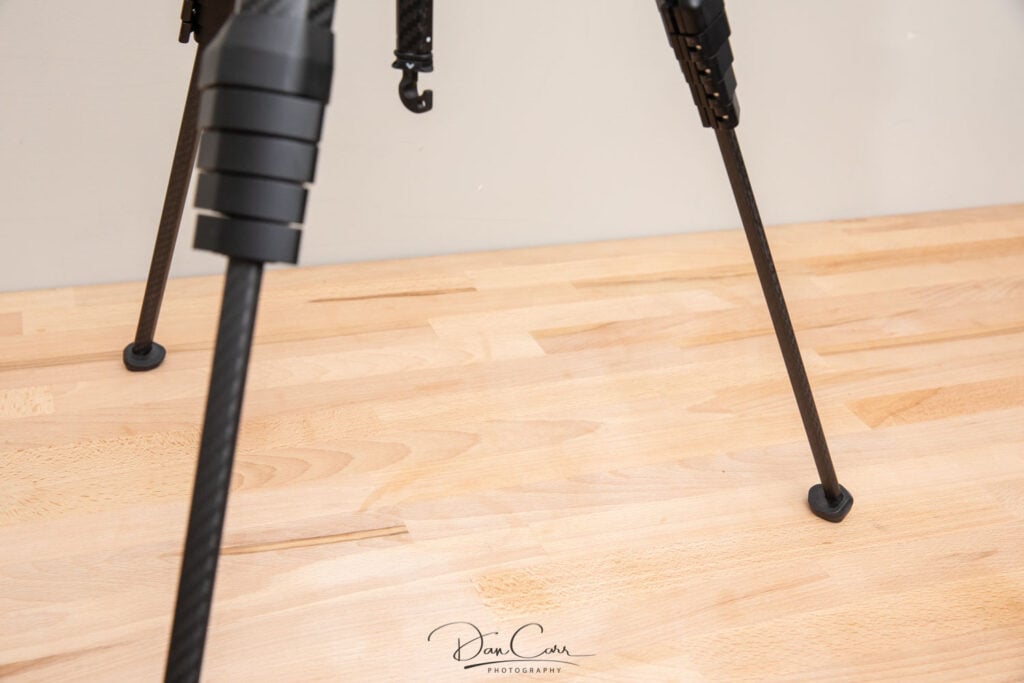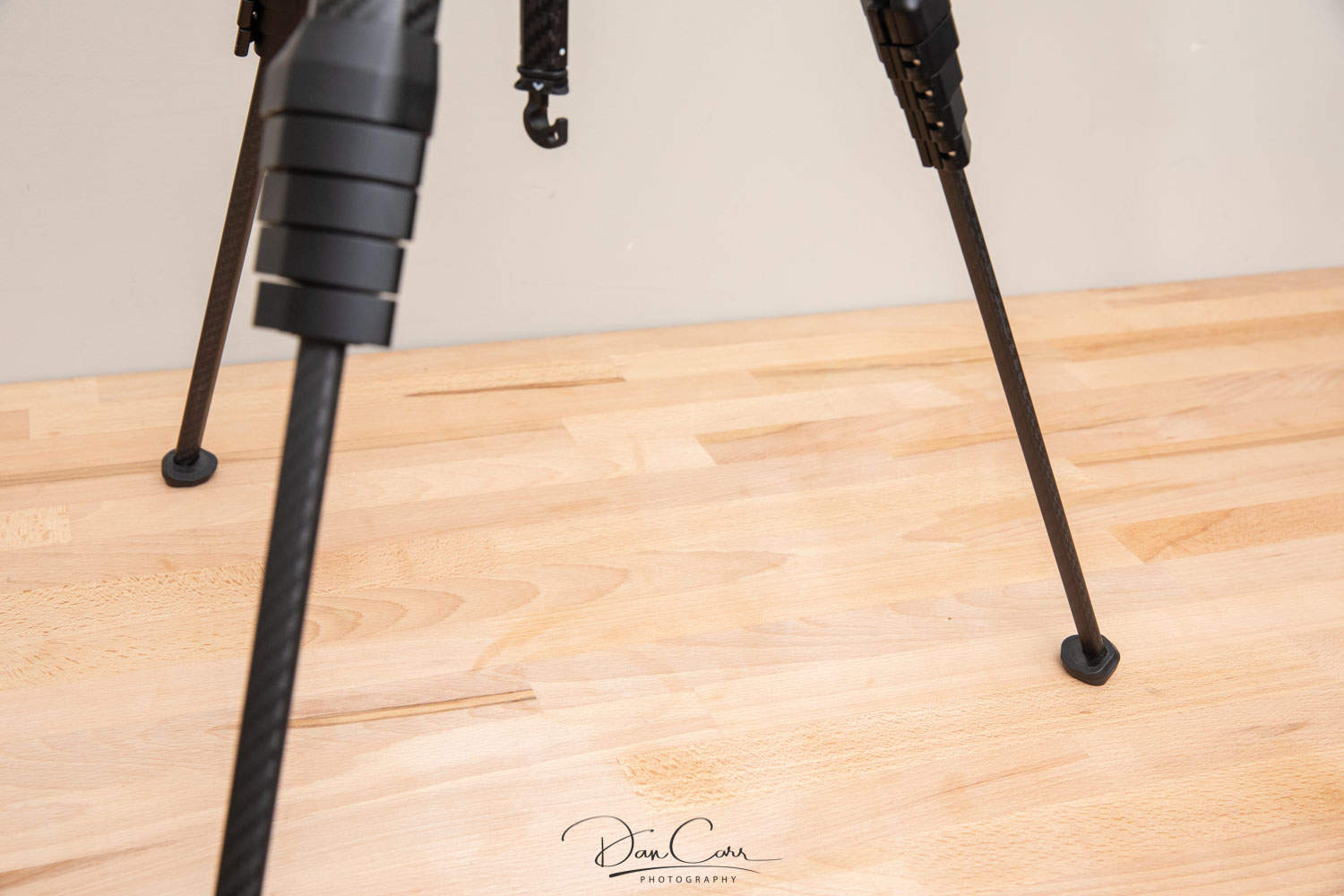 There's no such thing as a free lunch, and the design that was necessary to make this tripod so small has understandably compromised the leg stability when they are fully extended.
That said, you have to remember what this tripod is. It's a Travel Tripod! That means that making it compact and lightweight was a primary design consideration. If that's what you need, at first glance it appears to be a great product. What I don't want people to do is to think that Peak Design have entirely reinvented tripod, and that this tripod and the fanfare it has received online, means it can replace ANY tripod. It can't. There are many larger and more stable tripods on the market, and it's up to you to decide whether you are going to prioritize stability or travel friendliness.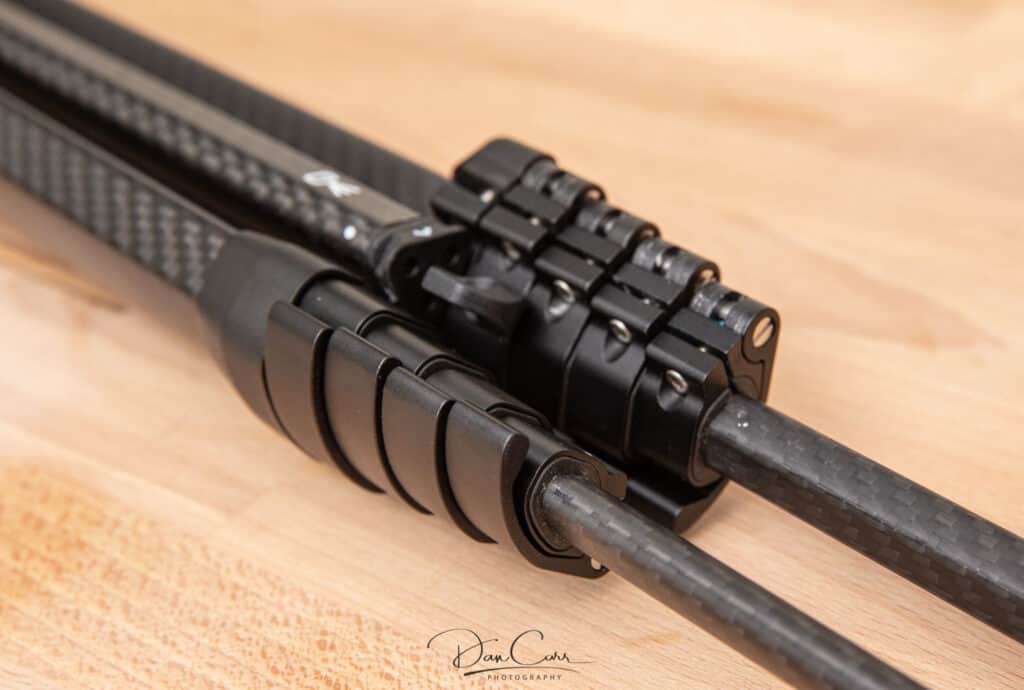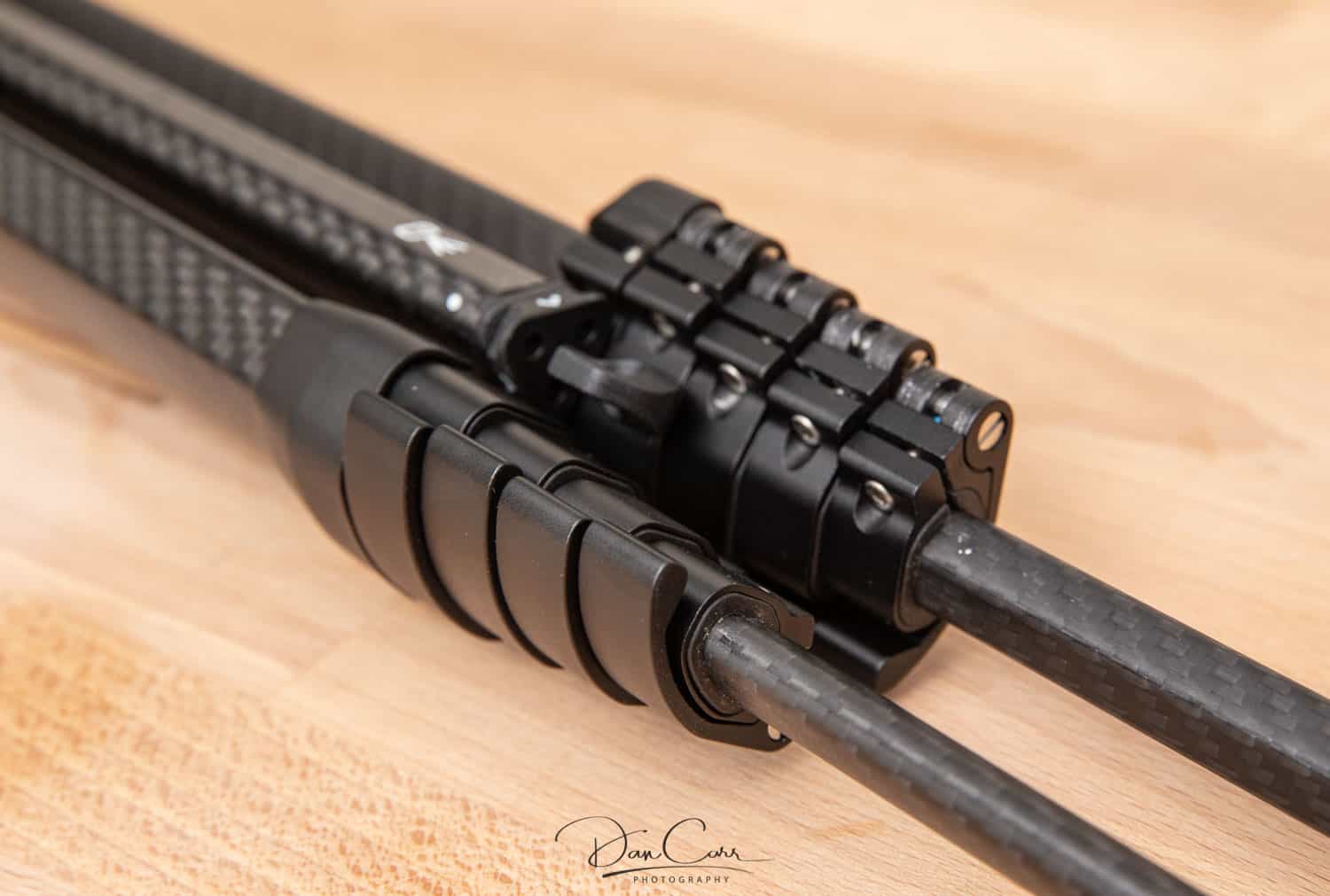 Built-In Head
While the tripod size is impressively small compared to most other options on the market, it becomes even more impressive when you consider that you don't need to attach a ballhead to it if you don't want to.
The Travel Tripod has a built-in head which accepts any Arca-Swiss tripod plates. This head unlocks by turning a knurled ring just beneath the arca clamp and once loosened, the head is free to move in just about any direction. Having tested this head with a wide variety of camera/lens weights, I can say that the ball locking mechanism is extremely solid and I experienced no creep, even with a 400mm super telephoto attached to it on a Canon 5D Mark IV.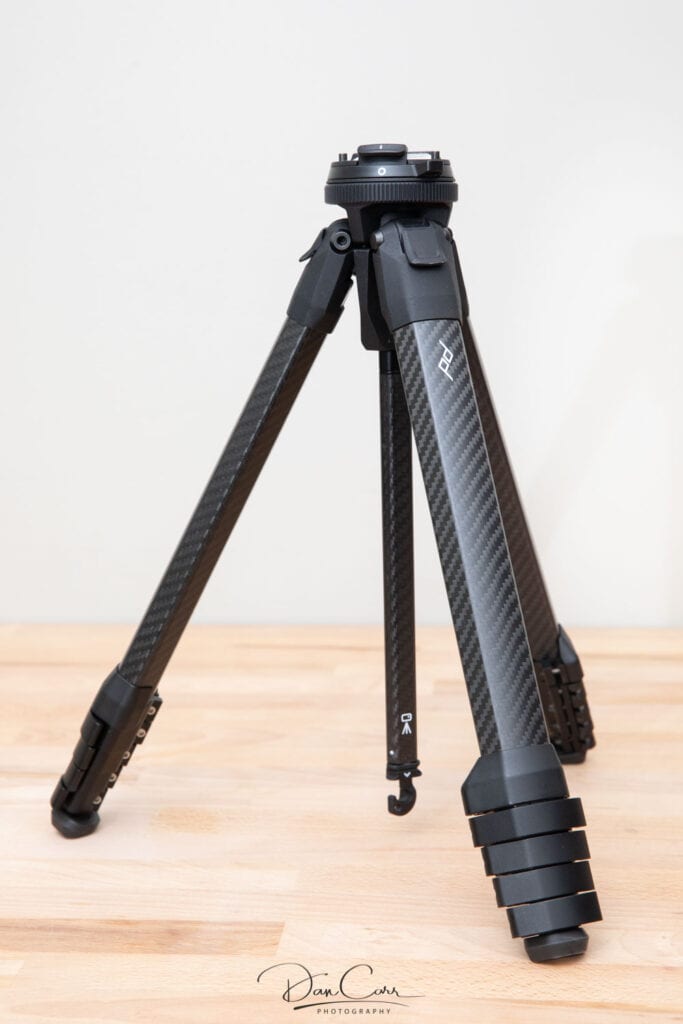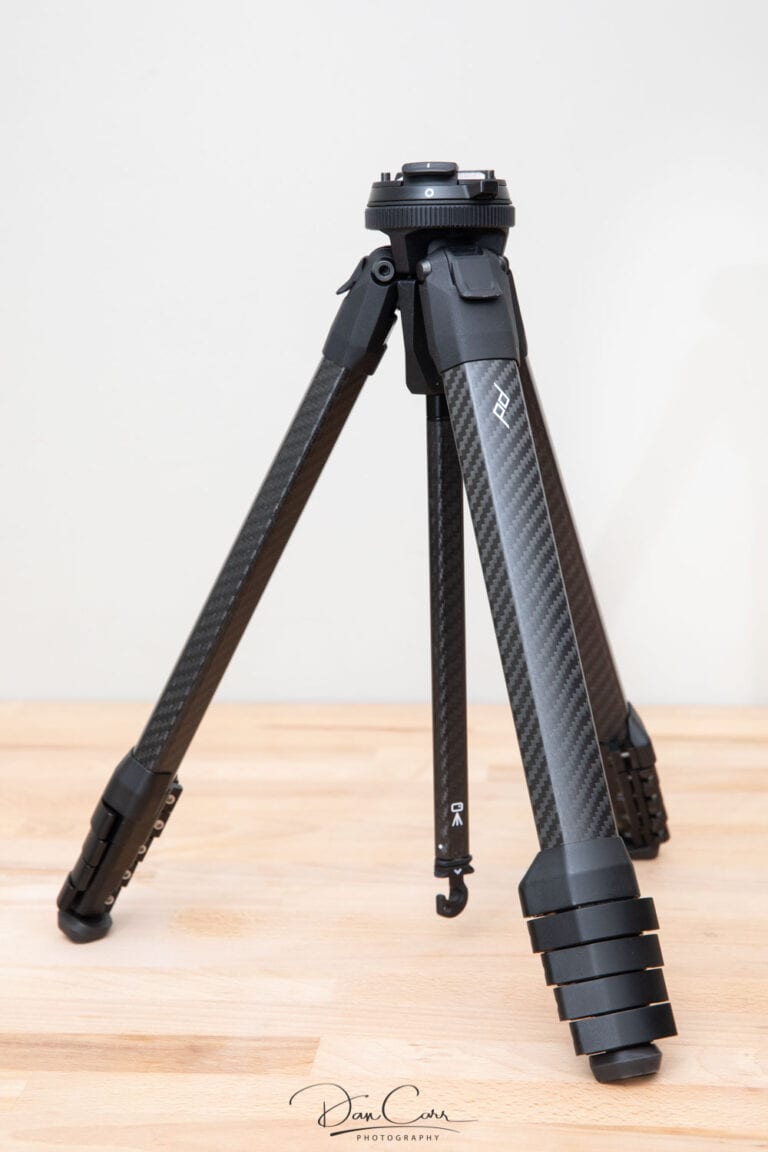 In fact, after the compact design, I'd rank the strength of the head locking mechanism to be the second most impressive feature of this tripod. Proof that the head wasn't at all an afterthought, and that it is an integral part of the Peak Design Travel Tripod product and experience.
When it comes to overall stability of the tripod/head combination, the head is definitely not a weak point in this package. It's going to hold almost any combination of camera and lens you can throw at it. The weak point (as with most travel tripods) is going to be the flex in the legs, and leg vibration on windy days.
If already have a favourite ballhead that you'd like to use on the tripod, don't worry, you can simply attach that to the built-in head and then the Peak Design head effectively acts as a levelling head beneath your ballhead. If you're a fan of taking panoramic photos, you'll probably already know how useful a levelling head is. Usually that would be an extra accessory you'd need to buy for several hundred dollars.
Stay tuned for more about this cool new tripod on my return from the Arctic!
Compared to the RRS TQC/TFC-14 Travel Tripod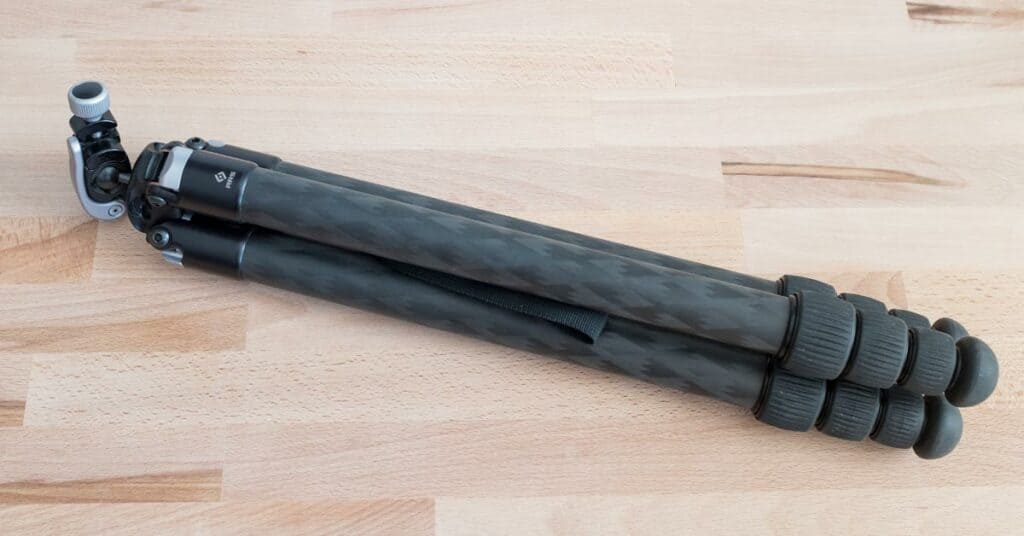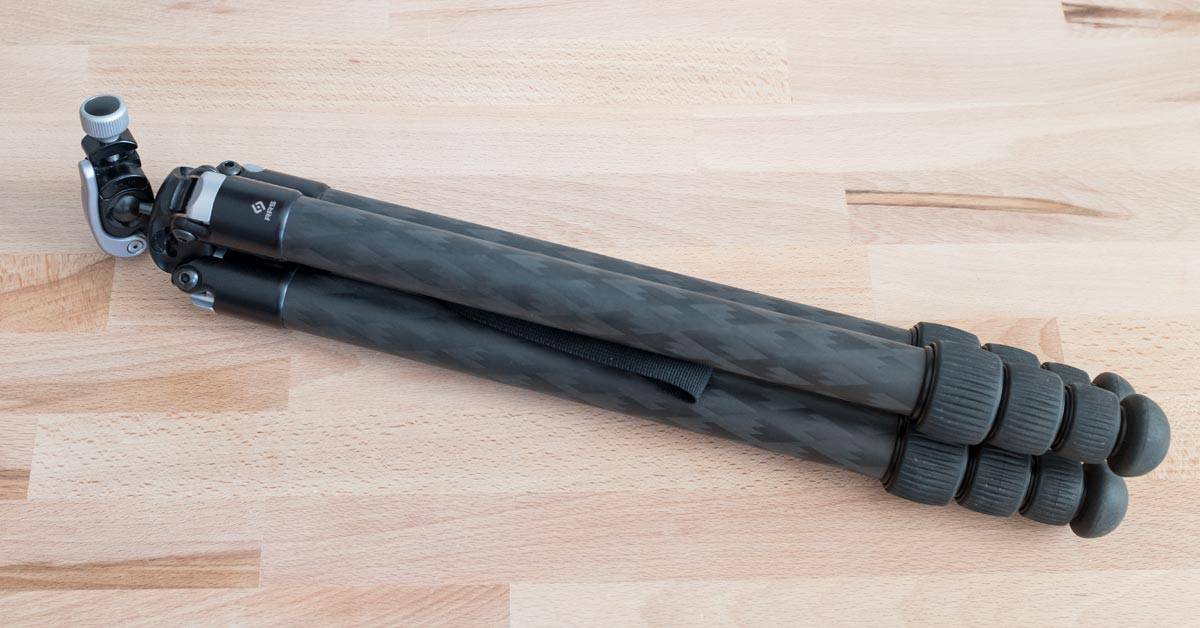 As soon as I posted on my Facebook page that I had this new Peak Design tripod in my hands, someone asked how it compares to the Really Right Stuff Series-1 tripods. I have written about these RRS tripods a lot in the past, so I can understand why someone might ask that question right away. In fact I've long said the RRS TQC-14 and TFC-14 are the best tripods to take backpacking.
The RRS tripods are very slightly longer than the PD Travel Tripods, but they actually weigh marginally less for the TQC-14 (this one has a centre column), and quite a bit less for the TFC-14 (no centre column). 2.4lbs vs. 2.8lbs. These are of course the carbon weights. The Aluminum PD Travel Tripod and the Carbon RRS tripods are not in the same league so I won't even bother comparing them.
The folded diameter of the RRS tripod is 3.9 inches which is pretty small, but the PD Travel Tripod does have it beat there, with a diameter of 3.2 inches. In terms of extended height, it's almost a tie with the centre columns extended. Certainly not a big differentiator.
In terms of stability, the RRS tripod wins hands down. Putting the tripods next to each other with legs fully extended, the RRS tripods have markedly less flex in their legs. You can see right away what the impact is of the PD tripod having such skinny lower leg sections. Yes it helped it get that impressive 3.2 inch collapsed diameter, but it is at the expense of some stability.
The RRS TQC-14 tripod is $935, compared to the $599.95 of the Peak Design tripod, so it shouldn't come as any great shock that I would still say the RRS is the best tripod of this kind on the market. However, the Peak Design tripod is clearly very good, extremely compact and much more likely to be within people's budgets. With taxes in, the RRS tripod tops $1000 and that's a tough pill for a lot of people to swallow.
Peak Design Travel Tripod Orders
You can place an order on the Peak Design website.