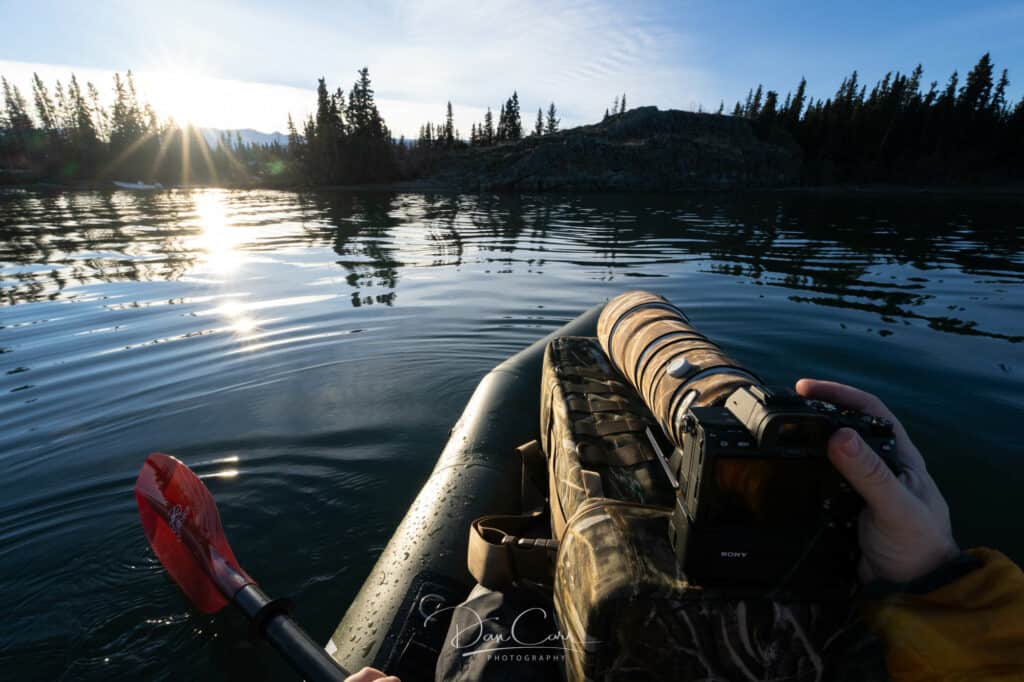 People are always interested in the gear that I use to create my images. Below is a detailed list of all the most important items that get regular use. If it's on the list, it's something I use myself and would recommend. There are even a few deals on some of the items that come from brands that support my work.
Table of Contents
Cameras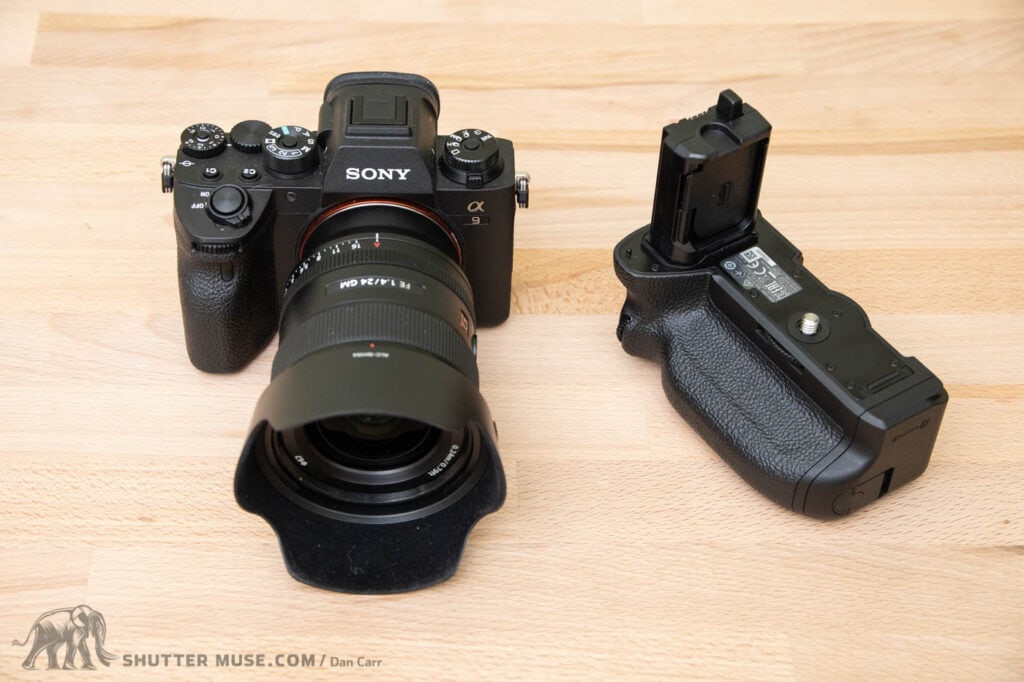 Since switching from Canon several years ago, my Sony system has grown and evolved. Currently, my primary camera is the astonishingly powerful Alpha 1. The a1 delivers everything I have ever wanted in a camera. For the first time, I wasn't forced to choose between speed and resolution. The 50MP sensor has exceptional dynamic range, and the 30fps shooting speed is paired with an incredible focus system. This is by far the best camera I have ever owned. A real do-it-all workhorse that Sony has somehow managed to pack into a small mirrorless body. It even shoots 8K video.
I also own an a7S III which primarily gets used for video work, time-lapse work and as the studio camera for my content creation on the Shutter Muse website. This is a powerful little camera, and although it only has a 12MP sensor, it is 12 of the very best megapixels you could ever hope for.
My third camera is an a9 II. This used to be my primary camera until the launch of the a1. Now it makes a fine backup camera, and mostly lives in my bag on trips where I need a second pro-level camera in case of a malfunction in the a1.
My fourth Sony camera is the a7 IV. This long-awaited Marck IV version of Sony's mid-level a7 series features a brand new 33MP sensor and many of the autofocus benefits from the more powerful a1. Originally I purchased this simply for review purposes on Shutter Muse, but the image quality is truly excellent for the price point, and I'll be keeping it as a spare that can be deployed in camera traps or simply used as a second or third body on important shoots.
Last, and yeah, probably least, is a GoPro Hero 9 Black. This is just a fun little camera that I sometimes use for video content on social media. It's a huge step up from my old Hero 5, and I love the front-facing screen.
Lenses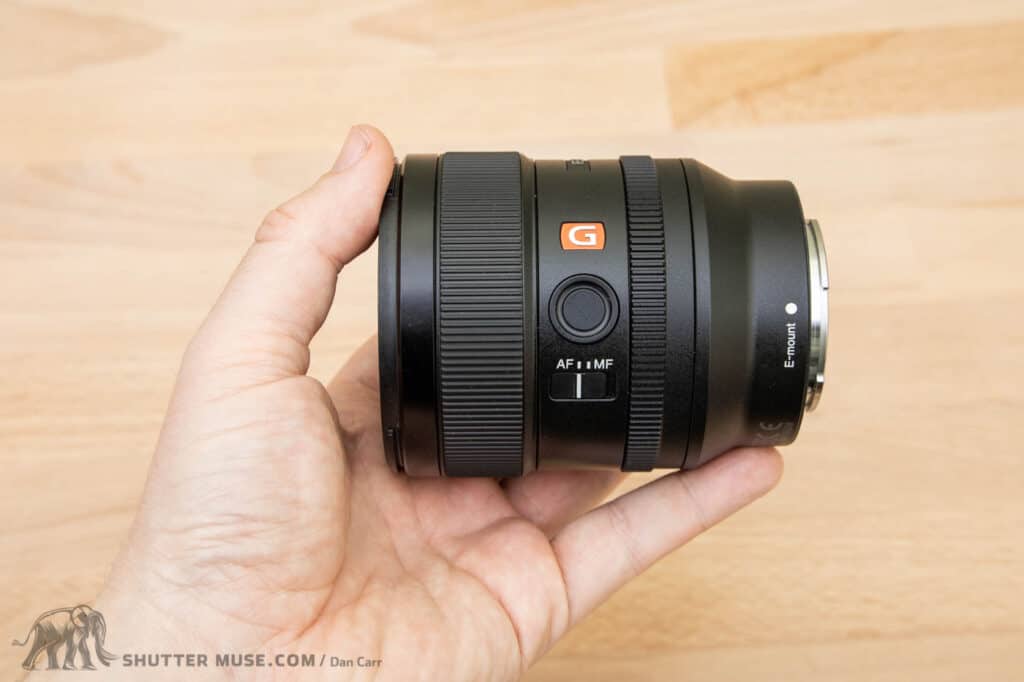 The lens list is mostly self-explanatory, but there are a few things I want to flag. Firstly, the Sony 200-600mm G lens is one of the best value lenses on the market from any manufacturer. It is stunningly sharp, and Sony should probably be charging a lot more money for it. This lens alone is a reason that some people should consider a switch to Sony. It's that good.
Another notable lens is the small and relatively cheap Sony 20mm f/1.8 G. This lens is as sharp as a GM lens and has several characteristics that I actually prefer over the more expensive 24mm GM. I find myself using this lens a lot for landscapes, astrophotography and for photographing the Northern Lights.
With Sony owning a stake in Tamron, it should be no surprise that Tamron's made-for-Sony lenses, such as the 28-75mm, are very good indeed. In many cases, they outshine the older Sony equivalents. I started with the original Tamron 28-75 Di and then upgraded to the newer, slightly sharper 28-75 Di G2 version as soon as it was launched. I still keep the original in my kit for in-office use when I'm using one of my full-frame mirrorless cameras with Zoom, or when I need to deploy a remote camera for sports or wildlife.
Camera Bags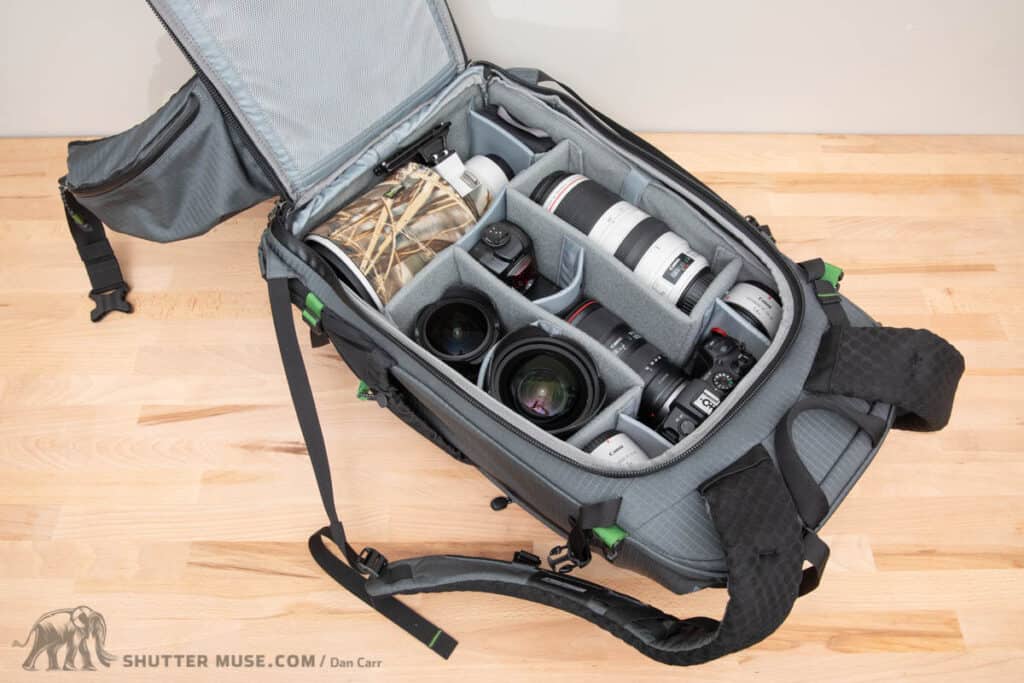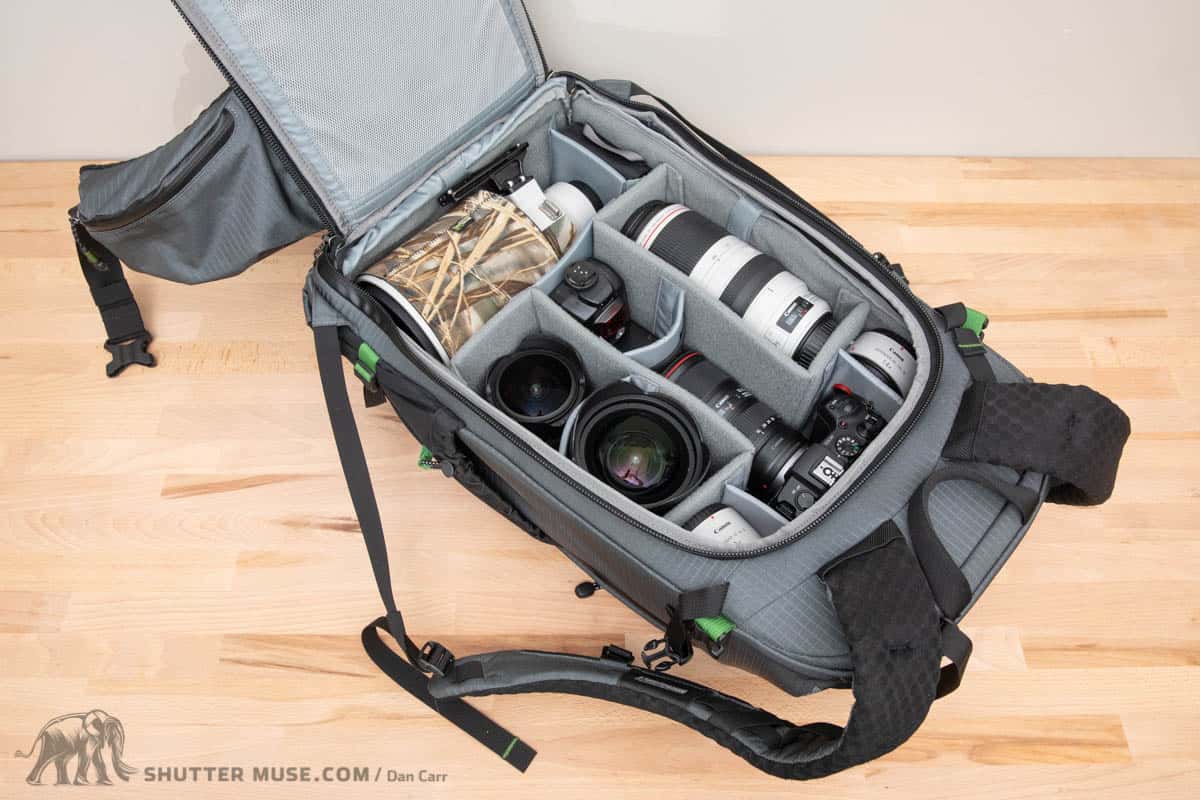 *1 – Think Tank Photo Deal – If you use my links to purchase a Think Tank or MindShift product for over $50, you'll get a free gift at the checkout! For more details on these two special offers, please see the deals page over on my Shutter Muse website.
*2 – Shimoda Deal – You can use the coupon code SHUTTERMUSE10 to save 10% on all Shimoda products when purchased from their online store.
I'm constantly testing and reviewing new bags on Shutter Muse, so this list can be somewhat variable, but it does encompass all of the brands that I think are currently doing the best job at designing gear for outdoor photographers.
Think Tank Photo and their sub-brand MindShift Gear are well-known for their quality and durability. The BackLight Elite is a particular favourite of mine, and I wouldn't look anywhere else when it comes to carry-on rollers for photo gear.
Gura Gear's backpacks have a unique butterfly opening design. When it comes to carrying long lenses for wildlife work, there's nothing that works as well as this. The bags are built from light but durable sailcloth, and for those times when ease of access to camera gear is a priority for me, I usually reach for one of these.
Shimoda is another great brand that is focussing on the outdoor market. With a 70L volume, the Action X70 backpack is the largest photo pack on the market right now. I keep this pack in my closet for those days when I need to carry everything, including the kitchen sink.
Lighting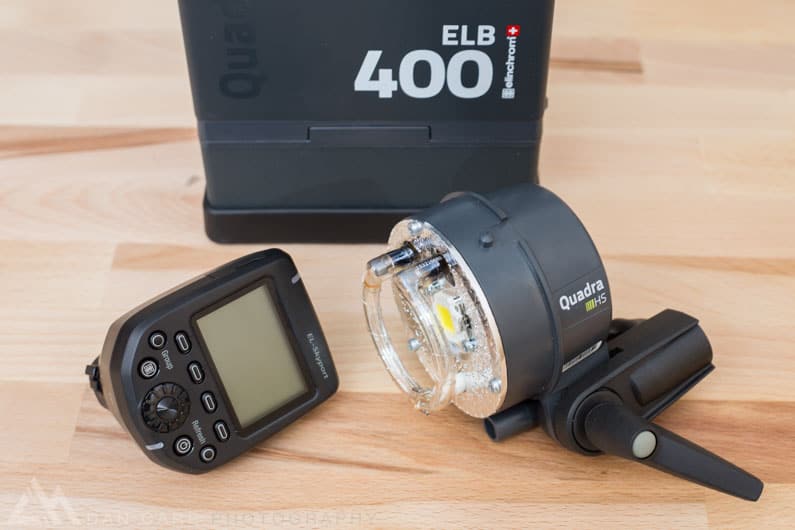 I have used Elinchrom flash gear my whole career. Their battery packs and flash heads are always built to withstand harsh outdoor conditions, which suits my still photography work perfectly. For video lighting, I'm using powerful Godox COB lights which can be mains powered in my studio or powered by V-Mount batteries for use in outdoor locations.
Tripods and Tripod Heads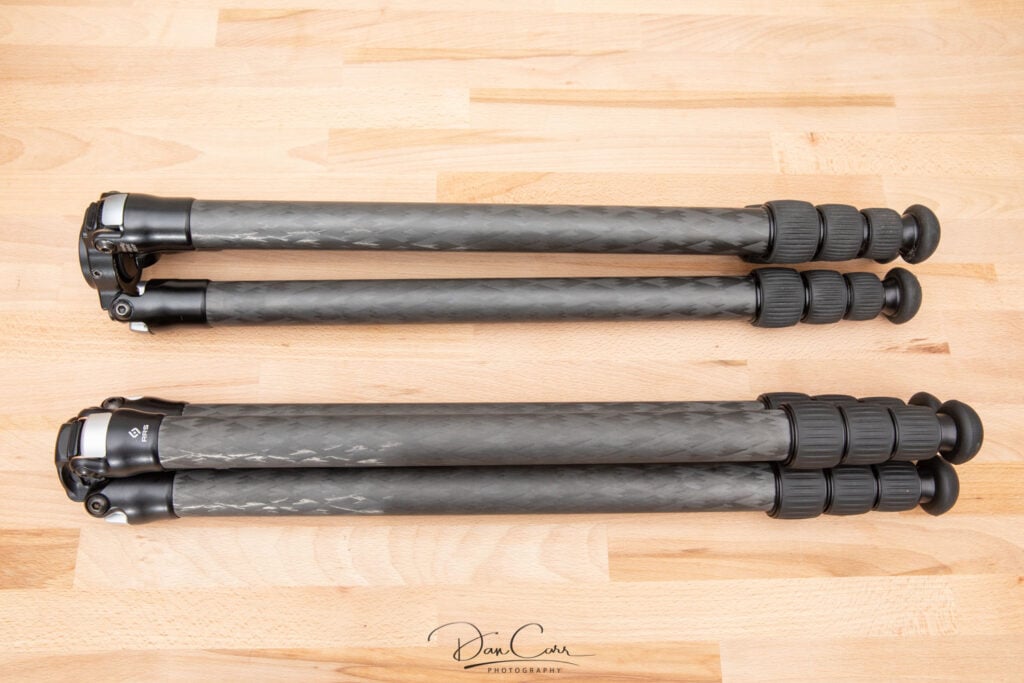 Most of my support equipment comes from Really Right Stuff. They continually produce the finest carbon tripods and machined aluminium heads on the planet.
Over the years, I have owned all of their heads for one purpose or another, so I wrote an extensive Really Right Stuff ball head and gimbal guide to compare them. I also wrote a Really Right Stuff tripod guide and a specific gimbal buying guide that talks in detail about the unique side-mount design of the RRS PG-02 gimbal. People are always asking me about that one.
My primary tripod is the TFC-24L Mk II which is one of their tallest tripods. I'm only 5ft9″, but a tall tripod allows you to have a long downhill leg when you're shooting on a slope, and still keep the camera at eye level. Honestly, buying a tall tripod was one of the best gear decisions I ever made!
The three non-RRS items on the list are the Acratech GXP ball head, the Peak Design Travel Tripod and the ProMediaGear Katana Jr. gimbal. All of these items are in my kit because they are smaller or lighter than their equivalent RRS products. I often choose them when weight is going to be a concern, or in the case of the PD Travel tripod, I carry it alongside an RRS tripod when I need two tripods for that day. Read my Acratech GXP review, my Peak Design Travel Tripod review or my ProMediaGear Katana Jr review for more details on those
Accessories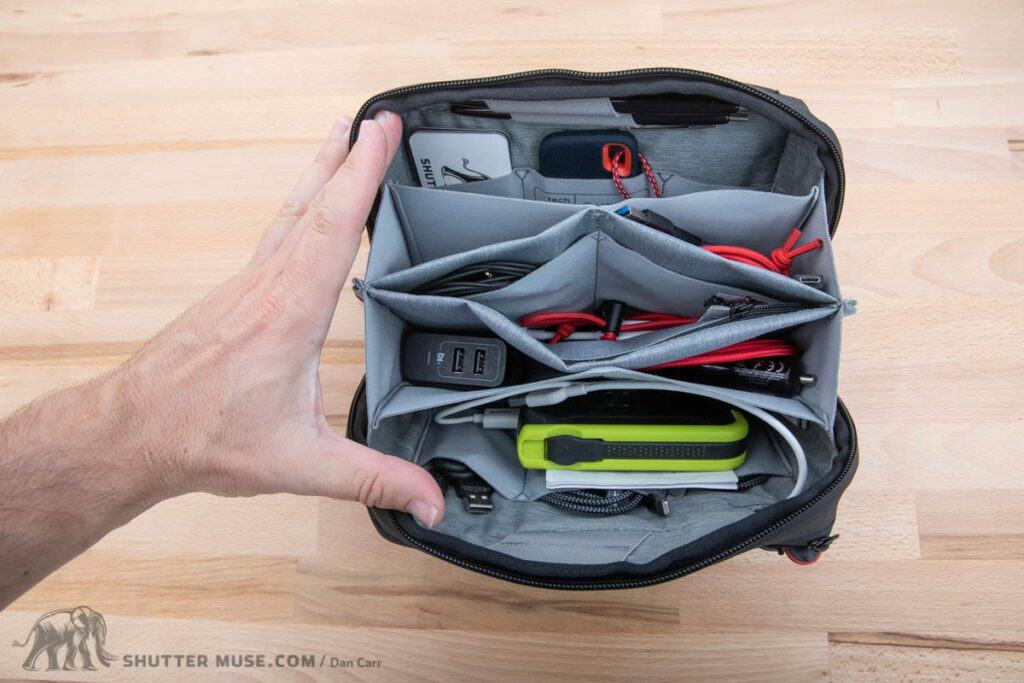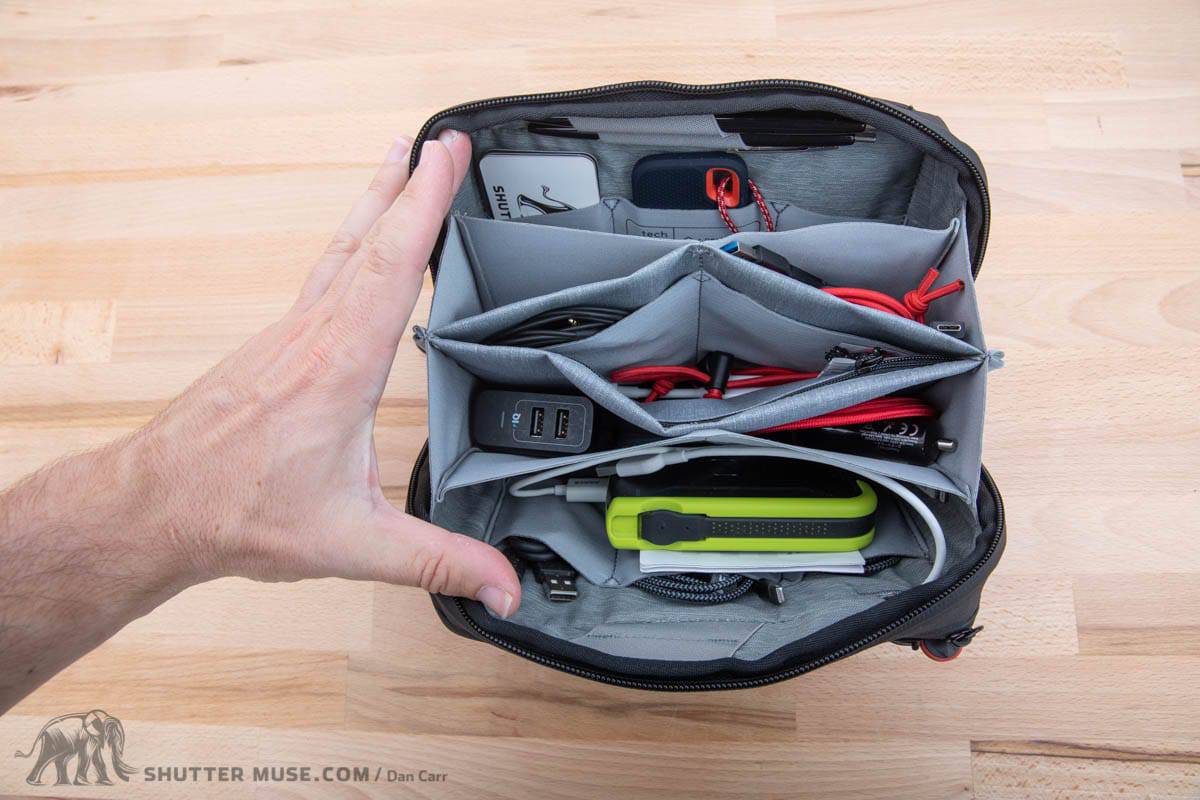 *1 – Think Tank Photo Deal – If you use my links to purchase a Think Tank or MindShift product over $50, you'll get a free gift at the checkout! For more details on these two special offers, please see the deals page.
*2 – Shimoda Deal – You can use the coupon code SHUTTERMUSE10 to save 10% on all Shimoda products when purchased from their online store.
Accessories need to be organized and carried. I use the Peak Design Tech Pouch to organize items in my office, and in my travel bags when I'm on the road. Its larger size means that it's great for those items that need to come with you on a trip, but don't necessarily need to be with you in the field every day. It's perfect for your cables, hard drives, card readers and battery chargers.
For those items that need to be in my bag alongside the lenses and cameras, I use the very versatile Panel Wraps from Shimoda Designs. These come in a variety of different sizes, and the clear plastic windows show you what you have stored in each of the internal sections. Their flat folded shape also makes them easy to slide into the larger pockets found in the front of most camera packs.
Photography Gloves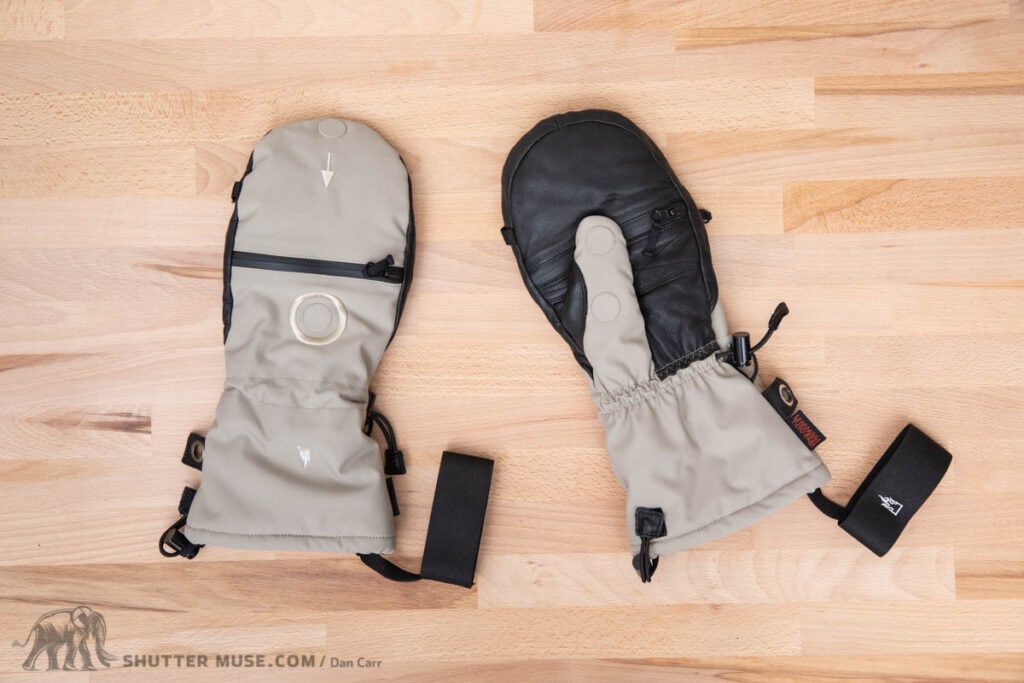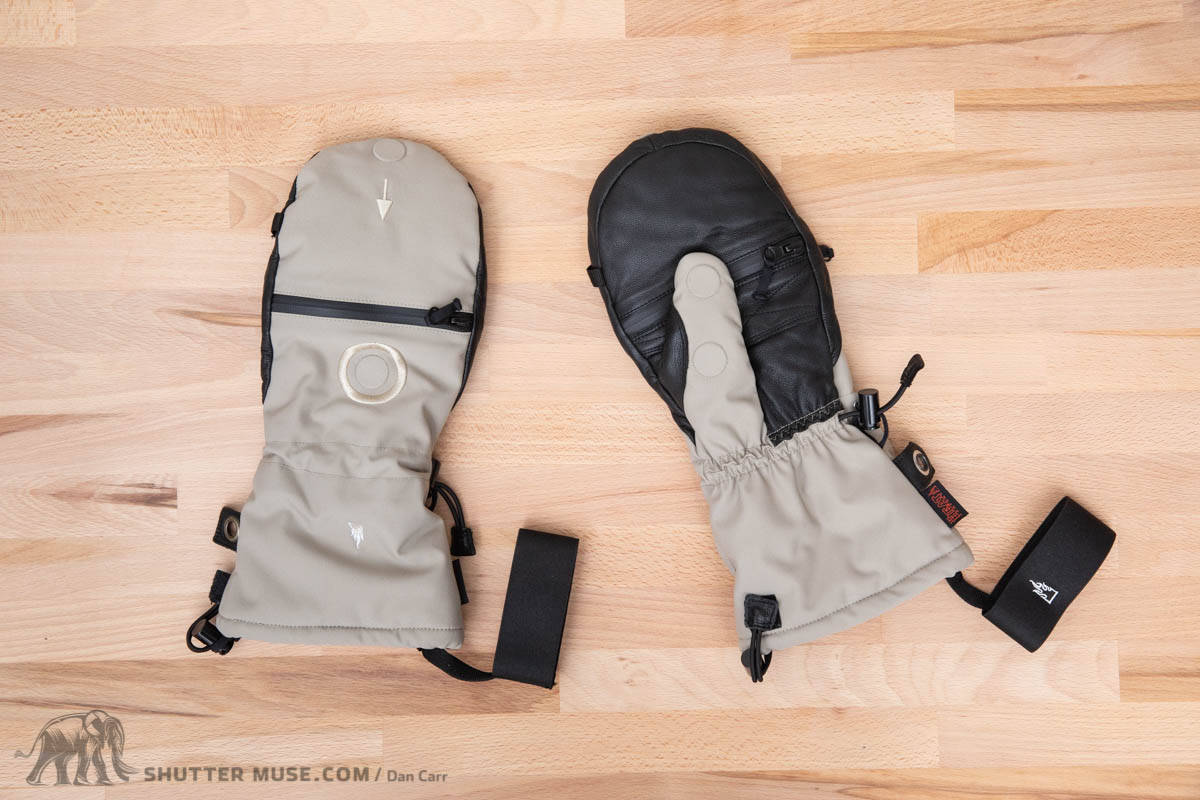 I spend a lot of time shooting photos in cold weather. Functional photography gloves are extremely important to me. After extensively testing many different options, The Heat Company came out on top.
The Softshell 2 is a brilliant glove for milder temperatures and cold wind, and the Heat 3 Shell will keep you comfortable well below -30 degrees with the liner. Read my photography glove guide on Shutter Muse for more details about these gloves, and all the other brands that I tested.
Filter Kit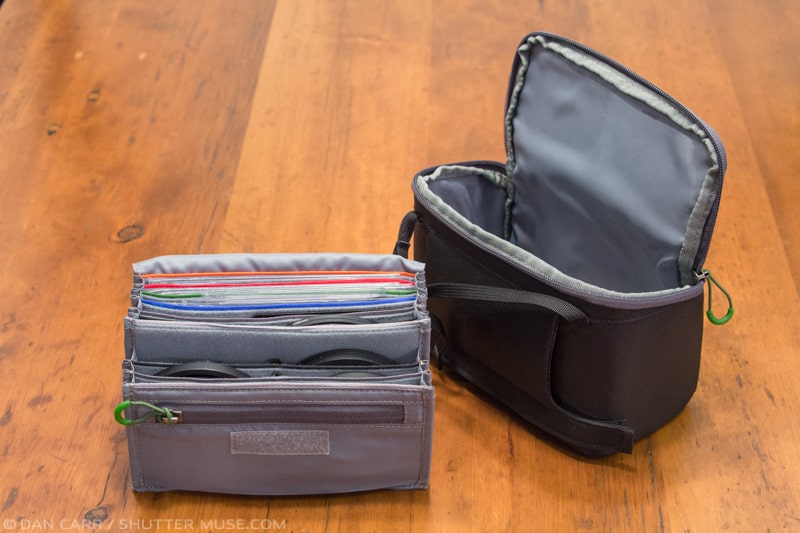 *1 – Think Tank / MindShift Deal – If you use my links to purchase a Think Tank or MindShift product over $50, you'll get a free gift at the checkout! For more details on these two special offers, please see the deals page.
Every photographer should have a circular polarizer. The best one out there is the Breakthrough Photography X4 CPL. You only have to look at these CPL examples to see just why this is such an important filter. I'm also a huge fan of the Breakthrough 6-stop Dark CPL. This combines a 6-stop ND filter with a circular polarizer. If I could only have two filters, those would be the ones. If I could only have three, I'd add their 2-stop soft graduated ND. This can be carried in the MindShift Filter Hive, along with a filter holder and some step rings.
Computer and Backup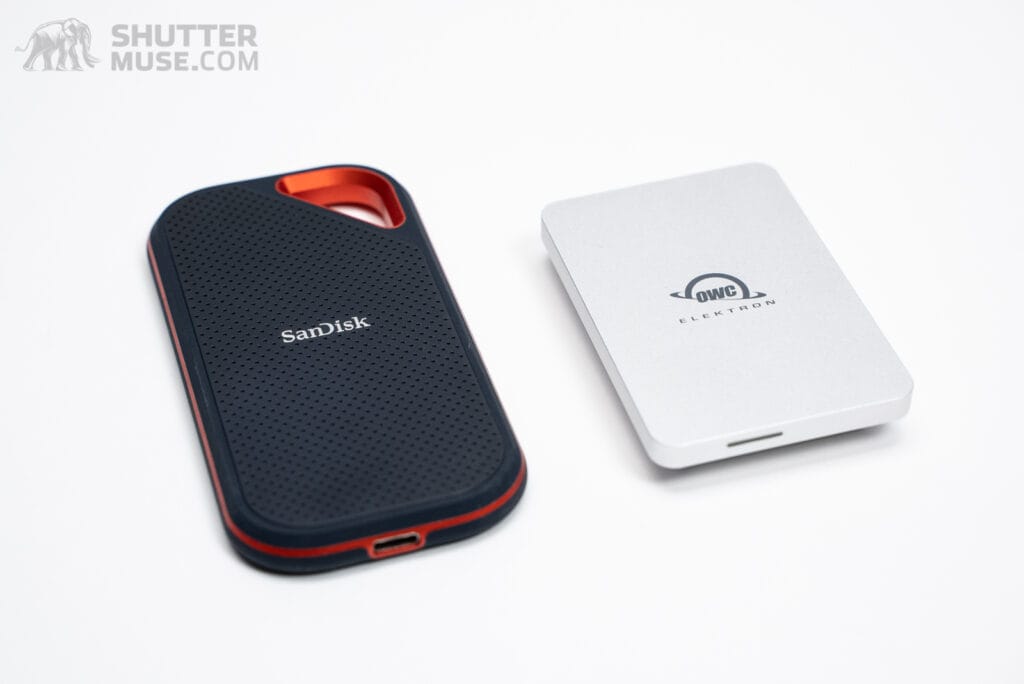 The heart of my backup system is the Thunderbolt-enabled QNAP TVC-472XT. Currently, I have it populated with 48TB of Seagate IronWolf drives, but this can be expanded as needed. The drive connects to my main computer over Thunderbolt but also has a 10GbE connection to my home network so that I can access it via my laptop from other rooms in my house.
I use the applications on the NAS to control several different backup routines, including cloning the whole NAS to a Drobo 5D3 every night to give me a backup. Now that I have a bit more experience with QNAP NAS systems, I plan to replace my Drobo with another QNAP NAS in the near future. These things are awesome!
On the road, I'm using the OWC Elektron drives. They are incredibly robust, blazingly fast and also very good value. A pair of 2TB drives take up very little room in my bag or even my pocket!
Audio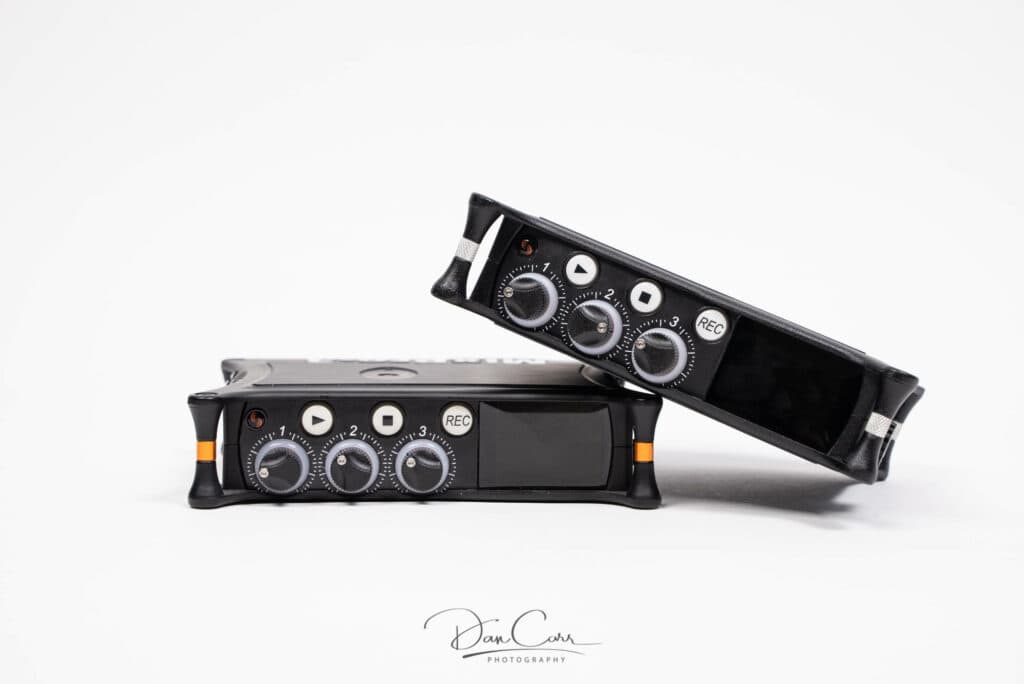 The MixPre-3 mixer/recorder is always in my kit. Whether it's for field recording the sounds of nature, capturing crisp audio for a podcast or strapped to my camera for video production. It's both a high-quality 32-bit float recorder and a 5-channel mixer.
The microphones on this list are all industry standards for their particular uses. This is, except for the LOM MicroUSI Pro. This is a matched pair of microphones for stereo field recording. These mics perform particularly well when recording very subtle, quiet sounds. The only issue is that they are sold directly by the guy that makes them, and he makes very few of them every year. When some do appear on his online store, they generally sell out in 2-3 minutes! They are awesome if you can get them, and I'm very thankful to have a pair in my kit.
The Tentacle Sync and Track devices are also amazing if you want a multi-cam video shoot with wireless timecode sync to cameras and a separate audio device.
Optics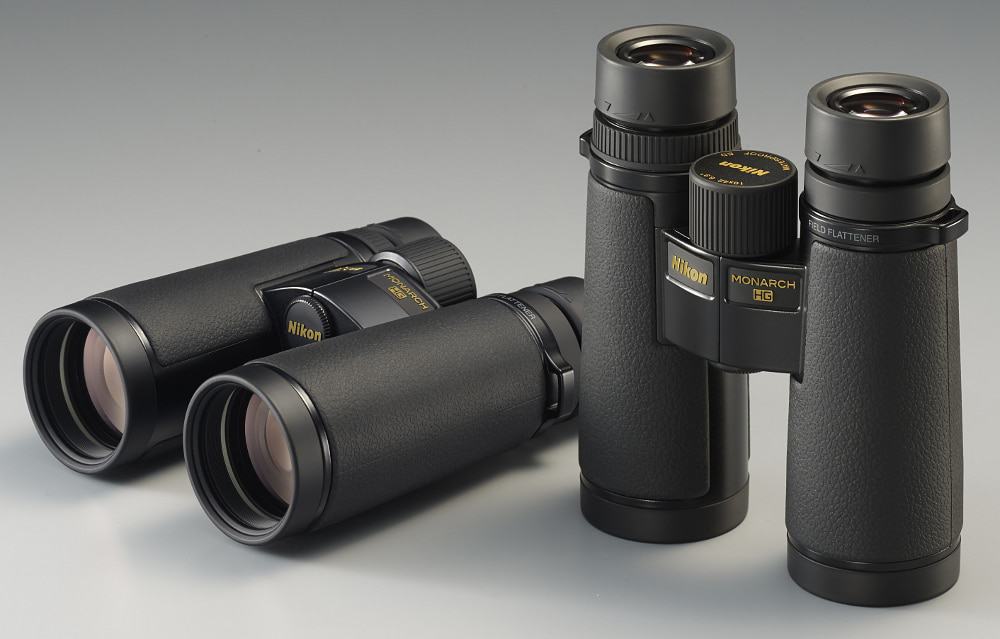 Anyone that does a lot of wildlife photography should have a good pair of binoculars. Much like a good tripod, this is something that with careful thought and research can be purchased perhaps just once or twice in your life. Good ones can be expensive, but they last well and truly enhance the wildlife watching experience.
Yes, they are great for spotting wildlife in the first place, but they are also great for watching the wildlife that is simply too far away to get a good photo. If I can't get a good shot, you can bet I'm still going to sit there for a while and study the animal's behaviour so that I'm more familiar with their motions and patterns for future encounters.
The Monarch HGs are relatively new to the market. Despite this, they have quickly picked up near-legendary status for the quality that they deliver, at a price point that is less than half of other binoculars with similar optical performance. I'm sure I'll have these around my neck for my whole career. Quite simply one of the best presents I ever bought myself!
WordPress Plugins
These are the valuable WordPress plugins and services that I use on this website and ShutterMuse.com. My websites are a hugely important part of my business so I spend a lot of time optimizing them and testing various plugins.
I want to give a huge shoutout to my website hosting service, Kinsta. They are phenomenal! My sites have never been so fast, and their support is second to none.
Where to Buy Your Gear
Once you've figured out what it is you're looking to buy, a common question is "where should I order from?". Typically I buy my gear from either B&H Photo or Amazon because both offer free shipping. Occasionally I will also buy from Adorama or Moment if the other two don't have it in stock. Moment is an interesting new addition to the world of online camera gear shopping. Their curated store contents can make it easier to find what you need, and they offer free worldwide shipping to most customers.
Even though I live in Canada I still like to order from B&H in the USA because they allow me to pay all the applicable taxes and duties upfront so there are no surprises. This is a service they offer for many countries worldwide, and they now ship to Canada for free on orders over $99.
If you happen to be looking for camera bags for general use or sports photography use then I would definitely recommend checking out Think Tank Photo. You'll see in my gear list that I have a number of their carrying solutions in my closet for when I'm travelling or shooting at sporting events. For all your adventure, outdoor and wildlife photography needs, look no further than Think Tank's sister company, MindShift Gear (they share a website).
As a friend of the site, Think Tank Photo and MindShift Gear will offer you a free gift of a small bag or accessory when you purchase more than $50 worth of stuff from their store after clicking through one of my links.