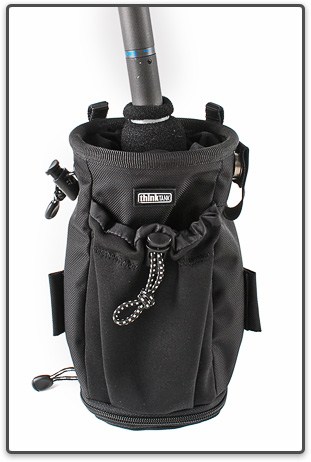 The Mic Drop In is part of Think Tanks new multimedia Wired Up collection.
For those familiar with Think Tank products, the Mic Drop In is similar in design to the Lens Drop In that is in the current modular range. A drawstring opening on the top can be left open for quick removal of the microphone. The bag can also be lengthened using the extendable zippered section on the bottom, adding approximately 3 inches to the length of the bag to accommodate larger mics. On the front of the bag is stretch pocket for extra cables,XLR adapters, dead cats or whatever else you might need.
One new feature that all the Wired Up Collection bags have in common, are cable pass-through holes. Small holes in the bags in strategically placed positions to allow cables to be passed between bags to link up with cameras and audio recorders. All the holes are marked with a small blue tab for easy finding.
Of course the Mic Drop In is fully compatible with Think Tanks existing modular rail system for attaching the bag to a speed belt and the bag will be available for $39.95