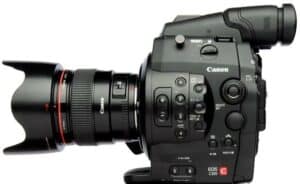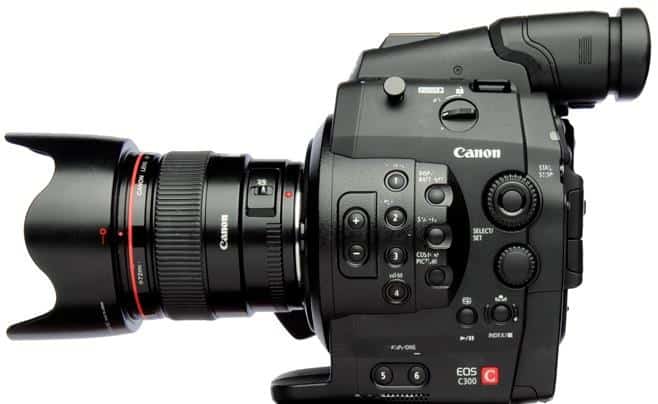 Ever since the somewhat accidental success of the Canon 5dMKII in the film making industry we've been waiting for Canon to incorporate their large sensor video capabilities into a camera that was designed from the ground up with this purpose in mind.  Many video capable DSLRs have come and gone since the 5dMKII launch but almost without exception they still had the same drawbacks of it's predecessor when it came to more professional production.  Highly compressed footage, no XLR inputs for pro audio gear and no HD-SDI for pro monitoring gear.  In the mean time Canon's competitors have released cameras like the Sony FS-100 and the Sony F3 and RED continue to have great success with their new EPIC camera.  Following the recent announcement that Panavision have stopped manufacturing their film cameras we can now truly say that the age of digital cinema is here.  A fitting time then for Canon to finally unveil what they have surely been working on since Vincent Laforet first showed the world Reverie, shot with the 5dMKII.  What is the target market going to be for this camera ?  What price will it be and does it spell the end to movie making with DSLRs ?  Read on to find out….
Vincent Laforet had the opportunity to shoot a short film with the camera prior to it's launch.  He has just posted the video on Vimeo.
Vital Specifications
EF and PL Versions
Dual CF Card Slots
Built in ND filters to speed up production on set
Super35 Sensor
HDMI and HDSDI out
Hot shoe mounted monitor w/ 2 XLR ins
Single 8.3 megapixel 2160×3840 Super-35 CMOS sensor (4K resolution) with Digic DV III processor
Also is able to record out of SDI
Built in viewfinder
Hot shoe mounted swivel LCD
Rotating side grip/handle
Canon XF codec (50Mbps 4:2:2 1080p30 MPEG2 MXF)
Exposure and focus control are completely manual — there is no AE or AF on either camera
(detailed specs from DVinfo.net)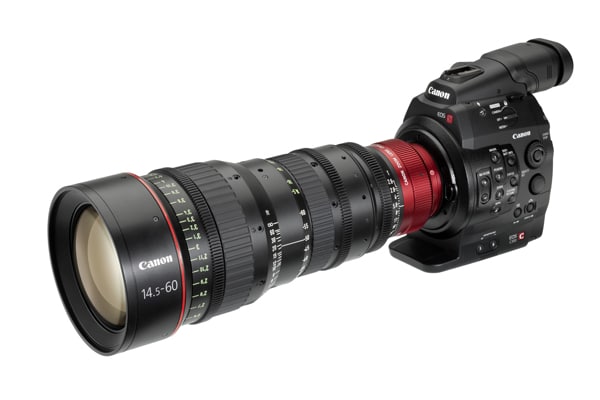 Two Versions
There will be a C300 and a C300 PL.  The only difference is the lens mount.
Price
Sold as a system, incl. LCD monitor / XLR audio unit, side grip, top handle, batt. & charger  The price will be $20,000 and available in January 2012
New Lenses
Canon have also launched a new line of EOS EF Mount Cine lenses.  Initially 2 zooms and 3 primes.
New Lenses
Canon Zoom Lens CN-E14.5-60mm T2.6 L S (wide zoom, EF version)
Canon Zoom Lens CN-E30-300mm T2.95-3.7 L S (telephoto zoom, EF version)
The PL versions of these two zooms were actually shown at NAB back in April.
Three New Primes for EF Mount Only
Canon Prime Lens CTZ-029 (24mm)
Canon Prime Lens CTZ-030 (50mm)
Canon Prime Lens CTZ-031 (85mm)
The C300 is a physically small camera so previous users of the DSLRs are going to love that.  It's size was always a key element in making DPs and directors shoot with things like the 5dMKII and it looks like they have listened to that and gone to a lot of trouble to keep it a tight package. This is not a camera designed for consumer usage at all with absolutely no automatic exposure or auto focus controls.
High iso capabilities
The absolute overwhelming response from those watching the previews at the launch so far has been the incredible performance in low light situations.  It seems as though Canon has really concentrated on this being it's flagship feature and is being mentioned over and over again.
 New kit from Zacuto ready for the EOS C300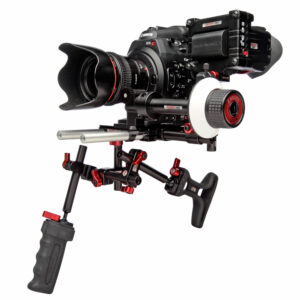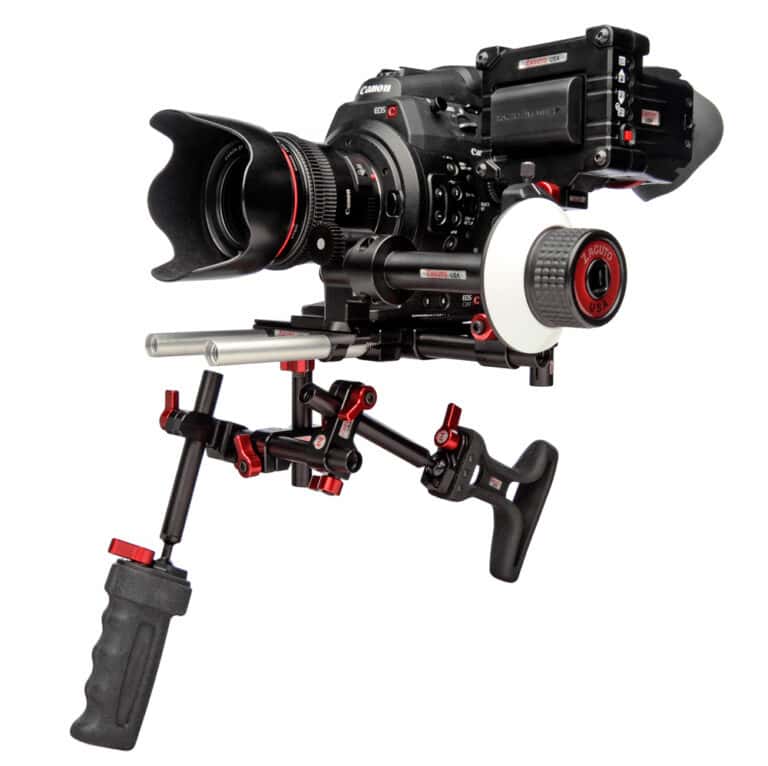 Press Release
Lights! Camera! Action! Canon Makes Hollywood Debut with Launch of Cinema EOS System
Company's All-New Cinema Lens Lineup, Cinema Cameras and Digital SLR Cameras to Leave No Story Untold
HOLLYWOOD, California, November 3, 2011/TOKYO, November 4, 2011 – Canon Inc. today announced Canon's full-fledged entry into the motion picture production industry with the launch of the Cinema EOS System. Canon's new professional digital cinematography system spans the lens, digital cinema camera and digital SLR camera product categories.
The Cinema EOS System targets a new area of imaging expression for Canon, building on the company's 74-year history of innovation and expertise in the field of optical and imaging technology. The company has already earned accolades in the entertainment industry for the EOS 5D Mark II digital single-lens reflex (SLR) camera, launched in November 2008, which has been used in the production of blockbuster Hollywood motion pictures and hit television programs.
Canon's new Cinema EOS System, which offers compatibility with Canon's wide array of high-performance EF lenses, provides cinematographers with a range of unprecedented creative possibilities to ensure that no story is left untold.
"As a leading company in digital imaging, Canon's debut in the film and TV production industry provides a tremendous opportunity to enter into a thriving market," said Fujio Mitarai, Chairman and CEO, Canon Inc. "Reflecting upon the achievements that Canon EOS Digital SLRs have had in the industry thus far, we are confident the new Cinema EOS series products will bring that success to a whole new level."
With the debut of the Cinema EOS System, Canon today introduced seven new 4K EF Cinema Lenses-four zoom lenses and three single-focal-length models-which complement the company's current diverse lineup of interchangeable EF lenses for EOS SLR cameras. The company also announced the launch of the EOS C300/C300 PL interchangeable-lens digital cinema camera, equipped with a Super 35-mm-equivalent CMOS sensor, and a new digital SLR camera currently under development that features a 35 mm full-frame CMOS sensor supporting the recording of 4K video.
4K EF Cinema Lens Lineup
Canon's Cinema EOS System makes its Hollywood debut with an all-star cast featuring seven new 4K EF Cinema Lens models: four zoom lenses covering a wide zoom range from 14.5 mm to 300 mm-two models each for EF and PL lens mounts-and three single-focal-length lenses for EF mounts. All seven new lenses deliver exceptional 4K (4096 x 2160 pixels) optical performance and offer compatibility with Super 35 mm-equivalent sensors. Additionally, the three single-focal-length lenses can be used with cameras equipped with 35 mm full-frame sensors. (See accompanying EF Cinema Lens press release for additional information.)
EOS C300/C300 PL Interchangeable-Lens Digital Cinema Camera
The Canon EOS C300/C300 PL is an all new digital cinema camera available in two models: the EOS C300, equipped with an EF lens mount for compatibility with the wide array of lenses that make up Canon's current interchangeable EF lens lineup; and the EOS C300 PL, offering a PL lens mount for use with industry-standard PL lenses. The camera features a Super 35 mm-equivalent approximately 8.29-megapixel CMOS sensor ideally suited for digital cinematography. (See accompanying EOS C300/C300 PL press release.)
New Digital SLR Camera with 4K Movie Function (Under Development)
Equipped with a 35 mm full-frame CMOS sensor and supporting the recording of 4K video* (at a frame rate of 24P, with Motion-JPEG compression), the next-generation digital SLR camera currently under development will enable exceptional image quality for the creation of innovative and expressive images. Additional details, including the product name, specifications and scheduled launch date, have yet to be decided. (See accompanying digital SLR camera press release.)
* Cropped to APS-H-equivalent size (dimensions measuring approximately 80% vertically and horizontally of a 35 mm full-frame sensor) when recording in 4K.
Cinema EOS System: Product Overview
Product category
Model
Mount type
EF Cinema Lenses
CN-E14.5-60mm T2.6 L S
EF mount
CN-E14.5-60mm T2.6 L SP
PL mount
CN-E30-300mm T2.95-3.7 L S
EF mount
CN-E30-300mm T2.95-3.7 L SP
PL mount
CN-E24mm T1.5 L F
EF mount
CN-E50mm T1.3 L F
EF mount
CN-E85mm T1.3 L F
EF mount
Digital Cinema Cameras
EOS C300
EF mount
EOS C300 PL
PL mount
Digital SLR Camera (under development)
TBD
EF mount