The Fuji x100 is a phenomenally successful camera, even 6 months after it hit store shelves it's still in short supply. I reviewed it myself and fell in love with it but the price tag isn't for everyone, neither is the fixed 24mm prime lens. In September 2011 Fujifilm announced the X10 which addresses both of these considerations so I figured I would write up a comparison to help people choose between the two. At first glance they look fairly similar as both are based around the same rear screen and controls and a similar magnesium chassis but in fact these cameras will satisfy very different people and produce quite different images.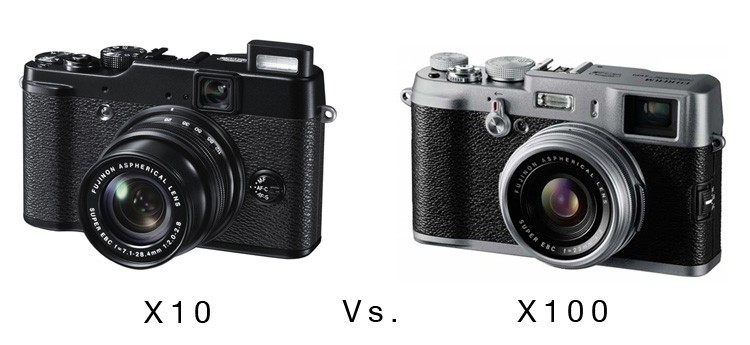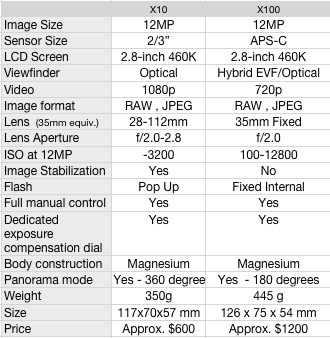 The Sensor
The X100 features an APS-C sized 12MP sensor, roughly the same physical size as sensors in many DSLR cameras like the Nikon D7000 or Canon 7d.  This means that you can achieve comparable shallow depth of field and performance at higher ISO.  The X10 on the other hand features a 2/3″ sensor which much smaller than APS-C and smaller then Micro 4/3.  It is slightly bigger though sensors found in other high end point and shoot cameras which is good because price wise, the X10 is pushing the boundaries of that sector up to a new level.  You can expect ISO performance to be better than other point and shoot cameras but nowhere near as good as it's bigger brother, the x100.  At comparable focal length and aperture the X100 is going to produce a much shallower depth of field for a more pleasing look but it is less forgiving in terms of getting sharp focus because accuracy of focus is a problem with the X100.  The X10 will have greater depth of focus in it's shots but this will make it easier to get a perfectly sharp image.  If ease of use is a factor, the X10 will win in that situation.
Both sensors are 12 megapixels though so the image size is identical.  Interestingly the x100 and the x10 both feature a 3:2 aspect ratio for their images. 3:2 is standard for DSLRs but almost all point and shoot camera have a 4:3 ratio image.  I personally don't like shooting 4:3 at all so I love that the x10 is 3:2 and it will lend a more professional look to the images right out of the box.
The Viewfinder
One of the standout features of the X100 was the one of a kind hybrid viewfinder that could act either as an EVF or with the flick of a switch an optical viewfinder with digital information overlaid on top.  The X10 only has an optical viewfinder though and this could present a problem because whilst the hybrid OVF on the x100 was very cool, the camera was terrible at focusing in that mode.  I almost exclusively use my x100 in EVF mode, which the X10 does not have….  Of course you could just use the rear LCD screen which is perfectly fine and the same method that most point and shoot cameras use these days.  Those that are fitted with optical viewfinders , like the Canon G12 and Nikon P7100 tend to be highly inaccurate VFs anyway.  If you really want to shoot through a viewfinder then the X100 will be the answer, not the X10.
Support the site
If you enjoyed reading this post and found it helpful, please consider supporting the site by making your next photography purchase by clicking through one of the links below or one of the links on our worldwide list of supporting stores and services on this page. Thank you!
Think Tank Photo -As a friend of this site, clicking through to the Think Tank site and spending more than $50 will earn you a FREE bag when you reach the checkout. Choose from several different accessory or modular bags for FREE!
There's a full list of worldwide stores and services that you can use to support this blog HERE.