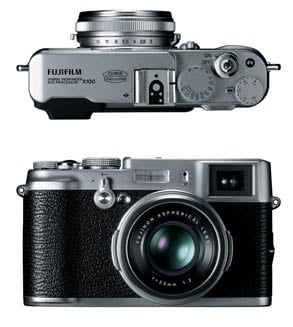 Fujifilm's X100 was first revealed at Photokina in 2010 and it's retro styling instantly captured peoples attention.  The X100 has yet to hit store shelves but Fujifilm has been slowly releasing more and more information about this camera to tantalize prospective buyers.  Sadly this is a hands-off preview, I have not yet used one of these cameras in person but since we still don't know exactly when this camera will come onto the market I thought I'd write a little about what we already know of the camera.
UPDATE: The camera is now up for pre order at Adorama!  Get in line while you can !
UPDATE 2:  B&H now have the camera up for pre order!!
The important specifications:
12.3 MP APS-C CMOS sensor
Fixed 23mm (35mm equiv.) f2.0 Fujinon Aspherical lens
Magnesium top and bottom plates
Hybrid optical/electronic viewfinder
Aperture ring on lens
Top plate dials are metal
Manual focus ring on lens
2.8″ LCD screen
10cm close focus distance for macro shots
Built in 3-stop neutral density filter
720p video recording with stereo sound
SD Card compatible
Diminutive size (126 x 74 x 53 )
$1200