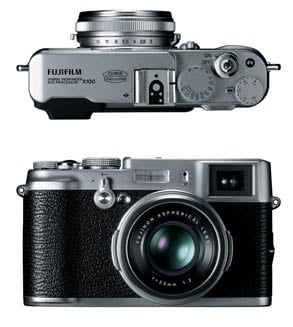 Fujifilm's X100 was first revealed at Photokina in 2010 and it's retro styling instantly captured peoples attention.  The X100 has yet to hit store shelves but Fujifilm has been slowly releasing more and more information about this camera to tantalize prospective buyers.  Sadly this is a hands-off preview, I have not yet used one of these cameras in person but since we still don't know exactly when this camera will come onto the market I thought I'd write a little about what we already know of the camera.
UPDATE: The camera is now up for pre order at Adorama!  Get in line while you can !
UPDATE 2:  B&H now have the camera up for pre order!!
The important specifications:
12.3 MP APS-C CMOS sensor
Fixed 23mm (35mm equiv.) f2.0 Fujinon Aspherical lens
Magnesium top and bottom plates
Hybrid optical/electronic viewfinder
Aperture ring on lens
Top plate dials are metal
Manual focus ring on lens
2.8″ LCD screen
10cm close focus distance for macro shots
Built in 3-stop neutral density filter
720p video recording with stereo sound
SD Card compatible
Diminutive size (126 x 74 x 53 )
$1200
These are the main specs that get me pretty excited about this camera.  I recently tested out the Leica X1 and I really enjoyed using it because it was an incredibly powerful tool in such a small package.  Like the X100, the Leica X1 also has an APS-C sized sensor which allows for a shallower depth of field and much better low light performance.  Let's look a little closer at some of these X100 features and details.
APS-C Sensor
This size of sensor is more often seen in a typical SLR camera and is many times larger than the sensors seen in most typical compact cameras.  As I mentioned above, this gives you much better low light performance because the individual pixels on the sensor are far more spaced out and hence create less digital noise.  With the Leica X1 , which has a similar sized sensor to the X100, I was quite happy with images shot at iso 2500 and even 3200.  On my current Canon point and shoot camera , photos shot at comparable iso speeds are simply unusable so the larger sensor makes a huge difference for low-light captures.  A secondary benefit of this sensor size is the shallow depth of field that is available with a wide aperture lens.  The larger the sensor, the shallow the DOF for a given focal length and aperture.  So if you want to get a nice out of focus background to your images, the APS-C sensor and the f2 lens will really help you with this.  Overall we can expect the images to much sharper than anything that a point and shoot camera could achieve, but from a physical package that is not much bigger (although more expensive).
Fixed f2.0 lens
A lot of people cried out when they saw that this camera had a fixed lens.  In the year of the compact Micro Four Thirds cameras why would someone not make an interchangeable lens camera ?  It may just be that Fujifilm did not want to jump into the Panasonic / Olympus / Sony fight that is happening in that sector.  By going the route of the fixed lens large sensor compact, their competition is the Leica X1 and the Sigma DP2.  The Sigma never really got a lot of love due to dull design and mediocre performance and the Leica is held back by the high price tag which puts it out of many peoples reach.  So to me it seems like a smart move to go the route that Fujifilm has chosen.  The 35mm equivalent focal length has long been a favorite for general purpose photography and I think its a great decision.  Having a prime lens instead of a zoom lens keeps the physical size down to a minimum and allows for a wider (f2.0) aperture.  Typically prime lenses are of a much higher quality than zooms too so we can expect a great image to come from the Fujinon glass.  The aperture ring and manual focus ring on the lens are a great touch and will really add to the experience for those photographers who prefer to shoot manually.  The only other camera I have used with a manual aperture is the Leica M9 and it really helps to connect you to the camera and get you thinking more about the photos you are taking.  Manual focus on the Leica X1 is terrible as it is all done with a focus by wire system that frankly leaves you feeling totally disconnected to the camera so this X100 should feel a lot better.  An interesting fact is that using a fixed lens like this allows the actual sensor to be customized to the lens.  Certain parts of the sensor can be designed to receive the light from the lens at a more oblique angle than normal.  If you have interchangeable lenses you need to have the sensor ready to receive light at a more perpendicular angle as you need to be prepared for many lenses.  Matching the sensor design to the lens means there is a back focus distance of less than 6mm on this lens which is VERY close to the sensor making it a much more compact solution that a 24mm f2 lens would have been if it was removable.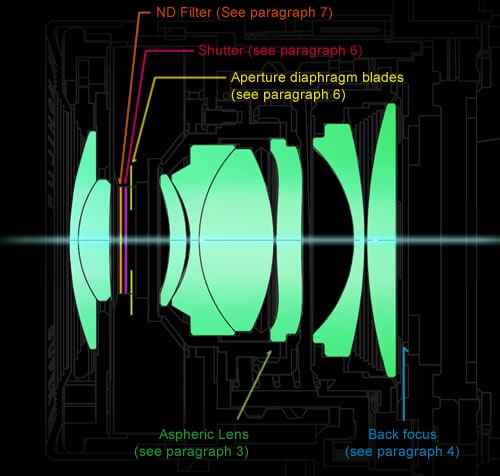 Built in ND filter
In an interesting move Fujifilm have decided to offer a built-in neutral density filter in the lens.  At the flick of a switch , the 3-stop ND can be engaged allowing you to shoot at a wider aperture in bright light , or have a longer shutter speed for long exposure effects such as smooth looking running water in a river.  People wanting to shoot HD video with the camera will love this feature as video normally requires a small aperture due to the relatively long shutter speeds involved compared to still images.  In fact built-in ND filters are nothing new in video cameras , but this to my knowledge is the first time it had been featured in a stills camera.  We will just have to hope that it does not cause any unwanted flaring or image degradation.

Macro performance
Whenever I have a small camera on me I always seem to want to take photos of my surroundings and that often means macro photos.  One of the biggest gripes I had with the Leica X1 was the poor minimum focus distance that left you miles away from your subjects and unable to capture anything resembling a macro photo.  It really seems like Fujifilm just worked through the list of common complaints for the X1 and then didn't stop until they found a solution.  The X100 has a minimum focus distance of 10cm which will be great for shots of flowers, food or whatever other environmental elements you find on your travels with this camera.
Hybrid viewfinder
Perhaps the most interesting feature of the Fujifilm X100 is the so-called Hybrid Viewfinder.  A small lever on the front of the camera switched between EVF or OVF in the viewfinder.  In OVF mode it is a simple optical viewfinder with a relatively poor 90% coverage.  But in EVF mode it converts the viewfinder to an EVF which allows you to display previously taken images in the viewfinder or any other critical information such as a digital level.  All of this is achieved with a complex system of prisms and mirrors as in the diagram below.  You can also have a hybrid mode where certain digital information is projected onto the optical viewfinder to get the best of both worlds!  The EVF screen has a 1.4 million dot resolution which is fairly large for a small screen so in theory it should work very well for displaying info and images.  Hat's off to Fujifilm, they really do seem to have thought of everything!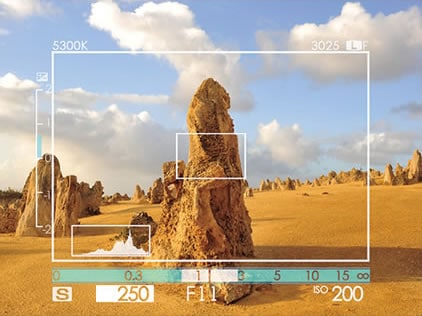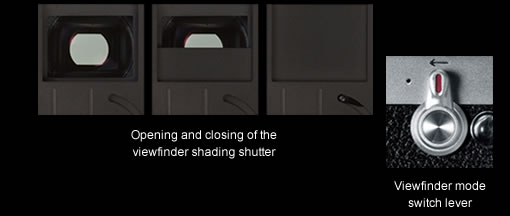 Conclusion, availability and pricing
This camera literally came out of nowhere to become probably the most talked about camera of 2010.  No production units have yet been released to test by the media so actual image quality is not something we can comment on just yet.  On the face of it though, the X100 is shaping up to be a fantastic camera and it seems to address many of the issues that I had with one of it's main competitors, the Leica X1.  I hope that they manage to incorporate a much faster auto focus system than Leica managed with theirs.  So far we have no concrete information the release date and pricing but it has long been rumored to be about $1000 US.  A Canadian website recently put up a pre-order page with a price of $1100 CDN which seems to be in the right ball park.  That sort of price will put it out of the reach for people looking at point and shoot cameras and more in the range of people looking at mirrorless interchangeable lens solutions from Olympus, Panasonic and Samsung.  With the APS-C sensor it should be capable of great images as long as the lens is up to the job.  I will most certainly be picking one of these up on their release.  For me it seems like the perfect blend of retro style and modern technology to use as my every day/travel camera when I don't want to carry the big DSLR.  I personally never got into a mirrorless system because with my Canon lens collection I don't want to invest in a separate lens collection for the smaller camera too. A high quality fixed solution like this one is the perfect answer and all signs point to a February/March release.  I expect demand for this to be VERY high so hopefully Fujifilm are stockpiling them for a worldwide launch!  I will update this page as more info is released and as the major outlets begin to take pre-orders.  I suspect a pre-order will be necessary if you want to get one even close to the release date.