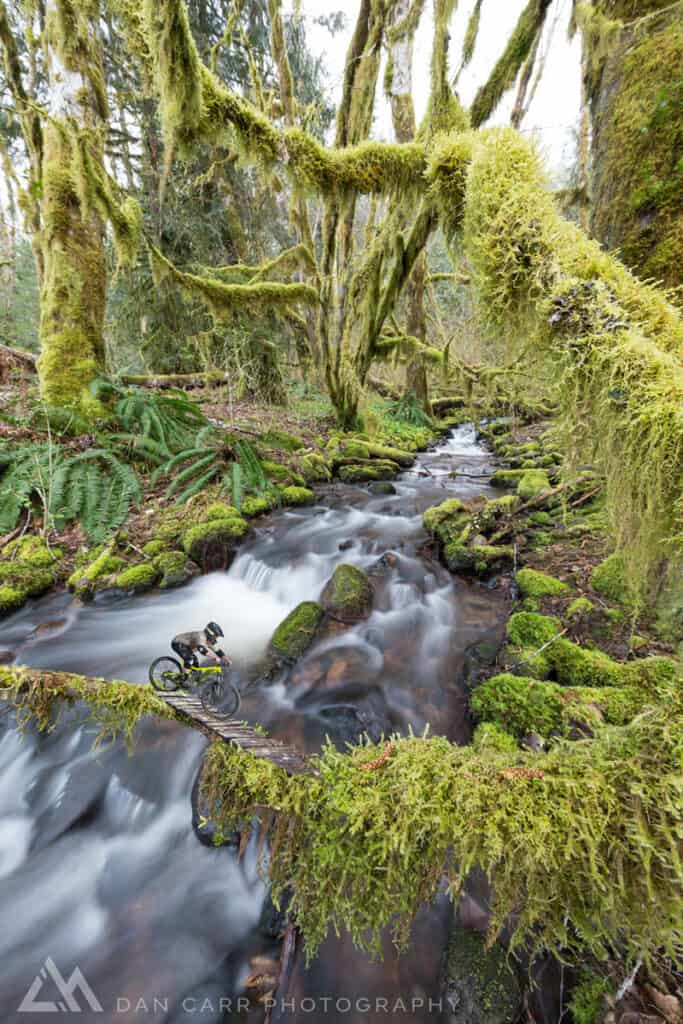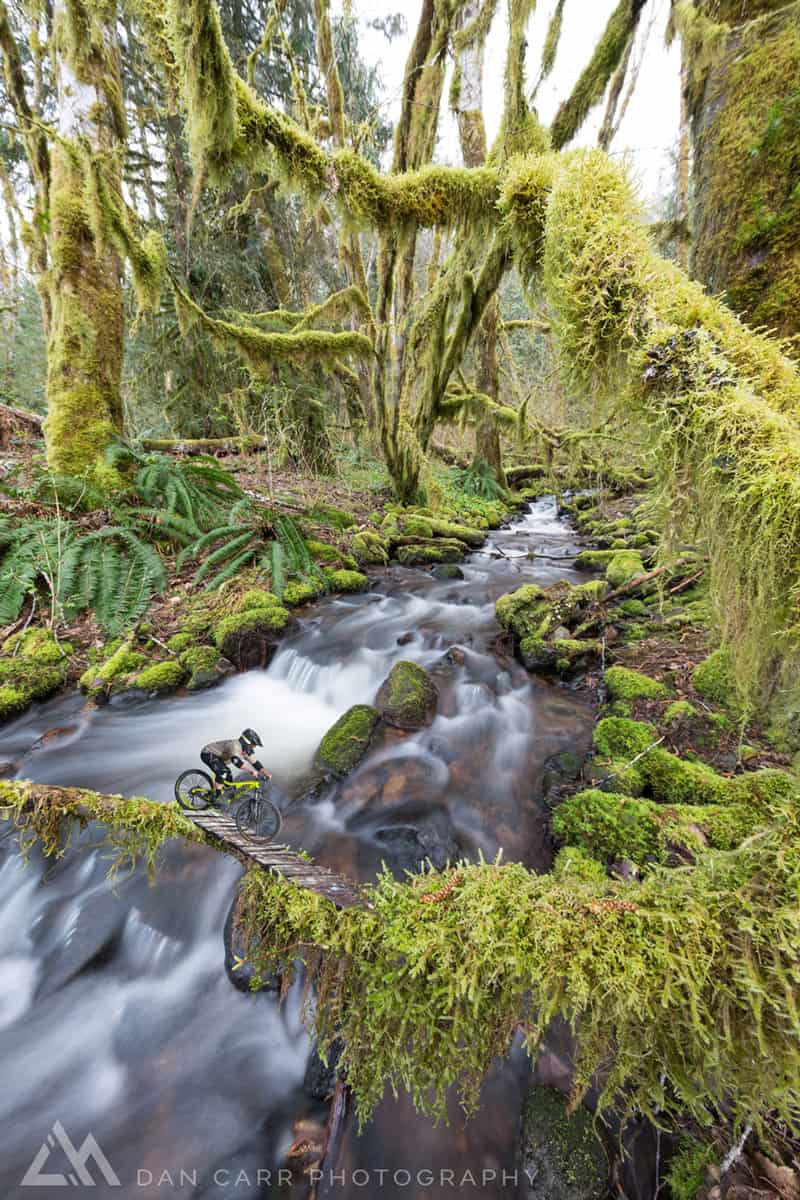 This image is a little unusual for me because it involves fairly heavy usage of Photoshop which is not something I typically do. I wanted to improve some of my Photoshop knowledge, and there's no better way to do that than rolling up your sleeves and jumping right in. In particular, I wanted to experiment with creating a composite image – one which was created by combing two or more photos into a single, final shot.
As an avid mountain biker, sometimes I have daydreamed about riding around in the incredible trees that grow in by home province of British Columbia. This little project allowed me to create that dream, and the deliberate mismatch in perspectives between the background and the biker make it seem like a tiny little biker riding around in a giant tree.
Equipment Used For This Composite Shot
Really Right Stuff TQC-24 Tripod
My MindShift Gear Ultimate Adventure Combo (Read all about it HERE)
Adobe Photoshop CC
I use a Peak Design Clutch strap and Leash strap on all my cameras.
Shooting the Background Image
To start with, I went to a beautiful moss covered forest in Squamish, BC, to capture the background image. For this shot I used my incredible Canon 11-24mm f/4 L lens, set to 11mm. Essentially I treated this background image just like any normal landscape photo, and I made sure to shoot it on an overcast day so that there was a nice even light in the forest. You can't use regular ND filters on the 11-24, due to the bulbous front glass element, so I closed the aperture down far enough to get the long exposure for blurring the water. There's almost no post processing done to this background image apart from minor adjustments to black and white levels in Lightroom, and some tweaks to the green channel luminance and hue in the HSL panel to get the greens in just the right place.
Shooting the Mountain Biker (Me!)
For this personal learning project I didn't shoot an entirely new image to use for the mountain biker, instead I just used an old self-portrait that I did on Whistler mountain. Long time followers of my work might recognize the image because it has come up in conversation on several occasions due to its own technical complexities. The camera for this photo was triggered using a button on my handlebar, and a set of Pocketwizard camera remotes then fired the camera and remote flashes using a relay system.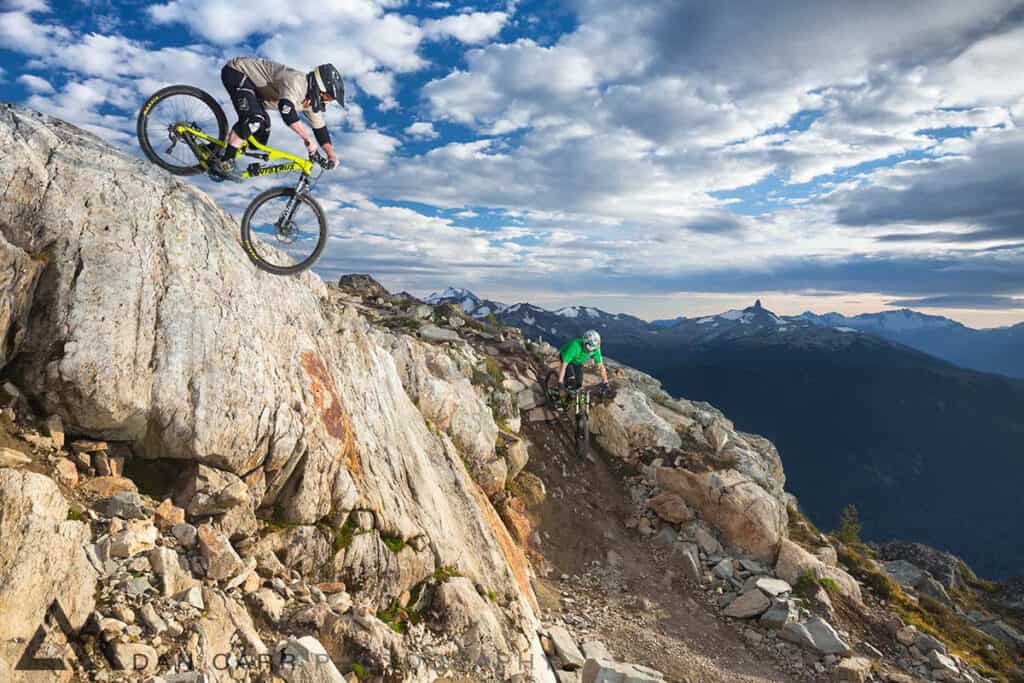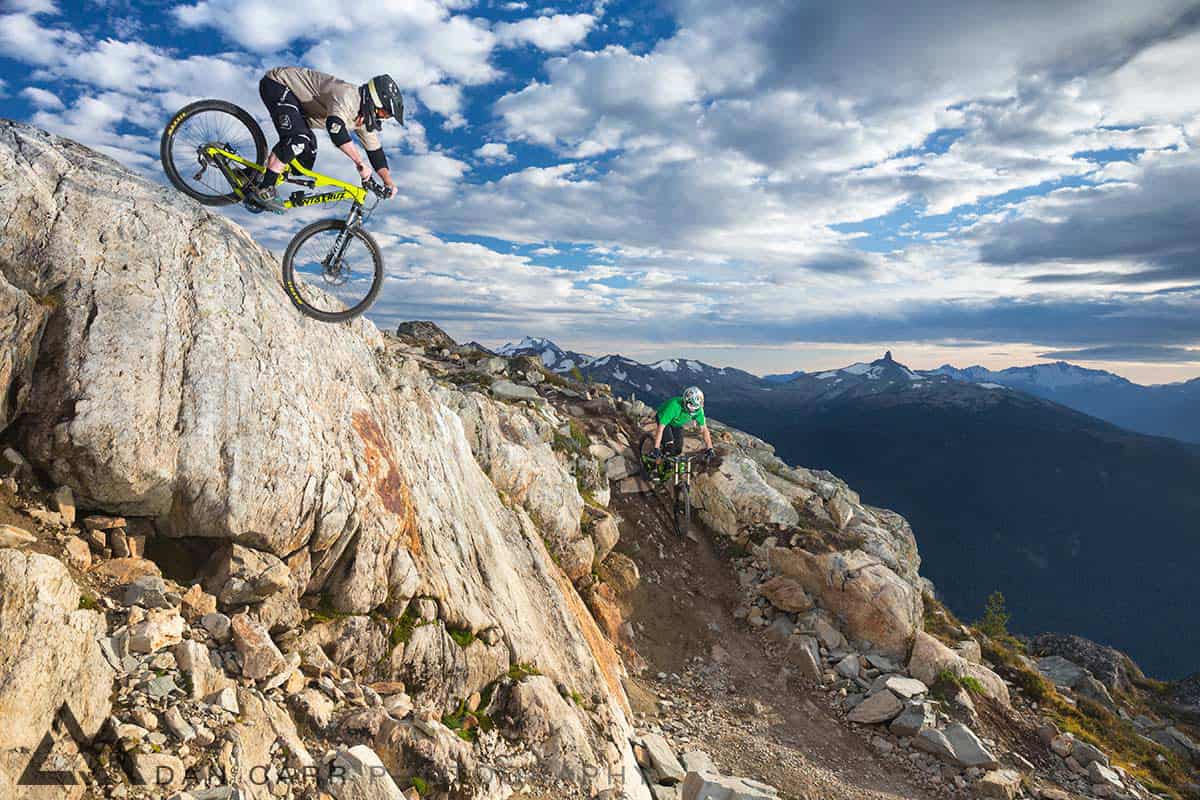 Shooting Additional Composite Content
As well as the biker for the photo, I also needed some images of wooden features from a mountain bike trail. For these I simply took a walk through one of Whistler's world famous bike trails and photographed every wooden feature in the trail from multiple angles and with multiple focal lengths. I wasn't quite sure what I needed, so I shot several hundred images so that I'd have a few things to experiment with.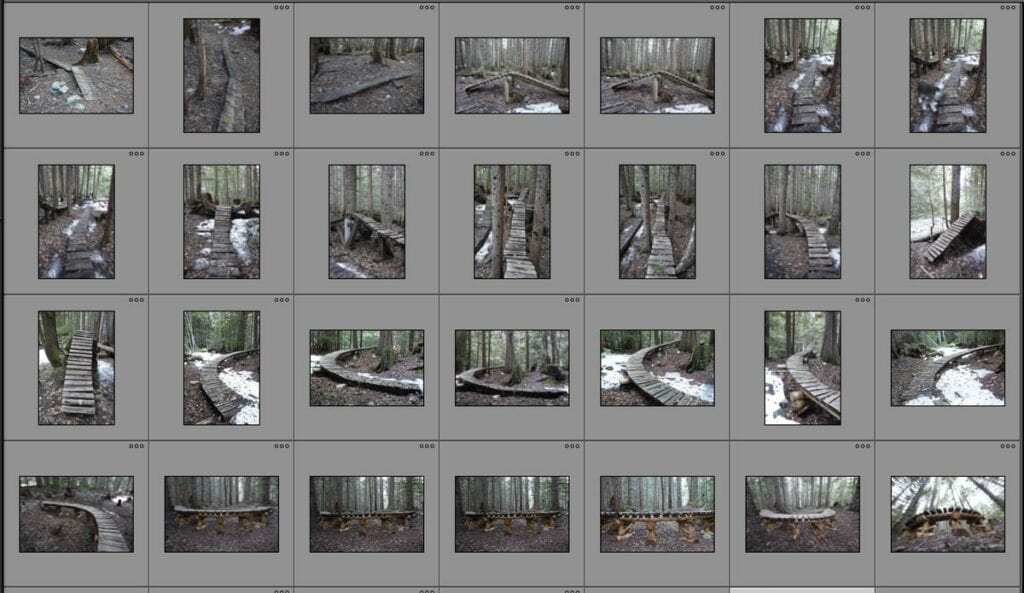 Piecing the composite together was split roughly into 4 tasks:
Using the warp, skew and perspective tools in Photoshop to add the wooden bridge into the scene so that it looked natural.
Cutting out the biker and placing him (me) into the scene, again using a small amount of the skew correction to match the bridge angle.
Using adjustment curve layers to alter the contrast and brightness of the bridge to match the tone of the background image.
Add additional small details like the shadow from the bike, the "dirt" trail preceding the bridge and additional moss around the woodwork to make it look like the moss had grown around it.
In the end, I'm very happy with the result. As usual when I work on larger Photoshop projects, I'm reminded of the importance of layer organization. I ended up with roughly 25 different layers, and it was important to group them together into folders for the moss, the bike and the woodwork. Labelling your layers clearly will also help you no end in longer projects.
What do you think of the final shot?