Like many people, I was a big fan of the Canon XA10.  The diminutive little HD cam really created a new niche for ultra-portable professional video camera with it's dual XLR mic inputs and it was widely adopted for all manner of productions including trips to the North Pole!
Just a few days prior to NAB, Canon have unwrapped the XA10s successor and added some killer new features to create what looks to be a great pro package for those that need a b-cam or just for traveling light.  Photographers like myself can put a little cam like this to great use creating behind the scenes videos from shoots where you want a powerful pro package but don't want to travel with a ton more gear.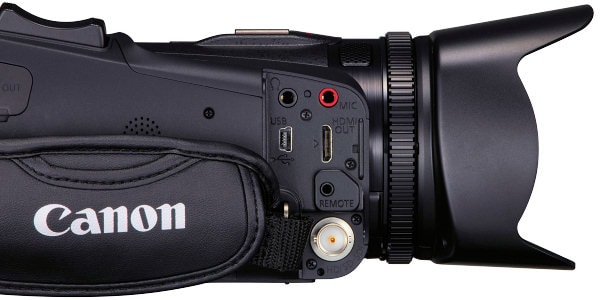 The standout features for these new cameras are the ability to record 1080/60 and with the XA25, the addition of an HD-SDI output to use external recorders or perhaps run a video feed in a small studio.  The XA10 was already popular with web TV shows and the HD-SDI on the XA25 will simplify the process even more.  Both cameras feature updated OLED touch screens and also the ability to use the dual SD card slots for proxy recording ! Lightweight mp4 files to one card and AVCHD to the other card.  Throw in a WiFi connection for remote control, upload of videos to an FTP server and web based playback and you really have an incredibly powerful package in a near palm-sized camera !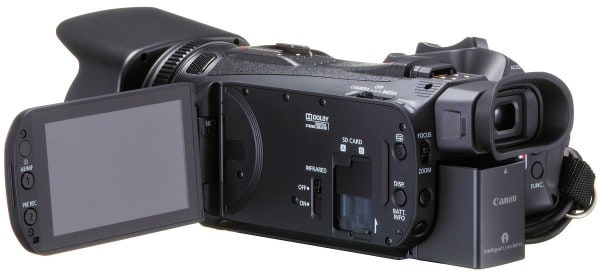 Pre-Order Info
B&H – XA25
B&H – XA20
From Canon
Canon expands creative possibilities with new XA25, XA20, LEGRIA HF G30 camcorders
United Kingdom, Republic of Ireland, 3 April 2013 – Canon has today expanded its handheld video camera range with the launch of three class-leading compact models for professionals and video enthusiasts.  Two new professional X-series models, XA25 and XA20, combine a powerful, all-new imaging system with professional audio and Wi-Fi connectivity in a versatile, compact package that fits neatly in the palm of a hand. The new LEGRIA HF G30 benefits from the same advanced imaging system in a package optimised for enthusiast videographers, such as hobbyists or film students.
Developed using Canon's industry-leading imaging technologies, these models include a powerful specification that delivers outstanding quality and operability. The Canon HD Video system has been completely redesigned – from the lens through to the image sensor and processor – providing new levels of imaging performance. A range of advanced shooting features and connectivity options make these cameras ideal for either professional or amateur use, and are suitable for shooting everything from news and documentaries to weddings.
Advanced Canon HD video system, first-class optics
The XA25, XA20 and LEGRIA HF G30 all benefit from a completely new imaging system, which has been engineered to provide outstanding image quality and versatility. A ground-breaking 20x zoom wide-angle lens offers a 26.8–576mm focal range, employing optical technology found in Canon's top-of-the-range XF305 camcorder. An enhanced 3-mode Optical Image Stabilizer (IS) system[ii] incorporates a Dynamic OIS mode to further reduce the effects of camera movement during shooting. The 8-blade circular aperture also provides enhanced 'bokeh', using Canon's unique Electro Magnetic Diaphragm technology – developed for the company's EF lens range – to ensure beautiful background blur in shots with a shallow depth of field.
A newly-designed 1/2.84-type 2.91 Megapixel HD CMOS Pro sensor provides outstanding dynamic range and low-light performance. The increased sensor size maximises photosite area, combining with a highly sophisticated image processing system to reduce image noise and increase sensitivity in low light environments.
The outstanding processing capability provided by DIGIC DV 4 provides enhanced image reproduction, supplementing the strengths of the DIGIC DV family – such as smooth gradation and faithful colour reproduction – with support for recording at higher data rates. The sensor and processor work together to eliminate more camera shake, augmenting a highly-effective optical IS system with electronic stabilisation that detects and compensates for movement in a larger number of directions.
Complete creative control
Designed to provide maximum flexibility, all the new models support multiple recording formats. AVCHD (up to 28Mbps) and MP4 (up to 35Mbps) provide high bitrates suitable for many professional applications. Video is recorded to dual SD[iii] card slots in a range of resolutions and frame rates up to 1080/50p, with slow and fast motion options supported in MP4 mode – providing greater freedom to choose an appropriate setting according to creative requirements.
All models also support simultaneous recording of different formats to each card – giving users the ability to capture high-quality Full HD footage in the desired format, and smaller MP4 files at the same time[iv].  Delivered by the power of DIGIC DV 4, the smaller files can be shared more quickly and easily for time-critical applications, such as reporting breaking news, whilst the high-quality copies are retained for later use.
Professionally-optimised features
The XA25 and XA20 feature the same removable handle concept launched with the popular Canon XA10. Easily attached or removed to suit the shooting situation, the top-mounted handle houses a range of additional controls, including XLR inputs for capturing professional quality audio from external microphones. The handle also integrates an IR lamp to enhance the shooting capabilities of the infrared mode available in XA25 and XA20 – ideal for recording night-time documentaries or nocturnal wildlife.
All three models offer a compact, ergonomically designed body that offers outstanding handling and control during use.  A new 8.77cm (3.5") 1.23million-dot Organic LED (OLED) touch screen panel provides greater resolution, contrast and improved colour reproduction during recording and playback. Users have full manual control over exposure: a combination of the touch screen and a customisable control dial allows for adjustment of aperture, shutter speed, iris, gain and exposure.
Zoom or focus can be adjusted via a switchable ring at the front of the camera lens. Additionally, a new zoom rocker integrated into the camera body is ideal for shooting when handheld or tripod mounted, offering the fine control and convenience typically found on larger professional cameras. An improved 1.56 million-dot 0.61cm (0.24") electronic viewfinder (EVF) can be tilted up to approximately 45°, providing outstanding detail and comfort for effective handheld or tripod shooting.
Studio connectivity and wireless support
The new XA25, XA20 and LEGRIA HF G30 offer an advanced selection of interfaces, with physical inputs conveniently grouped together and designed to keep connections in place during handheld use. All include integrated HDMI, microphone, USB and headphone terminals, while the XA25 also includes HD-SDI output – offering the high capacity, uncompressed connectivity useful for many broadcast applications.
Each camera also features newly-integrated dual band Wi-Fi support (2.4GHz and 5GHz), providing a range of capabilities for use during or after shooting. Camera Remote support allows wireless adjustment of settings via a web browser[v], and Remote Browser allows users to review recorded footage from the camera in smartphone or tablet browsers – with no need for playback software.
FTP File Transfer allows users to transfer footage to FTP servers at up to 150Mbps via a wireless access point, and with Media Server, Wi-Fi can be used to play back videos stored on a camera on supported TVs or computers, without the need for cables[vi]. Direct movie uploading is also supported for iOS devices using Canon's Movie Uploader application, allowing the upload of videos directly to YouTube or Facebook at bitrates of up to 24Mbps.
XA25 – key features:
·      26.8mm, f/1.8-2.8 lens, 20x zoom, Dynamic OIS
·      1/2.84" HD CMOS PRO sensor
·      8.77cm (3.5") OLED touchscreen
·      Dual-format recording; DIGIC DV 4
·      HD-SDI output
·      1.56m dot EVF, 45° tilt
·      Fast/slow motion
·      Built-in IR lamp
·      2x XLR inputs
·      Built-in Wi-Fi
XA20 – key features:
·      26.8mm, f/1.8-2.8 lens, 20x zoom, Dynamic OIS
·      1/2.84" HD CMOS PRO sensor
·      8.77cm (3.5") OLED touchscreen
·      Dual-format recording; DIGIC DV 4
·      1.56m dot EVF, 45° tilt
·      Fast/slow motion
·      Built-in IR lamp
·      2x XLR inputs
·      Built-in Wi-Fi
LEGRIA HF G30 – key features:
·      20x zoom, 26.8mm wide-angle lens; 8 blade circular aperture
·      Control settings remotely and share with Wi-Fi
·      Simultaneous recording of AVCHD and MP4
·      Canon HD CMOS PRO sensor, DIGIC DV
·      Optical Intelligent IS
·      Full manual control
·      Instant AF; Face Detection
·      8.8cm OLED touch screen
Pricing and availability:
The XA25 is available in the UK and Ireland from June with an SRP price of £2099/€2799
The XA20 is available in the UK and Ireland from June with an SRP price of £1699/€2199
LEGRIA HF G30 is available in the UK and Ireland from June with an SRP price of £1299/€1699