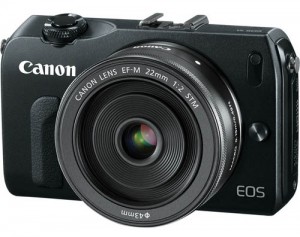 Canon's ship is typically a leaky one so we've had full specs and photos of this camera for a few days now.  Today though Canon officially launched their EOS-M mirrorless camera platform.
Canon are last to the mirrorless market amongst the big players and on paper they have come out with an impressive package.  Most noticeably, the camera is TINY.  It is actually smaller than the Panasonic GF5 Mirco Fourthirds camera but critically it packs a full APS-C sized sensor and not a smaller M 4/3 one.  An 18MP APS-C sensor no less.
The camera will begin shipping with either an 18-55 EF-M IS zoom or a 22mm f2.0 STM pancake style lens but expect to see many more lenses soon, probably a couple at Photokina in September.  An EF lens adapter of course means that you can use any of your existing EF lenses in the meantime.  On paper the EOS-M seems to share more than a couple of features with the recently announced Rebel 650D / T4i and I think it is fair to assume there is some tech crossover here in the 18MP sensor as well as a 3″ touchscreen.  The recent Rebel was Canon's first DSLR with a touchscreen but by all accounts reviewers seem to like its application and function so I'm glad to see it implemented here as well.  With few physical buttons on the camera it will have to be an intuitive touch system if this camera is going to work well.
Video looks to be decently well specified in the EOS-M line with full 1080p at 24/25/30 fps and AF during filming, designed to compliment the new STM style lenses.  The EOS-M also has a microphone input.
Update:  According to Canon's press release, the EX-90 flash unit will actually ship with the Camera.  A nice touch there.
Update 2:  It seems that for some reason it might only come with the EX-90 in Europe.  A poor touch there.
Critical Specs
18mp APS-C
DIGIC V
ISO 100-12800 (25,600 Expansion)
3? Touchscreen 1.04million pixels
Phase & Contrast AF
Video Servo AF
1920×1080 Video 30p/25p/24p
1280×720 Video 60p/50p
MPEG-4, AVC/H.264
SD Card
Adaptor at launch for EF lenses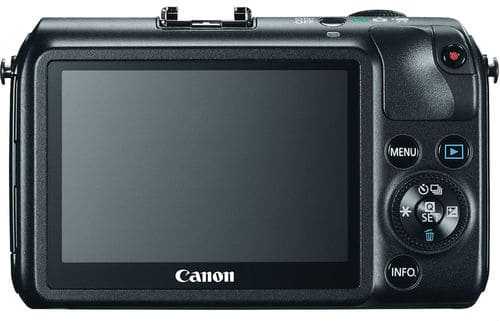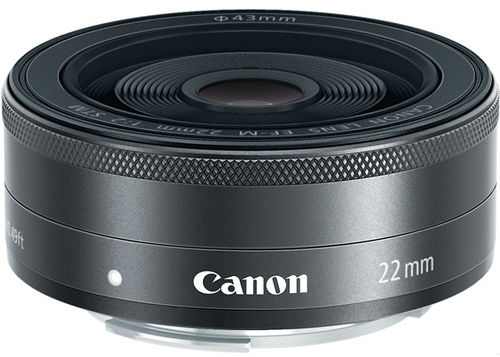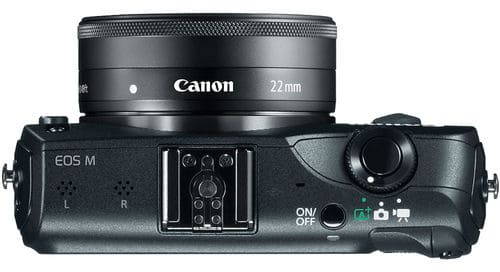 Pre-Order
B&H
Amazon
Compared To…….
I've created this top view comparison of several key cameras with the EOS-M.  As you can see it is incredibly small when compared even to the G1X point and shoot camera.  The Rebel T4i which shares a lot of the specifications , dwarfs the EOS-M as well.
What Now For The Rebel……?  Canon's Grand Plan.
When Nikon launched their mirrorless 1-System they made a clear decision not to interfere with their DSLR sales by going with a smaller sensor even than M4/3 , approaching point and shoot size.  Canon have decided to put a variant of their latest 18MP APS-C sensor in the EOS-M lineup though and you have to wander what this will do for the Rebel lineup.  For your average consumer when they see both of these cameras alongside each other in Best Buy , both with a 3″ touchscreen and both with the same size 18MP sensor, but one is half the size and cheaper, it will clearly impact sales of the larger Rebel brother.
I put to you a crazy idea….
Canon is rumored to be introducing a lower priced full frame camera in the not too distant future.  They also introduced a huge firmware update for the 7D recently.  My initial reaction was that they were extending the life cycle of the 7D for some reason.  There would seem to be no good reason to add those features to a camera which by Canon's usual timelines would be due for replacement within the next few months.  Maybe Canon sees the future of APS-C sensors in the EOS-M lineup only ?  Perhaps we will see a gradual move to full frame cameras in all their DSLRs ?  The 1.3x crop sensor has already been phased out and from a consumer point of view it would be far simpler to have crop sensors in physically smaller cameras.  It is something that the consumer can easily understand and relate to.  Small camera, small sensor.  Big camera, big sensor.  Keep it simple.
We used to have an XXD camera , the 7D , the 5D and the 1D.  But the 5D Mark III did blur the lines more than some people may have realized when it added the AF system from the typically sports oriented 1D series.  I used to recommend the 7D to people who wanted to use a smaller camera for sports, but now I recommend the 5D Mark III instead.  It has superior AF, decent FPS and a much better sensor.  A lower priced full frame camera could be a combination of the XXD and 7D line giving us a complete DSLR lineup of full frame cameras.
But what will XXD customers buy you say ??  Well it is clear to me that the EOS-M lineup will also feature a 'Pro' model with a viewfinder in the not too distant future.  If this first EOS-M will replace the Rebel , what camera would be replaced by a more fully featured 'Rebel' that still has an APS-C sensor ?   Yep, you got it, the XXD line.  There is no way that Canon can introduce two new cameras with APS-C sensors and interchangeable lenses without culling something from their current lineup.  Something has to give because the consumer typically doesn't want to have such a broad range to choose from, especially when on paper to them several of the cameras appear to have identical features.
Remember you heard it here first……..
Press Release
LAKE SUCCESS, N.Y., July 23, 2012 – Combining the perfect blend of advanced video features and excellent still image quality in a convenient size, Canon U.S.A., Inc., a leader in digital imaging solutions, today announced the EOS M Digital Camera. Canon has made significant advancements in the realm of professional-quality HD video capture, from advanced CMOS sensor technology to smooth, quiet continuous autofocus. Inspired by EOS technology, the EOS M leverages these core technologies and distills them down to provide outstanding video capture capabilities while retaining high-quality still image capture. When shooting still images, the EOS M camera's 18-megapixel APS-C-sized CMOS image sensor provides a shallow depth of field, incredible low-light image quality and a wide dynamic range to capture rich gradation and detail. This new addition to the EOS family offers a great solution to videographers and photographers of all levels, with two new lenses designed specifically for Canon's new camera format – the EF-M 22mm f/2 STM kit lens and the optional EF-M 18-55mm f/3.5-5.6 IS STM lens– and the ability to use the full line of Canon EF and EF-S lenses through the optional Mount Adapter EF-EOS M.
"The EOS M includes a unique feature set making it an ideal movie-making tool, while also offering incredible still image quality on its APS-C-sized CMOS sensor.  The camera's size, image quality, advanced video capabilities and the versatility of Canon's full lineup of lenses make the EOS M another great option to help our customers record and capture their creative vision," said Yuichi Ishizuka, executive vice president and general manager, Imaging Technologies & Communications Group, Canon U.S.A.
Product Specifications and Features:
EOS Full HD Movie mode with Movie Servo AF for continuous focus tracking of moving subjects also includes:
Manual exposure control
Multiple resolution frame rates
Built-in stereo microphone
Manual audio level adjustment
Video Snapshot mode with
touch-screen editing
18.0-megapixel APS-C CMOS sensor
ISO 100–6400 (expandable to 12800 in H mode) for video recording, ISO 100–12800 (expandable to 25600 in H mode) for still image shooting from bright to dim light and high performance Powerful DIGIC 5 Image Processor for exceptional image quality video and photos
Hybrid CMOS AF delivers fast autofocus speed for video and photos
Touch Screen 3.0-inch Clear View LCD monitor II (approximately 1,040,000 dots) with smudge-resistant coating features multi-touch operation allowing photographers to use familiar gestures such as "pinch-to-zoom" and "swiping" to scroll between pictures and Touch AF for an easy and intuitive video capture experience
Scene Intelligent Auto mode delivers expertly optimized photos and scene detection for amazing results even when shooting at night
Advanced imaging features like Handheld Night Scene mode, HDR Backlight Control mode, and seven Creative Filters provide added versatility
Multi-shot Noise Reduction helps preserve precious detail in photos at high ISO speeds
Compatible with SD/SDHC/SDXC memory cards, including new Ultra High Speed (UHS-I) cards
Compatible with all Canon Speedlite accessories including the new Speedlite 600EX and Speedlite Transmitter ST-E3-RT
Compatible with Canon's GPS Receiver GP-E2
An Advanced Video Capture Device
The EOS M utilizes Canon's Hybrid CMOS AF system to deliver fast autofocus speed for both video and photos. The Hybrid CMOS AF system truly shines when shooting video with EOS Full HD Movie mode including Movie Servo AF for continuous autofocus and tracking of moving subjects. The Hybrid CMOS AF system is located on the CMOS sensor itself and combines phase-difference AF and contrast AF to achieve operational stability, speed and precision. The Movie Servo AF function on the EOS M is enabled by default which keeps images on the rear screen in constant focus, even before the shutter is pressed. This continual focus makes for sharp video capture in a snap or to help reduce shutter lag due to focusing when still images want to be shot. The camera employs three AF methods for video and photos, Face Detection & Tracking AF, Multi-Point AF for automatic selection and Single-Point AF, where users select one of 31 AF points. Through the camera's touch-panel operation, subject recognition and tracking is engaged at the touch of a finger, allowing users to track subjects accurately and focus on intended subjects with ease. In addition to subject tracking, the touch-panel LCD allows for simple, intuitive operation, menu navigation and touch features making it easy to shoot video and photos.
Thanks to Canon's new Stepping Motor (STM) technology, when using either of the newly announced M-series lenses – the EF-M 22mm f/2 STM kit lens or the optional EF-M 18-55mm f/3.5-5.6 IS STM lens – the AF system remains silent, helping ensure users only capture the sound of the scene being recorded. The EOS M also features manual audio level control to 64 levels, a built-in stereo microphone, which includes a wind filter and an attenuator function to reduce audio distortion in extra loud situations. The EOS M records MPEG-4 AVC H.264 video as an .MOV file in a range of NTSC and PAL professional frame rates, including 1080p Full HD video at 30p (29.97), 24p (23.976) and 25p, 720p HD video at 60p (59.94) or 50p and Standard Definition video at 30p (29.97) or 25p.
In addition to the creativity afforded by over 70 compatible lenses, the EOS M also includes Picture Style settings – including custom Picture Styles – when shooting video, allowing users to adjust color settings the same as when shooting still images. The camera also includes Canon's Video Snapshot mode for an easy way to record and create a fun highlight reel that can be easily shared. Video Snapshot mode combines a series of short video clips into a single file, all in-camera.  Through the camera's touch-screen controls users can delete, cut or re-order the clips in-camera for quick and easy editing.
Optical Diversity: New M-Series Lenses and Accessories
Along with the EOS M, Canon is also introducing two new M-series lenses – with new EOS M mounts –that include STM technology allowing for smooth and silent focusing when paired with Hybrid CMOS AF.
The EF-M 22mm f/2 STM kit lens is ideal for shooting video and still images. The fixed focal length lens has a great capacity for gathering light with an incredible aperture of f/2 and when combined with the camera's APS-C image sensor, provides beautiful bright images and background blur for both video and stills. For more focal range versatility, Canon is also introducing the new EF-M 18-55mm f/3.5-5.6 IS STM, which provides videographers and photographers with a variable zoom range for general use with video recording or photographing. Both lenses are designed specifically for use with the EOS M digital camera.
In addition to the two lenses, any of Canon's EF and EF-S lenses can be used with the EOS M with the optional Mount Adapter EF-EOS M. The EOS M camera's strong magnesium and stainless steel frame provide the durability and rigidity to support the full line of EF and EF-S Lenses in a lightweight convenient design. Using the adapter allows the camera to be fully integrated into the EOS ecosystem of lenses, adding creative options and versatility to this powerful camera.
Ideal for use with the EOS M[i], Canon is also announcing a new compact and lightweight flash unit, the Speedlite 90EX, designed for the photographer on the go. The Speedlite 90EX is capable of coverage for 24mm wide angle lenses (35mm equivalent) with maximum guide numbers of 30 feet (9 meters) at ISO 100. The flash unit can be controlled wirelessly for creative multiple flash shoots and uses the standard Canon EOS hot shoe mount for compatibility with all EOS DSLR cameras and PowerShot digital cameras that include a hot shoe.
Availability
The EOS M Digital Camera bundled with the new EF-M 22mm f/2 STM kit lens will be available in October for an estimated retail price of $799.99. A white version of the EOS M Digital Camera bundled with the new EF-M 22mm f/2 STM kit lens will be exclusively available through the Canon Online store, shop.usa.canon.com.
The new EF-M 18-55mm f/3.5-5.6 IS STM lens, Mount Adapter EF-EOS M and Speedlite 90EX will all be available in October at an estimated retail price of $299.99, $199.99 and $149.99 respectively.