Just a few days before CES 2012 and the specs for the Nikon D4 have been accidentally leaked on a website (reported but not named by Nikon Rumors). They also published a photo of the new Nikon D4. Given that we already know all about the Canon 1D X we can now take a proper look at latest and greatest from the big two. While the D4 will be the second of the two to be unveiled, it will in fact be available in stores in February compared to late March for the 1D X. Amazon actually has the D4 up for pre order already, if you're looking to pick one up then you might want to get in line.
Spec Comparison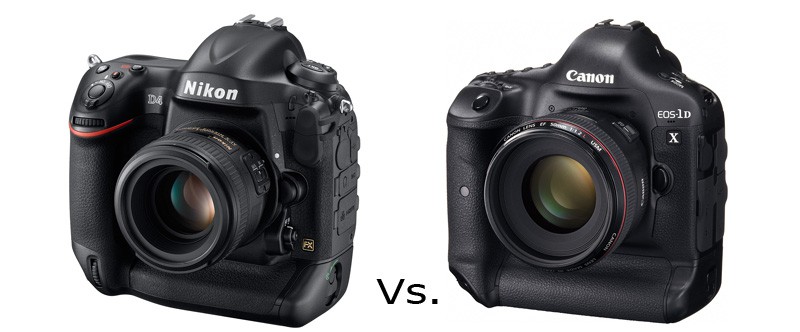 Not every single item on the D4 spec list has been released yet so I will be upgrading this as they are unveiled.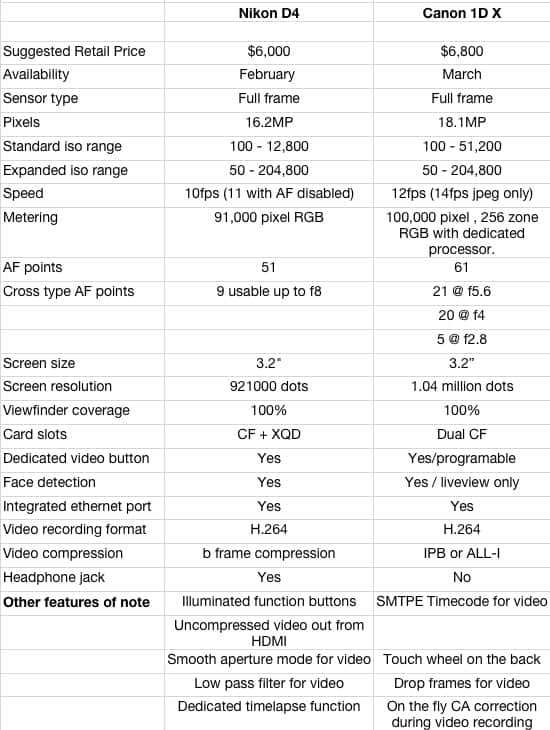 In terms of specs this is probably the closest that Canon and Nikon's flagships have been in a while. A lot of that comes from Canon's leap to a full frame sensor but it's interesting that they were able to squeeze 12fps out of it while Nikon are still 'only' on 11fps, especially given the larger MP count on the 1d X. The DIGIC 5+ processors in the Canon must be incredibly powerful and they are also likely gaining some ground by offsetting the metering to it's own Digic 4 processor leaving the 5+s to do the heavy lifting.
It's also interesting to see that the Nikon D4 will be available in February while we have to wait until March for the 1d X, even though it was announced back in November. Either way though, the major target of the Summer Olympics in London will be met by both parties with relative ease it would seem.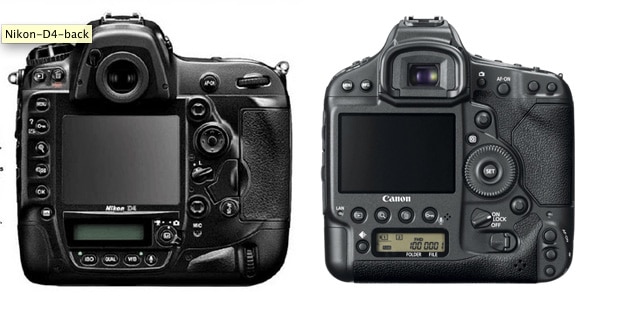 D4 and 1D X For Photos
I think this one is going to be too close to call really. For the last few years Nikon has had the upper hand in terms of iso quality but the Canon 1DMK 4 was also very very impressive. Nikon's advantage though was always that they had a lower pixel density from spreading their megapixel count across a full frame sensor, whereas Canon's was a 1.3 crop ASP-H sized sensor. Now that Canon has jumped up to full frame I predict that we'll see image qualities within 1/3 to 2/3 of a stop of each other in iso performance. Canon would actually appear to have a slight edge in this areas as well as their native range goes to 51,200 with the D4 only going to 12,800 BUT both expanded ranges from both manufacturers top out at in identical 204,800.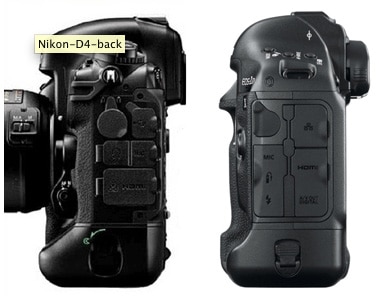 In terms of speed, Canon has a clear edge at 12fps, and a trick up it's sleeve with the 14fps JPEG mode as well. The Nikon D4 maintains the 10fps of the D3s but offers an 11fps mode when AF is disabled. I'm surprised that Nikon have lagged behind in this area. For AF we're going to have to wait to get them side by side. Typically Nikon has been the winner in this category but the huge difference in Canon's new system compared to that which is in the 1DMK4 indicates that they have been very busy in this area. They have sacrificed the ability to focus with lenses of a minimum f8 aperture (where Nikon has not) BUT the 1D X has an incredible 21 cross type focus points available for lenses of a minimum f5.6, compared to Nikon D4's 9 cross type points. Cross type points aide accuracy greatly so this is a sign that the Canon should be pretty killer in this department and much like the other areas I expect this to be a close call between the two.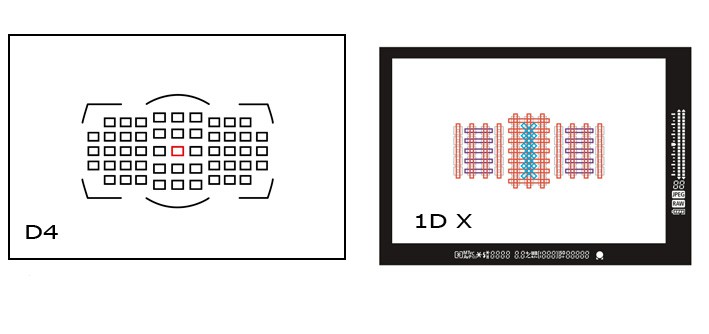 D4 & 1D X For Video
I've already written an extensive article on the video feature improvements of the 1D X which are plentiful. DSLR movie making isn't going anywhere for the moment, despite the launch of highly capable and dedicated large sensor video cameras like the SONY F3 and the Canon C300. Nikon's hidden bombshell though is the ability to output uncompressed video from the cameras HDMI port, a feature which people would love to have seen in the Canon 1D X. H.264 is not a professional video format, it is highly compressed, but with HDMI output it allows filmmakers to attach external recorders to the D4 and record the output direct to Apple ProRes of Avid DNxHD. I have a funny feeling that well priced external recorders like the Atmos Ninja are about to become extremely hot property. The question will be though whether such a feature will overcome the form factor shortcomings of any DSLR ? At $6000 it's no small investment and it's not much more of a jump up to the next level for a camera that will natively record something better than H.264 AND offer other pro features such as timecode and XLR inputs.
The D4 also has a headphone jack !!! See photo below. This is an awesome feature for this camera. Canon failed on this one. To be able to monitor your audio track is a must for good video production. The article also confirms that there will be on screen audio meters just like the 1D X but the headphone jack is another trump card.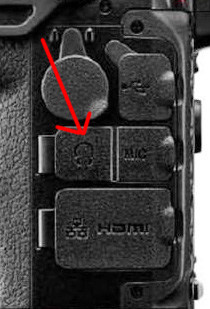 Nonetheless this is quite a coup for Nikon as Canon have long been seen as the leader in DSLR video but this is a feature many people have been waiting for. Canon are no doubt aware of this but integrating uncompressed output from the 1D X would have severely undermined their new Cinema EOS line of cameras. Whilst at the moment it only includes the C300, we know that they have a DSLR form factor camera in development for launch sometime this year which will almost certainly feature uncompressed output itself. They will want to be charging at least the $6800 of the 1D X for the 'in-development' camera so you can see why they might wand to hold off on that feature for a little while though it sucks for us as consumers.
XQD Cards
I felt this was worth a separate mention as the Nikon D4 is the very first camera to be announced as using XQD cards. XQD are the next iteration of Compact Flash cards that will take transfer speeds up to 250mbps. Currently CF cards in UDMA7 format are topping out at about 167mbps for reference. The actual XQD card itself is somewhere between the physical size of an SD card and a current CF card.
So is this a big deal ? Well no not really. Current CF cards are mighty fast and incredibly reliable and robust. I remember the failure rate of early CF cards many years ago and I certainly wouldn't want to be dipping my toes in the world of the very first XQD cards when CF is working so well right now. I'm sure that the Canon 1D X2 will feature XQD and that should be fine as it will give it time to come down in price and get some more development. UDMA CF cards are more than capable of capturing the images from either of these cameras at the moment.
What can actually be seen as a downside is that the D4 no longer has dual CF slots. Those who like to use two cards are going to be forced to adopt both the CF and XQD and then also have to carry around two types of card readers.