Shortly after the launch of the Canon C300 I interviewed one of Canon's technical staff about the camera.  At the time he mentioned to me that on top of the announced 3 EOS Cine prime lenses there were also two more in development.  One wider and one longer.  I now have a photo of these two prototype lenses, see below.  It's rare that unannounced lenses are shown so I thought it well worth a mention.  No focal length is known at the moment, if I had to guess I would say 100mm or 135mm and 18mm?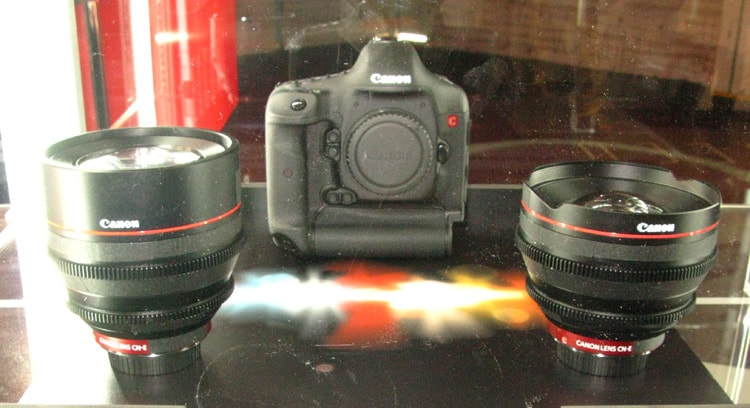 On top of these primes, it would seem that there are also two new Cine zooms in development on top of the two that were officially announced announced alongside the C300.  The 14-60 and the 30-300 that were announced, are MASSIVE lenses and they don't really fit the C300 form factor for those who want lightweight rigs.  There's no way they could be handheld or used on Steadicam rigs but here are two NEW Cine zooms that are much much smaller and would seem to target the more portable market.  I'd imagine these will be comparable in spec to the Angenieux 16-42 and 30-80 that are so popular in 3d rigs and Steadicam rigs at the moment though potentially one could offer a longer range like a 70-200 which is a popular lens for DSLR shooters.
When will we see these lenses ?  Perhaps more info at NAB in the spring of 2012 but given the EF Cine primes that we do know about are not due until next summer I wouldn't count on seeing any of these new ones on shelves until 2013.