I did a post similar to this on the recently announced EOS 1DX which people seemed to enjoy so here we are again with another one.  This time I was able to have a short conversation with Erik Allin from Canon today , who works out of their Hollywood branch and was a technical specialist in the research of the C300.  The chat turned up a couple of new interesting pieces of information that I've added here.


1 – EF Cine Primes – 3 announced, 2 more in the pipeline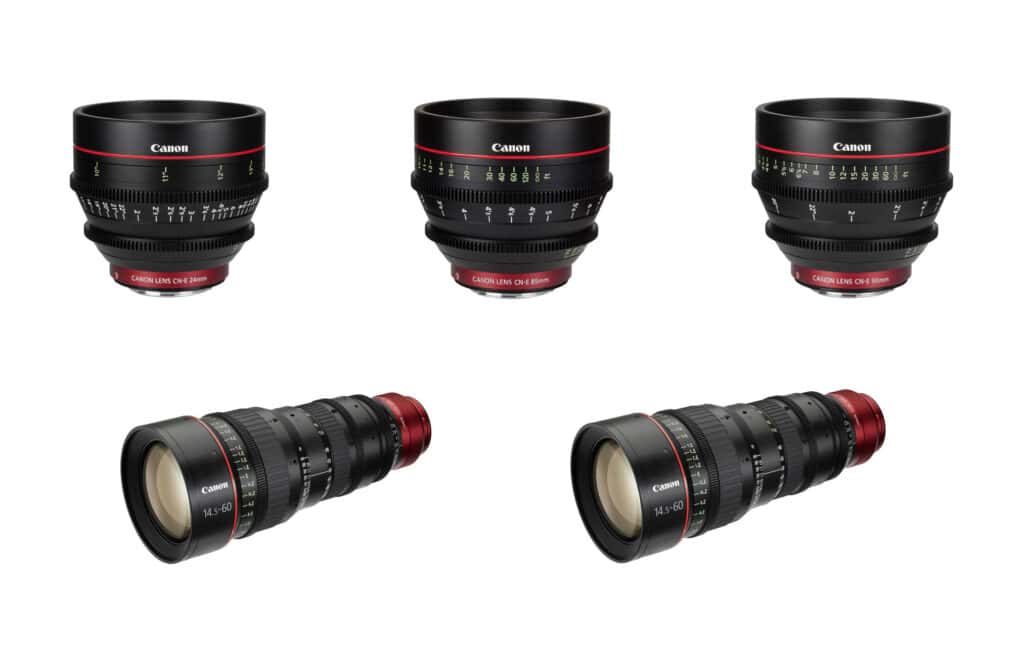 Whilst the two zoom lenses are identical to the PL versions which we saw at NAB in April the three prime lenses are brand new designs.  The zooms will only cover the image area of a super 35mm sensor but the prime lenses have been designed to work with sensors up to a full frame 35mm still image size allowing them to be used on the 5dMKII and future cameras like the EOS 1D X.  The EF Cine Primes have an electronic contact on them just as a regular EF lens does which will allow them to send information to the camera regarding which setting are being used, this will then be baked into the video metadata just as it will be when regular EF lenses are used.  This also allows the camera to apply Canon's peripheral illumination correction during recording to eliminate vignetting just as we see in their recent stills cameras.  Initially there will be the 24mm t1.5, 50mm t1.3 and slightly later next year the 85mm t1.3 but the interesting little piece of information from Erik:
There's also two more of the Cinema Primes, one would be an ultra-wide and one would be a telephoto over and above what we have already announced so we have two more in the pipeline and from there we will see where the market tells us we need to go.
If I had to guess I'd say the most obvious would be an 18mm and a 135mm?
2 – The C300 Already Has At Least One Sibling In Development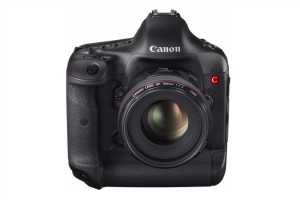 Shortly after the presentation of the C300 Canon released a short and rather odd press release that certainly left us with more questions than it answered.  If you missed the release you can read it here, but honestly I can sum it up in a few words.  They are developing a DSLR format camera that records 4k video , it has a full frame sensor but at 4k it records an APS-H sized image from the sensor's center.  We've seen "in development" announcements about lenses before but it's the first I can remember that relates to a camera.  Chuck Westfall reported to The Verge that this camera would hopefully be on the market within 12 months.
The accompanying image is clearly just a EOS 1D X with a change of badge on it so it's safe to assume that at this early stage they have no settled on a design for it.  During the C300 presentation there was a glimpse of a much smaller looking DSLR prototype in one of the keynote slides, that camera appeared to be closer to the size of a 5D and perhaps had a PL mount.  A PL mount would likely mean that the camera would come with no mirror, perhaps still images would only be available for capture in the same manner as the new 14fps mode in the EOS 1DX where it requires no mirror but therefore offers no AF and no visible image through the viewfinder ?  If the camera were to be that specifically designed for video then would it even have an optical viewfinder ?  It would seem pointless especially given that it would display a full frame view but recording happens at APS-H size.  It would make far more sense for it to have an EVF instead, in which case you would also be able to shoot photos using the viewfinder.  Just a thought….
With so many people wondering why Canon did not deliver 4k recording in the C300 I asked Erik Allin why Canon would seemingly debut 4k in a DSLR format and NOT in something purpose designed for video?
The DSLR hybrid stills/video camera format has been around now for a little while and that market has been asking us for something that is higher resolution.  The original purpose of us putting video in the 5d MarkII to begin with was to satisfy the news agencies like AP and Getty, for them to be able to do video and stills, and they have a need for something that is a little bit higher resolution as well.  In terms of why it was put in that camera to begin with we're getting into the second generation of video in a DSLR at this point in time with the new 1D X and this development announcement and in terms of the new Cinema EOS C300, we are 1st generation.
I also went on to ask Erik whether Canon would develop a camera that would be more of a stepping stone to Cinema EOS from DSLR, or whether this 'In Development' 4k DSLR was intended to fill that gap?
Well I think that camera (the 4k DSLR) is a slightly different thing than what you were asking about.  The direction we go is going to be based on the kind of feedback that we have received already in the interviews and research that we've done…..We've made a major commitment, we're going to be in this industry and realistically where we go next is where the film making community tells us we need to go.
Erik's answer to this question really gives us an indication, if more was needed, that this is just the beginning for them as they clearly do intend to offer something with at a lower price point in the future and the 4k DSLR is NOT that camera.  The website EOS HD is reporting as fact that :
The range will later be expanded say Canon, to include 4K movie cameras, a 4K DSLR, a camera for run & gun documentary makers (presumably with an auto-mode that the C300 lacks entirely) and a lower end offering priced for indie filmmakers.
They do not cite a specific source for this though and I can't find it anywhere in Canon's literature.  Regardless this is certainly the impression I got anyway.  A 4K cine camera in the future is a given, Canon USA's own literature states that the C300 would be at home as "a B camera on major motion pictures".  There's no way that they would have made the investment they have in Hollywood service centers and R&D to be simply satisfied with B camera status.  And Erik Allin's responses to me indicate that apart from the 4k DSLR there could be something in between that and the C300 at some point which would tie in with what EOS HD is reporting.
3 – Built In Glass ND Filters to 6-stops
Inside the C300 is a system of 4 glass ND filters which have 0, 2, 4 and 6 stops of light blocking capability.  The filters have to be used individually they cannot be stacked together and they are electronically moved into place at the push of one of the side buttons on the camera.  If you happen to be on location and the electronic motor system breaks, Canon have designed a a small hatch on the right side of the camera that can be opened to allow a screwdriver to turn the gears and change the filters.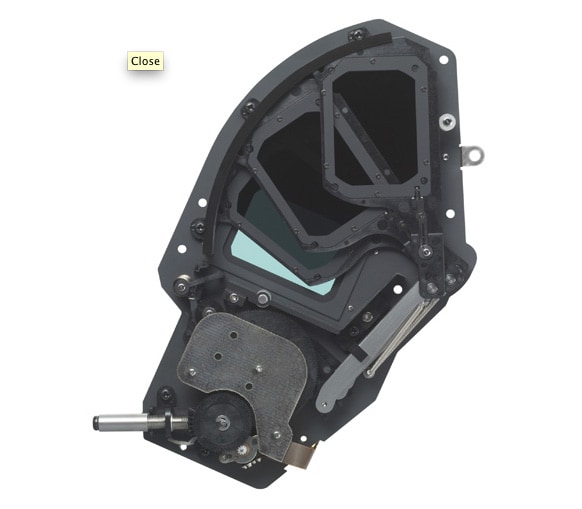 4 – Wireless Control Of Camera Over HTTP With Tablet, Phone or Computer
The WFT-E6 wireless accessory that was announced alongside the EOS 1DX will also work with the EOS C300.  Initially I had seen the C300 version given a WFT-E6B designation but Erik confirmed to me that it will be the exact same piece of hardware.  When connected to a camera you will be able to assign the camera an IP address and access it over a network or set up an ad-hoc network with a computer, smart phone or tablet.  There will be NO specific application for controlling the camera though, instead it will be done via HTTP in the browser of your device just as it is done with stills cameras.  You will be able to view a live picture of what the camera is seeing and you will be able to adjust iris and focus with all current EF lenses.  With other lenses you will have access to shooting settings like iso and shutter speed + white balance but there will be no deep integration into the menu system so not everything will be able to be changed remotely.  Whilst Canon say that you can adjust focus remotely this way, the liveview window is limited in size and the update is roughly 1fps so you certainly can't accurately pull focus on a moving object or anything like that.
With the EOS 1DX you can sync the timecode between two of them by using the WFT-E6 ( or direct cabling with ethernet cable) and I initially wondered if you would be able to sync timecode between a 1DX and a C300 if they both had WFT-E6s attached to them.  Apparently this is not possible though which is a bit of a missed trick IMO. I can see it being impossible to create an ad-hoc connection between the two as there would be no host, but if both cameras were on the same wi-fi network it would have been a neat trick to be able to sync say a remote 1DX at an event with a C300.  Likely to remove latency issues you're going to want to run a portable battery powered router to link the camera and device anyway.
The other notable use for this wireless connectivity though is that you are given the opportunity to write information to the metadata of the video file directly from your computer/phone/tablet so you could conceivably have someone on set recording notes to each take which could speed up the post production process a little.  Clip title, creator, location, description, GPS information, altitude, longitude and latitude, plus OK/check mark and SHOT mark are all possible annotations you can make.
5 – Canon Log Gamma
This setting on the camera delivers the widest possible dynamic range, capturing the image with a subdued contrast and sharpness which allows the maximum freedom in post production.  Those of you who have experimented with the Technicolor's Cine Style for Canon DSLRs will be familiar with the fact that this sort of footage needs to be graded.  If you are looking for a quick post workflow and lack the budged for a professional grade then it's not a setting you will likely want to dig into but it's good to have it there.  The extra little detail to go along with this though is that you will also be able to enable what Canon are calling View Assist to preview a final graded  look on the camera's LCD screen.  So whilst recording to the CF cards or out via HD-SDI is happening with Canon Log Gamma, you can see an estimation of the final graded outcome on the 4″ LCD or in the viewfinder.  It is not possible to send this View Assist signal out via HDMI or HD-SDI as they did not want people to accidentally think they were recording Log Gamma.  It would have been nice if they had figured out a fool-proof way to enable that though, larger productions would definitely see benefit in being able to send the View Assist image to a video village.  There may be a potential workaround though if you read my next point….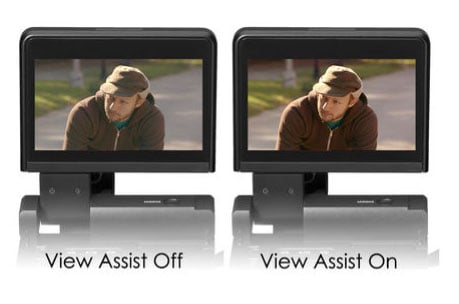 Canon USA have posted an article specifically on the Log Gamma feature HERE
A CP Lock mode is also available as a one button solution for setting the camera up for optimum post-production purposes and locking the settings.
6 – Proprietary Canon Connectors & Their Future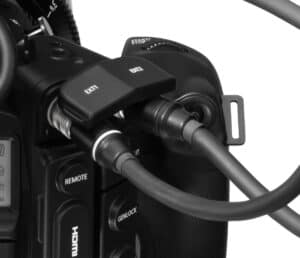 You may have noticed that the combination detachable  XLR input/control/4″LCD screen is cabled to the C300 with an unfamiliar looking pair of cables.  The cable and connector are proprietary Canon products for sending the control from the button pad beneath the LCD to the camera as well as sending the video signal to the LCD and sending then uncompressed audio from the outboard XLR inputs back to the camera.  Whilst it is proprietary, Erik told me that they plan to release the specifications of the connectors and wiring to third parties to allow them to create their own accessories to connect to the camera if they want to.  A simple accessory that comes to mind is some extension cables so that you could use the LCD screen while the camera is on the end of a small jib arm.  Given that you can send audio and video as well as control signals in and out of these cables though there is some potential for ingenuity and some hitherto unthought of additions from a third party.  Wired remote follow focus for EF lenses maybe ?  For now, who knows how far the control goes though, it must be somewhat dependent on what it's currently possible to control via the button pad on the LCD module you would be replacing.
The ability to preview a certain look on the monitor even when recording Canon Log Gamma is limited to the on board LCD as I mentioned earlier.  It seems like a great feature and it's something of a shame you can't output it through the HDMI or HD-SDI but knowing the specs of these connectors presumably someone could offer a way to send the video signal that was previously destined for the 4″ LCD to something a little larger.
Incidentally it is a cold shoe connection on the camera and bottom of the LCD screen.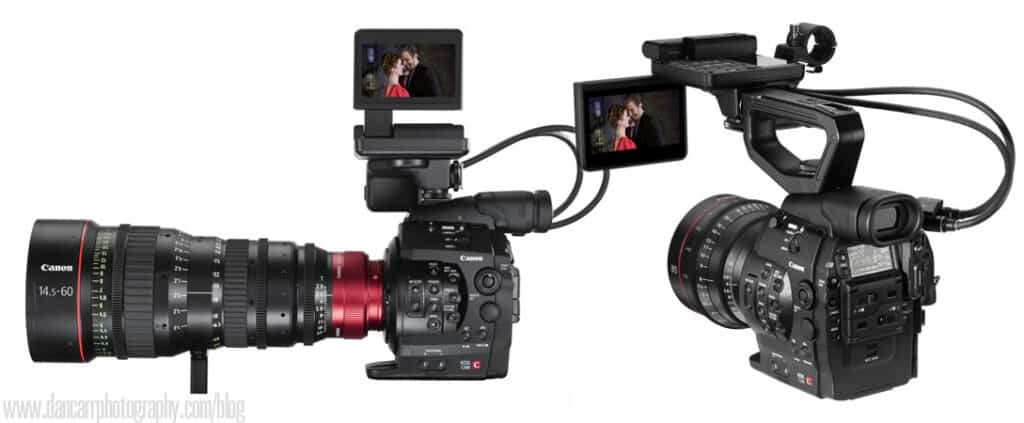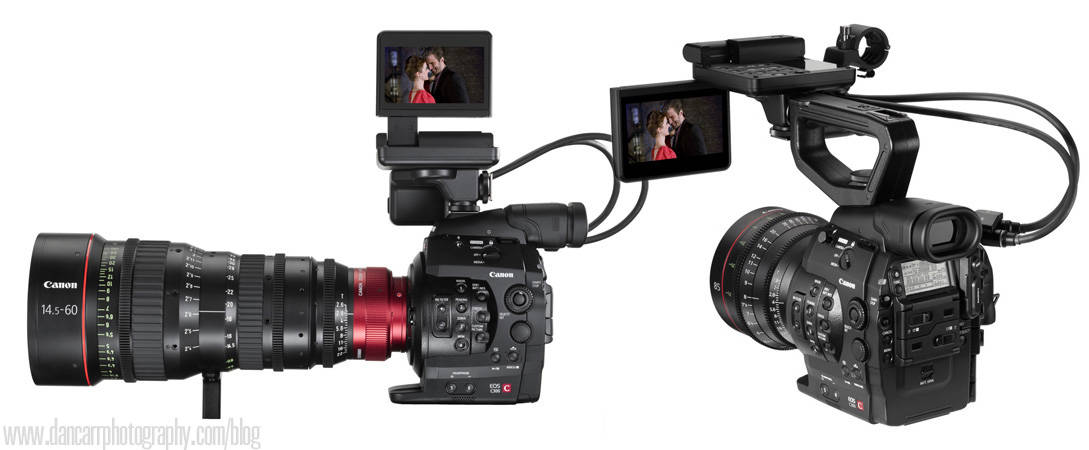 7 – Timelapse & Stop Motion Features
Timelapse has become very popular over the last few years and work by people such as Tom Lowe seems to have inspired many people to give it a try.  Perhaps it is partly because because many more stills cameras have been in the hands of film makers in the last few years, and stills cameras have always been the best way to shoot a timelapse with an intervalometer.  For some reason Canon has never included such a simple feature built into a stills camera though, not even the heavily specced 1DX but the C300 will have options for shooting timelapses built into it.  Not only will you be able to shoot at 1fps (or anything from 1-60) but you will be able to specify the length of time that you would like this to continue for, or you can select the number of frames for it to continue for.  There are of course some other video cameras that allow this but it's a first for Canon I think.
There is also a feature referred to as frame recording in the supporting online documents, it's currently unclear whether this just refers to the ability to take stills images ( which are stored on an SD card ), or whether this is something different.  Canon say that it's perfect for stop motion production which makes me think it's just taking a photo, but then you have to wander why they didn't also take the timelapse features one step further and allow the you to record photos at intervals much longer than a second if you wanted to.
8 – 3 Second Pre-Record
In pre-record mode the camera will continuously record about 3 seconds of footage to the internal buffer which will be added to the front of the file when you finally do press record.  A handy feature that will be appreciated by anyone shooting news and documentary style work where you may not always be exactly aware when the action is going to start.  I've seen this feature mentioned by a few wildlife shooters as well which is again an area where things can be unpredictable.  This is a feature currently absent from some competing cameras and another reason why this could be a great camera for a slightly greater range of applications than the Digital Cinema in the name suggests.
9 – Batteries And Run Time
The C300 ships with a Canon BP-955 battery but will also work with a both a BP-970G and BP-975 all of which are slightly higher capacity than the standard ones.  The BP-950G also works but it offers no benefits in terms of recording time or run time over the BP-955 which also comes with the XF-300 and XF-305.
These batteries are relatively small but when I looked up the recording times that are possible with them I was surprised to see how long they last for compared to other cameras of this type on the market.  The standard BP-955 will get you approx. 190 minutes of recording time while the 970 and 975 will give you 265mins and 280mins respectively!  That's huge, and in a lot of circumstances will negate the need for a large and heavy external battery pack to be used thus keeping the overall form factor smaller again.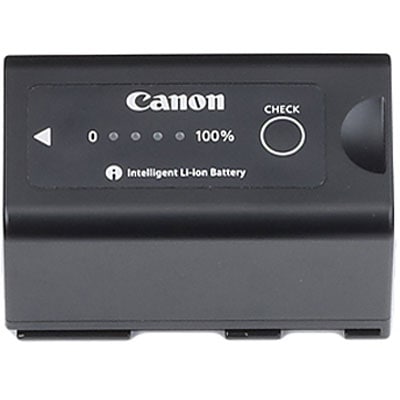 10 –  CF Cards and Relay Recording For Unlimited Record Time
The C300 features dual CF card slots which means that a huge amount of data can be stored on cards that cost relatively little compared to SSDs or proprietary systems like those from Sony.  As of today a Sandisk Extreme Pro 32GB card is $115 at B&H Photo and that will hold 80 minutes of footage at it's highest 50MB/s quality.  A useful feature known as Relay Recording is also present (as it was on the XF305) that allows the spanning of two cards with no dropped footage. If you loaded up with two 128GB cards you could shoot for 640 minutes (more than 10 hours) without having to stop.  Whilst ten hours is overkill, using smaller cards and being able to record several hours of an event will be useful for some people.
Whilst one card is recording you can still perform tasks with the second card such as formatting, or ejecting the card, this is important because it means that when one card is full you can eject it and ingest it to your computer.  Then put it back in camera, format it and write to it with Relay Recording.  Essentially, if you don't mind monitoring the camera then you have an infinite record time available to you for the relatively small outlay of a couple of CF cards.
| | | | |
| --- | --- | --- | --- |
| Card Capacity | 50Mb/s (CBR) | 35Mb/s (VBR) | 25Mb/s (CBR) |
| 8 GB | 20 min. | 25 min. | 40 min. |
| 16 GB | 40 min. | 55 min. | 80 min. |
| 32 GB | 80 min. | 110 min. | 155 min. |
| 64 GB | 160 min. | 225 min. | 310 min. |
| 128GB | 320 min. | 445 min. | 625 min. |
Other Information From My Chat
– Canon was very open with accessory manufacturers before the launch of this camera, as evidenced by the instantaneous launch of purpose designed rigs by Redrock Micro and Zacuto.  Erik also told me that they had spoken to underwater housing manufactures ahead of time as well and whilst I didn't ask which ones, be on the lookout for something ready to go when the camera is available.
– The EVF is a 0.52-inch & 1.55 Megapixel
– When rental houses were questioned some time ago as to what ratio of EF to PL mount versions of the camera they would stock, the answer was roughly 2:1 in favor of PL mount.  At the time they were not informed of the development of EF Cine lenses though.
– The way the camera is designed with a 4k sensor recording R, G and B signals separately with no de-bayering , the Digic processor actually thinks it's a 3-chip sensor.  It's designed in that same way.