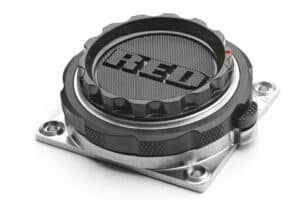 Red announced today that the long awaited Canon mount for their EPIC cameras will begin shipping on September 9th to the first people who pre-ordered them.  Further orders are being taken now for a price of $2000.  The mount itself is machined out of solid titanium and features a safe locking ring to further solidify the connection between camera and lens.  Right out of the gate it looks as though they have firmware programmed to work with a majority of Canon lenses, with more to be added very shortly (and some third party ones like Sigma).
When a supported lens is attached to the camera the user will have full iris control, image stabilization and focus control via the Epic itself or the Redmote.  The touch screen will also provide touch-to-focus capability, something which is not yet been seen on Canon cameras.  Early demos of the mount also showed an ability to rack focus between two defined points on the touch screen.  Given the small size of a RED Epic, the Canon L lenses look to be a great match.  In my mind they are undoubtedly sharp enough for this application so it's going to open up a whole new world.  I will be posting a hands on with an Epic and a Canon mount hopefully in September where myself and Charlie Grinnell will put his camera through it's paces with my set of Canon lenses from 8-15mm fisheye right up to the 300mm f2.8 L IS.  Can't wait to give this a try so stay tuned !
If anyone in Vancouver area is looking to rent an Epic please contact me via e-mail.