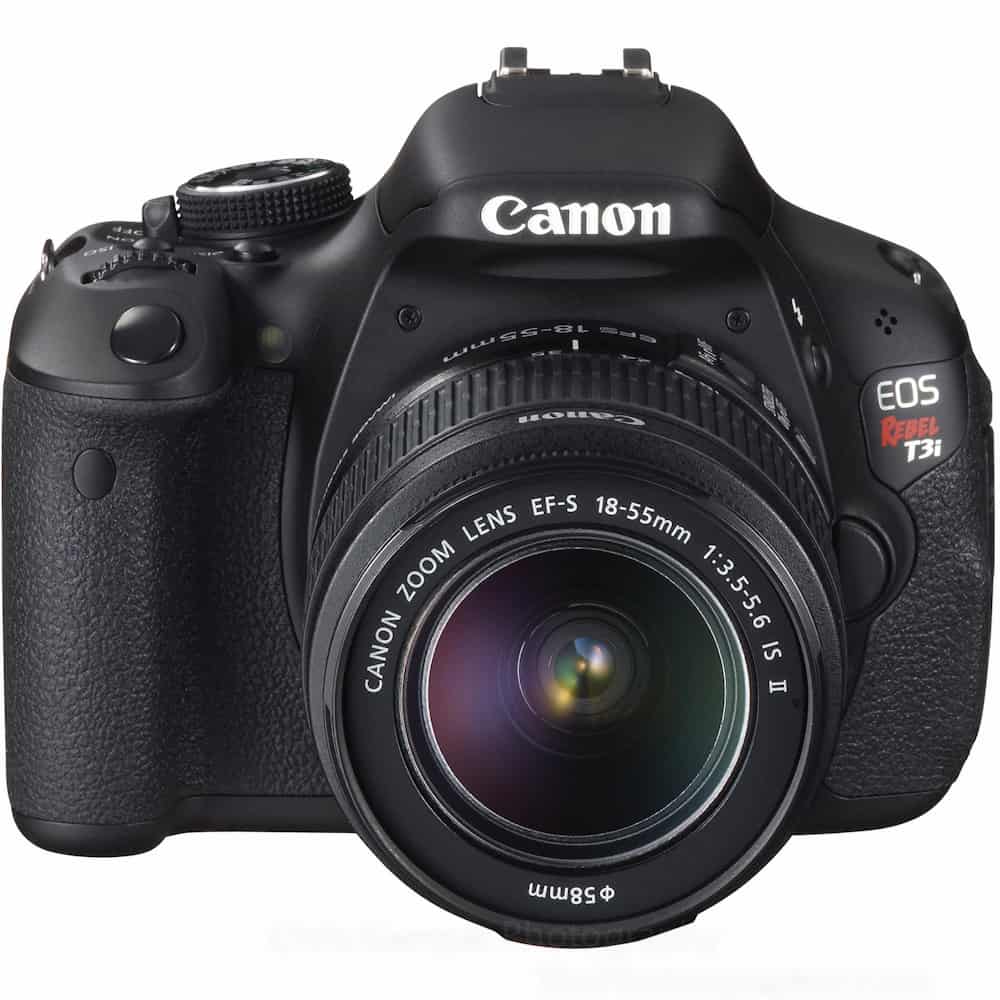 Canon has today launched a new consumer SLR called the 600D (t3i) which sits directly below the 60D in their product lineup. The specs of the camera are an incremental step up from the old 550D but a few ergonomic changes have been made and the vari-angle swiveling LCD that we saw on the 60D has also made an appearance. It's getting pretty crazy the sort of features that are trickling down from the high end cameras to the consumer level. I fully expect this to be a fantastic camera that will meet and exceed many peoples photographic needs. The drawback of recent Rebel from a pro point of view is simply the speed and build quality of the body, otherwise these things are taking wonderful photos and this will be the right choice for a lot of people.
Main specs:
18mp sensor
3.7fps
1,040k-dot vari-angle 7.7cm (3.0") screen
DiGiC IV
Electronic Level
Iso 100-12800
9 Point AF
full HD video (30p-24p-25p), HD (60p-50p)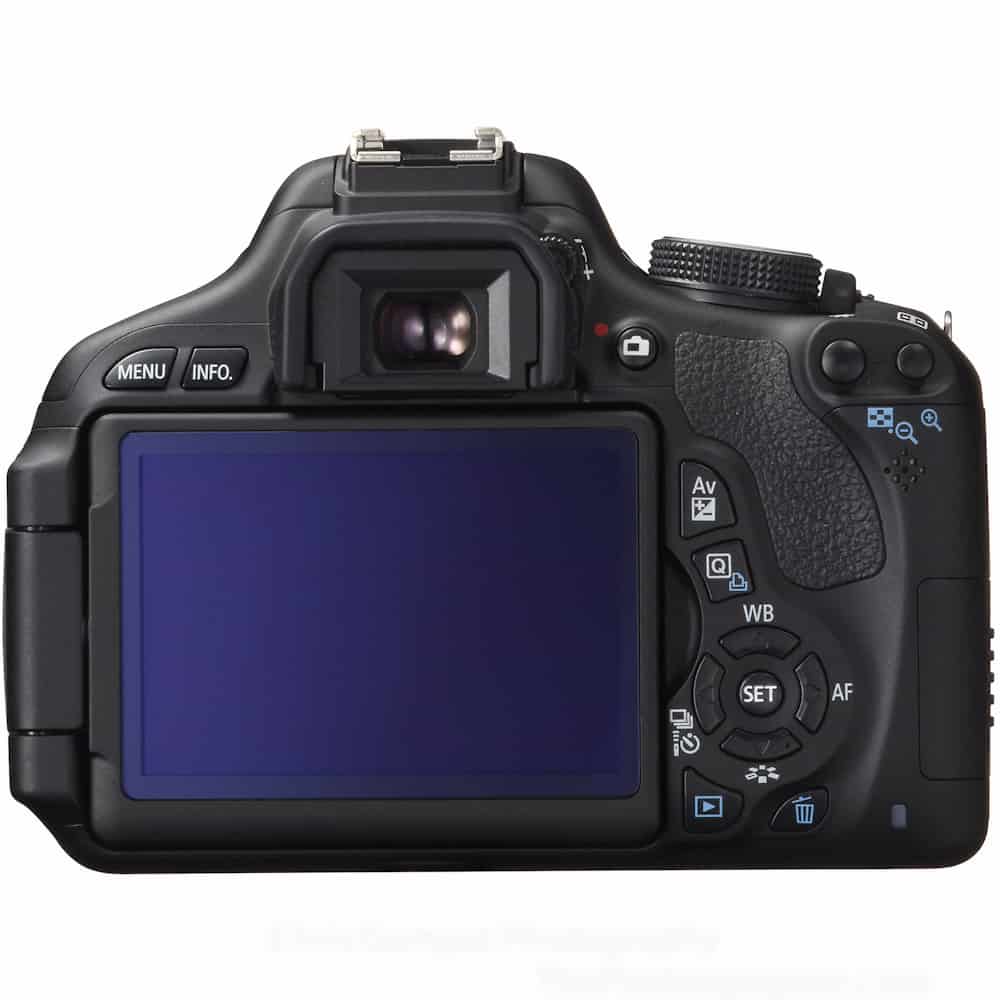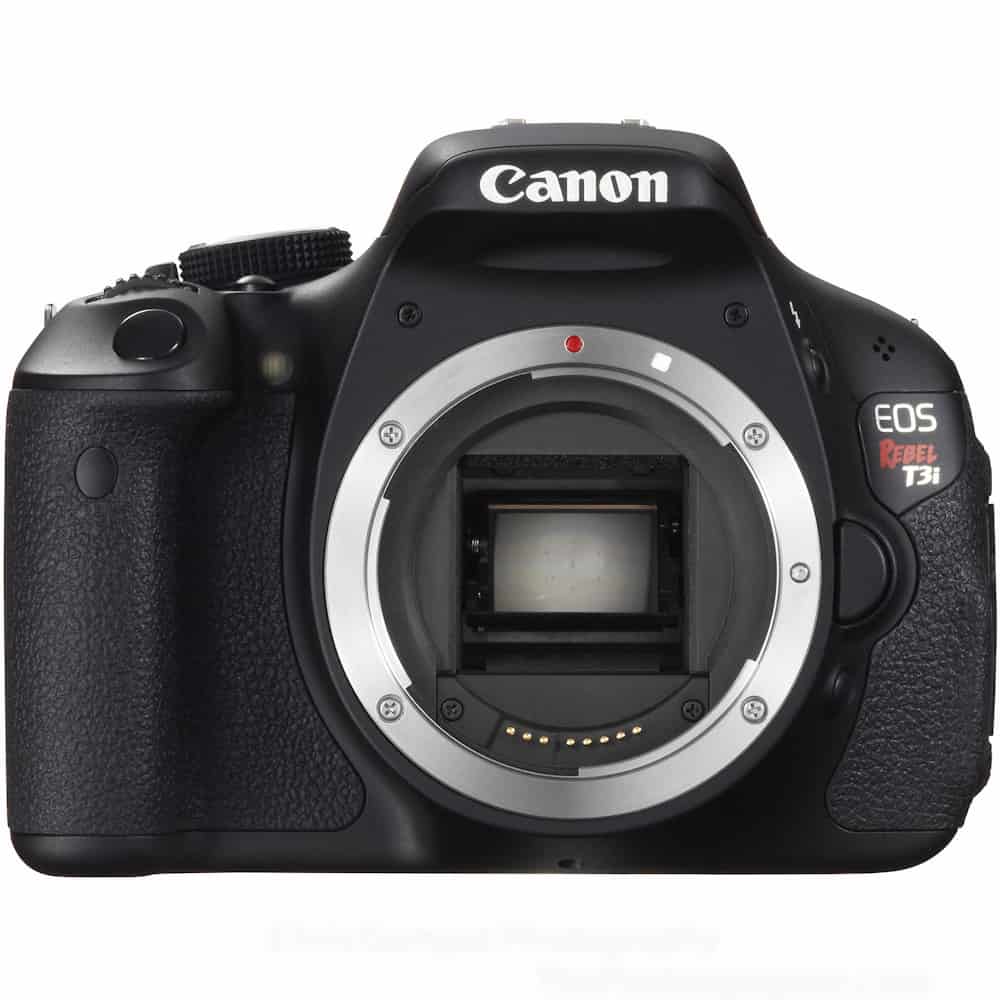 Full Press Release
London, UK, 7th February 2011 – Canon today announces the launch of the EOS 600D – a compact, lightweight Digital SLR (DSLR) that makes capturing exciting, fun and creative images easier than ever. The perfect choice for aspiring photographers looking for a combination of outstanding image quality and ease-of-use, the EOS 600D sits at the top of Canon's entry-level EOS line-up, above the existing EOS 550D and the new EOS 1100D.
Capturing stunning images and Full HD video has never been easier, thanks to a range of automatic shooting modes that beginners can use to instantly express their creativity. A Feature Guide has been added to the user interface to help you learn about the camera as you use it, helping to develop your photography skills. With an unrivalled range of EF lenses, Speedlites and other accessories to enhance your shooting, the EOS system holds the key to the perfect shot – wherever your journey takes you, and whatever the scene before you.

First-class image quality
The EOS 600D provides all the tools to capture beautiful stills and HD movies. Amazing picture detail is provided by a high-resolution 18 Megapixel (MP) APS-C CMOS sensor, which combines with 14-bit DIGIC 4 processing so you can capture the wonder of a beautiful blue sky and enjoy exceptionally smooth gradients between colours. The camera's low light shooting capability enables you to achieve clear, natural images in darker conditions, with an ISO range of 100-6400 that can be further expanded to 12800.
Great for shooting pets, children or wildlife, the EOS 600D allows high-speed shooting at 3.7 frames per second (fps), enabling you to capture fast-moving action. Each shot will be captured in sharp detail thanks to the 9-point Auto Focus system, which can track subjects using the auto focus points across the frame. Even more accurate focusing is providing by an extra-sensitive central AF Sensor, while the iFCL Metering system from the semi-professional EOS 7D features a 63-zone Dual-layer metering sensor, helping you to ensure your shot is correctly exposed, even in difficult lighting conditions.
Easy shooting, amazing results
New fully-automatic Scene Intelligent Auto mode makes it easy for you to capture outstanding quality shots with almost no effort. Allowing you to focus exclusively on framing your picture, Scene Intelligent Auto analyses the scene for you and automatically picks the best settings to capture it. Your images will look better than ever thanks to a new 'Auto' Picture Style, which automatically makes fine adjustments to colours while you focus on capturing the scene you want.
The EOS 600D also makes it easy for you to instantly add creativity to your pictures. Change the atmosphere of a scene with Basic+, which allows you to pick the mood you want to achieve from one of eight options, including 'Warm', 'Cool' or 'Intense'. Whether you're shooting landscapes, portraits, or close-up macro shots, Basic+ makes it easy to capture the perfect image.
Simple, flexible, artistic
Ideal for beginners, a Feature Guide has been added to the EOS 600D's menu system, offering a brief description of each key setting and its effect, helping you learn more about the camera as you use it.
You can also shoot overhead, at ground level or around corners with the EOS 600D's
Vari-angle 7.7cm 3:2 ratio ClearView LCD. Rich on-screen detail is provided in 1.04 million-dot resolution, and the side-mounted hinge allows users to comfortably and creatively shoot from a range of unusual angles, or when using a tripod. A smudge-resistant fluorine coating and three anti-reflection coatings also ensure you can see the LCD in clear detail, wherever you are.
Allowing you to apply your own stamp to your shots, the EOS 600D is perfect for experimenting with different Creative Filters. Fish-eye-Effect creates a barrel-shaped distortion similar to a fish-eye lens, and you can instantly turn a scene into a small-scale model with Miniature Effect. Toy Camera Effect, Grainy B/W and Soft Focus offer additional options, allowing you to experiment with your images in a number of different ways.
Capture stunning detail with EOS movie
Capture your memories in superb clarity with Full HD (1080p) movie mode, while a dedicated movie shooting mode means you can switch between stills and HD video instantly. You can also reach distant subjects using new Movie Digital Zoom function, which crops the centre of the sensor from 3x to 10x while still maintaining Full HD quality – great for capturing wildlife on a safari holiday.
Enabling you to capture more engaging videos, Video Snapshot mode shoots video in two, four, or eight second segments, creating clips that are short, easy to edit and of similar lengths to clips used in most TV programmes. As they are recorded, the clips are saved to a Video Snapshot Album and combined into one movie. A soundtrack can be added by choosing from tracks uploaded to the camera and the result viewed on the camera's LCD, or on an HDTV via the built-in mini HDMI connection.
The EOS system – unrestricted creativity
As your skills develop, the EOS 600D grows with you. As part of Canon's EOS range, the camera is compatible with the unrivalled selection of EF lenses and a range of accessories, so you can add to your kitbag as your ability and style develops. Over 60 lenses provide you with unlimited creative possibilities: wide-angle lenses capture sweeping landscapes, macro lenses capture the most intricate beauty of the tiniest creatures, and telephoto lenses make distant scenes appear as if they are right in front of you.
Using Canon's range of Speedlite flashes and the EOS 600D's Integrated
Speedlite Transmitter, you can also experiment with different lighting techniques, or use your flash off-camera, to give your subject or scene a completely different look and feel. With the Easy Wireless function, the camera will also take care of the complicated settings whilst you focus on framing and lighting your scene as you wish.
Introducing the new EF-S 18-55mm f/3.5-5.6 IS II
Launching with the EOS 600D is the EF-S 18-55mm f/3.5-5.6 IS II – a new kit lens that provides excellent performance for beginners. A lightweight construction makes it easy to carry, and Canon's acclaimed optical Image Stabilization also minimises the risk of blur, allowing photographers to use shutter speeds 4 stops slower while still maintaining a blur-free shot. The EF-S 18-55mm f/3.5-5.6 IS II will succeed the existing EF-S 18-55mm f/3.5-5.6 IS in Canon's lens line-up.

EOS 600D – key features:
18-megapixel CMOS sensor
Scene Intelligent Auto mode
Full-HD EOS Movie
On-screen Feature Guide
3.7fps continuous shooting
Wide-area 9-point AF
1,040k-dot vari-angle 7.7cm (3.0") screen
Basic+ and Creative Filters
Built-in wireless flash control
Technologies explained
Canon CMOS sensor
Exclusively designed and manufactured by Canon to work in combination with its own DIGIC processors, Canon's CMOS technology integrates advanced noise reduction circuitry at each pixel site, delivering virtually noise-free images. In comparison with CCD technology, the lower power consumption characteristics of Canon's CMOS sensors also contribute to longer battery life.
Signal conversion in Canon's CMOS sensors is handled by individual amplifiers at each pixel site. Unnecessary charge transfer operations are avoided, vastly speeding up the process of getting the signal to the image processor. Noise is reduced, power consumption is limited and faster frame rate potential is increased.
DIGIC 4
Image data captured by the CMOS sensor is processed by Canon's purpose-built
DIGIC 4 image processors before being written to memory card. DIGIC technology uses advanced image processing algorithms to ensure precise, natural colours, tonal gradation, accurate white balance, and advanced noise reduction. Ultra-fast processing speeds result in highly responsive camera operation and near-instant start-up times.
DIGIC chips work with a high speed image buffer, reading, processing, compressing and writing image data fast enough to keep the buffer clear during long continuous shooting bursts. In addition, because DIGIC 4 integrates all key processing functions, power consumption is kept to a minimum.
iFCL metering system with 63-zone Dual-layer Metering sensor
The iFCL system uses focus, colour and luminance information to determine consistently exposed shots. All focus points provide distance information to the metering system to determine the location of the subject and allow the algorithm to weight the exposure accordingly.
Both the EOS 600D and EOS 1100D models feature a metering sensor with 63 zones, compatible with all nine AF points. Typically, metering sensors are more sensitive to red subjects which can lead to overexposure. The EOS 600D and EOS 1100D counter this with the dual layer sensor, which has one layer sensitive to red and green light and one that is sensitive to blue and green light. The metering algorithm then compares the level of the two layers and adjusts the meter reading accordingly.
EOS Integrated Cleaning System
The new EOS 600D features the EOS Integrated Cleaning System, used to combat sensor dust in three important ways: Reduce, Repel and Remove.
Reduce – Internal camera mechanisms are designed to minimise dust generation. The redesigned body cap prevents dust generation through wear on the cap itself
Repel – Anti-static technologies, including a magnesium fluoride coating, are applied to the low-pass filter covering the front of the sensor so as not to attract dust
Remove – A Self-Cleaning Sensor Unit uses hi-frequency vibrations to shake dust from the infrared filter for a period of approximately one second after each start up. For instant shooting after power up, this feature is disabled immediately as the shutter release is depressed
The front surface of the EOS 1100D's low-pass filter features a fluorine coating to minimize dust adhesion to the sensor. Both the EOS 600D and the EOS 1100D feature an internal Dust Delete Data system, which can map the position of visible dust on the sensor. This can then be deleted automatically after the shoot with the latest Digital Photo Professional software.
Vari-Angle Clear View LCD (EOS 600D only)
The EOS 600D features a 7.7cm (3.0") 3:2 Vari-Angle Clear View LCD screen offering approximately 1.04 million dot resolution – allowing high-quality viewing of images, and focus checks, in playback. With a wide 160º angle of view, images on the Clear View LCD can be easily reviewed in a vast range of environments with reduced ghosting and reflections, thanks to three anti-reflection coatings and a smudge-resistant fluorine coating. Marks on the screen are prevented and colours on the monitor appear natural and close to the sRGB colour space. The vari-angle screen has been designed to open sideways, enabling photographers to shoot from unusual angles, even while the EOS 600D is attached to a tripod or battery grip. The screen flips out 175° and can then rotate 90° forwards or 180° backwards, allowing the photographer to view the screen from low or high angles, and even from in front of the camera.
EOS Movie
EOS Movie allows users to record Full HD (1920x1080p) movies on the EOS 600D and HD (1280x720p) movies on the EOS 1100D. The EOS 600D offers full manual control of exposure and frame rates of 30, 25 and 24 fps at full resolution, with 60 and 50 fps available at 720p resolution. The EOS 1100D has a choice of 30 and 25 fps frame rates.
When filming Full HD footage with the EOS 600D, Movie Digital Zoom can be used to magnify the centre of the sensor by 3-10x while maintaining Full HD quality.
EOS Scene Detection Technology (EOS 600D only)
EOS Scene Detection Technology automatically analyses faces, brightness, movement, contrast and distance in the scene, with information provided as feedback to the Scene Intelligent Auto mode.
Scene Intelligent Auto (EOS 600D only)
Scene Intelligent Auto takes the information gathered by the
EOS Scene Detection System and determines the best settings to capture the scene. For example, when shooting portraits, the settings are adjusted to make the skin appear more natural.
Picture Styles
Picture Style presets can be likened to different film types – each one offering a different colour response. Within each selectable preset, photographers have control over sharpness, contrast, colour tone and saturation. The camera's Standard Picture Style is designed to deliver immediately-usable JPEG images without need for additional processing. When shooting RAW images Picture Styles can be revised with Canon's Digital Photo Professional software.
The presets available with both the EOS 600D and EOS 1100D are:
Standard: For crisp, vivid images that don't require post-processing.
Portrait: Optimises colour tone and saturation and weakens sharpening to achieve attractive skin tones.
Landscape: For punchier greens and blues with stronger sharpening to give a crisp edge to mountain, tree and building outlines.
Neutral: Ideal for post-processing.
Faithful: Adjusts colour to match the subject colour when shot under a colour temperature of 5200K.
Monochrome: For black and white shooting with a range of filter effects (yellow, orange, red and green) and toning effects (sepia, blue, purple and green.
A new Picture Style has been added to the EOS 600D – Picture Style Auto. This new Picture Style makes fine adjustments, based on the EOS Scene Detection System's analysis, to create a Picture Style for the particular image. Three User Defined Picture Styles can be used to store customised pre-sets created using the supplied Picture Style Editor, or any of the pre-sets available for download from Canon's web site: www.canon.co.jp/Imaging/picturestyle/file/index.htm
Basic+
Basic+ is a creative imaging function that was first introduced in the EOS 60D, which makes it easier to create the desired image effects when shooting a scene. With Basic+, photographers have the option to apply a creative intent to their images whilst using the scene-based modes.
Shoot by ambience: exposure compensation and white balance are adjusted according to preset styles to create ambience or tone in the image
Shoot by lighting or scene type: a simplified form of white balance, which allows new digital photographers to change the white balance settings according to more understandable terms such as "Daylight", "Shade", "Cloudy", "Sunset", "Tungsten light" and "Fluorescent light"
Auto Lighting Optimizer (ALO)
Auto Lighting Optimiser analyses the image and selectively adjusts the brightness to achieve a more even result. For example, when a person is backlit, ALO detects the face and increases its brightness to ensure a more pleasing image.
Lens peripheral illumination correction
The lens peripheral illumination correction function uses the power of the DIGIC 4 image processor to improve image quality by maintaining evenness of illumination from corner to corner, even when shooting wide open with a zoom lens. When shooting in RAW this correction can be further adjusted using
Digital Photo Professional.
Highlight Tone Priority
With Highlight Tone Priority the dynamic range of the highlight tones is extended. The gradation between 18% greys (standard exposure) and the highlights are improved, reducing loss of detail in highlights. This enables a picture with a large proportion of highlights, such as a brightly-lit bride in her wedding gown, to show greater detail in the white and grey areas of the photo, making the image more attractive and natural.
Feature Guide
The Feature Guide acts as an on-board guide by displaying a simple description of each mode and the functions on the Quick Control Screen.
Creative Filters (EOS 600D only)
EOS 600D provides a range of creative effect filters which can be applied to RAW images and all JPEG images. Since the filter can be applied after the shot is taken, users can apply different filters to the same image and see the effects:
Fish-eye effect: Creates a barrel-shaped distortion similar to a fish-eye lens. The effect can be adjusted, and, depending on the level of distortion, the image periphery may be cropped.
Grainy B/W: Creates a grainy, black-and-white image. The effect can be emphasized by adjusting the contrast.
Soft focus: Produces a soft result. This can be increased by adjusting the blur.
Toy camera effect: Provides colour cast typical of toy cameras. The four corners are also darkened. The image looks soft with a subtle grainy look. The colour cast can be changed to cool or warm colours.
Miniature effect: Can be set by the user to make part of the image look sharp. The orientation (vertical or horizontal) of the area can be changed by pressing the INFO button.
Video Snapshot (EOS 600D only)
The Video Snapshot feature enables the user to capture short video clips of 2, 4 or 8 seconds in length. These short snapshots are then stitched together into one file as a Video Snapshot Album, creating a dynamic, fast-paced movie sequence. Once video clip duration has been selected, every time the Movie shooting button is pressed a video clip of that length will be captured. For example, if a 4 second Video Snapshot is selected, the Video Snapshot Album will be created consisting of 4-second movie clips. This creates a much more engaging movie and encourages the user to think about the shots they take.
When playing a Movie, Video Snapshot Album or Slideshow, background music (BGM) can be applied, whether on the camera's screen, or on a larger HDTV using the camera's HDMI connection. To do this, users must convert audio files*1 to the supported .WAV format, before using EOS Utility software to upload the files to the camera's SD card ready for selection during playback. A choice of five music tracks supplied with the camera can also be used.

Digital Photo Professional Software
Digital Photo Professional (DPP) software provides high speed, high quality processing of lossless RAW images. Processing with Digital Photo Professional allows real-time display and immediate application of image adjustments, giving control over RAW image variables such as white balance, dynamic range, exposure compensation, noise reduction and colour tone – plus the ability to view Auto Focus points on an image and apply un-sharp mask sharpening. The Lens Aberration correction tool allows precise correction of different types of distortion caused by certain lenses. Newly added is a set of distortion corrections for use with the EF 8-15mm f/4L USM Fisheye. These corrections allow you to produce fisheye images for different uses.
Emphasize Linearity: Converts the image to a 'Central Projection' style image. This creates a full frame image from a circular fisheye image.
Emphasize Distance: This converts the image into an 'Equidistant Projection' image. This method preserves distance relationships between objects, but removes much of the distortion. It is particularly useful for creating star maps and solar path diagrams.
Emphasize Periphery: This converts the image into a 'Stereographic Projection' image. This allows positional relationships on a spherical surface to be displayed correctly, such as an image of a globe.
Emphasize Centre: This converts the image to an 'Orthogonal Projection' image, enlarging the centre of the image. This is useful for city planners to measure the luminance of an area by the sky to ensure adequate lighting.
Images can be recorded in camera with sRGB or Adobe RGB colour space. Images can also be rotated and trimmed allowing photographers to correct framing and horizons as part of the RAW processing. Digital Photo Professional also provides full support for the rating system within the EOS 600D and EOS 1100D allowing star ratings to be added or edited for easier sorting.
Digital Photo Professional supports sRGB, Adobe RGB, ColorMatch RGB, Apple RGB and
Wide Gamut RGB colour spaces. ICC (International Colour Consortium) profiles can be attached to TIFF or JPEG images when converted from RAW. This allows faithful reproduction of colours in software applications that support ICC profiles, such as Adobe Photoshop. For improved efficiency, a set of image adjustments can be saved as a recipe and applied.
EOS Utility
The latest version of EOS Utility provides essential support for Live View remote shooting (with the ability to overlay an image to assist with alignment of subsequent shots during product photography), camera configuration and image transfers. Tightly integrated with Digital Photo Professional, EOS Utility can be configured to monitor 'hot' folders, automatically renaming and moving incoming images to a structured file system. Images can also be tagged with EXIF data, including copyright information. Newly added is the ability to register background music, with users now able to add or remove .WAV format files from the playlist used by the camera*1.
Picture Style Editor
Picture Style Editor allows photographers to create individual Picture Styles that meet their personal requirements. Each Picture Style contains detailed information on how specific colours should be represented within an image. Once new Picture Styles have been created, they can be uploaded directly into the camera and applied to JPEG or RAW images. When working with RAW files in DPP, both personal Picture Styles and predetermined Picture Styles can be adjusted.
ZoomBrowser EX (PC)/ImageBrowser (MAC)
ZoomBrowser EX/ImageBrowser is designed to give photographers a quick and easy way of managing their images. Basic JPEG editing functionality enables users to adjust image brightness and colour balance, with an in-software connection to DPP for RAW image editing. Users can select, rename and resize multiple images at once, set star ratings and organise images by shooting date, making it simple to manage large image libraries. Photographers can also select, add comments and then print images via a range of simplified printing options, and direct uploads to
CANON iMAGE GATEWAY enables image sharing via personal online photo albums.
ZoomBrowser EX/ImageBrowser also offers support for video editing, including a new Video Snapshot Edit Task that makes it easy for users to manage, edit and share Video Snapshot Albums.
Video Snapshot Edit Task
This feature allows Video Snapshot Albums to be edited using a computer. Individual snapshots can be removed or reordered, and a background music track can also be added*1. The resulting file can be uploaded to YouTube™ quickly and easily using a new YouTube™ upload task.