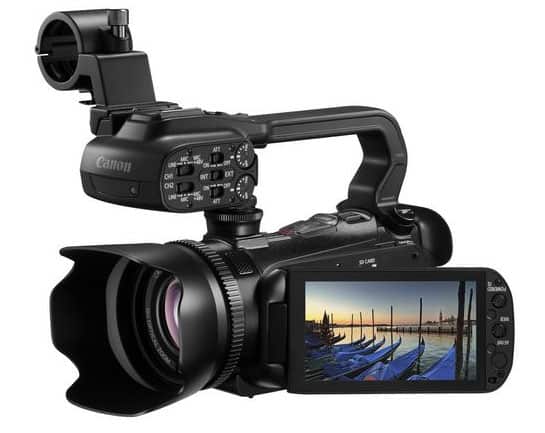 There has been a reasonable amount of coverage of the HF G10 Camcorder in the tech world this morning.  A nicely packaged little consumer HD video from Canon launched at the opening of the CES trade show in Las Vegas.  Reading Canon's press release gives you details about every update to their consumer lineup but incredibly fails to mention the best camera from the Launch.  Canon's hidden Easter Egg – the XA10.  Even sites like Engadget, the world's leading tech new site hasn't noticed this camera and I'm frankly baffled about why they wouldn't bother to put it in the press release !
Before you get too excited, yes this is clearly based around the previously mentioned HG G10 camera , but with a couple of great upgrades for those looking for professional features.
The specs read as follows:
2MP Sensor 1/3″
Fixed 10x optical zoom lens with a variable aperture that goes to f1.8 at it's widest
30.4mm-304mm equivalent lens
1080p at 24p and 30p
Manual focus ring
Dual SD Card Slot
64GB built in memory
Infrared recording mode
Twin XLR Microphone inputs
Manual Audio level control
24Mbs
3.5″ Touch Screen LCD Screen (911K dots)
Electronic Viewfinder
2MP JPEGs
Polycarbonate body similar to the Canon 60D
3.5mm Mic Jack
Approx $1,999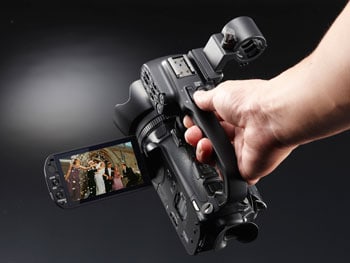 Obviously the main difference here is the handle on top that integrates all the extra audio controls and the superb addition of twin XLR inputs.  With just this simple addition Canon have created a very small Pro level camera which seems like a very smart move. Top handles are always appreciated for low level shooting and general stability so there is some ergonomic benefits too.  The XA10 also features an infrared shooting mode as well as upping the internal flash storage to 64GB from the 32GB on the HF G10.  64GB of internal memory is pretty nice!  At half the price of the XF-100, the next pro camera up in the lineup, the $1999 price looks like something of a good deal to me.  For lightweight documentary work this would be a fantastic little camera to work with.  For traveling and storage the whole top assembly can be removed, further adding to the portability of it.
CANON INTRODUCES ITS MOST COMPACT AND AFFORDABLE PROFESSIONAL CAMCORDER: THE XA10 CAMCORDER
The Perfect Blend of Quality, Portability, and Pro Features for "Run-and-Gun" Shooting
MISSISSAUGA, ON., January 5, 2010 – Canon Canada Inc, a leader in digital imaging, announces the new ultra compact XA10 Professional Camcorder, ideal for situations where mobility while shooting is critical. This feature-rich, professional model records Full HD 1080p video using an AVCHD codec. The ultimate professional camcorder for run-and-gun shooting, the compact XA10 includes a detachable handle for low-angle shooting and portability. With the handle attached, the XA10's functionality is further enhanced with the addition of XLR inputs and an external microphone holder. Capable of shooting in the dark, the camcorder features infrared video capture, ideal for Military and Law Enforcement markets, as well as Nature and Wildlife videographers. The new XA10 provides the option of recording to a 64GB internal flash drive or two SDXC-compatible card slots, as well as Relay Recording and the ability to record simultaneously to two cards for instant backup. Extremely portable yet packed with professional features, this camcorder will be the model-of-choice for on-the-go videographers shooting online news, celebrity reporting, reality TV, extreme sports, etc.
"We are committed to addressing the needs of the professional market with diverse and tailored product offerings best suited to their specific needs or production environment. We are making a statement that Canon will have the professional HD video solution for your needs, whether you are shooting in a studio, on the street, on set, or out in the wilderness. The new, compact XA10 camcorder is yet another tool for professionals who are shooting HD video on-the-fly," said Ian Macfarlane, Senior Vice President of Sales & Service Operations at Canon Canada Inc., a wholly owned subsidiary of Canon U.S.A., Inc.
The Canon XA10 Professional Camcorder features a Genuine Canon 10x HD Zoom lens, Canon DIGIC DV III Image Processor and a Canon 1/3-inch native 1920 x 1080 CMOS image sensor which delivers outstanding resolution and quality. The Genuine Canon 10x HD Zoom lens on the XA10 camcorder boasts a 35mm equivalent zoom range of 30.4mm – 304mm with an eight-blade iris capable of rendering natural, smooth background blur with reduced lens diffraction. The lens also features Canon's SuperRange Optical Image Stabilizer (OIS) system with standard, Dynamic and Powered IS modes for steady video in most any shooting situation. Autofocus speeds can be selected from Instant, Medium and Normal to match the shooter's preference. A focus ring on the lens allows for manual focus as well. The ability to focus manually combined with other manual features such as shutter speed, aperture control, and gain settings provide users with complete creative control.
For extreme low-light shooting, the Canon XA10 Professional Camcorder includes an infrared feature to help enable the capture of HD video in conditions with little tozero ambient light. The camcorder also includes an infrared emitter with a diffuser as well as a Green or White colour option to shoot pleasing high-definition infrared imagery even in complete darkness.
The Canon XA10 Professional Camcorder features dual XLR inputs for external audio sources as well as a built-in stereo microphone. The new camcorder supports Dolby Digital 2ch (AC-3 2ch) with automatic and manual audio level adjustment.
As with other Canon professional camcorders, the XA10 provides users with complete manual control of various functions including frame rates, zooming speed, focus, white balance and gain control. Various frame rates can be selected to match the user's preference – 60i, PF30, PF24 and native 24p. Through internal menus, users can adjust zoom speed settingsfor High, Middle and Low in 16 one-step increments for both the body lever as well as the handle control. The focus ring on the lens can be customized for manual focus control and users can set the direction of rotation, as well as three levels of response control. In addition to the focus ring, auto focus speed can be adjusted for smooth auto focus transitions, as well as a Face-Only AF mode allowing for a blurred image as a person walks off-screen. The camcorder's white balance is adjustable from 2000K to 15,000K in 100K increments.
The XA10 camcorder also features a waveform monitor for accurate exposure and detailed analysis of image brightness. The XA10 incorporates this high-end feature into the camera body itself, maintaining its compact size and cost effectiveness while providing professionals with the features they need.
Checking critical focus with the XA10 is extremely easy. In addition to the high-resolution LCD screen, the XA10 features both peaking and magnify focus assists. The camcorder also features Canon's Edge Monitor Focus Assist system that is quickly becoming the standard on Canon professional camcorders. When Edge Monitor is active a red and green waveform monitor is shown at the bottom of the LCD Display and three red focus check areas are shown across the display. The green waveform shows overall focus of the image while the red waveform shows the focus status of the focus check boxes. Through this dynamic focus feedback the user can intuitively tune focus in a scene and quickly change the zone of focus.
For in-camera cinematic effects, the XA10 provides nine different customizable cinema filters. The amount of filter effect can be adjusted in three levels (Low, Medium, and High) Additionally the Standard Cinema Filter function is further customizable through Colour Depth, Contrast, Soft Filter, and Key adjustments.
The camcorder's overall design is intended for comfortable operation whether gripped in your palm, or by the handle for low-angle shooting. Compact and lightweight the entire camcorder weighs only 0.8 kg (1.7 lbs) and measures only 9.4 x 20.6 x 17.8 centimetres(3.7 x 8.1 x 7.0 inches) including the lens hood and handle. The 8.9-centimetre (3.5-inch) High Resolution –922,000-dot – Touch Panel LCD screen provides a large, vibrant display and can be flipped for solo shooting with the LCD screen facing the subject. The camcorder also includes an electronic viewfinder for more for use in bright conditions and where it would be difficult to use the LCD panel.
Embedded in the detachable handle are the camcorder's XLR terminal inputs, audio switches, infrared light, tally lamp, removable microphone holder, zoom and record switches and a "cold" shoe. For easy connection to both Canon and third party wired remote controllers, the XA10 has a built-in remote control terminal (compatible with LANC protocol). A custom key and dial allow for more convenient, one-touch access to various functions such as focus or exposure and are set through the camcorder's menu system.
The Canon XA10 Professional camcorder is scheduled to be available in March for an estimated retail price of $2,199.99.
The XA10 is compatible with Canon's new WM-V1 Wireless Microphone for seamless audio recording from up to 164 feet away. The WM-V1 also features a function for two way communication between the transmitter and receiver, allowing the camera operator and talent to communicate even if beyond earshot or in noisy ambient conditions. The WM-V1 will be available in May for an estimated retail price of $279.99.
About Canon Canada Inc.
Headquartered in Mississauga, Ontario, the company employs 1,200 people at its offices nation-wide, servicing the Canadian market from coast to coast. Innovation and cutting-edge technology have been essential ingredients in Canon's success. Canon's leadership in imaging, optical and document management technology and solutions is based in large part on the thousands of patents the company has secured throughout its history. Canon Inc. is among the top three US patent recipients.
The company's comprehensive product line includes networked multifunction devices; digital copiers (colour and black and white); printers, scanners, image filing systems and facsimile machines; calculators, digital camcorders, digital and analogue cameras and lenses; semiconductor, broadcast and other specialized industrial products.
Canon supports programs that help preserve and protect the environment. The company instituted the Clean Earth Campaign in 1990, which assists various environmental and recycling initiatives. The Campaign has also supported leading environmental organizations, such as World Wildlife Fund – Canada and the Canon Envirothon.