The Photokina consumer show happens once every two years and you can always count on plenty of new products to be displayed. Here is a list of some of the things that were announced or on display this year which will be updated throughout the week with new products as they hit the show floor. If you are catching this on a feed reader you should click though to make sure you are seeing the most up to date version. CLICK THROUGH FOR THE FULL NEWS LISTING
Nikon
Nikon made their official announcements last week which I have already detailed. The new D7000 was the centerpiece of that launch and they also have the new 35mm f1.4 and 200mm f2.0 on display with the SB-700 flash. The impressive looking p7000 RAW shooting point and shoot camera was also on display.
Canon
Canon made some significant announcements last month which have been addressed in multiple posts. The new 60D and all the lenses are on display at Photokina along with the Powershot G12 that was announced last week. Surprisingly there was nothing else released at the show though even though there had long been many speculations regarding the 1DS MKIV. The new prosumer HD camcorders, the XF100 and XF105 also feature heavily in Canon's display though.
Priolite
Priolite is a new German strobe manufacturer that launched their first products this year at Photokina. Initially, two products are being released, the M500 and MB500 monolights. The interesting thing for me here is that the MB500 contains a built-in Li-ion battery that is capable of powering the strobe for 400 shots.
Hensel
Hensel made a few upgrades to their lineup with 500ws Expert D 500 and 1000ws Expert D 1000 monolights, 1200ws Nova D 1200 and 2400ws Nova D 2400 power packs, a new Lithium battery option for the Porty Premium and redesigned 600ws and 1200ws Porty Lithium packs. They have also incorporated the Prophoto Air system into all of these new products giving the photographer remote control of modeling lights and power settings in a setup that contains both Hensel and Prophoto strobes. The new Lithium battery draw sounds like a great option for the Porty systems, delivering 30% more flashes but saving 60% of the weight!
Panasonic
Panasonic announced three new lenses for their micro fourthirds system. A 100-300mm zoom (equivalent to 200-600mm in 35mm terms!) and the 25mm 3d lens as well as a 14mm f2.5 pancake lens. They also released the new Panasonic GH2 micro fourthirds camera with an 16MP sensor, 5fps, 1080i60 24Mbit/s AVCHD video recording, articulating 3″ Touch screen LCD ,100-12.800 ISO. That is quite the spec list! This camera seems like a winner in the M43 category, and it also has a much higher resolution EVF than previous versions. UPDATE: GH-2 now available to purchase from Amazon UPDATE: GH-2 now available for order from B&H photo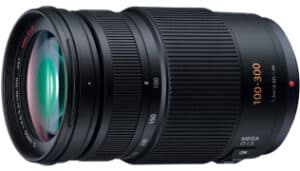 On top of the still cameras, Panasonic was also displaying the much talked about Ag-AF105 M43 mount video camera which I covered last week here.
Leica
There were a couple of interesting announcements from Leica. First up the Leica D-Lux 5 which is a re-branded version of the Panasonic LX-5. Specifications are exactly the same with an 10.1MP sensor, ISO from 80-3200 and a F2.0 Leica DC Summicron Lens with a zoom range from 24mm to 90mm. Perhaps the bigger new though was the release of a Titanium Leica M9 that features a totally new top design to incorporate an LCD viewfinder for displaying the frame lines. The M9 has been an incredibly popular camera and is still almost impossible to get your hands on in a store. For such a premium priced product this speaks volumes about the quality of the images. This titanium M9 will be priced even higher, but hopefully the new technology is something we will see filter onwards into other Leica products. What a beautiful camera. Solid Titanium! Comes with a titanium 35mm summilux 35mm lens too!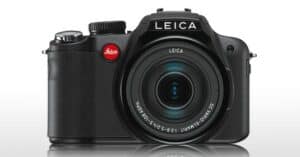 Fujifilm
Fujifilm came straight out of left field for Photokina with perhaps my favorite little camera of the show. The beautifully retro styling of the new Finepix x100. 12MP APS-C sized sensor with a 23mm f2.0 lens. I covered it in a little more detail a couple of days ago so check this out for more info and photos. Expected early next year, this is bound to be a good seller if it delivers decent photos. It even has a manual aperture ring on the lens! UPDATE: The MSRP is rumored to be around $1500 and I am hearing January for availability. Update 2: Apparently the price was said to be around $1300 from someone at Photokina. This would be much better.
Leaf
Leaf have released information on the upcoming Aptus-II 12 and II 12R digital medium format backs. Featuring an enormous 80MP sensor, a 3.5″ LCD screen and a whopping $31995 price tag. They claim to have a 12 stop dynamic range which is pretty impressive, along with ISO from 80-800 and a capture rate of 1.5 FPS. Think about this though…. an 80MP sensor will generate files with a size of 480Mb!
Pentax
I personally don't know a lot about the previous Pentax k-7 but I have heard good things said about it. This week Pentax launched its replacement, the K-5. Featuring a 16MP APS-C sized sensor and full 1080p video recording. They also unveiled the lens with the longest name ever ( who comes up with this!!), the smc DA 18-135mm F3.5-5.6ED AL IF DC WR. Full preview over at DPReview
Profoto
A few new things from Profoto including an upgraded version of their studio pack the D4. The new D4 Air is the same as it ever was except that now, as is the norm, it features built in receiver for the Air system allowing you to trigger the flash remotely as well as control the power and modeling light. On top of this, the Swedish company has also revealed an entirely new line of continuous light. Called the ProDaylight series and available in 400w and 800w (pictured on the left). Both packs also feature "Air"integration allowing you to dim them remotely or switch them on/off. These look to be great for HD movie makers needing their first set of hot lights!
Sony
Whilst Sony didn't have any more new products on display since their release of the A33 and A55 last month, they did reveal some details about their future plans as well as a show a prototype of the upcoming A77. The as yet un-named camera (though we assume it to be the A77) will feature the same translucent mirror technology as the A33 and A55 but in a "pro" bodied camera. Sounds very interesting! Sony plans to introduce a huge range of lenses for the E-Mount system found on their NEX-3 and NEX-5 cameras.
Wide fixed focal length CZ : available from 2011
Telephoto zoom : available from 2011
Macro : available from 2011
Portrait : available from 2011
High performance standard zoom G : available from 2012
Wide zoom : available from 2012
Mid-telephoto : available from 2012
Hasselblad
A few interesting announcements from the Hassleblad folks, none of which are particularly affordable! Firstly an H4D-31 which is pegged as the affordable Hasselblad but still costs $13,000. A Ferrari limited edition model was also displayed, limited to a production run of just 499 and the price ? Well if you have to ask, you can't afford it! They also revealed an upgrade for the H4D-50MS 50MP camera which allows the sensor shifting technology to produce a 200 megapixel image! And finally, my favorite from their press release barrage, the 50MP back for the 503 camera system the CFV50. This one is really pitched to get those last film back users to give digital a try but the combination of the new back and old film camera makes a stunning combination! Take a look at the images below.