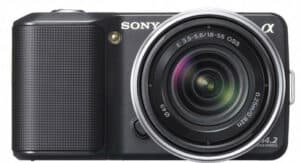 The popularity of smaller form-factor cameras such as the Panasonic and Olympus Micro 4/3 cameras in on the increase. Samsung recently introduced their version, the NX-10 with its mirrorless design and APS-C sized sensor. Sony announced their intention to join the so called EVIL camera market back at PMA when they displayed prototype cameras, but today the NEX-3 and NEX-5 cameras were finally made official. And at first glace it looks like they will have been worth the wait!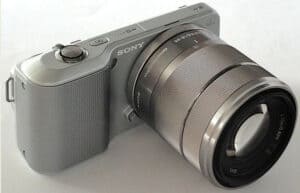 The striking design somehow manages to hide a 14 megapixel APS-C sized sensor inside and a swiveling 3″ screen.
Spec list:
14 Megapixel
APS-C CMOS sensor (bigger than M4/3)
Sony E-series lens mount
Shutter speed: 30 to 1/4000th of a second
1280×720 video mode (NEX-3)
1920×1080 AVCVHD video mode (NEX-5)
2.7FPS burst shooting, 7FPS in special mode
Memory Stick and SD card slots (SDXC supported)
File Formats ; JPEG, RAW, JPEG+RAW, MPEG4.
Swivelling 3″ LCD
ISO 200-12800
Price: 250/~$320 (body only)
When the cameras are released there will be 3 lenses available:
16mm f2.8
18-200mm f3.5-5.6
18-55mm f3.5-5.6
There will also be a range of accessories including a fisheye adapter for the 16mm lens, a flash and an optical viewfinder to work with the 16mm f2.8. One website accidentally leaked information and test photos a day early and the high ISO photos up to 3200 looked remarkably good. It seems as though Sony has taken their time with this camera and not rushed into the market too quickly. The form factor is noticeably different to that which they showed off at the PMA show with the camera body being much smaller. Image stabilization is handle in the lens and not the body, and that does add to the bulk of the lenses. In fact the lenses do seem to be much larger than other EVIL system cameras. Time will tell us if that adds to the quality of the images in any way. I have not yet been tempted to try any micro 4/3 cameras but the stunning design and the APS-C sensor on this camera have me wandering how much longer I will be using a simple point and shoot camera. Sony has been very aggressive with the pricing too. For those who were considering a high end point and shoot , this is not much more of a step up in price. The cameras are already listed on the B&H website. And also on ADORAMAs website too now with full pricing information.