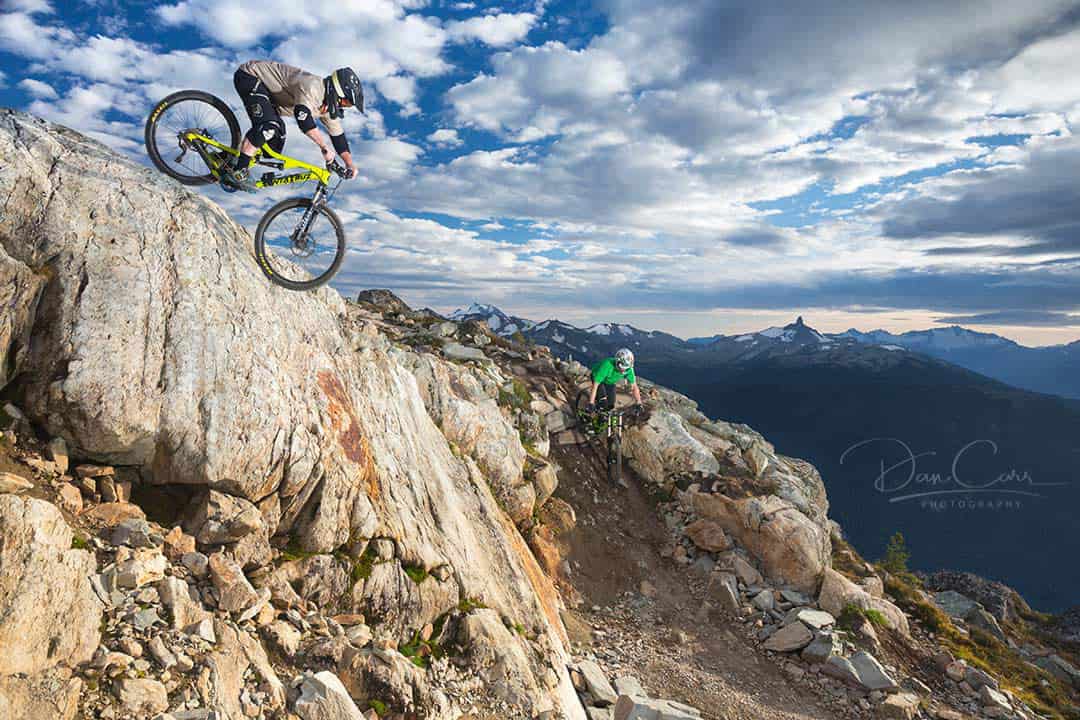 Mountain biking is one of my favourite hobbies and I wanted to challenge myself to create an interesting image in my "backyard" of British Columbia. I love being behind the camera, but always thought it would be cool to have a good mountain biking photo of myself. I decided to take on this challenge, and create a custom remote system that was integrated into my bike, so that I could trigger a camera and a flash whilst I was riding the bike.
After experimenting with a bunch of different switches from my local hardware store, I settled on a pushbutton and soldered it to a length of cable to run into a Pocketwizard radio transmitter. A similar Pocketwizard receiver would be placed on the remote camera, and also attached to a remote battery-powered strobe.
As I began to ride down the rock face, I pressed the button which fired the remote camera. A second transmitter in the camera's hot shoe then sent a signal to the remote strobe to ensure the rock face and bike were nicely lit. I always like to use strobes for this kind of photography whenever I can. It adds several extra layers of complexity, but it gives me ultimate control over the lighting and look of the image. In this instance, it allowed me to lower the ambient light in the background and really bring out the amazing patterns in the clouds.
Gear Used for This Shot
To top it all off, I timed it with my buddy Rowan, to be in the photo at the same time. He would roll around the corner at the exact right moment and then I'd try not to crash into him! It worked perfectly and I got a shot that I'd be proud of on any normal day of shooting, but because of the technical complexities, and physical ones in terms of riding the bike on the dangerous terrain, it really takes it up a notch for me. Definitely my favourite selfie!