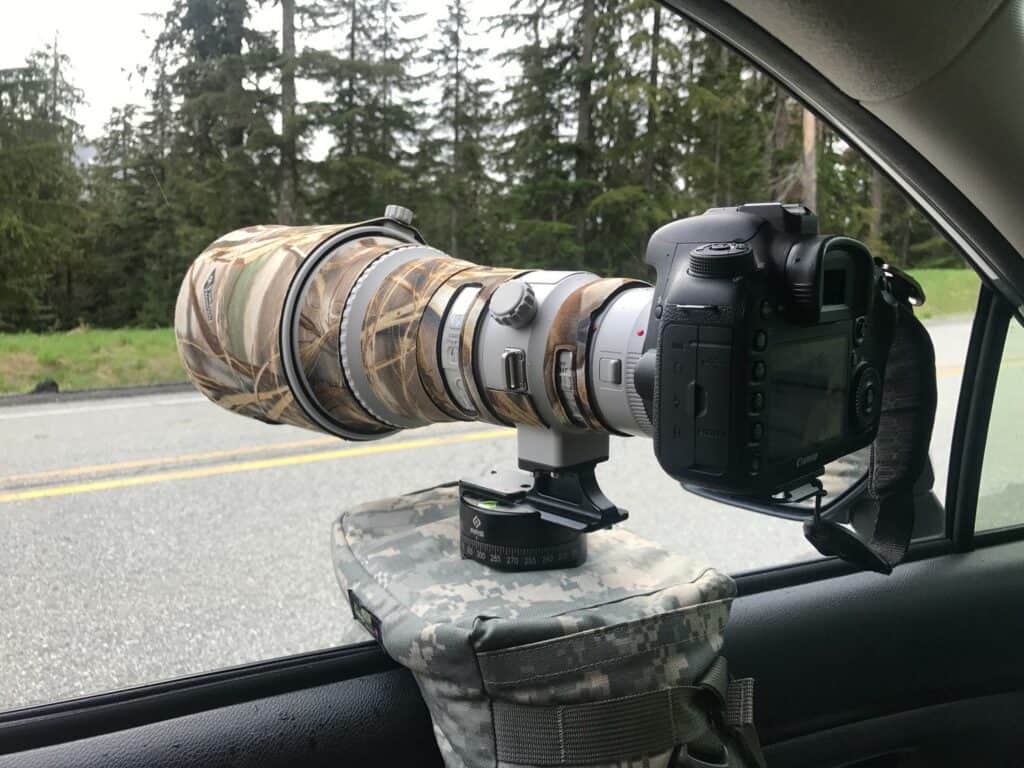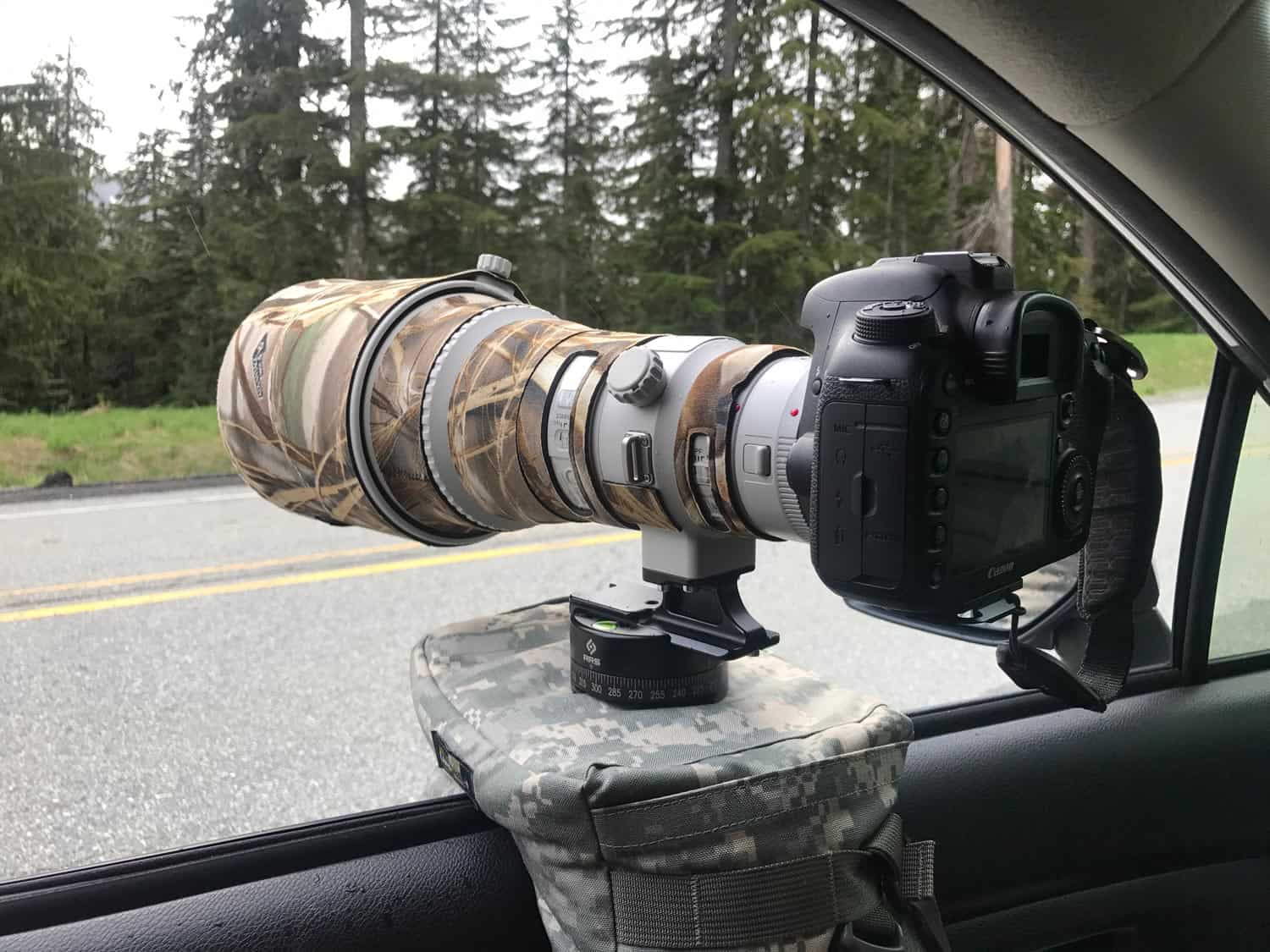 Anyone that dabbles in wildlife photography should have a photography bean bag in their kit. There are many opportunities to photograph wildlife from a vehicle, whether it's your own car or a jeep on safari. When you do that, you'll need a place to rest your camera! In fact, bean bags are much more useful than that. You can also use the on the ground to get beautiful low angle images of shorebirds on a beach, or any number of other small creatures.
The first bean bag I got was the Gura Gear Sabi Sack, now sold by Tamrac under the same name. It's a good option, and very nicely constructed! Recently I decided that I wanted to get a bean bag that had a metal top plate in it so that I could mount a panning clamp or my RRS gimbal. The reason for this is that I often use the Canon 200-400 f/4 L IS as my wildlife lens. When the lens is resting in or on the Sabi Sack, it's not easy to rotate the zoom ring. The focus ring on that lens is also quite loose, and shuffling around in my car, I noticed I would sometimes throw the focus out.
With a bean bag that has a top plate, I can raise the whole setup up off the bag on the lens foot, just as if it was on a tripod. No more struggling with the zoom ring, or knocking the focus ring.
I looked at all the options out there and decided, in the end, to go with the LensCoat LensSack Jr. – they also make a larger size that's suitable for 600mm and 800mm lenses. I figured the Jr. version would be fine for my 200-400 and my 400mm f/4 DO. Initial testing confirms my assumptions.
I've had a variety of products from LensCoat in the past, and I've found their products to be a bit hit and miss. I tried out their lens RainCoat last year and really disliked it, but their padded TravelCoats are excellent. I also use their camouflage covers on my long lenses as you'll see in the photos here. I find these to be a bit overpriced for what you get, but there really isn't anyone offering an alternative. In other words, I'm not a diehard LensCoat fan so it's always with some trepidation that I buy something new from them.
In this instance, with the LensSack, I can firmly throw it in the "excellent" pile with my TravelCoats. I was very pleased with the construction of the product, as well as the material choices. The main cammo material feels tough and durable, and the rubberized under surface offers just the right amount of grip on your car door or another surface. If you flip the LensSack upside down, the camera rests on the rubber for ground-level shots. I was a bit concerned that this black material would be too grippy, and not allow easy adjustment of the long lens in this position – thankfully I had nothing to worry about.
Click images to enlarge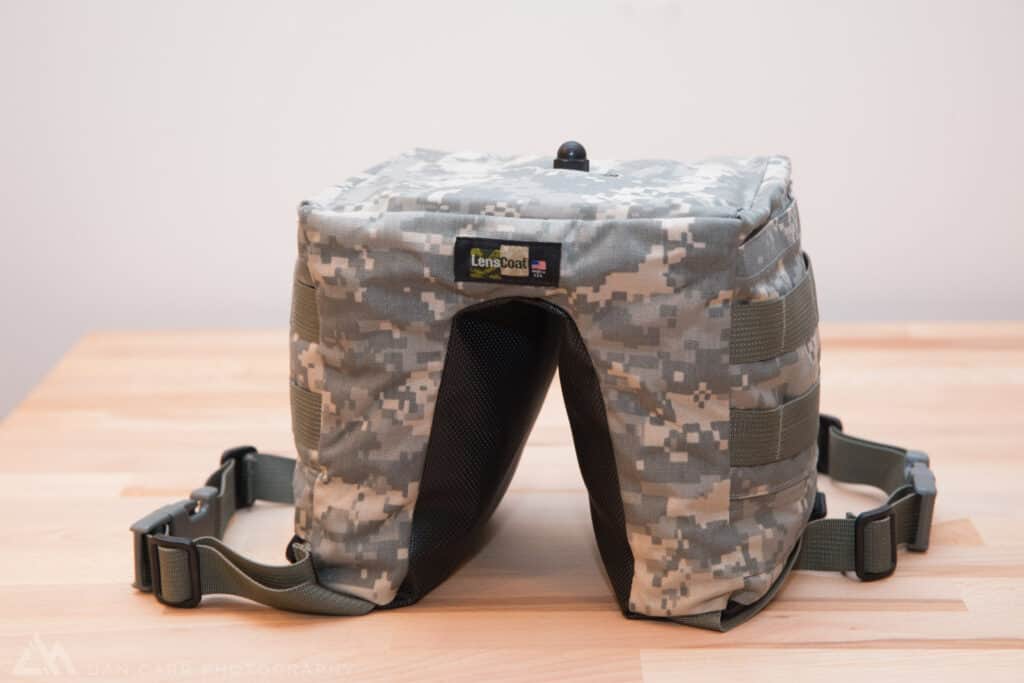 NB: Here is the panning clamp from the photos.
I also really appreciate the ease with which you can remove the top plate if you don't want to add a clamp or ball head to it! Just unzip the pocket and pull the plate out. They even give you a little pouch to store the top plate while it's in your camera bag. All in all, I couldn't find a single negative thing to say about the LensCoat LensSack, and anyone who has read my review of the RainCoat last year will know that I'm not shy about things like that if I've got something to say.
Two thumbs up for this great product! This is definitely my new favourite photography bean bag, and I'll be adding it to my recommended wildlife photography kit in place of the Sabi Sack from now on!