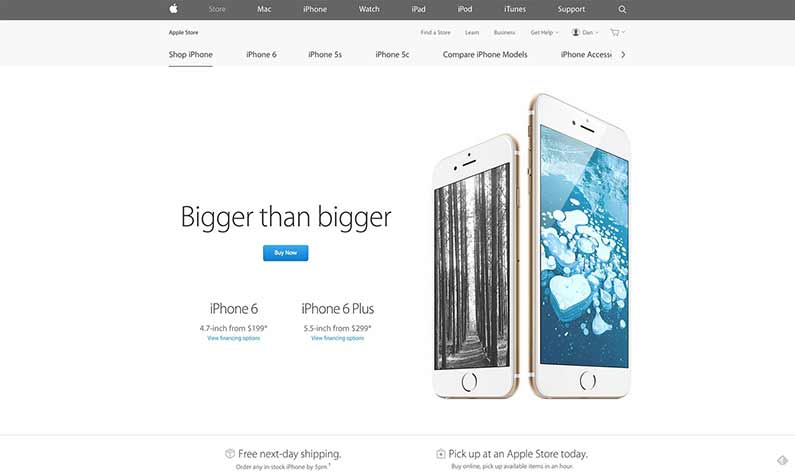 I'm pleased to announce today that Apple's latest global "Shot On iPhone" ad campaign will feature one of my recent images taken with my iPhone 6+. Their latest campaign aims to feature the work of their customers, both amateur and professional photographers, and as a longtime Apple user, I couldn't be more excited to be chosen as part of this project! The campaign will feature the images around the world on billboards, transit ads, magazine ads and in a gallery on Apple.com
More About The Image
The photo that was chosen by Apple is called "Ice Bubble Reflections" and was taken at Joffre Lakes in British Columbia, Canada. The bubbles trapped in the clear ice are methane bubbles from decaying vegetation at the bottom of the lake. As the ice forms, it creates incredible patterns that have layers of contrast and shapes right through the ice. It's truly one of nature's most beautiful phenomenons, and a favourite subject for photographers who know where to find them.
The interesting thing about this photo is that whilst I had a DSLR in my backpack, I chose to snap this shot with my iPhone. The notion that "the best camera is the one you have with you" has been talked about a lot in the last few years, but it's also worth remembering that simplicity and ease of use can play a part in the equation. I had both cameras with me, so which was the best? I reached for my iPhone for two reasons; firstly it has an incredible minimum focusing distance that allowed me to get very close to the bubbles and exaggerate their size, and secondly the light was fading and I didn't have time for the DSLR setup. Using the DSLR would have involved removing my pack, getting the camera out, setting up a tripod and so on. This was a passing moment that needed to be captured instantly, and with the iPhone, that was possible.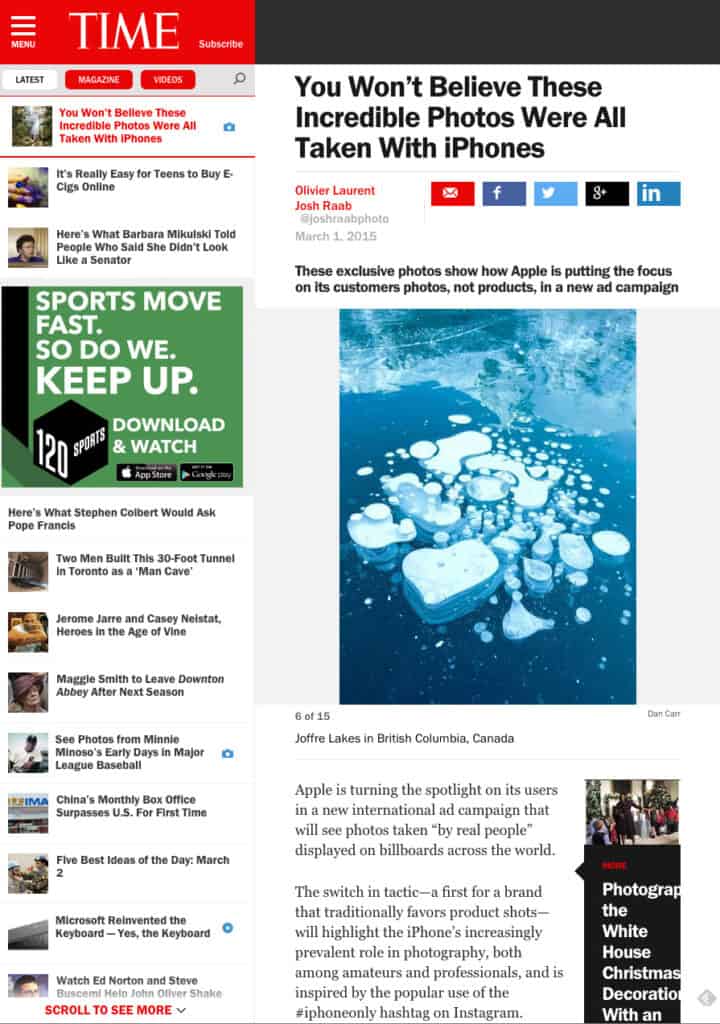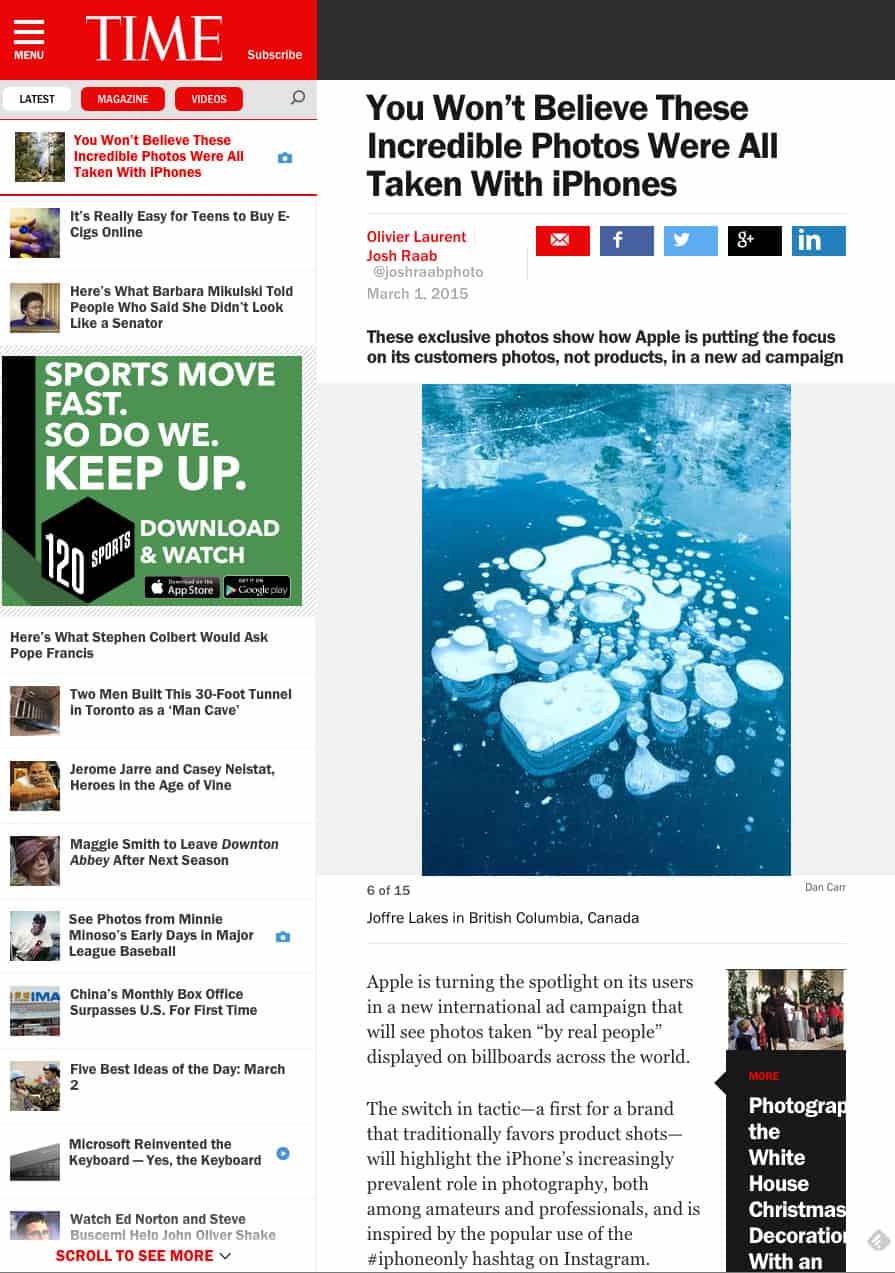 Apple is turning the spotlight on its users in a new international ad campaign that will see photos taken "by real people" displayed on billboards across the world.

The switch in tactic—a first for a brand that traditionally favors product shots—will highlight the iPhone's increasingly prevalent role in photography, both among amateurs and professionals,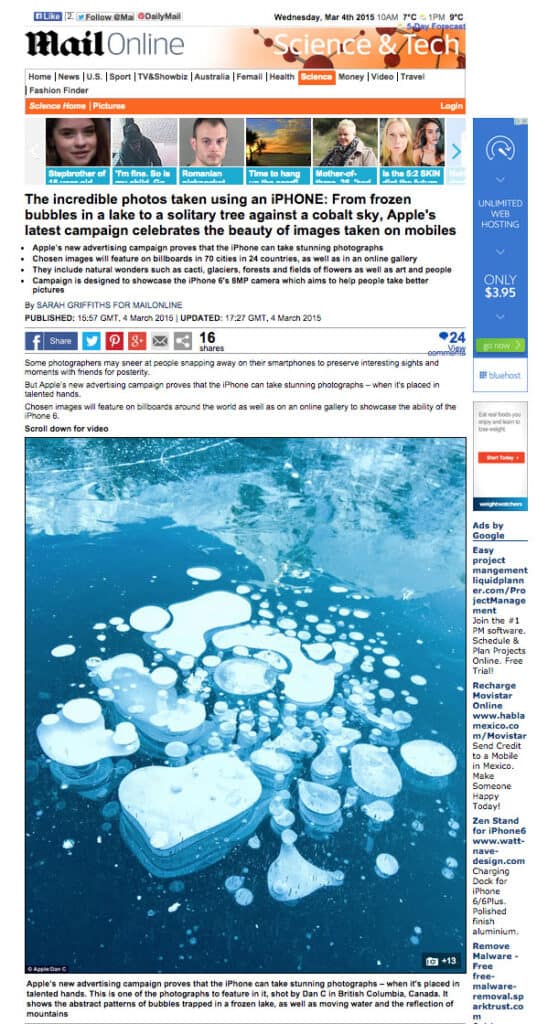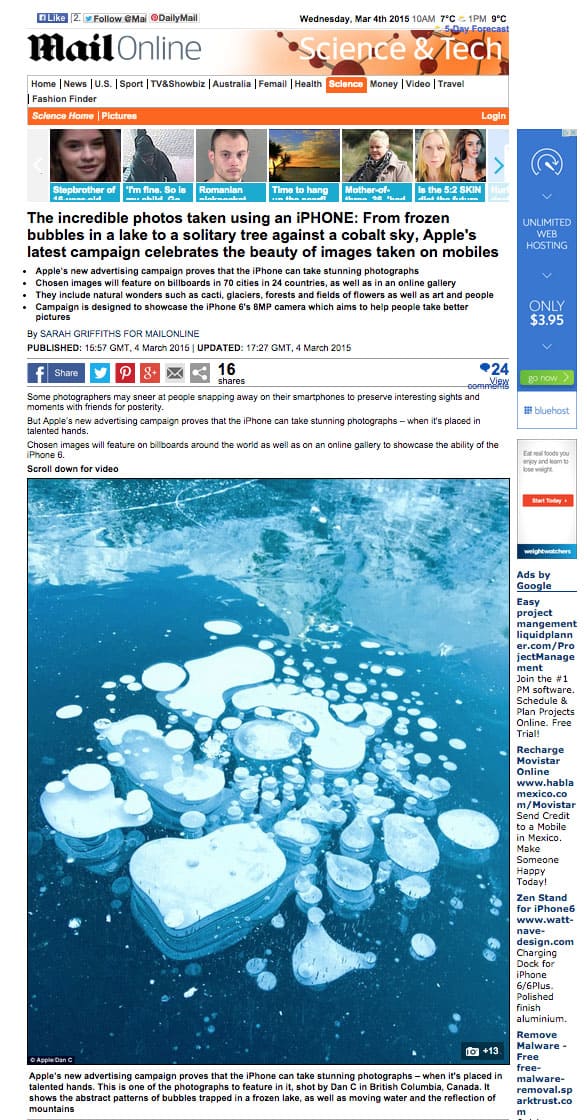 Apple's new advertising campaign proves that the iPhone can take stunning photographs – when it's placed in talented hands. This is one of the photographs to feature in it, shot by Dan C in British Columbia, Canada. It shows the abstract patterns of bubbles trapped in a frozen lake, as well as moving water and the reflection of mountains.
In The Wild
Ads and billboards are spring up all over the world now. Apple is running the campaign in every major metropolis around the globe. If you happen to see my photo, I would love to see a picture and hear about it!