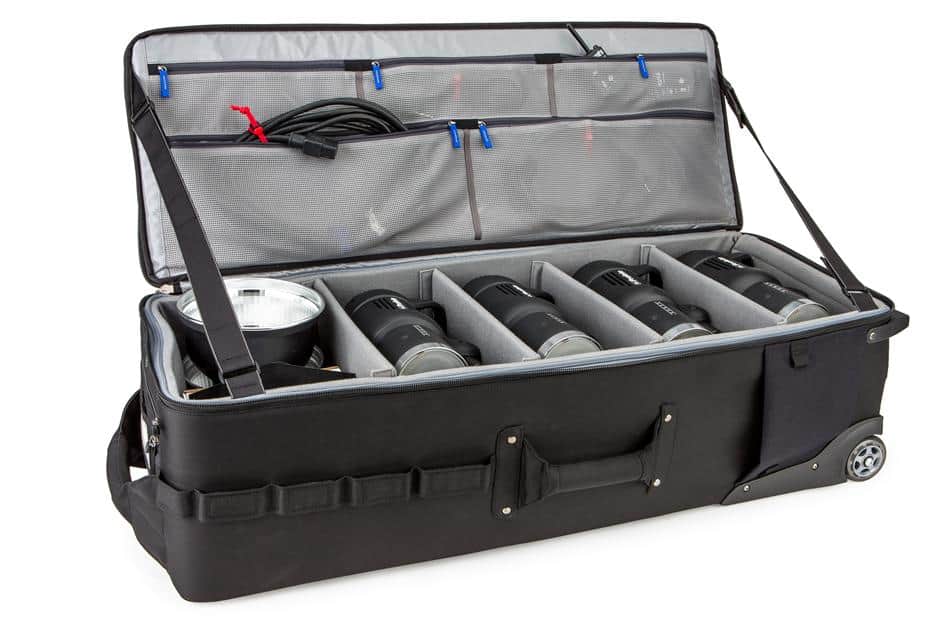 This new roller bag from Think Tank Photo popped a few weeks ago but I was busy at the time and forgot to mention it. I'm a big fan of Think Tank's gear and I've used their tough-as-nails roller bags to travel with for many years. The Production Manager is the largest one yet! Really the photos do all the talking, so just let your imagination run wild with what you might be able to fit in this thing! Designed primarily for lighting equipment, but equally at home storing your long lens collection on the road or at the office. I'd actually love to get one of these for when I travel to location by car as I'd be able to throw this in the trunk and work right out of it.
Gear Profile

Holds 3–4 flash heads, 2–3 power packs, as well as monoblocks, umbrellas, medium softboxes (collapsed), small-medium light stands.
Tech Specs

Exterior Dimensions: 15.7" W x 40" H x 12.6" D (40 x 101.6 x 32 cm)
Interior Dimensions: 13.7" W x 38" H x 10" D (35 x 96.5 x 25 cm)
Weight: 17.8–22.2 lbs (8.1–10 kg)
Price: $549
As with all Think Tank purchases over $50, you'll also get a free gift if you click though the links on this page as a friend of this site!