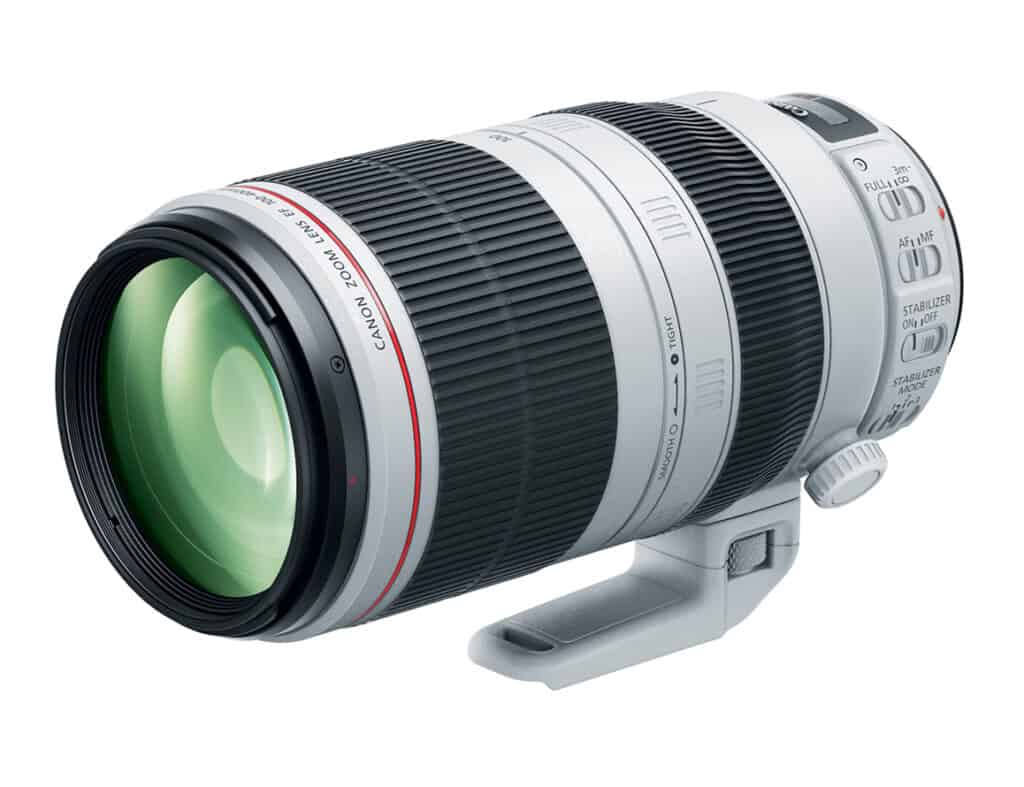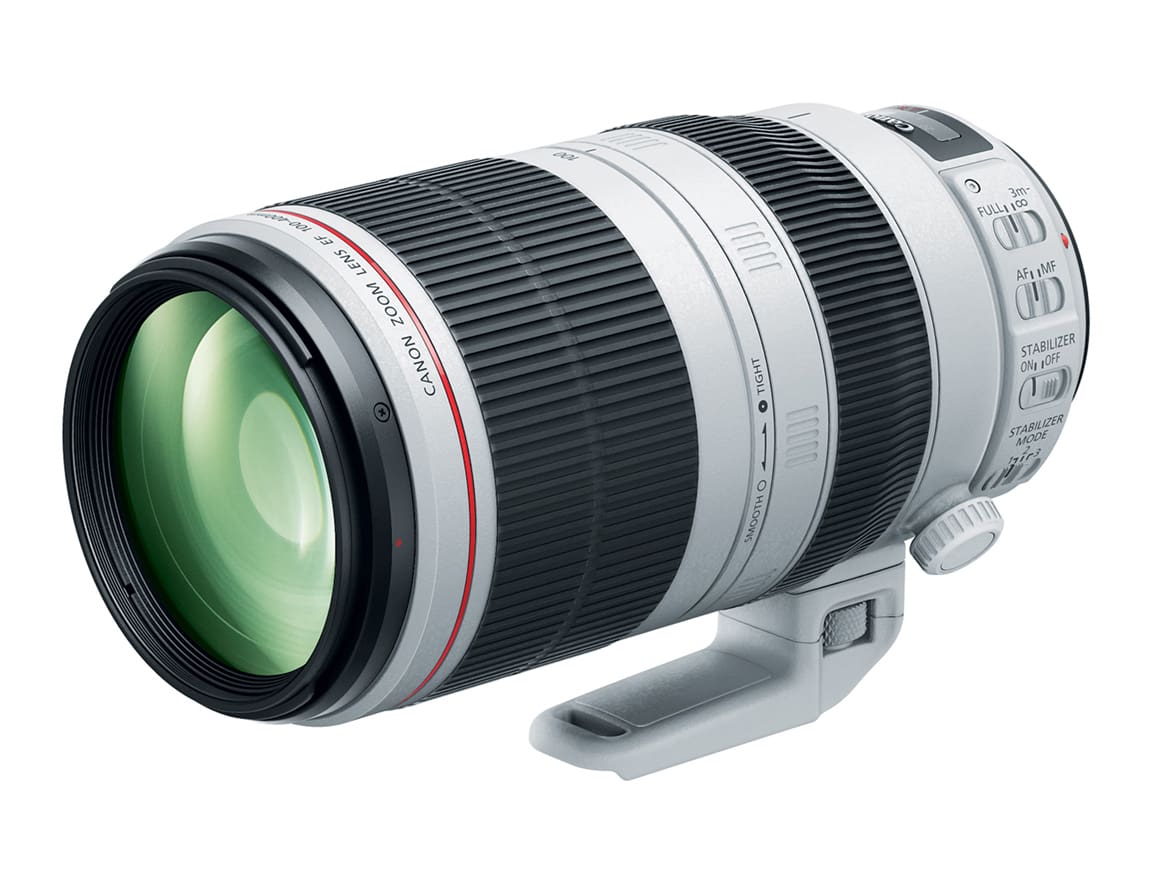 After 16 years, Canon has finally launched a replacement for the original 100-400 f/4.5-5.6 L IS and on the face of it, it looks to have been worth the wait. Gone is the "dust pump" push-pull zoom design that so many people despised from the original. The Mark II lens features a typical zoom ring, but add a new variable friction control that we've not seen before on Canon lenses. As you can see in the images, a central ring labelled Smooth<<—–>> Tight, now controls the amount of friction on the extension of the zoom. The overall design is reminiscent of the more recent 70-300 f/4-5.6 L IS, with the focus ring moved towards the front of the lens and the zoom ring at the back next to the tripod collar. The 100-400 f/4.5-5.6 L IS II also features a new tripod collar design that allows you to easily remove just the foot of the collar when it's not needed. All previous Canon zooms required complete removal of the whole collar which made them awkward to store during short-term removal so this is a nice new feature. A third new feature of this lens is a lens hood (ET-83D) that has a small window in it which allows circular polarizers to be adjusted without removing the hood. I hope we see this feature filtered quickly to other Canon zooms like the 70-200 because this is another simple, yet highly useful update.
Image stabilization has come an awful long way since the first version of this lens and the 100-400 L IS II moves up to a 4-stop stabilization system compared to the single stop of the original. In terms of size and weight, somewhat disappointingly the lens has grown a few millimetres longer and a couple of hundred grams heavier than its predecessor.
Focal Length & Maximum Aperture: 100–400mm 1:4.5–5.6
Lens Construction: 21 elements in 16 groups
Diagonal Angle of View: 24°–6°10′
Focus Adjustment: Inner focus system / USM
Closest Focusing Distance: 3.2 ft. / 0.98m
Filter Size: 77mm diameter
Zoom System: Rotation Type
Max Diameter x Length, Weight: Approx. 3.7 x 7.6 in. / 94 x 193mm, Approx. 3.46 lbs. / 1570g (lens only, excluding removable tripod mount) Approx. 3.62 lbs. / 1640g (lens + tripod mount)
Canon's recent run of new lenses have been extremely high performing, especially their zooms. I expect the reason this lens has take so long to develop is because they have taken the time to create something pretty special for this popular focal range. The MTF charts, posted below, look incredibly impressive. They've even included results with a 2x extender which is something I would not expect them to do on a zoom lens like this. It shows great confidence in the optical performance of this lens and I think they will ship a huge number of these to be partnered with the
Canon 7D Mark II
, a combination that will give a 160-640mm equivalent focal length.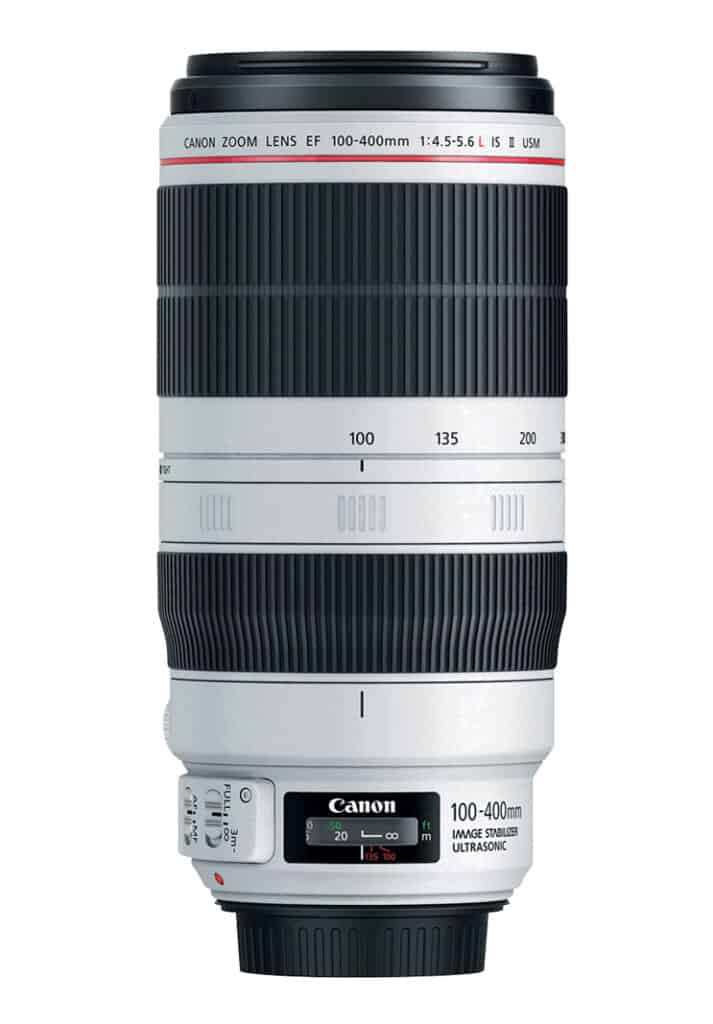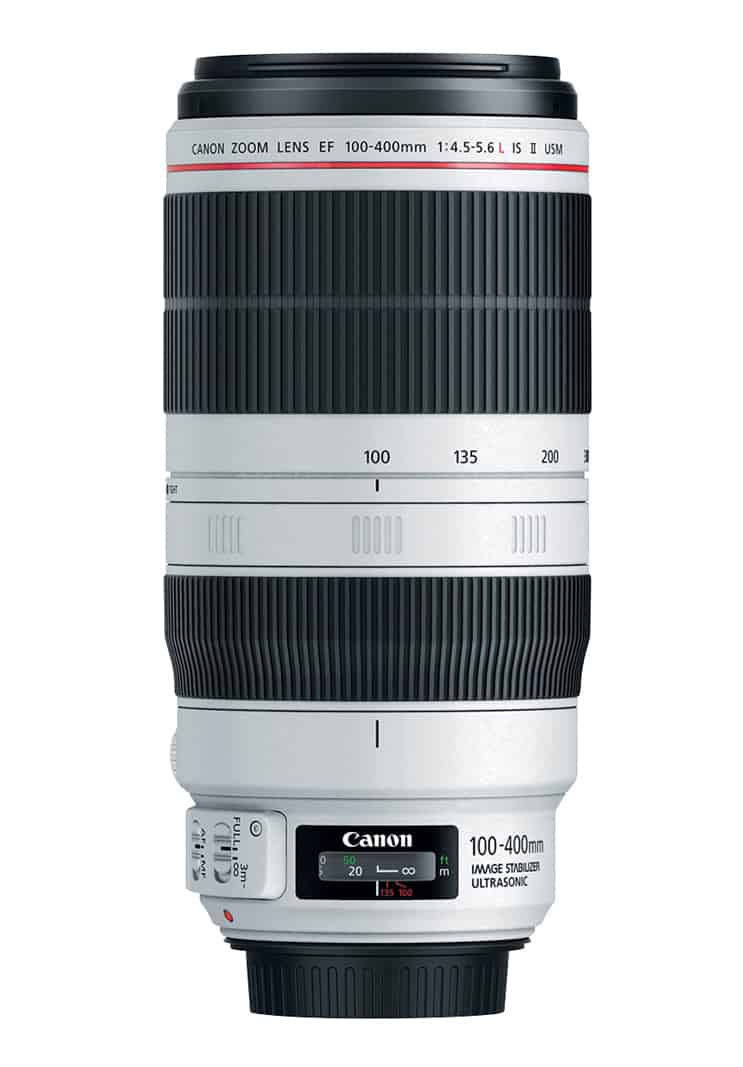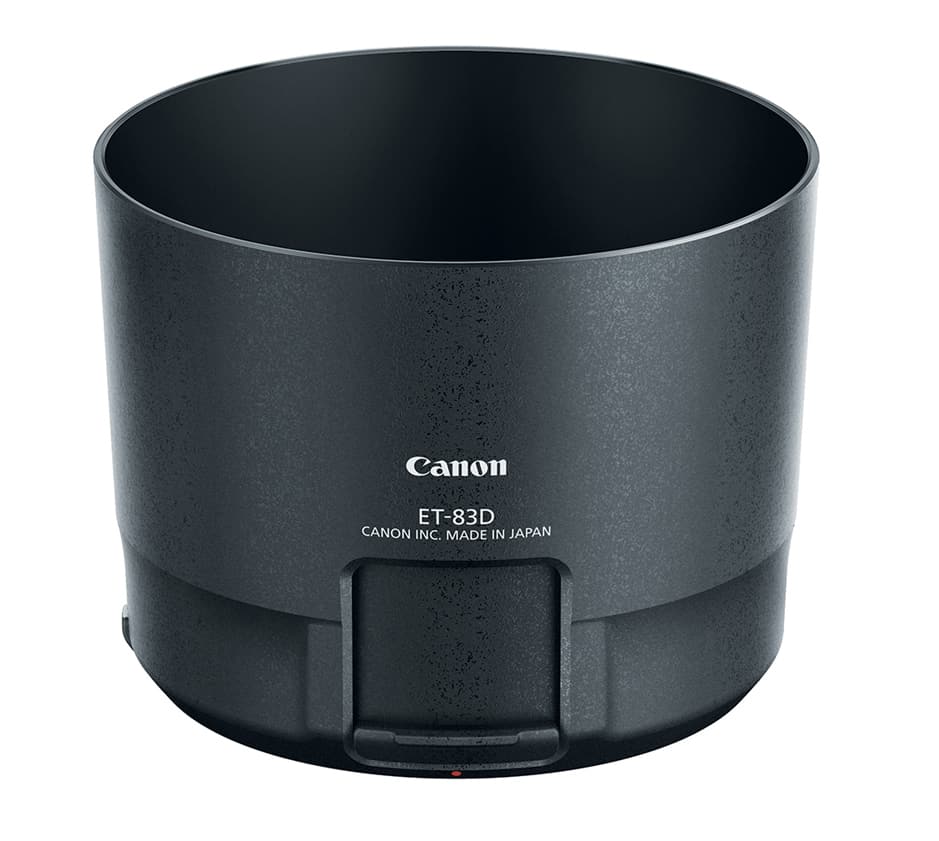 MTF Charts
These look very impressive!
Pre-Orders
People have been waiting for this lens for years and years. Expect initial supplies to be constrained and place a pre-order now if you want to get one close to the shipping date in December. As always, it helps me out a great deal if you use the links here on my site.
B&H Photo – Canon 100-400 f/4.5-5.6 L IS II
Amazon – Canon 100-400 f/4.5-5.6 L IS II
Adorama – Canon 100-400 f/4.5-5.6 L IS II
You Might Also Like……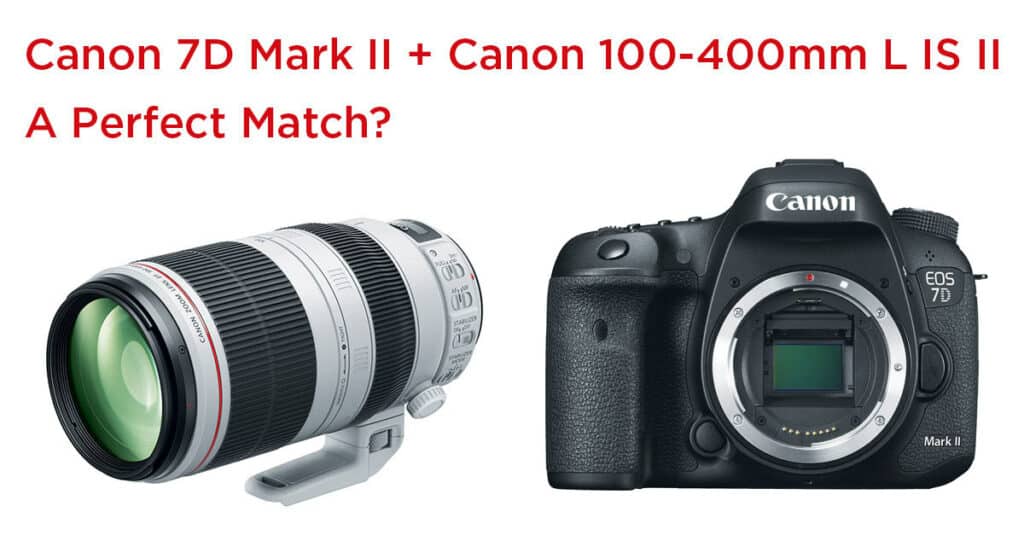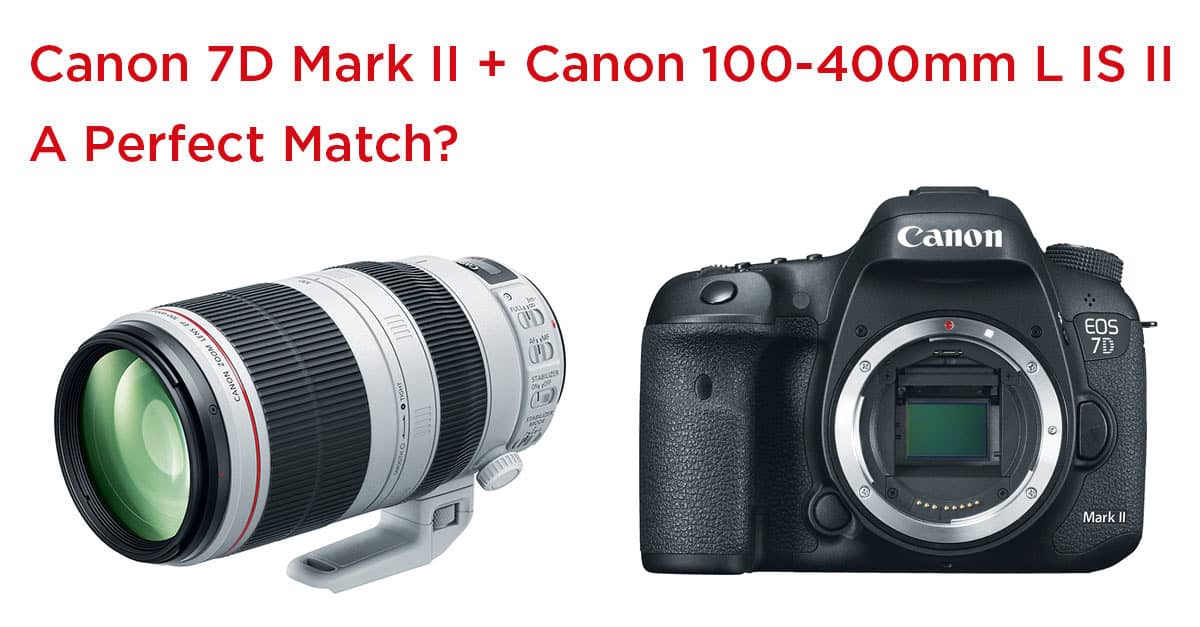 I've also written a separate article about this interesting, and likely very popular pairing. Click HERE to read that post.
Press Release
Canon U.S.A. Introduces New Super-Telephoto Zoom Lens, The Compact And Highly Mobile Canon EF 100-400mm f/4.5-5.6L IS II USM
New Super-Telephoto Zoom Lens Delivers an Enhanced IS System Providing Four Shutter Speed Steps of Correction, a Rotation-Type Zoom Ring, and New Optical Element Formula to Help Maximize Image Quality
MELVILLE, N.Y., November 10, 2014 – Canon U.S.A., a leader in digital imaging solutions, today announced the highly anticipated Canon EF 100-400mm f/4.5-5.6L II USM lens, a second generation compact super-telephoto zoom lens featuring significant advancements in optical quality, image stabilization performance up-to-four steps, and rotating-zoom-ring design. This new L-series super- telephoto zoom lens features Canon L-series weather resistance and rugged magnesium housing to meet the needs of wildlife and sports photographers or photojournalists working out in the elements. Fully compatible with all EOS cameras, the EF 100-400mm f/4.5-5.6L II USM features a completely redesigned optical formula containing one Fluorite and one Super UD lens element – a combination unique to lenses in this focal range – to help deliver sharp images with high resolution and contrast. This combination of elements helps thoroughly suppress chromatic aberration throughout the entire zoom range.
"The Canon EF 100-400mm f/4.5-5.6L II USM is the logical evolution of the very popular EF 100-400mm f/4.5-5.6L IS USM introduced 16 years ago," said Yuichi Ishizuka, President and COO of Canon U.S.A., Inc., "This long awaited, next generation lens was developed to be a highly portable and adaptable telephoto zoom lens for today's modern professional and advanced amateur photographers."
For photographers who want to work as closely as possible to their subjects, the minimum focusing distance of the lens has been reduced to just 3.2 ft. (0.98m), resulting in maximum magnification of 0.31x. The original EF 100-400mm f/4.5-5.6L IS USM was well known for its push-pull zoom adjustment, but the EF 100-400mm f/4.5-5.6L II USM uses a rotation-type zoom ring similar to the one found on the EF 70-300mm f/4-5.6L IS USM lens that allows for more precise adjustments, easier handling, and consistently excellent weight balance during handheld photography. In addition, the lens features an improved zoom torque adjustment ring that allows for the easy setting of zoom tension based on personal shooting preferences. The Canon EF 100-400mm f/4.5-5.6L II USM also features an inner focusing system, a powerful yet quiet Ring USM, a high-speed CPU and optimized auto focus (AF) algorithms for fast and accurate autofocusing in various shooting situations.
The Canon EF 100-400mm f/4.5-5.6L II USM features three Image Stabilization (IS) modes – standard, panning, and during exposure only. Each IS mode is individually engineered to help provide outstanding results in a wide variety of shooting situations, and all serve to satisfy the personal preferences of photographers based on the type of IS they desire. The optical IS provides up to four shutter speed steps of correction, increased from 1.5 steps in the previous model*. In addition, the EF 100-400mm f/4.5-5.6L II USM features Canon's newly developed Air Sphere Coating (ASC) which helps to reduce backlit flaring and ghosting significantly, as well as a 9-bladed circular aperture Electro-Magnetic Diaphragm that helps to enhance beautiful, softly blurred backgrounds.
As with all L-series lenses, the Canon EF 100-400mm f/4.5-5.6L II USM is highly resistant to dust and water, with excellent durability in even harsh conditions, ideal for wildlife photographers even in rainforest environments, or sports photographers on the sideline grabbing action shots of the big game. Fluorine coating on the front and rear surfaces of the lens can repel dust particles and water droplets. It also makes smears and fingerprints easy to remove without the use of lens cleaning fluid. Included with the lens is the new ET-83D lens hood, that features a cleverly placed and convenient side window allowing the user to easily adjust specialty filters while the lens hood remains in place. In addition, the EF 100-400mm f/4.5-5.6L II USM is equipped with a newly designed detachable tripod mount which can be removed to reduce weight during handheld operation.
Pricing and Availability
The Canon EF 100-400mm f/4.5-5.6L II USM Super-Telephoto Zoom Lens is scheduled to be available in December 2014 for an estimated retail price of $2,199.00.