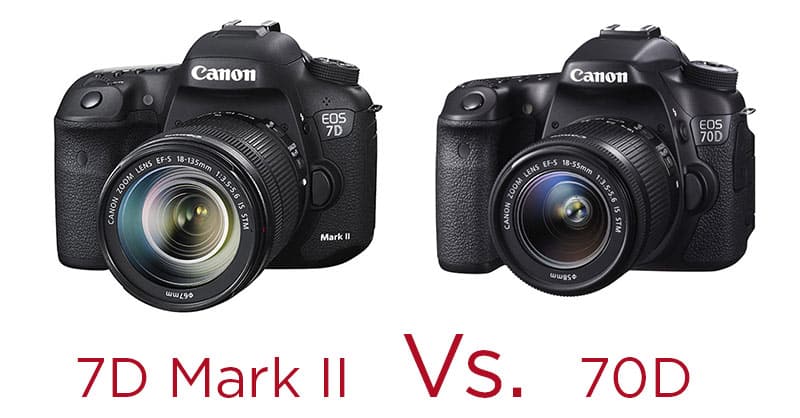 The Canon EOS 7D MkII was launched in September 2014, a full 5 years after the original version. With little competition in the "semi-pro" APS-C camera market, Canon decided to release a major firmware update for the 7D in August 2012 that effectively extended the camera's life to the MkII announcement in 2014 by adding key features and increasing the buffer capabilities. On the other hand, the XXD line of cameras has stuck to the regular release cycle and we've seen the 60D and the 70D launch within the 7D's lifetime.
In this article I want to delve into the discussion of 7D MkII vs 70D. My previous discussion on the 7D Vs 60D has been read hundreds of thousands of times and I suspect this this year's pressing question we're addressing here won't be any different. When people first get into DSLR photography they tend to start with the Rebel line of cameras due to the attractive price point. When the passion for photography begins to develop, it eventually becomes clear that there are some significant benefits lying in cameras a little further up the ladder. But how far do you really need to go? Do you NEED a 7D MkII? Or will a 70D be such a significant improvement over your current camera as to make anything else unnecessary.
We're going to break it down section by section and not just show you one set of specifications Vs. another, but also explain what it all means in terms of the images that you want to shoot.
Let's dive in!
Specifications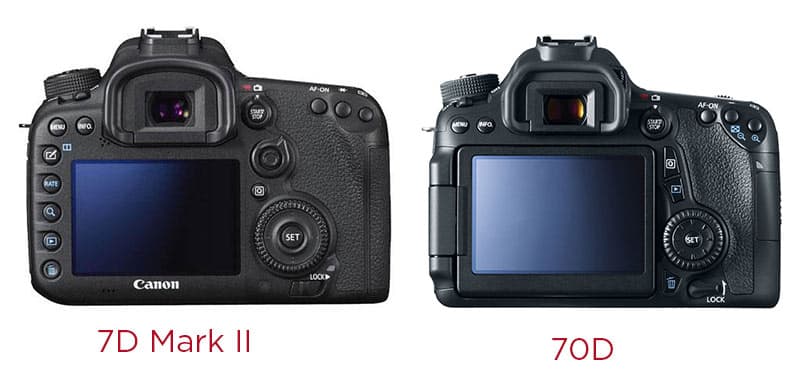 | | | | |
| --- | --- | --- | --- |
| | Canon 7D Mark II | Canon EOS 70D | Canon EOS 7D |
| Sensor | 20.2MP APS-C | 20.2MP APS-C | 18MP APS-C |
| Image Processor | Dual Digic 6 | Digic 5+ | Dual Digic 4 |
| iso Range | ISO 100-16000 + H1 (25600) & H2 (51200) | 100-12,800+ H1 (25,600) | 100-6400 + H1 (12,800) |
| Shooting Speed | 10fps | 7fps | 8fps |
| Continuous Buffer | 31 Raw , 1090 JPEG | 65JPG (large), 16 RAW | 130JPG (large), 25 RAW** |
| Movie Recording Settings | 1080p 30,24,25,50 & 60fps | 1080p 30, 24, 25fps ; 720p 50 & 60 fps | 1080p 30, 24, 25fps ; 720p 50 & 60 fps |
| Clean HDMI Output | Yes | No | No |
| Autofocus Sensor | 65 Cross Type AF Points (double cross center) | 19 Cross Type AF Points | 19 Cross Type AF Points |
| Dual Pixel CMOS AF | Yes | Yes | No |
| TTL Metering Sensor | 150,000-pixel RGB+IR 252-zone | 63 zone dual layer IFCL | 63 Zone |
| Viewfinder | 100% Coverage | 98% Coverage | 100% Coverage |
| LCD Screen | 3? 1040,000 dots | 3? Swivel touch screen 1040,000 dots | 3? TFT 920,000 dots |
| Memory Card Format | CF + SD/SDHC/SDXC | SD/SDHC/SDXC | CF (I, II, III & UDMA) |
| Lens Micro Adjust | Yes | Yes | Yes |
| WiFi | No | Yes | No |
| Intervalometer | Yes (but it's pretty useless) | No | No |
| In-Camera HDR | Yes | Yes | No |
| In-Camera Creative Filters | Yes | Yes | No |
| Manual Audio Controls | Yes | Yes | Yes |
| Headphone jack | Yes | No | No |
| Touch enabled | No | Yes | No |
| Continuous AF during Video | Yes | Yes | No |
| GPS Built In | Yes | No | No |
| Special notes | f/8 autofocus (previously limited to 1D series and 5D mk3) | | |
| | Anti-flicker mode, eliminates flickers under flickering lights (e.g. fluorescent lamps).USB3 Connection | | |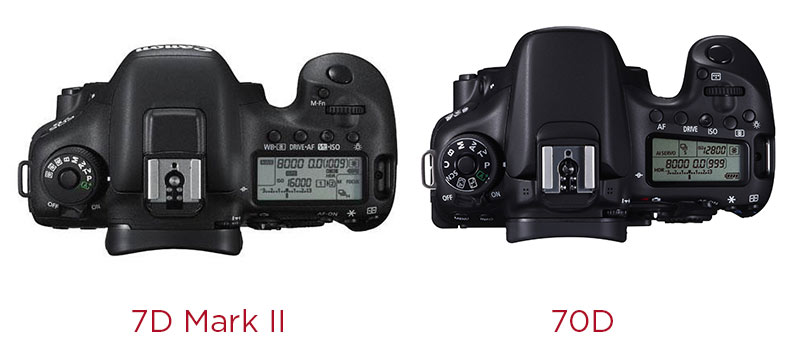 AF System
There's no real groundbreaking features in the 7D MkII, but if you to pick the standout feature then it would be the 65 point cross-type AF system. This is something that is leagues ahead of anything else offered by Canon, apart from the 1D X which also has 65 cross-type points. It's clear that Canon have targeted this camera at sports and wildlife enthusiasts by including such an incredible AF system. Accuracy with 65 cross points will be greatly improved over that on the 70D and speed of obtaining focus, and maintaining tracking, will also be greatly improved. There's a lot of features on these two cameras where things won't be hugely different, but this is the one area where the 7D MkII will shine and absolutely trounce the 70D. The 7D MkII's party trick if you will. Not only do you get the speed and accuracy of a 65 point system, but you also get the incredible adjustability of AF options that we've previously seen in the 5D MkIII and the 1D X. It's a simply mind-boggling array of options that let you fine tune the AF system to work just exactly as you need it to for a particular subject.
Now I'm not saying you can't shoot fast moving subjects with the 70D, but if you ONLY shoot fast moving subjects then the AF system on the 7D MkII is a compelling reason to save a little longer and spring for the more expensive option. If on the other hand you only find yourself occasionally shooting sports, then the intricacies of such a powerful AF system will likely be lost on you because it is something you have to really experiment with and use over and over again to learn how to set it up for the best performance. The 70D still has an excellent AF system, and it's one that you can just set and forget.
Speed & Buffer
When the 70D jumped to 7fps from the 5.3fps of the 60D it made a transition to a camera that I could confidently recommend to enthusiasts who want to shoot occasional sports photography, usually school or college sports events. Wildlife also falls into this category. 5.3 to 7fps might not seem like a big step but having shot sports with cameras of every possible speed, I can say this is noticeable and significant. Now there's no denying then that at 10fps, the 7D MkII is a sport photography monster, beaten only by the blistering 12fps rate of the 1-D X. For many years the 1-series bodies delivered 8.5fps and this was adequate for sports photography so 10fps is more than enough to capture that peak moment of action. Where the 70D is let down in the speed department is the buffer size, with only 16 Raw photos needed to fill it up. This means that in reality, I would only recommend shooting sports with the 70D if you are going to shoot in JPEG, in which case you'll need 65 images to fill the buffer. More than enough. JPEG quality is excellent though, and many people will be shooting in this mode anyway so it might not be a negative point. Hey almost all sports wire photographers soot in JPEG for agencies like Getty Images and Sports Illustrated! With the 7D MarkII though, the buffer will allow 31 Raw photos and 1090 (!!) JPEGs which makes it more than capable of shooting sports (or wildlife) photos in Raw if you wanted to.
High ISO Shooting
The standard ISO range of the 70D tops out at 12,800, while the 7D MkII goes 1/3 stop further to 16,000. When I looked at the specifications for the 7D MkII this 1/3 stop difference was the biggest disappointment for me. There is an H2 expansion setting of 51,200 on the 7D mkII, but if you've ever shot with expansion setting you'll know that in reality they are not really useable and are only there to make camera specifications look more impressive! So in this particular area of specification I don't anticipate the 70D to be very far behind the 7D MkII at all. Certainly not enough for it to really sway any decision one way or another. Of course if you really want to get less noise at higher ISOs then you should take a look at a full frame camera like the 6D which will provide far less noise at equivalent ISOs.
Video Shooting
Both cameras feature continuous focus systems during video shooting using the excellent Dual Pixel CMOS Af system that was launched with the 70D. The significant differences in terms of video shooting come in available frame rates. Finally, for the first time, a Canon DSLR can shoot 1080p video at 50p or 60p to create slow motion with the 7D MkII. Previously this function was limited to lower resolution 720p in all other Canon DSLRs. This is definitely a nice feature to have if you plan to shoot a lot of video because before, you either had to up-scale your 720p slow motion shot, or down-scale the rest of your video to 720p to match the slow shots. The other significant improvement is the addition of a headphone jack on the 7D. If you want to step up the quality of your videos, you can often make a huge difference by concentrating on better audio, but of course you need a way to monitor what you are getting. Now if you have no plans to ever use a microphone other than the one that's built into the camera then I wouldn't worry about this too much. But if you want to run a shotgun microphone, like the excellent Rode VideoMic Pro for example, then a headphone jack is a big deal. The 7D also has some trick functions that allow you to sync up multiple cameras for a multi-cam shoot as well as eliminating the flicker that you can see in videos when shot under fluorescent lights. The original 7D was a real workhorse camera for a lot of videographers that I know, and it seems that Canon has delivered for those guys as well. This is the most fully featured Canon DSLR for video shooting and as such, if you plan on charging for your video work in any way, then I have no problem saying that you should choose the 7D MkII over the 70D. You'll likely make up the price difference with just a job or two anyway. Another significant benefit is that the 70D does not offer uncompressed clean output from the HDMI port, whereas the 7D MkII does. This enables you to use an external recorder to shoot directly to more edit-friendly formats like ProRes. I can see a lot of Atomos Ninja Star recorders being sold to 7D MkII owners in the coming months.
More video features:
First Canon DSLR to shoot to MP4 as well as MOV
New compression option IPB-Lite
HDMI is 4:2:2 instead of 4:2:0
Comes with an HDMI port protector!
Build & Weather Resistance
When the original 7D was launched it improved upon the weather sealing of the XXD line of cameras and was, according to Canon, equivalent to the EOS-1N. In other words, it was pretty good, but not as good as the top-at-the-time EOS-1D MkIIN. Over the last few iterations of the XXD line though, Canon has improved upon the sealing of those cameras to the point where the 70D is now as well weather sealed as the original 7D. As a long time owner of the 7D, I can attest to the fact that it holds up pretty darn well to inclement weather. In fact I shot with it a lot in snow storms and never had moisture issues. The 7D MkII improves again on it's previous sibling though and takes another step towards the 1-Series cameras. Not only is it better sealed than the 70D, but it also has a magnesium alloy chassis which makes it considerably tougher when it comes to general abuse. Canon says the 7D Mark II's weather sealing is four times better than that of the original 7D. Impressive!
If there's one thing that bugs me with photo gear, it's when I feel like I have to baby my equipment. I hate that feeling because it gets in the way of the photographic process. For me, I would always pay a little bit more for a tougher camera if it means that it removes that doubt in my mind. Now the reason this is important for me is that I spend a lot of my time shooting outdoors. Skiing, mountain biking, hiking etc etc. If you are looking for a camera to take photos of your kids soccer match, or your baby's first birthday, then this shouldn't be a consideration. On the other hand, if you are looking to shoot action and adventure sports then this is one of the few differentiating factors between these cameras where I think it makes most of the decision for you. All my magnesium alloy cameras (5D series, 7D, 1-Series) have taken a beating in some pretty harsh environments and I don't treat them well. None have ever missed a beat and that gives me confidence to simply forget about them as a possible problem. To me that's worth a premium.
Other Features
WiFi
Somewhat surprisingly, the 7D MkII does not have WiFi built into it, whereas the cheaper 70D does. When you consider that the Canon 6D also has WiFi, I wonder what their logic is in leaving it out of the 7D MKII? Of course the question is, do you really need it? I'm 90% certain that I can answer this question for you though….. No, you don't. Having spend some time with the WiFi-enabled 6D, as well as several other cameras from other manufacturers, I can honestly say that the number of times I wanted to use WiFi was exactly zero. None. Zip. Never. Yes I DID use it, and test it quite extensively, but purely for the purposes of seeing how well it worked so that I could wrote about it or answer questions from readers. The reality is that pairing your mobile device with a WiFi camera can be a pain in the ass and if you want to get a photo onto your phone in that kind of a hurry, then the chances are you would just take the photo with the phone in the first place. You might think that it would be useful in a studio setting because you can use FTP mode to shoot directly to your computer, but then the reality again is that USB tethering is far easier and a tether doesn't get in the way that much for studio work anyway. In a pinch, if you found yourself in that one situation a year where you ABSOLUTELY needed WiFi, you could simply buy an EyeFi card.
In other words I'm saying that the lack of WiFi in the 7D MkII is a bot of a non-event. I don't think there is many, if any people out there who should be swayed in either direction by the inclusion, or lack of WiFi in these cameras. As we discussed earlier, the AF system and speed of the 7D MkII is likely to draw in a fair number of sports photographers but for event shooting, WiFi is not a reliable option anyway and those guys are going to want to use a LAN cable hardwired to the camera if they want to transmit images in real time. This can be done with the available wireless adapter WFT-E7A.
Intervalometer
When I first read the specs of this camera I was excited that Canon had finally included an intervalometer, a feature that Nikon users have had for years, and something you can find on $200 point and shoot camera as well as my phone. Unfortunately instead of giving us a useful feature, they took it as an opportunity to slap users in the face by limiting the number of shots to 99.
Dear Canon, this is USELESS. That would produce a timelapse lasting approximately 4 seconds. Are we supposed to be excited about that?
It staggers me that companies will pull this kind of move and it's purely to try and drive sales of their remote control.
Rant over. Move along now…..
GPS
The 7D MkII has GPS built into the camera, while the 70D does not. If I could pick one feature between GPS and WiFi then I would most certainly pick GPS. The first time I uses a Canon DSLR with built-in GPS was the Canon 6D which I took on a trip to Cambodia and Thailand. I didn't really find that leaving the GPS turned on gave me any battery life issues and upon returning it was great fun to explore my photos via Lightroom's map module. What frustrated me most was that I was shooting primarily with the 5D MkIII and so I had a mixture of images where some were tagged with GPS data and some were not. I longed for a time when I only had GPS-equipped cameras and could explore the world through my images in the map module. Now whether this will be a useful feature to you depends a little on what it is you like to shoot. If you are a portrait or wedding photographer then I doubt you'll ever have a use for it, but if you are considering either of these cameras to accompany you on trip,s, travels and family vacations then I think it's a great feature to have, and one that will become more important the older your photos get. Now having said that, I don't believe this is a feature that should make this decision for you. It's not worth the price difference on its own, but it might just tip the scale for you if you plan to be pretty nomadic with your DSLR.
LCD Screen
The 70D features a swivelling LCD touchscreen where the 7D MkII has a plain old, regular LCD (which I am pleased about!). In all my years as a photographer I have never missed a shot because I didn't have a swivel screen. I recently watched a Nikon promotional video for the new D750 where they touted the "new" swivel screen on that camera as a tool that would let you create angles that were otherwise unachievable. *cough* *cough* It was a joke, and I actually laughed because all they were doing was holding the camera up a little higher, something that is quite achievable without such a screen. I'll admit that the presence of a swivel screen might open a few peoples eyes to some other possibilities, but the lack of one does not prevent you from getting the exact same shot. The problem with swivel screens has always been that the swivel mechanism itself is fragile and a difficult thing to seal from the elements. Given the 7D MkII's tougher build and higher level of weather resistance, it's perfectly natural that they should exclude the swivel screen and I'm glad they did. The one area where I do see a swivel screen as a genuine benefit, is when shooting video from a tripod where typically the camera is at a much lower level than your eye.
Dual Pixel CMOS AF
Actually both of these cameras have this feature but it's an interesting technology and I wanted to be able to point you guys to this article where I have previously explained the technology on PrVideo Coalition. If you are feeling particularly geeky then you might want to check it out at some point.
F/8 Autofocus
When we talk about f/8 autofocus what we mean is the ability for a camera to focus using a lens that has a native maximum aperture of f/8 or less. Now Canon don't make any lenses that have a max aperture of f/8, but you can get to one by using extenders. For example you might put a 1.4x extender on an 800mm f/5.6 and that would turn it into an f/8. You might also use the new 400mm f/4 DO IS II with a 2x extender and that would give you an 800mm f/8. Previously this ability was only limited to 1-Series cameras and the 5D MkIII. The inclusion of this new AF system in the 7D MkII has clearly given it new powers though and this will open up even more options for wildlife photographers to get even longer ranges by using the 1.6x crop of the camera's sensor combined with extenders. It actually opens up focal lengths that have NEVER been available to Canon photographers before! pretty exciting.
Conclusion
If any of you have simply scrolled to the bottom to read the conclusion first then I'm going to disappoint you a little bit and say that you really need to read a little more of this article. Of course you already know the 7D MkII is a "better" camera because it's both newer and more expensive then the 70D. What you want to know is whether it's a better camera for you, or whether it's worth the price difference? The EOS 70D is the strongest of the XXD line of cameras in a very long time. The inclusion of the new Dual Pixel CMOS AF was a revolution, and the bump from 5.3fps in the 60D to 7fps is right in the territory that starts to make a significant difference, as was the addition of 19 cross-type AF points. The 70D is a truly solid all-round camera that's capable of shooting everything from fast moving kids at the soccer pitch, to soaring wildlife. For many people, the 70D will be more than enough camera to get a lifetimes worth of quality photos you can be proud of. Heck my first published photos in sports magazines were taken with the EOS-10D! On the other hand, the 7D MkII does improve on the 70D (as you would hope) in several areas. There's no real ground-breaking new technology in the 7D MkII, but rather a refinement of things that have been learnt from the EOS-1D X, the 70D and the 5D MkIII. It's a real amalgamation. The key difference is the speed and the AF system. 65 cross-type AF points is in line with the 1D-X and dual Digic 6 chips is sure to give that system enough power to come close to matching the speed and accuracy of a camera that is more than twice the price. Canon have really aimed the 7D MkII at sports and wildlife enthusiasts with this specification and the 10fps shooting speed. In fact I've ordered one myself and I'm sure I won't be the only pro out there who sees the 7D MKII as an excellent backup solution when having 2 1D-Xs is either impractical financially or physically, due to their larger size. So given the nature of the 7D MKII's speed and AF system, the one thing I'm confident in saying is that if you intend to shoot sports or wildlife photography for money, whether it be part-time or professionally, then go for the 7D MkII. If on the other hand you plan on shooting a wide variety of subjects and you are simply a photography enthusiast, then the answer is much less clear cut. Hopefully in those cases, the individual discussions within the rest of the article can help you reach your decision. It's a great time to be buying a camera because both of these cameras have speed and quality that just couldn't be imagined just a few short years ago.
Where To Buy
Amazon
B&H Photo
Canon EOS 7D Mark II (15-85 kit)
Adorama
Canon EOS 7D Mark II (15-85 kit)