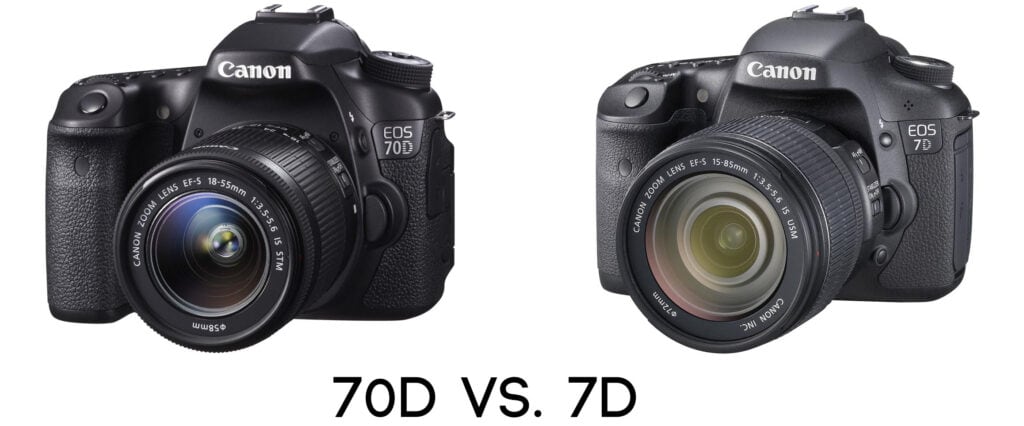 This is going to be a question that gets asked over and over again so let's dig into it!
In July 2013 Canon launched the EOS 70D, slated for shipping in September 2013. Nearly four years previous to this, the 7D was launched as Canon's premium, pro-sumer APS-C DSLR. The Launch price of the 7D was far far higher than that of the 70D but as time has gone on, the price has fallen and they are all but the same price now as the 70D when it hits store shelves. The question "which one to buy" is going to be on the tip of many peoples tongues. On the face of it the 7D is camera from a higher line in Canon's ranks so it would seem like a good bargain but a lot has changed in the last few years and it's not a clear cut decision. Start by taking a look at the specs below and then we'll dig a little deeper.
| | | |
| --- | --- | --- |
| | Canon EOS 70D | Canon EOS 7D |
| Sensor | 20.2MP APS-C | 18MP APS-C |
| Image Processor | Digic 5+ | Dual Digic 4 |
| iso Range | 100-12,800+ H1 (25,600) | 100-6400 + H1 (12,800) |
| Shooting Speed | 7fps | 8fps |
| Continuous Buffer | 65JPG (large), 16 RAW | 130JPG (large), 25 RAW** |
| Movie Recording Settings | 1080p 30, 24, 25fps ; 720p 50 & 60 fps | 1080p 30, 24, 25fps ; 720p 50 & 60 fps |
| Autofocus Sensor | 19 Cross Type AF Points | 19 Cross Type AF Points |
| TTL Metering Sensor | 63 zone dual layer IFCL | 63 Zone |
| Viewfinder | 98% Coverage | 100% Coverage |
| LCD Screen | 3″ Swivel touch screen 1040,000 dots | 3″ TFT 920,000 dots |
| Memory Card Format | SD/SDHC/SDXC | CF (I, II, III & UDMA) |
| Lens Micro Adjust | Yes | Yes |
| WiFi | Yes | No |
| In-Camera HDR | Yes | No |
| In-Camera Creative Filters | Yes | No |
| Manual Audio Controls | Yes | Yes |
| Touch enabled | Yes | No |
| Continuous AF during Video | Yes | No |
| GPS Built In | No | No |
**This was increased from 15RAW to 25 RAW images per burst with version 2.0 of the 7D firmware.
Speed
Normally you would simply compare the cameras processors and see which one is newer. The 70D has a Digic 5+ processor which is clearly newer but the 7D is equipped with dual Digic 4 processors therefore they are actually very very similar in speed. In terms of data throughput I would say the 70D might have the edge but it ends up with a slower continuous shooting speed likely due to the larger number of MP on the sensor. Comparing RAW image buffer the 7D has the edge since the addition of the v2 firmware last year which expanded the previous 15 RAW image burst to 25 RAW images. The 16 images of the 70D is still reasonable but 25 for the 7D will make a difference for people who are looking to shoot a lot of sports photography and insist on shooting RAW (note that most pro sports shooters on deadline shoot JPEG).
The 70D is capable of 7fps in burst mode and the 7D is 8fps though. Will that 1fps make a difference to you ? If you are an amateur shooter then the answer is going to be no. I can tell you this because I have shot professional sports with every camera from 3.5fps to 11fps. My current at-time-of-writing camera is the 5D MKIII which shoots 6fps and I have no trouble getting amazing sports images out of that. So either camera is perfectly capable of achieving great sporting images and also great wildlife images. I often lump these two together for two reasons; they both need long lenses and they both require you to lock onto fast moving subjects.
A sub statistic of overall speed would also be the AF system since it directly affects the cameras ability to shoot quickly (somewhat depending on the cameras setting sin the menu). All the speed in the world is no good if the images are not in focus! The 70D has essentially been given the AF system from the 7D when it comes to shooting photos. Video AF is different and I'll cover that separately. For photos though the 70D sports the in-viewfinder grid and AF-point display as well as 19 cross type AF points with point expansion. I've shot with the 7D many times and the AF is highly capable so this is no bad thing. In fact it really raises the XXD line of cameras into another bracket in terms of their recommended usage in my opinion. It becomes a very compelling camera for sports and wildlife shooters now. As if to underline this, Canon's CPN site led with a wildlife photographers experiences with the camera right from the launch day.
All in all this section turns out to be pretty much a tie. A few numbers different from one side to the other but not enough for me to think that they would be make or break in real world shooting scenarios unless you only plan to shoot sports day in day out, in which case the expanded image buffer of the 7D would be beneficial. Having said that, even most pro sports photographers for wire agencies like AP, Getty and AFP shoot in JPEG because that is just the faster way to work, and with the 70D you'll get 65 JPEGS in a burst which is more than enough for any situation.
Image Size
I'm almost loathe to talk about this because people put FAR too much weight on this number. Unfortunately the marketing guys at all the camera companies have decided this is the number they want to ram down our throats every time though. The 70D has a 20.2MP sensor whilst the 7D has an 18MP sensor. Canon's APS-C sensors have never been known for their high ISO capabilities so I wish this "race" to cram as many pixels into a sensor as possible would stop. The 7D has a horizontal pixel resolution of 5184PX for the largest setting, the 70D is 5472PX. This is a very marginal difference in the real word and you will see no difference whatsoever when printed at common small print sizes. Even at large print sizes I would expect it to be almost impossible to tell any difference in detail between an 18MP and a 20MP image. Essentially another stalemate in this category when it comes to real word usage.

Shooting Video
When it comes to shooting video the answer is much more clear cut. If your primary objective is to shoot video then the 70D is the hands-down winner. In fact when Canon launched the 70D they barely mentioned photography, it was all about shooting video. The 7D is a perfectly capable video shooter, and both cameras share the exact same frame rates and resolutions for video, but the swivel screen and new Dual Pixel AF on the 70D raise it up a notch. A swivel LCD makes it much easier to use the 70D on a tripod where video is typically shot from a lower angle than a lot of photography. It also allows you to get the super low angle shots and high angle shots with ease. When mounting the camera on a shoulder rig you can flip the screen out and position it much like a standard configuration of video camera. +1 to the 70D. Then we have the video AF system. The 7D was really launched right near the beginning of the so-called DSLR revolution. Video shooting with a DSLR was relatively new and in fact it's only the major firmware update that was given to the 7D last year that added many necessary video features. As such, it doesn't feature any sort of continuous focus during video shooting. For pro applications this might not be a worry as many people prefer to use a follow focus, but for amateur usage, the target customer for this camera, AF will be a real boon. The 70D features an all new Dual Pixel CMOS AF system that potentially improves previous liveview and video AF speeds by up to 5 times and this is really the flagship feature of the 70D. A feature that has nothing to do with shooting photos since that particular new AF system doesn't work in photo mode. The 70D was clearly designed with video in mind.
If you had your mind set on a 7D but want to shoot video occasionally, don't fret, it is still a great camera for video. On the other hand, if you see yourself primarily shooting video or even 50/50 then I would take a 70D over a 7D in a heartbeat.
High ISO
As digital SLRs have refined themselves over the last few years most peoples initial curiosity into a particular model center on these four main topics that I have outlined. The fourth and by no means least important one, is ISO. By this what we really mean is how the cameras sensor handles high ISO situations. How much digital noise is created? This is an element of DSLRs that has come on strongly in recent years but has also been slightly hampered by the major manufacturers insistence on leveraging more megapixels into a camera sensor. Having sold images for 30ft high billboards from an 8MP camera, I can tell you that the 70Ds 20.2 MP sensor is complete overkill and is only going to be a hindrance to its high ISO performance. With that said, the 70D will still out perform the 7D by probably 2/3 of a stop due simply to the fact that technology in this area has advanced since the 7Ds launch. It's such a shame that they can't release a 12MP camera now. The ISO capabilities of such a camera would be incredible… but they probably wouldn't sell a single one in Best Buy on a weekend…..
Anyway, I have digressed slightly …… back on track now…….. in low light, the 70D wins.
How does that affect your decision? If you have a desire to get into wedding photography, a scenario that often requires extreme low light shooting, then a 70D would be a better bet. For landscape photography it's always nice to have less noise because it's not always possible to carry a 20lb tripod and shoot at ISO 100. Travel photography is also a situation that often benefits from good high ISO performance because it requires such a huge range of imagery from landscape to interiors of buildings to night time exterior shots. When I shoot travel photography I constantly find myself using fast aperture lenses (f2.8 or f1.4) and shooting at ISOs above 1250.
Other Notable Differences (& Similarities)
The weather sealing on the 70D is a step up from that seen on previous XXD cameras. It's very hard to gauge how it lines up to the 7D because Canon, for some reason, compare the 70D weather sealing to the EOS 1N which is a camera that was around before I had even picked up a camera. Nonetheless this is a step up so I think it's fair to say that sealing from dust and moisture is probably similar between the two, though not on par with the 5D MKIII or the EOS 1D-X. The 7D has a magnesium body shell though which does make it considerably more resilient than the 70D with a polycarbonate body. If you tend to treat your cameras badly, or wish to pursue something like climbing photography where a camera can be subjected to more than the odd knock or two, then the 7D would be a top pick.
WiFi
The built in WiFi of the 70D is an interesting feature for me but I can't help feeling that it's still a gimmick for the regular consumer. You can transfer images to your computer via WiFi, or control the camera with your phone, but I suspect the novelty will wear off quickly. Such WiFi capabilities do have some professional uses but they go beyond the scope of things that are useful for potential 70D purchasers. I wouldn't see this as a make or break feature in any way. Instead I wish that they had included the 6D'sbuilt in GPS system. I think that would have been far more useful.
Lens Micro Adjustment
This was a feature that used to be available only on the pro cameras. Canon put in into the 50D and then took it out again with the 60D much to peoples annoyance. Thankfully they have put it back into the 70D and the 7D has it anyway so another tie in this area. Just good to see they came to their senses as I think this is a super useful feature.
Touchscreen
The swivel function of the 70D screen is far more useful than the touchscreen. The swivel screen allows you to create interesting angles with ease whereas the touch capability, nice though it is, won't help you take better images. That said, in the age of the smart phone, we are well trained to use touch and the Canon system works very well. I wouldn't consider it a must-have feature but it's a welcome addition nonetheless.
Built in HDR
If you like the look of HDR but don't really enjoy spending time at your computer then the 70D's built in HDR feature will be a great asset. I often use this feature in my cameras when I'm shooting bracketed HDR images and since you can set it to keep all the RAW files anyway you can either use the auto generated HDR image, or do it yourself with the RAW files when you have time time. I find it really useful to gauge the potential look of an HDR scene or to get a nice looking JPEG that I can upload to social media sites instantly. Then, when I have the time, I'll go back and and tackle the RAW files in HDR Effex Pro from Nik Software.
Conclusion
At the time of writing this there is obviously no 7D MKII just yet. When it comes it will clearly eclipse the 70D but of course it will be twice the price and therefore outside many people's reach. For now the 70D vS 7D is a close battle but for the most part my recommendation is to go with the 70D. In terms of AF and speed it's on a par with the 7D. It offers a slightly larger image and performs better at high ISO. Really the only advantage that the 7D has is 1FPS faster shooting speed, magnesium shell and a viewfinder that covers 100% of the image. Whilst I do love a 100% viewfinder, the 70D is 98% and likely this will not affect your image making abilities. If you really really beat your cameras up then the 7D might still be a better proposition but otherwise the 70D has the edge due mainly to the new AF mode for video shooting and also the handy swivel screen.
Where To Buy
If you liked the article and found it useful then you can really help me out buy buying your camera choice from from of the links below.
Canon 70D – B&H Photo
Canon 7D – B&H Photo
Canon 70D – Amazon
Canon 7D – Amazon