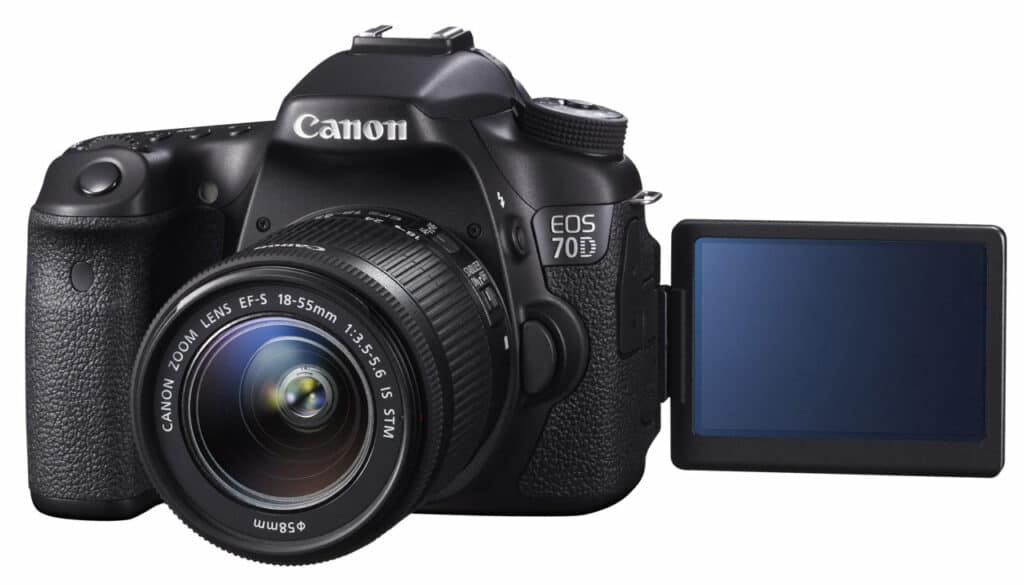 Canon has unveiled the latest in their XXD lineup today with the launch of the 70D. It features a 20.2 megapixel APS-C sensor with their new Digic 5+ (3x faster than Digic 5) chip that will allow up to 7fps continuous shooting. As well as sensor advancements, Canon have also introduced a new auto focus system which has an impressive 19pt array with all points being the more accurate cross-type variety. An all cross type AF system is unique at this time. On top of this the maximum iso is boosted to 12,800 (up from 6400 on the 60D) and as you would expect, initial views seem to be that this is the best performing APS-C sensor we've yet seen from Canon. Iso 25,600 is available as an expansion in the settings.
The physical design of the camera has changed very little from the 60D and still features a 3″ Vari-angle LCD screen but the big improvement now is that this screen is touch enabled, allowing you to conveniently swipe through your images and adjust settings with tap and swish of the finger. For the folks that like to shoot video there is of course full HD 1920x108p video but sadly the slow motion capabilities are still limited to 720p. Canon have also been working on a new AF system for the traditional contrast detection AF scenarios of Liveview and video shooting. The regular AF system for taking photos relies on a method called phase detection but this isn't possible when the mirror is in the upright position as it is with liveview and video shooting. In those modes, a method known as contrast detection is used to acquire focus and typically this has been a much much slower process. For the EOS 70D, Canon have developed what they are calling Dual Pixel CMOS AF which is claimed to be 5 times faster than the previous method. Such a change would be hugely welcome, especially for shooting video with constant AF. Of course we will have to wait a little longer to test those 5X claims directly.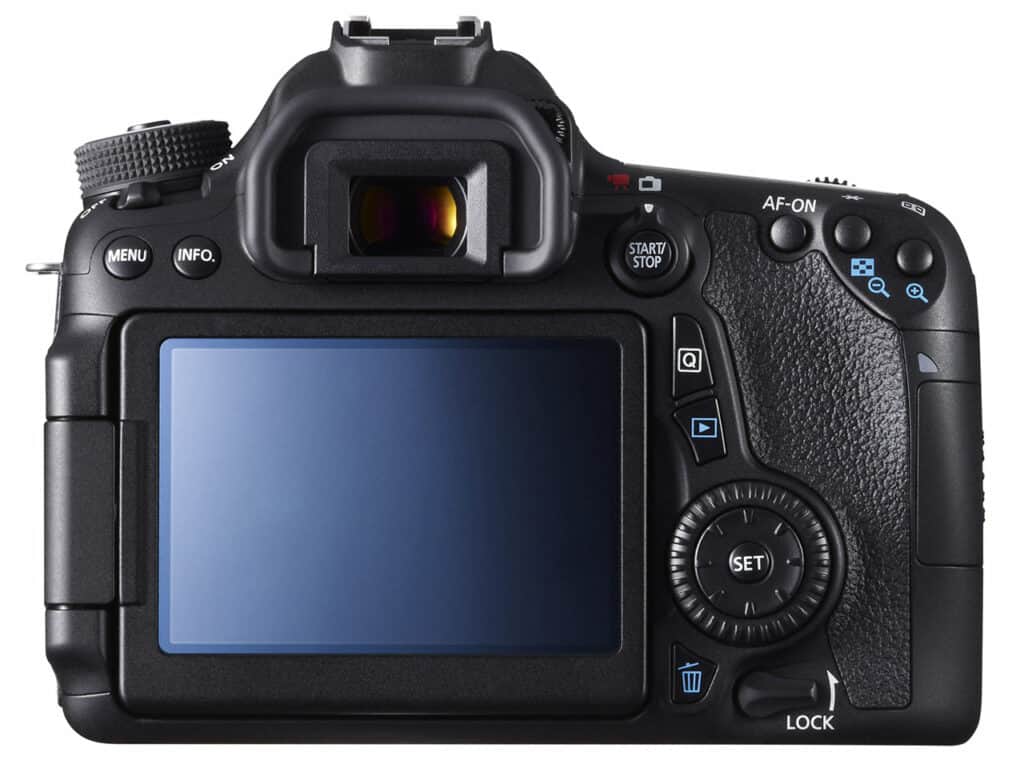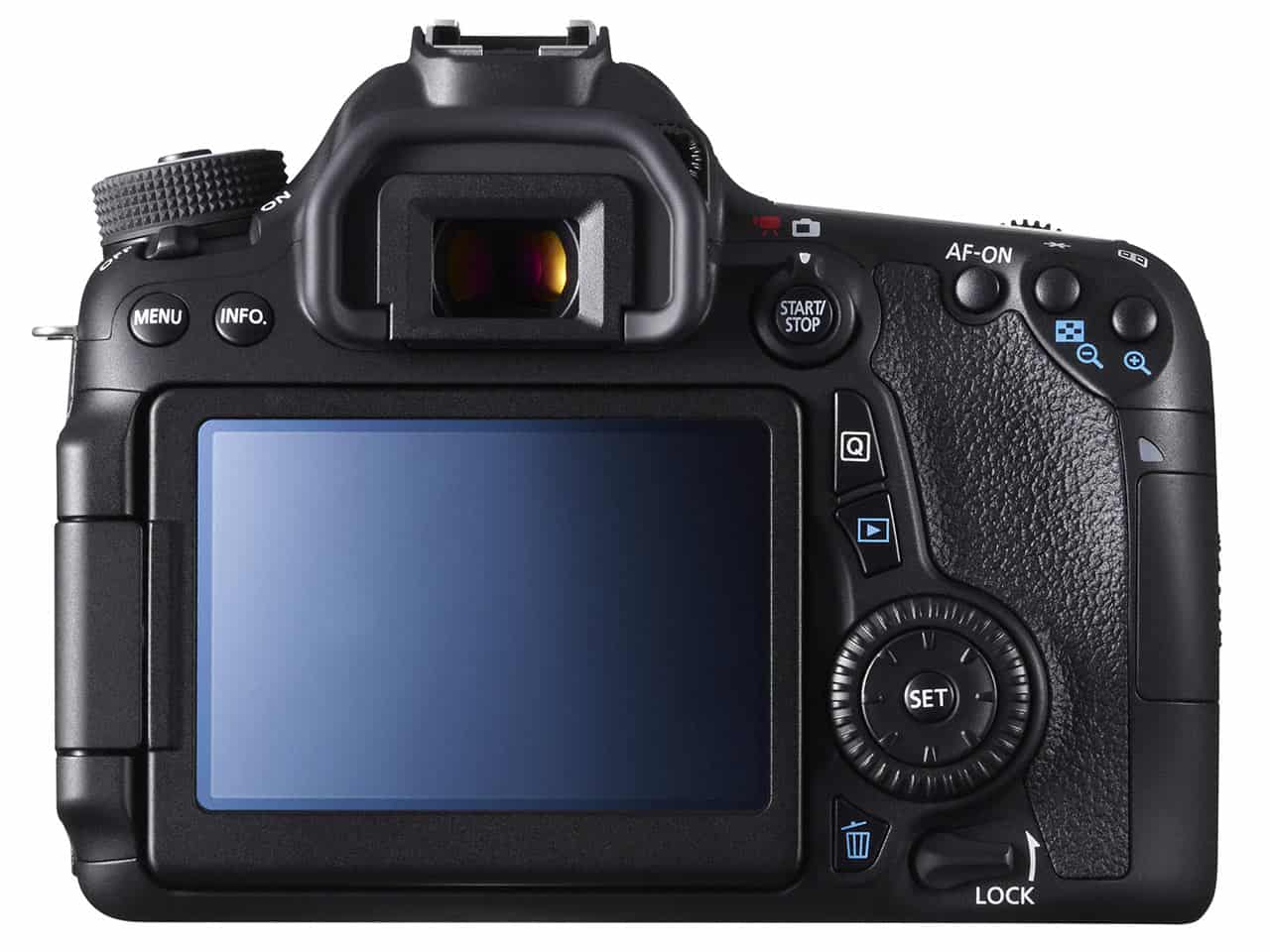 HDR has been a popular feature in the 6D and 5D MKIII so this has been added to the 60D as well. Having used the feature myself many times I can say that it does produce some acceptable results is you use the lowest settings. There are some truly hideous options as well which are severely over-toned but more subtle options are available. Multi-exposure modes are now an available features as well, though this is a much misunderstood feature of recent cameras and doesn't really seem to have caught on with people. We'll see if it gains more traction now it's available at a lower price point!
WiFi capabilities are also added to the 70D allowing you to remote control the camera with your smart phone and even transfer images from the camera directly to your phone, computer or a social network. Sadly the built in GPS that comes in the EOS 6D is not present in the 70D.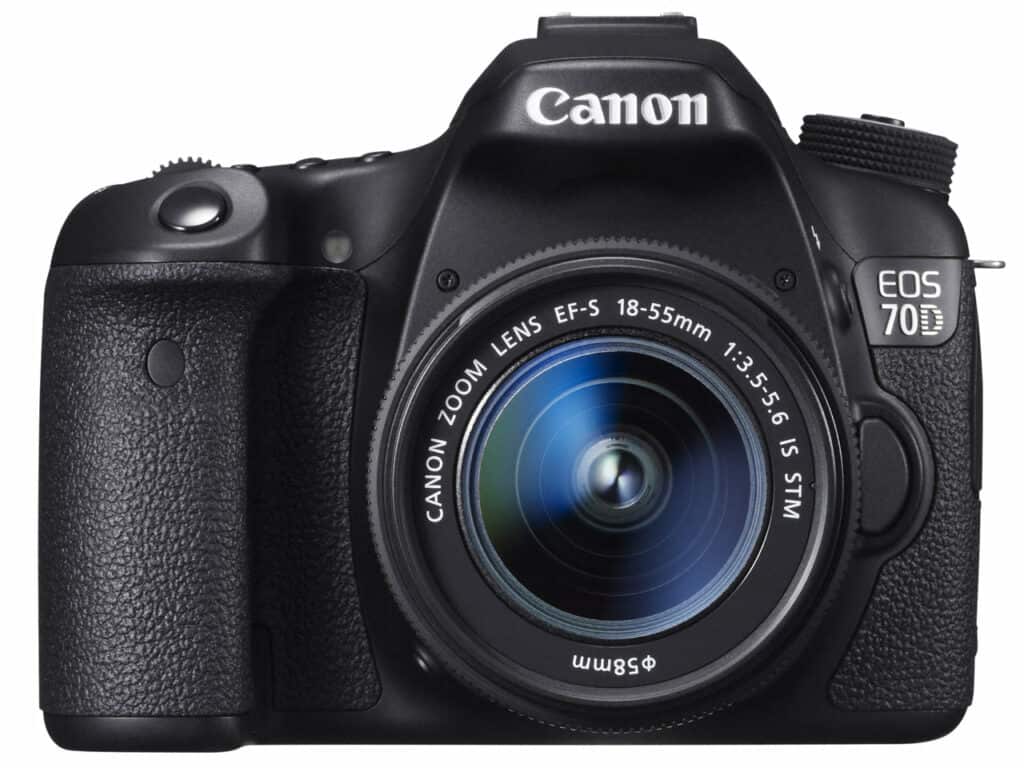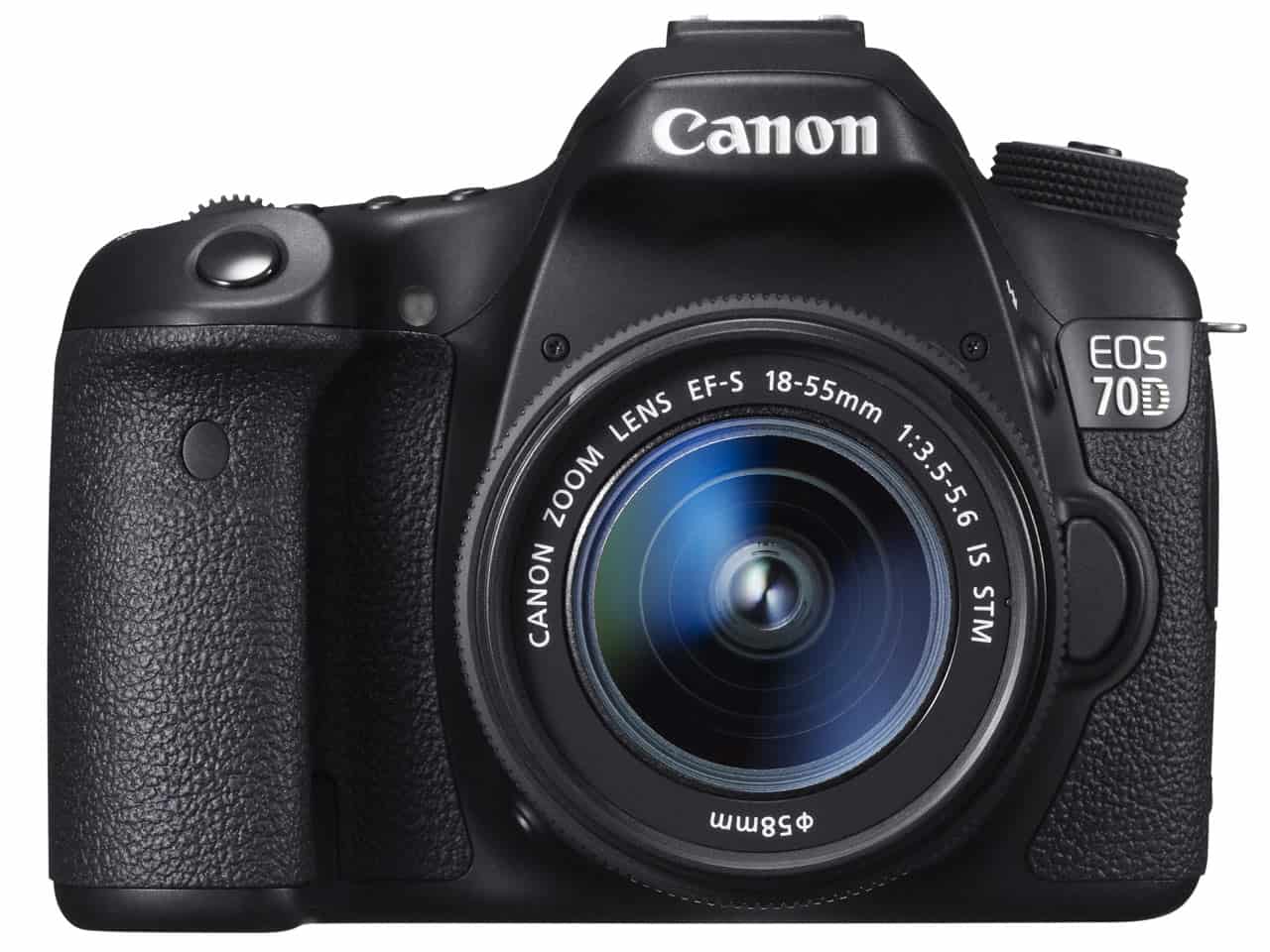 Tech Specs
20.2mp CMOS Sensor
DIGIC 5+
19pt AF System (All Cross Type)
Integrated Speedlite Transmitter (!!)
7fps
Built-in WiFi
3? Vari-Angle Touch Screen LCD
ISO 12,800 Maximum
Dual Pixel CMOS Autofocus
Full HD Video
HDR
Multiexposure Mode
Pre-Order Now!
The Canon EOS 70D is already available for pre-order from B&H Photo as body only or in one of two kits. Typically cameras of this popularity are tricky to get hold of on launch so if you are looking to grab one I would recommend pre-ordering from one of the links below. US residents will not be charged when you place the pre-order and you can cancel at any time:
B&H
Amazon
Dan's Take on the 70D
I have a soft spot in my heart for the XXD series cameras because my very first digital camera was a 10D. My first published images were from a 10D, my first cover of a magazine was shot with a 10D so they have always been highly capable cameras. They seem to come in waves of advancement though with bigger advancements coming every few models or so. I would lump 10D and 20D together, 30D and 40D together and 50D and 60D together. Every other camera, Canon makes some significant advancements that make the camera either a worthwhile upgrade path or bring it into consideration against the Nikon competition. The EOS 70D is one of those leaps that makes it a consideration. Sensor and AF improvements with new tech, built in WiFi, touchscreen and 7fps shooting which makes it a sports and wildlife photography contender.
These advancements also mean that the Canon 7D MkII is going to be a very very interesting camera. I'm not privy to any information on such a camera but it's surely coming relatively soon and it will have to position itself well above the 70D for them to be able to charge the likely $800 – $1000 premium that they will want over it. Should be interesting to see quite how far they take that camera when it comes, but I"m sure we will see a lot of the 70Ds advancements in that camera as well.
Who is the 70D for ?
As technology advances I constantly find myself evaluating the recommended camera for certain situations. This seems obvious in some situations with incremental upgrades in a particular line but occasionally one line of cameras will cross a boundary that re-positions that camera's usefulness. The 70D is such a camera thanks to its 19-point all-cross-type AF system and the 7fps continuous shooting speed. Last week when someone e-mailed me to ask what would be a good upgrade from a point and shoot camera or a Rebel series camera to something capable of shooting sports and wildlife I would have told them to take a look at the 7D. If budget was beyond what they were hoping, I would have pointed out the plethora of 7Ds available on the second hand market for very reasonable amounts of money i.e as much as a 60D or sometimes less. This week however, my answer is different. This week I would be telling people to order a Canon 70D.
I shot professional sports for a long time with a camera that shot 8fps and I can tell yo now that 7fps is going to be plenty for the vast majority of people who want to shoot amateur sports with a DSLR. That 1fps difference is minimal. Servo AF is important as well for these situations and whilst the 60D was OK in this regard, a system that comprises of all cross type AF points should out perform the 7D's current system and I know from much experience with the 7D that it was capable in that regard in the first place. So the 70D is now a great option for people looking to get into shooting sports of any type. Along with that comes the wildlife question as well. APS-C cameras have always been good wildlife starter cameras because the 1.6x crop sensor gives you a much longer reach on your lens than a full frame camera. A 400mm range from something like a 100-400 or a 400 f5.6 give you an effective length of 640mm which puts you right alongside the reach of the pros who are shooting full frame and using the $12, 000 600mm f4. Again though, in the past I would have been hesitant to recommend one of the XXD lineup cameras for wildlife since critters often move fast! Now, again, the answer has changed.
With these considerations, and the other 'bonus' features like HDR, WiFI, swivel touch screen etc etc, Canon has produced a compelling camera that really will suit a broad range of amateur shooters. On top of that though, they've also produced a camera that would work as an excellent backup camera for a pro shooter where the 6D and 5D are too slow for many people shooting sports and wildlife. Though the 7D is also an excellent backup option (used by many that I know) I would still take the 70D right now over the 7D to take advantage of three years of sensor development that will have the ISO capabilities of the 70D sit higher than the 7D. The proclaimed advancements in ISO could make this a more viable option for wedding shooter's second cameras as well, although I would still recommend a primary camera for them to be full frame like the 6D, 5D MKIII or even 1D-X.
Canon's Press Release
London, UK, 2 July 2013 – Canon today unveils an outstanding new addition to its world-famous EOS series – the EOS 70D. Designed for aspiring enthusiast photographers, the EOS 70D is the ideal camera for anyone looking to take their photography to the next level. It combines completely new, world-first Canon imaging technology with powerful, creative and wireless sharing features – delivering a responsive, all-purpose camera ideal for capturing the moment with stunning images and Full HD video.
Capture the moment with stills and Full HD movies
The EOS 70D features a new 20.2 MP APS-C CMOS sensor, designed and manufactured by Canon. It's the first Digital SLR in the world to feature ground-breaking Dual Pixel CMOS AF technology, which delivers smooth and accurate autofocus (AF) when shooting Full HD movies and fast AF acquisition when shooting in Live View mode. Paired with the 14-bit DIGIC 5+ processor and 19-point all cross-type AF System, the EOS 70D captures incredible, full resolution images at up to 7 frames per second, with up to 65 JPEG or 16 RAW images in a single burst*. Additionally, a native ISO range of ISO 100-12800 enables photographers to shoot in lower light conditions and use faster shutter speeds whilst retaining high image quality.
"I was incredibly impressed with how many new technologies the EOS 70D packs into one body, and how versatile it is," said Brutus Östling, Canon Ambassador. "The EOS 70D is the perfect camera for anyone that wants to develop their photography skills. Not only is it suited to shooting people, landscapes and action easily and in outstanding quality, but also filming subjects in Full HD with focus speeds I never thought would be possible. The camera proved itself in the most challenging of circumstances, and had a range of new-generation technologies to comfortably solve any test I threw at it – especially with the new Dual Pixel CMOS AF technology. It really takes DSLR shooting and filmmaking to a whole new level."
Canon's new Dual Pixel CMOS AF provides swift AF performance when shooting in Live View mode and smooth accurate focus for Full HD movies. It makes it easy for users to take their next step with movies, enabling them to keep moving subjects in sharp focus and create professional-looking pull-focus effects. The technology utilises advanced CMOS architecture, allowing two photodiodes to be mounted within each pixel, both of which can be read independently to achieve autofocus, or together for image capture, with maximum image quality at all times.
An advanced AF system for stills includes 19 cross-type AF points spread across the frame, providing high speed, accurate AF – ideal for tracking sports and wildlife subjects as they move within the frame. The AF system is customisable, allowing photographers to adapt to the subject they're shooting. AF points can be used individually, together in small groups, or as a wide active area for more unpredictable subjects. A dedicated AF area selection button, positioned conveniently next to the shutter release, enables quick switching between modes, without having to take the camera away from the eye.
Expertly designed for professional control
The EOS 70D's powerful specification is packed into an expertly-engineered body that's designed for comfort and swift operation. The Intelligent Viewfinder, with 98 per cent frame coverage and 0.95x magnification, allows photographers to comfortably frame their images and visualise settings via the electronic overlay. Conveniently-placed controls provide instant access to the most frequently used settings, such as ISO, AF mode selection and metering, so users can quickly change settings and concentrate on capturing the moment.
A 7.7cm (3.0") Vari-angle Clear View LCD II Touch screen with a sharp 1,040k dot resolution is ideal for video shooting, or composing images from unusual and creative angles. The screen is a capacitive type, which supports a series of multi-touch gestures including swiping and pinch-zooming – perfect for navigating menus, amending settings or flicking through images.
Clever connectivity for easy control and instant sharing
The EOS 70D is the latest EOS model to feature integrated Wi-Fi, providing the freedom to remotely control the camera, as well as share images. Using Wi-Fi connectivity, users can connect to the EOS Remote app and control a wide range of image settings, including ISO and exposure, as well as focus and release the shutter. Photographers can also remotely use Live View mode, as well as review and rate their images.
Instant creativity unleashed
The EOS 70D features a host of creative modes to make capturing unique images easy. In-camera HDR removes the challenges of shooting in tricky, high contrast situations, merging three exposures into one that captures more detail in both the shadow and highlight areas. With multiple-exposure mode, photographers can shoot and combine up to nine exposures into a single image, or use a range of Creative Filters to instantly change the style and look of their shot.
Experimenting with creative off-camera flash is easy, thanks to the Integrated Speedlite transmitter, which provides in-camera control of multiple Canon Speedlite EX flash units.
Creative Full HD Movies
Alongside beautiful stills, the EOS 70D allows photographers to create high quality movies with ease. Full HD (1920 x 1080p) resolution video can be captured with a choice of selectable frame rates, including 30, 25 or 24fps, and 60 and 50fps at 720p, and a range of compression options for post-editing and sharing. Thanks to new Dual Pixel CMOS AF, Movie Servo AF mode tracks subjects as they move, or even as shots are recomposed, ensuring they're always in focus. Alternatively, users can select different focus areas over 80 per cent of the frame** simply by tapping the touch-screen, even when recording – ensuring that movies stay sharp and clear if a subject moves or the user changes the composition of a shot.
Videographers can also enjoy stereo sound using the internal microphone, or enhance audio with the in-built external microphone input terminal. Full control over settings such as aperture and ISO is also possible within manual mode, giving users greater freedom as their skills develop.
EOS 70D – key features:
20.2 megapixel APS-C CMOS sensor and DIGIC 5+
19 point cross-type AF System and 7 fps shooting
Dual Pixel CMOS AF
Instant sharing and remote control with Wi-Fi
ISO 12800 (H:25600)
Vari-angle 7.7cm ClearView II LCD touch screen
Intelligent viewfinder
Full-HD movies