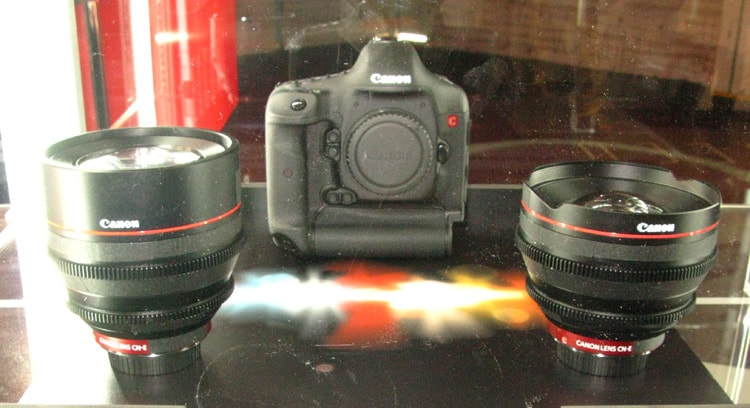 Canon put out a press release today, a few days prior to NAB, announcing the development of a new 35mm cine lens to match their growing set of cinema primes. This lens was conspicous in its absence before with a 14, 24, 50, 85 and 135mm in the lineup. These cinema lenses are based on the optics of existing L-Series still camera lenses and the speculation is that there was no 35mm in the launch lineup because a new 35mm still lens was in development and it would make more sense to base the cine lens around those newer optics than to built it on a ten year old lens.
With the announcement of this development, I think we will see a Canon 35mm f1.4 L II in the near future as well……
From Canon
Canon Inc. announces development of 35mm Cinema prime lens
London, UK, 3 April 2013 – Canon has announced it is developing a new 35mm cinema prime lens for large-format single-sensor digital cameras. Compatible with a wide range of sensor sizes including super 35mm, full-frame 35mm and APS-C, the new EF-mount 35mm lens in development would become the sixth prime lens in Canon's EF Cinema lens line-up, fulfilling the requirement for an option between the existing 24mm¹ and 50mm² lenses. A development sample of the 35mm cinema lens will be on display in the Canon booth during the 2013 NAB Show in Las Vegas, April 8-11, 2013, with the aim of an official launch during 2013.
Delivering high optical performance in a variety of focal lengths to suit a broad range of creative shooting preferences, the precision-matched Canon Cinema prime lenses are part of the Cinema EOS System of professional digital cinematography products. Launched in late 2011, the Cinema EOS System offers a unique range of high performance, large sensor cameras and 4K cinema lenses, providing exceptional quality and creative freedom to professionals of all kinds.
"Canon is committed to developing class-leading tools to support visual story-telling at all levels," said Kieran Magee, Marketing Director, Professional Imaging, Canon Europe. "In the past 18 months alone, we've launched Cinema EOS and expanded the system to include HD, 2K, and 4K cameras, and a range of different lenses. We continually strive to offer our customers more creative options providing them with greater flexibility that will further support the delivery of exceptional imaging content. The new 35mm lens currently in development is a great example of this."
All Canon EF Cinema lenses integrate advanced materials and coatings to meet high optical performance levels, including 4K (4096 x 2160) production standards. Each Canon Cinema prime lens is equipped with an 11-blade aperture diaphragm, which is ideally suited to achieve creative depth-of-field manipulation and pleasing "bokeh" effects. All feature a full-frame image circle in a lightweight, compact design, delivering colour tone and balance that matches Canon's advanced Cinema zoom lenses. Canon Cinema prime lenses deliver the operation and reliability required in professional film-style shooting environments.
Canon Cinema prime lenses are fully compatible with all cameras in the Cinema EOS System, and, thanks to their full frame imaging circle, can also be used with Canon's DSLR cameras such as EOS 7D and EOS 5D Mark III. The EF-mount design of Canon's Cinema prime lenses supports communication between camera and lens, enabling features such as display of the f-number in the viewfinder, recording of lens metadata, and Peripheral Illumination Correction³.
Launched in 2011, the Canon Cinema EOS System has already grown to include four cameras and nine prime and zoom lenses with different lens mounts, covering a range of focal lengths. For full details of all the products in the Cinema EOS range please visit www.canon-europe.com/CinemaEOS.
Specifications and pricing for the 35mm Cinema prime lens in development are not yet fixed. Canon will release further details in due course.