I'm a pretty big fan of RODE mics, I have a lav and a shotgun myself and they have been very nice to work with.  I like a company that innovates and we've already seen things like the upcoming Videomic HD and just last month the brand new iXY mic for the iPhone 4/4s.  This week the innovation continues with the introduction of the dedicated lavalier microphone for iOS devices.  The RODE SmartLav will retail for just $60 and operate with their own iOS app for recording purposes.  Such a simple idea, a wonderful backup device for larger productions or a great , budget solution for photographers who might suddenly need to capture some decent audio in the field.  You'll need to sync the audio to to your video separately of course, but Final Cut Pro X can do it decently and of course there is Pluraleyes as well for more complex things.  I'm going to be getting one of these to keep in my camera bag for sure!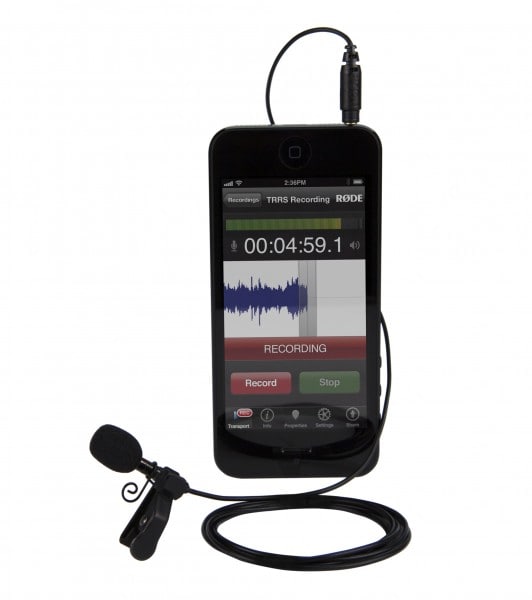 Press Release
1st February 2013, Sydney Australia – RØDE Microphones today announced the release of the smartLav, a new lapel microphone that connects directly to the headset jack of Apple iOS devices. Compatible with the iPhone, iPad and iPod touch, smartLav delivers premium quality audio capture in a compact and accessible form factor.
The smartLav is a professional-grade wearable microphone designed for use in a wide range of fi lm, television and broadcast scenarios, or wherever professional quality audio is required in a discreet, portable format without the complication and expense of additional wireless equipment, particularly where multiple talent is involved. With the smartLav the user simply mounts the microphone on the talent, connects it to the iOS device's headset jack and records via the RØDE Rec or RØDE Rec LE apps.
By employing a high quality omni-directional condenser capsule the smartLav captures sound in a forgiving 360 degrees, allowing for versatility when mounting and ensuring a high degree of user-friendly operation.
"The smartLav is an exciting solution that makes professional quality audio available to anyone with access to an Apple iOS device," explained Damien Wilson, RØDE's Marketing and Sales Director. "For filmmakers or wedding videographers that have struggled to simultaneously record multiple talent this product truly is an incredibly simple and cost effective solution."
A foam pop shield is included to minimise wind noise and vocal plosives (hard 'b', 't' and 'p' sounds), as well as a durable mounting clip with in-built cable management. The smartLav has been designed to pair perfectly with the RØDE Rec app for Apple iOS devices, and is also compatible with any iOS audio app that accepts input from the headset connection. RØDE Rec turns the user's iOS device into a fully-featured field recorder, with a wide range of equalisation pre-sets to suit various recording situations, in addition to professional editing functions and the ability
to publish to SoundCloud and Dropbox directly from the app.
"Both the smartLav and the recently announced RØDE iXY stereo microphone showcase the possibilities of the RØDE Rec app as more than an isolated piece of software," Mr Wilson explained, "but also as a platform and hub for a range of professional grade audio devices. This platform leverages the portability and popularity of Apple's iOS devices to make content creation easier than ever."
The smartLav is shipping to authorised RØDE retailers worldwide this month, at a suggested retail price of US$60. For more information please visit www.smartlav.com.