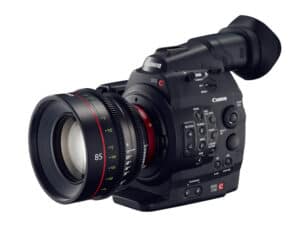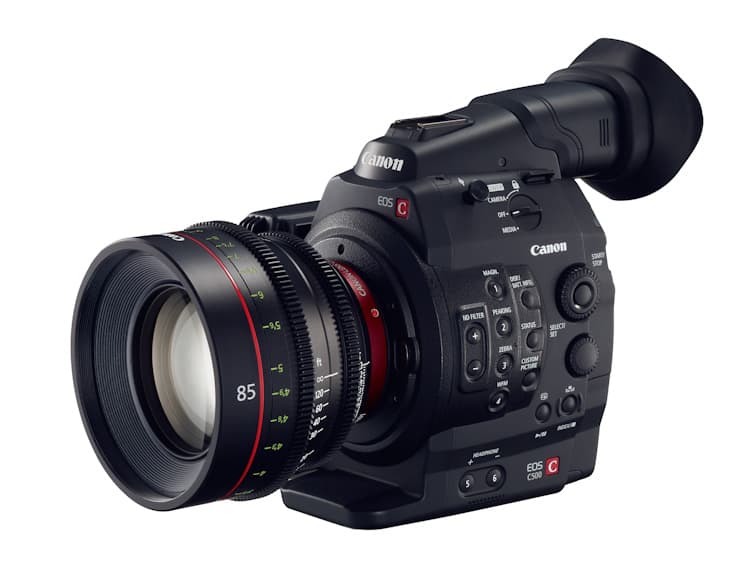 In the week proceeding the 2012 NAB show in Las Vegas, Canon have unveiled two brand new Cinema EOS cameras that take their new line right into the world of 4k video capture.  The C500 will build on the platform that the C300 launched on back in November 2011 but offer RAW 4k recording via 3G HD-SDI output and up to 120fps at 10 bit and 60fps at 12 bit. Back then I interviewed one of the technical developers from Canon and it was immediately obvious that this was just the beginning for them.  I don't think that anyone would have expected them to push forwards with these developments quite so quickly though.
As well as the C500, Canon have also revealed the specification for the "4k DSLR" that was announced as in-development back in November.  Identical in looks to the EOS-1D X, the new EOS-1D C adds the ability to shoot up to 4K video to the on board CF cards but maintains all of the impressive photo specification of the 1D X.  With this Canon have created the ultimate multimedia imaging tool.  The ability to shoot RAW 18MP images up to 12fps AND shoot 4K video on a sensor larger than super 35mm sized is simply unparalleled in any other camera though the projected $15,000 price tag will keep it sadly out of the hands of many people.
Critical Specs
C500
12-bit RGB 4:4:4 signal during 2K (2,048 x 1,080 pixels)
EF & PL Mount versions
120fps in 10bit
up to 60fps in 12bit
Downsampled slow motion footage NOT cropped like REDs. Amen!!
Proxy file recording on CF card while RAW recorded externally!
Almost identical form factor to C300
3G HD-SDI for RAW external 4K recording.
All other features as with the C300 such as built in ND filters etc.
No side handle like the C300 , replaced with the 3G HD-SDI ports
Same EVF and screen as C300
Target price $30,000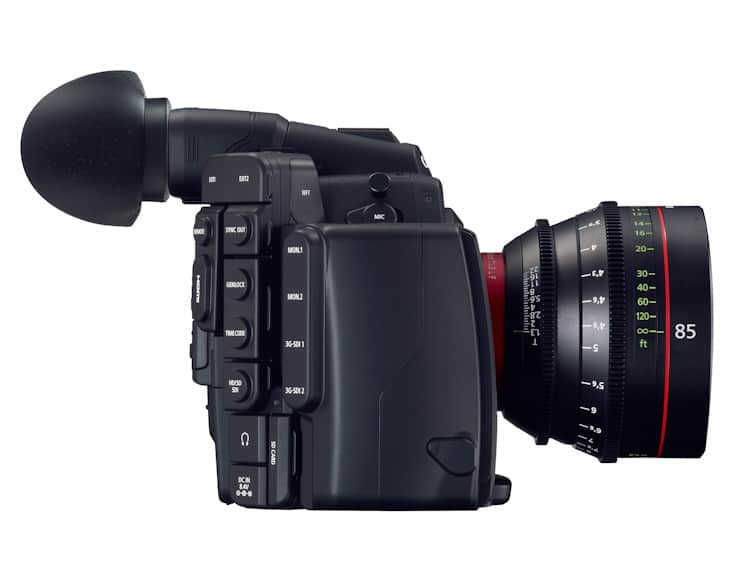 EOS-1D C
8-bit 4K Motion JPEG (4096 x 2160 pixel) at 24P and 1080P at 24,25,30,50 and 60P
Simultaneous HDMI output and LCD usage
Built in headphone jack
Canon Log Gamma
Uncompressed YCbCr 4:2:2 signal from HDMI
Unlimited record time on video
Dual CF cards
Dedicated Canon software package to enable 4k video playback and monitoring
Same ISO performance as EOS-1D X
Super 35mm crop mode
18MP full frame sensor
Still images up to 14fps (12fps in RAW)
61 Point AF system
Target price $15,000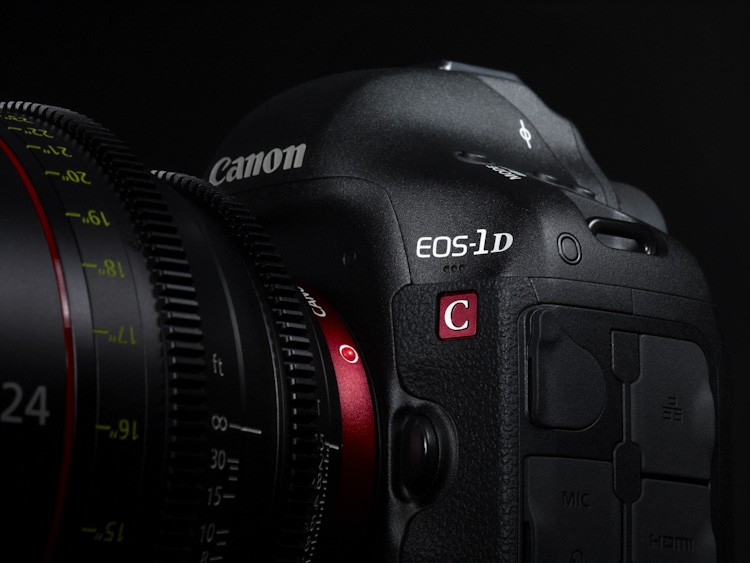 New 4k Zooms Press Release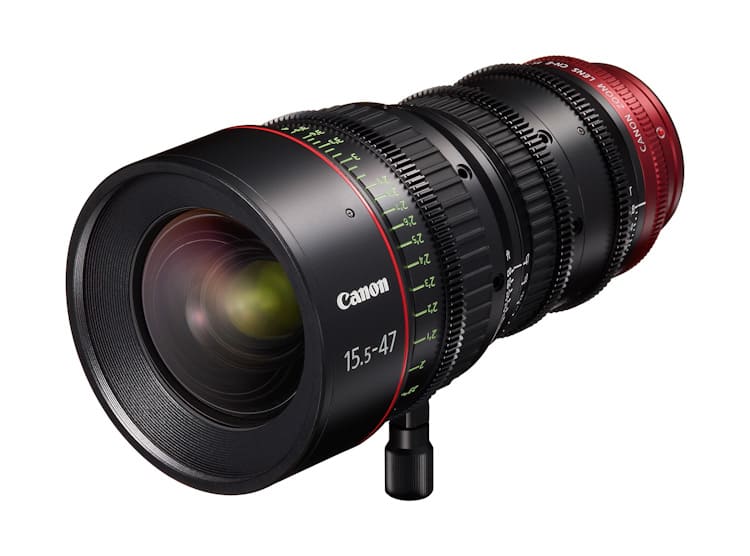 Canon to expand EF Cinema Lens series with four compact, lighter, low-cost 4k models
United Kingdom, Republic of Ireland, 12th April 2012 – Canon today announces the development of four new digital cinematography zoom lenses, as the company expands its EF Cinema Lens range to provide greater creative options for video professionals. Joining the seven high-end lenses announced in 2011, the new models support 4K (4,096 x 2,160) resolutions and will be smaller, lighter and more compact – offering outstanding mobility and quality. Available with both EF and PL mounts, the lenses will also be available at competitive prices, offering premium performance to a wider range of users.
The expanded EF Cinema Lens series will include two wide-angle cinema zoom lenses, the CN-E15.5-47mm T2.8 L S (EF mount) and CN-E15.5-47mm T2.8 L SP (PL mount), alongside two telephoto cinema zoom lenses, the CN-E30-105mm T2.8 L S (EF) and CN-E30-105mm T2.8 L SP (PL). Ideal for use with next-generation 4K cinema cameras, the new lenses will join Canon's existing line-up of high-end EF Cinema Lenses in forming the core of the Cinema EOS system, which spans lens, digital cinema camera and DSLR categories.
In addition to compatibility with industry-standard Super 35 mm-equivalent cameras, the four cinema zoom lenses will also offer superior flexibility. Each lens will feature a compact, lightweight body supporting a wide focal range, making them ideal for handheld shooting. Combined with the Canon's existing high-end EF Cinema primes, the new lenses will offer a greater variety of creative possibilities for video professionals of all types.
Prototypes of the new cinema zoom lenses will be on display at NAB 2012, one of the world's largest events for the video, broadcasting equipment and digital media industries. NAB 2012 will take place from April 16 to 19 in Las Vegas, USA.
Availability:
The CN-E15.5-47mm T2.8 L S (EF mount), CN-E15.5-47mm T2.8 L SP (PL mount), CN-E30-105mm T2.8 L S (EF mount) and the CN-E30-105mm T2.8 L SP (PL mount) will be available from September 2012.
Canon EOS-1D C Press Release
Canon U.S.A. Introduces EOS-1D C Digital SLR Camera Featuring 4K High-Resolution Video Capture
Newest Addition to the Canon Cinema EOS Product Line Combines the Convenient Form Factor of a Digital SLR Camera with Full HD and 4K Video Recording up to 4096 x 2160-Pixel Resolution
LAKE SUCCESS, N.Y., April 12, 2012 – Continually advancing the frontiers of digital high-resolution motion-image capture for film, television, and other industries, Canon U.S.A., Inc., a leader in digital imaging solutions, today announced the EOS-1D C digital single-lens reflex (SLR) camera.* Delivering outstanding video performance, the compact, lightweight EOS-1D C provides video recording at 4K (4096 x 2160-pixel) or Full HD (1920 x 1080-pixel) resolution to support high-end motion picture, television production and other advanced imaging applications.
Equipped with an 18.1-megapixel full-frame 24mm x 36mm Canon CMOS sensor, the camera records 8-bit 4:2:2 Motion JPEG 4K video to the camera's CF memory card at 24 frames-per-second (fps) or Full HD 1920 x 1080 video at selectable frame rates from 24p to 60p, making it possible for next-generation visual expression with even higher image-quality and resolution performance.
"The Canon EOS-1D C digital SLR camera was designed in response to the needs of filmmakers, television producers, and other high-level motion-imaging professionals," stated Yuichi Ishizuka, executive vice president and general manager, Imaging Technologies & Communications Group, Canon U.S.A. "Not only does it combine 4K and Full HD video capture with a convenient design, its use of dual CF cards also offers an efficient workflow compatible with today's post-production requirements."
Creative Control
The Canon EOS-1D C digital SLR camera incorporates Canon Log Gamma to enable the recording of high-quality video with rich gradation expression, making possible the type of impressive image quality required in motion pictures by maximizing both highlight and shadow detail retention while also providing a high level of color-grading freedom. The EOS-1D C's full-frame 24 x 36mm 18.1-megapixel Canon CMOS sensor makes possible a wide range of creative imaging expression, such as image-blur effects. Additional features include an expanded sensitivity range of up to ISO 25600 for exceptional motion-imaging results with reduced noise even in low-light settings. The camera's ability to record 8-bit 4:2:2 4K and 8-bit 4:2:0 Full HD video to CF cards eliminates the need for an external recorder and enables workflows with increased mobility. If desired, however, captured video (excluding 4K video) can be output from the camera's HDMI terminal to an external recorder using an uncompressed YCbCr 8-bit 4:2:2 signal.
4K video is captured by an approximately APS-H-sized portion of the full image sensor, while Full HD video can be captured in the user's choice of two different imaging formats:
1. The standard Full HD setting captures the full 36mm width of the CMOS sensor to achieve the largest possible angle of view for any compatible lens.
2. An optional Super 35 crop setting enables cinematographers to match the industry-standard imaging format and angle of view achieved by traditional motion picture cameras. This enables video footage from the EOS-1D C camera to more closely match the look of footage from other cameras in multi-camera shooting environments.
Other useful video-related features on the EOS-1D C DSLR include a built-in headphone jack for real-time audio monitoring, and the ability to view the camera's LCD even when the HDMI port is connected to an external monitor. The EOS-1D C camera uses the same LP-E4N battery pack as the EOS-1D X, and it can also be powered by an optional AC Adapter Kit.
The EOS-1D C camera ships with Canon software applications including EOS Utility, which enables various camera settings to be adjusted from a PC, and Picture Style Editor. These two personal computer applications enable users to view the camera's live output on an external monitor1 and adjust the image in real-time to maximize shooting and post-production efficiencies. The software also ensures no loss of quality for 4K/Motion JPEG and full HD/60p video displayed on the external monitor, and it enables video shot with Canon Log Gamma to be output on the monitor with video gamma applied.
Versatility and Value
The Canon EOS-1D C camera can be used to capture still images with more than 60 interchangeable Canon EF and EF Cinema Lenses, all of which are designed to deliver exceptional image quality to maximize the potential for creative visual expression. The compact size and lightweight design of the camera make it easy to carry so it is highly mobile for convenient shooting inside automobiles and other confined spaces. Its compact size also enables peripheral equipment such as rails and cranes to be more compact, which can facilitate smoother handling and reduced costs on-set. The camera's low-light capabilities can also help to minimize lighting costs and increase versatility for lighting. For added usability, record start/stop can be remotely controlled by EOS Utility Software via an optional Canon WFT-E6A Wireless File Transmitter.
Realizing the same exceptional still-image performance as the recently introduced Canon EOS-1D X digital SLR camera, the camera provides a sensitivity range of ISO 100-51200 for outstanding still-image results with reduced noise, even in dimly lit settings. Incorporating high-performance Canon Dual DIGIC 5+ image processors, the EOS-1D C delivers high-precision AF and AE performance while also enabling high-speed continuous shooting of up to approximately 12 fps. In the ultra-fast continuous shooting mode, the EOS-1D C provides a continuous shooting speed of up to approximately 14 fps (mirror remains raised during shooting; JPEG images only).
The Canon EOS-1D C digital SLR camera is scheduled to be available within 2012 at a suggested retail price of $15,000.
C500 Press Release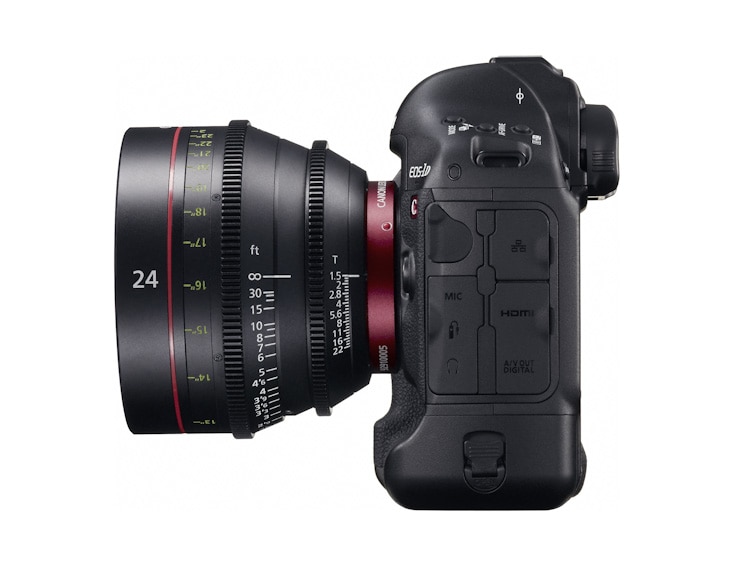 Canon ANNOUNCES DEVELOPMENT OF 4K DIGITAL CINEMA CAMERAs
LAKE SUCCESS, N.Y., April 12, 2012 – Canon Inc. is developing two digital cinematography cameras as part of its acclaimed new Cinema EOS System of professional cinematography products. Designated as the Cinema EOS C500* for use with EF-mount lenses, and the Cinema EOS C500 PL* for use with PL-mount lenses, the cameras will be capable of originating 4K (4096 x 2160-pixel) resolution digital motion imagery with uncompressed RAW output for external recording, in response to growing expectations for higher levels of imaging performance in premium Hollywood films and other production markets requiring the utmost in picture quality.
"With the unveiling of our Cinema EOS System last November to great acclaim, Canon marked our full-fledged entry into the motion-picture production market," stated Yuichi Ishizuka, executive vice president and general manager, Imaging Technologies & Communications Group, Canon U.S.A. "To further serve the needs of Hollywood's premier filmmakers, Canon is developing the Cinema EOS C500 and Cinema EOS C500 PL digital cinematography cameras, which deliver the added benefit of full 4K motion-image capture to the Cinema EOS System."
The 4K imaging format is emerging as the new standard for advanced effects and post-production in Hollywood, and it is particularly important for big-budget motion pictures that include scenes compositing live-action cinematography with high-resolution computer-generated imagery. The Cinema EOS C500/C500 PL digital cinematography cameras will not only support 4K-resolution video but also outputs this as a 10-bit uncompressed RAW data stream with no de-Bayering.  The cameras offer the additional versatility of being able to output quad full-HD (3840 x 2160), 2K (2048 x 1080), full HD (1920 x 1080), and other imaging options. All of these digital image source formats fully conform to established SMPTE production standards.  All 4K formats can be selected to operate from one to 60 frames per second.  The cameras employ a 12-bit RGB 4:4:4 signal format during 2K output, which can be selected to operate from one to 60 frames-per-second (fps) as well. If switched to a 10-bit YCrCb 4:2:2 mode, the camera can operate up to 120 fps.
The Cinema EOS C500 simultaneously records in-camera a 50 Mbps HD proxy video to a CF card that is immediately available to support offline editing. Equipped with a newly developed Super 35mm-equivalent approximately 8.85-megapixel CMOS sensor, the cameras will be compatible with Canon's wide range of interchangeable EF Cinema and PL-mount lenses and EF lenses for Canon SLR cameras. Highly mobile and compact for filmmaking versatility, the Cinema EOS C500/C500 PL digital cinematography cameras  – like Canon's Cinema EOS C300/C300 PL cinematography cameras – provide all of the same ergonomic features, except for the rotating hand grip.
Further details regarding the Cinema EOS C500/C500 PL digital cinematography cameras – including specifications and pricing – have yet to be decided, although preliminary plans are for a suggested list price of approximately $30,000†. Plans also call for these new products to be launched later this year. In addition to targeting a swift launch of these cameras, Canon will continue to enhance other components of its Cinema EOS System product lineup, which is designed to contribute to the continued advancement of tools for visual expression and the development of cinematic culture.
Canon will display a prototype of the Cinema EOS C500 digital cinematography camera at the 2012 NAB Show in booth C4325 at the Las Vegas Convention Center from April 16 to 19.