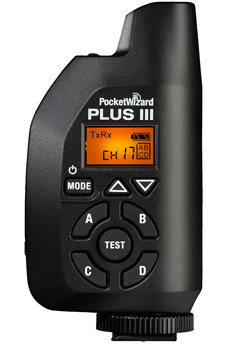 LPA Designs have today announced the third iteration of the Pocketwizard Plus lineup. It integrates several of the features of the Multimax into a smaller, cheaper package that will actually sell for $30 less than the previous version! Great news! There has been considerable physical design changes too including a built in antenna and a sideways profile so as not to get in the way of the photographers view when mounted to the camera. There is a new long range mode designed for remote camera usage, a repeater function (which was previously confined to the Multimax), 32 channels and a host of other features. This looks to be an excellent update to the Plus II and LPA designs should be applauded for bringing it a lower price point.
Personally I am hoping that the new aerial design will help with the fluctuations in usable distance that you experience with the Plus II and Multimax when you switch the camera from landscape to portrait orientation. Previously, both transmitting and receiving aerials needed to be pointed vertically to get the best range. This meant that sometimes it would work in landscape, only to glitch and miss fire when switching to portrait.
The price is $139.00 and is currently available for pre-order at B&H.