Canon's revamp of the staple 24-70 f2.8 L has been in the pipeline for years if the rumors are to believed.  Today it was unveiled and whilst it doesn't have the IS that many people wanted, it does come in at 10mm shorter and 150g lighter than it's predecessor which will be welcomed by the pros who use this lens on a daily basis.  On top of this Canon have also unveiled the worlds first wide angle prime lenses to feature IS.  A 24mm f2.8 IS and a 28mm f2.8 IS.
UPDATE:   The 24-70 will be available in April for approx. $2300.  The 24mm and 8mm will be available in June for approx $850 and $800 respectively.
Press Release
London, UK, 7th February 2012 – Canon today adds to its world-famous EF lens series with the launch of three new lenses for photography professionals and enthusiasts. The new EF 24-70mm f/2.8L II USM professional zoom lens is an update to the popular EF 24-70mm f/2.8L USM, while the new EF 24mm f/2.8 IS USM and EF 28mm f/2.8 IS USM are the world's first1 wide-angle prime lenses to feature optical Image Stabilizer (IS) technology. All three provide the highest levels of performance for modern digital photographers, combining premium image quality with durable, user friendly designs.
EF 24-70mm f/2.8L II USM: the ultra-high performance standard zoom
The new EF 24-70mm f/2.8L II USM features completely redesigned optics to provide outstanding clarity, image quality and durability. A compact design makes it ideal for carrying on every shoot, and a range of optical enhancements provide improved performance – capturing greater detail across the frame while reducing distortion throughout the entire zoom range, particularly at the maximum 70mm focal length.
With a redesigned optical system that includes two Ultra-low Dispersion (UD) and one Super UD aspheric elements to minimise chromatic aberration and colour blurring, the lens delivers consistently sharp, high-contrast images. Each lens element also features Canon's optimised Super Spectra coatings to reduce ghosting and flare and ensure excellent colour balance. Additionally, a fluorine coating minimises the amount of dust, dirt and fingerprints that adhere to the front and rear of the lens, helping to maintain superior image quality.
The EF 24-70mm f/2.8L II USM also enables photographers to capture their subjects up close, with a minimum focusing distance of 0.38m at all focal lengths throughout the zoom range. A ring-type Ultrasonic Motor (USM) works in combination with a highperformance CPU and advanced AF algorithms to ensure accurate, silent and ultraresponsive autofocus. For those who prefer to maintain full control in every shot, fulltime manual focusing allows photographers to precisely tweak or alter the focus of their shot at any time, even when AF is engaged.
Distinguished L-series design
The EF 24-70mm f/2.8L II USM is the latest lens from the elite L-series to offer Canon's high-grade and user-focused design enhancements. The mechanical structure of the lens has been improved to offer enhanced zoom durability and greater shake and shock resistance within the lens barrel. The size of the lens has also been reduced by 10mm compared to the previous model, providing enhanced portability and greater convenience in everyday use. A new Zoom Lock lever also enables photographers to lock the zoom position at the extreme wide end to prevent damage to the lens in transit, while a water and dustproof construction2 enables users to continue shooting in harsh conditions.
Introducing the world's first wide-angle primes with IS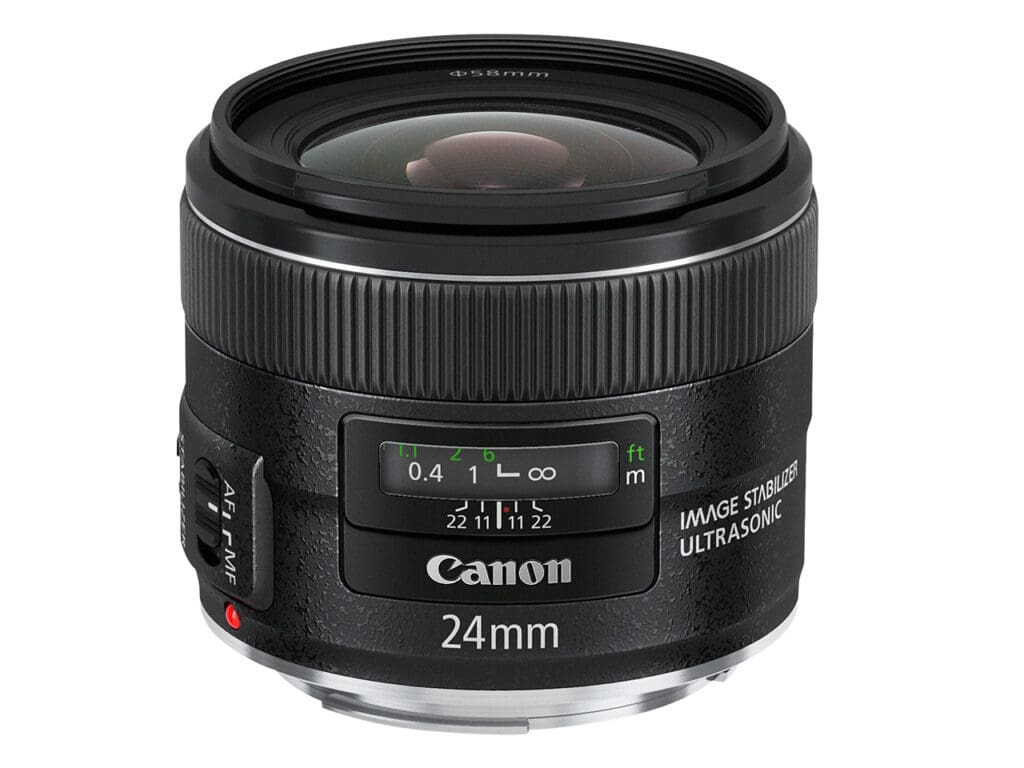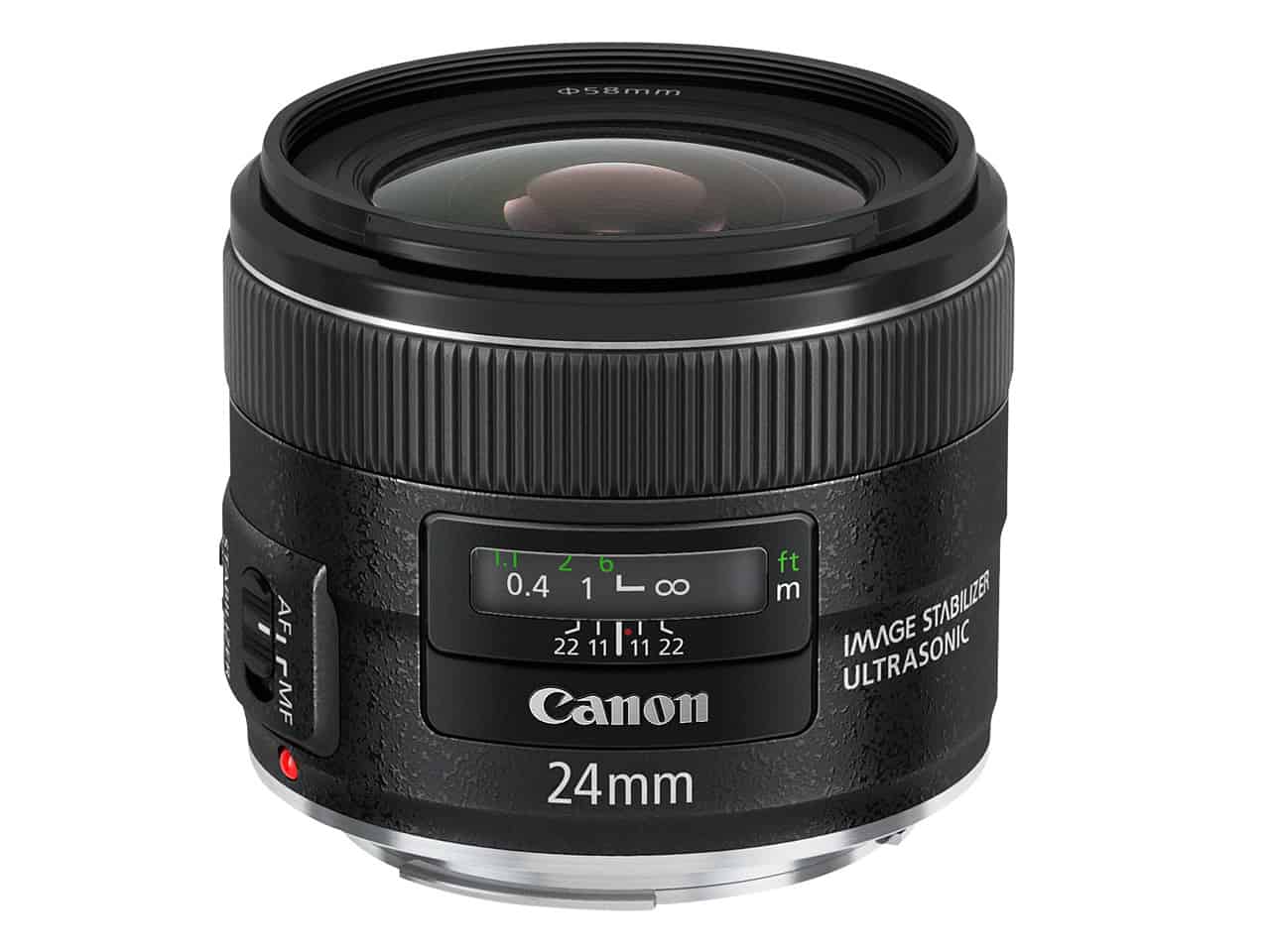 Canon today also launches the new EF 24mm f/2.8 IS USM and EF 28mm f/2.8 IS USM – the world's first 24mm and 28mm fixed wide-angle lenses to feature optical IS technology. Ideal for landscape and reportage, both lenses offer outstanding flexibility allowing photographers to shoot an even broader range of scenes and subjects – combining fast apertures with IS to enable sharp results when shooting handheld, even in low light conditions.
Offering an advantage of up to 4-stops over lenses without IS, both lenses are ideal for capturing more of the scene thanks to their wider focal lengths. Both feature a wide f/2.8 aperture, allowing photographers to explore shallow depth of field, or to shoot in lower-light conditions. Wide apertures and IS technology also make each lens ideal for shooting fast-moving subjects, while Canon's advanced IS technology is able to detect intentional panning movement and automatically switch from Normal IS mode to Panning IS mode – helping users to capture movement with greater accuracy.
Silent, high-speed AF performance is provided by the inclusion of a ring-type USM and additional features including optimized AF control. Full-time manual focusing also ensures adjustments can be made even when AF is engaged, while a minimum focusing distance of 0.20m (EF 24mm f/2.8 IS USM) and 0.23m (EF 28mm f/2.8 IS USM) allows photographers to get even closer to smaller or more detailed subjects.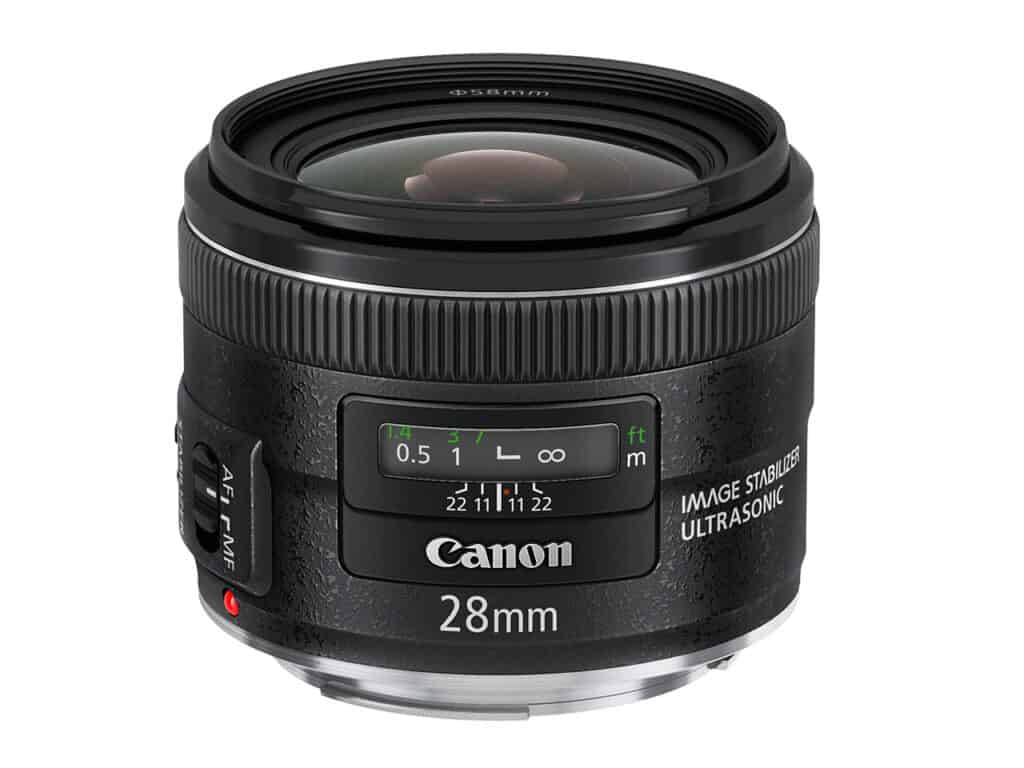 Designed to perform
Both the EF 24mm f/2.8 IS USM and EF 28mm f/2.8 IS USM feature redesigned optics to improve image quality and reduce the need for post-production. An aspherical glass moulded (GMo) lens element is incorporated to correct aberration throughout the optical system, while Canon's optimised Super Spectra Coatings reduce ghosting and flare for stand-out image quality. Externally, both models also boast a number of design similarities with Canon's professional L-series lenses, with a similar coating on the barrel and a similar design on the focus ring. A distance scale is also included to assist with landscape photography, while the compact design makes these lenses an unobtrusive addition to any kit bag.
1 According to Canon research as of February 2012
2 Waterproof construction around the lens mount, switch panel, zoom ring, focusing ring and zoom lock.
Weatherproof when used with weatherproof EOS bodies.