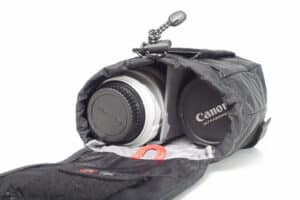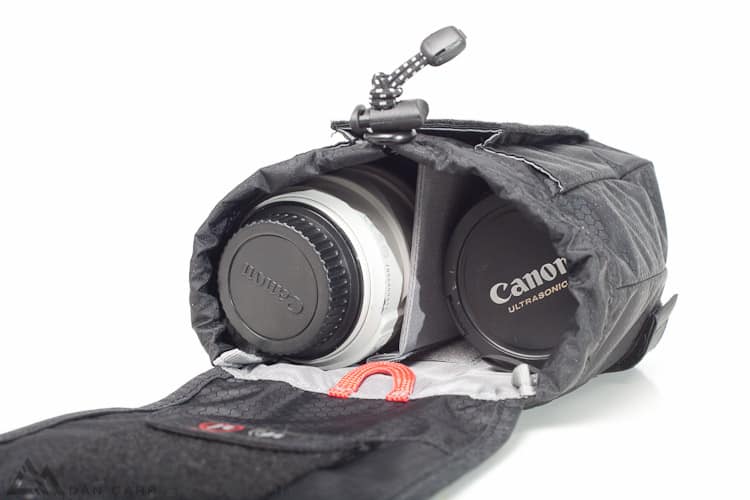 Last month I went to France to shoot the 24 Heures du Mans in Le Mans and before I left I grabbed a few extra items to make my assignment a little easier.
First up was the Think Tank Hydrophobia 300-600 rain cover. The next think I wanted to do was take a look at the Think Tank Skin system to carry some additional items around with me while I was shooting. A lot of you know me for my winter sports photography and for that I use a variety of specialized bags from F-Stop but this time I needed a belt based system more suitable for event photography. Think Tank's selection of bags and solutions for photojournalists and sporting event photographers is unrivalled and they have a couple of belt systems, the Modular Components and the Skin Components. The Skin lineup is essentially a less padded version of the Modular components with a few additional features. The idea here is that once your gear is safely transported to the location of your shoot you don't really need bulky padding and that allows you to be a little less encumbered. Packing the Skin Components into your travel bag is also pretty easy as they fold completely flat. Currently there are 5 different components into the in the set as well as the Skin belt. I didn't need the full set for this trip so I grabbed a Skin 50 , a Skin 75 and the Skin Belt.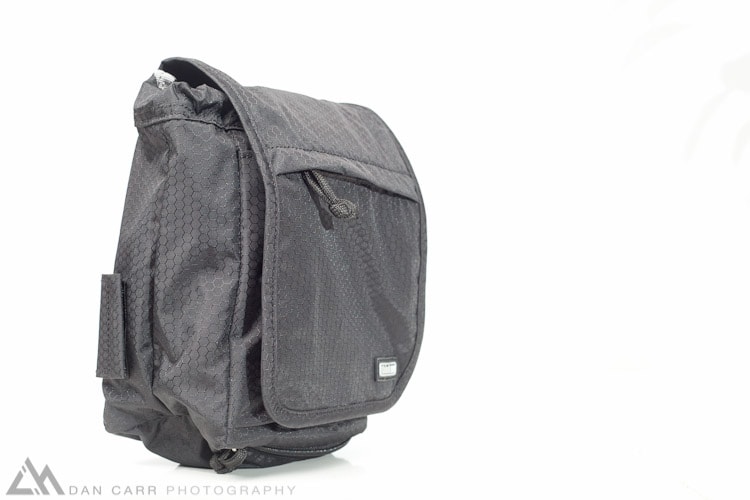 Skin 50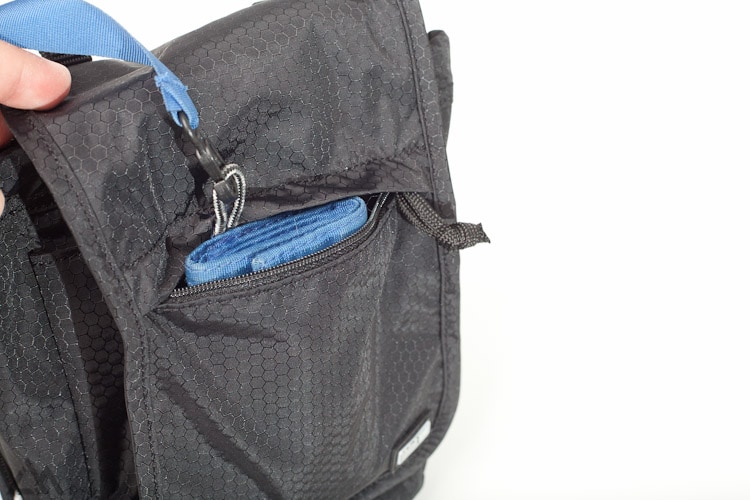 All the Skin Components feature this same front pocket which works well for memory card holders and other small accessories.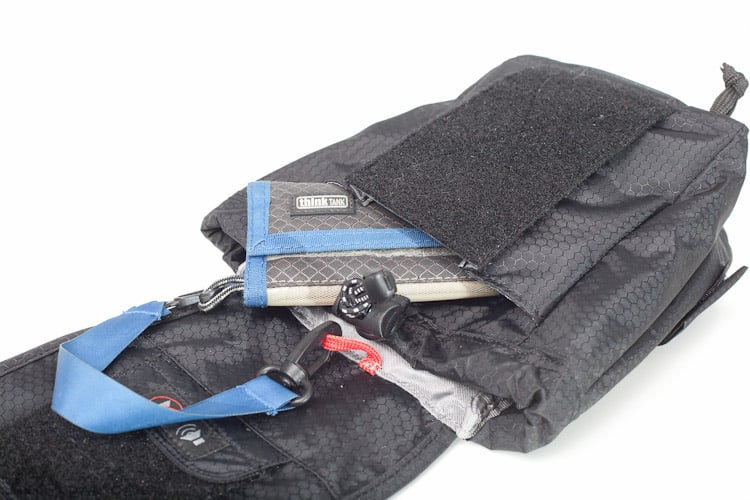 Under the main flap, all Skin Components also feature another pocket for accessories and a small loop to attach important items to.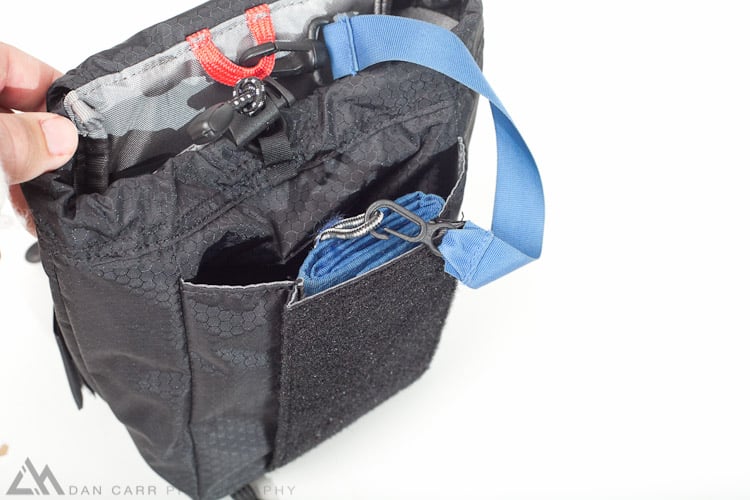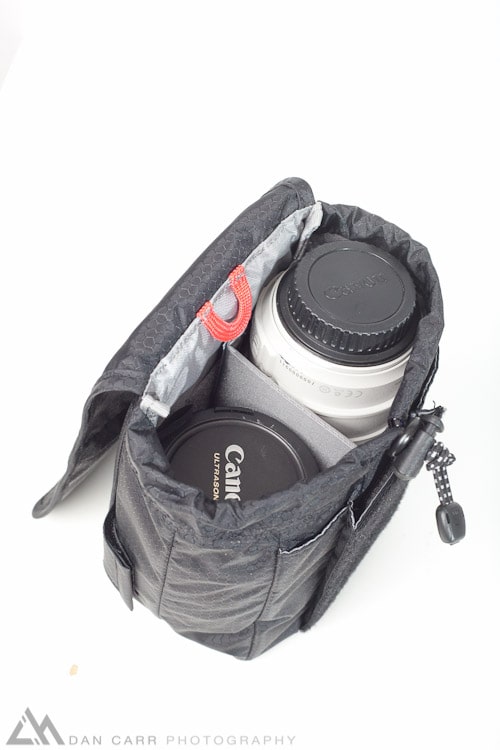 The Skin 50 is pegged as a pouch for your wide zoom but I found that both the 50 and the 75 were so generously proportioned that you can fit a lot more inside if you needed to. Here we see a 17-40 and a 70-300.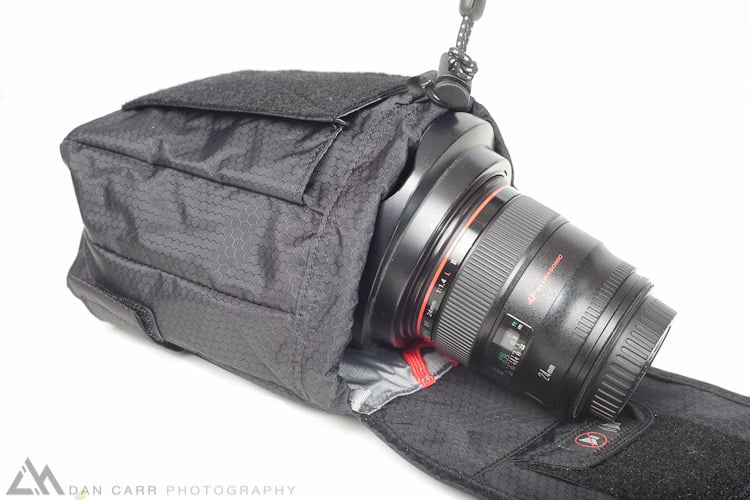 If you want the lens in a ready to use position with the hood attached then the Skin 50 is perfect for your wide zoom.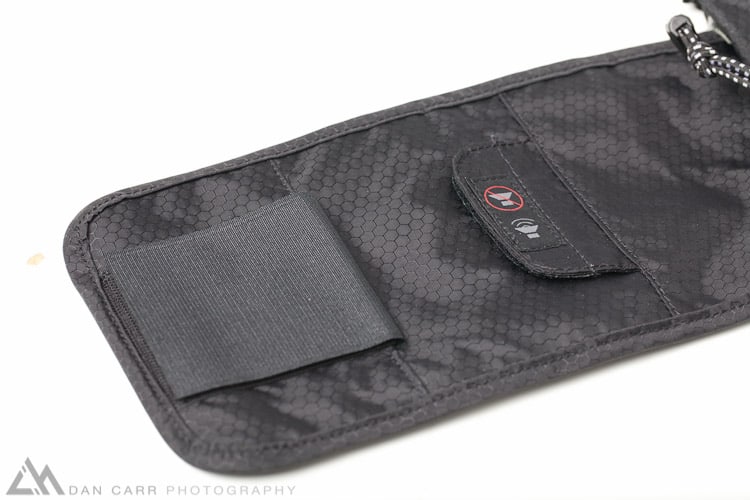 The hook and loop silencer system is perfect for wedding photographers who want to access lenses without disturbing anyone.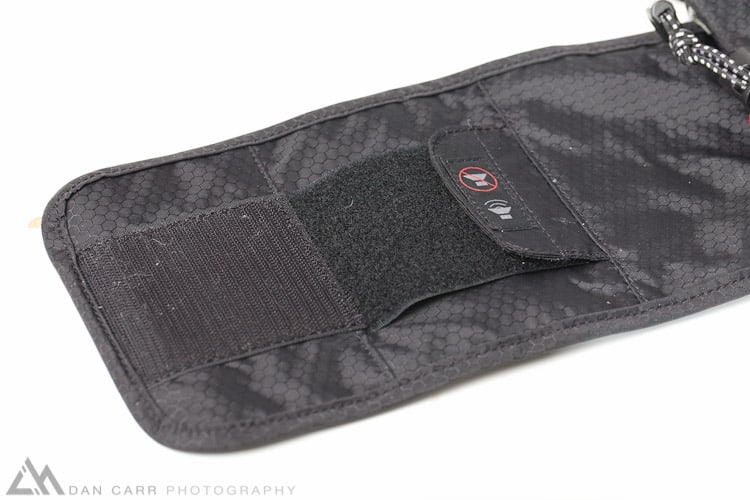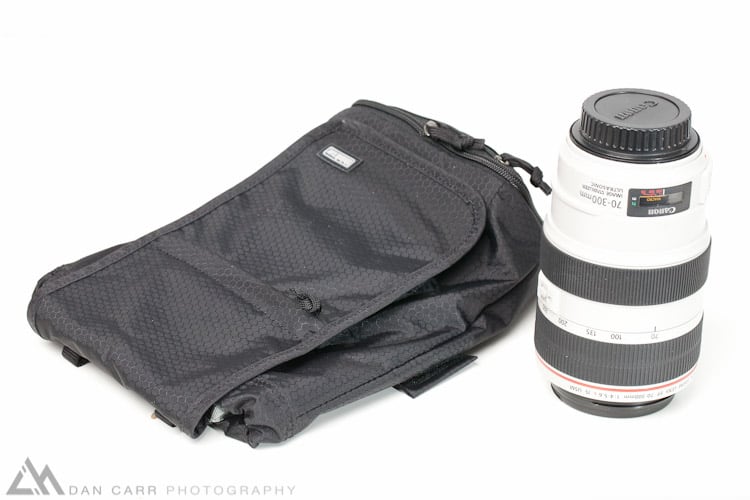 The Skin 75 is aimed at use with a 70-200 lens, I didn't have one to hand so this is a 70-300 in the photo but as with the Skin 50, it was more than big enough for a couple of lenses if you needed.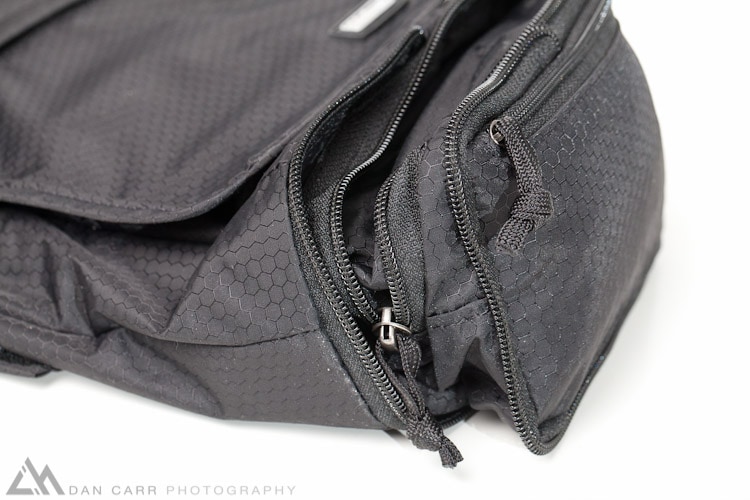 An additional feature of the Skin 75 is the zippered pop down section on the bottom. Unzipping this allows you to fit a 70-200 with the lens hood in place.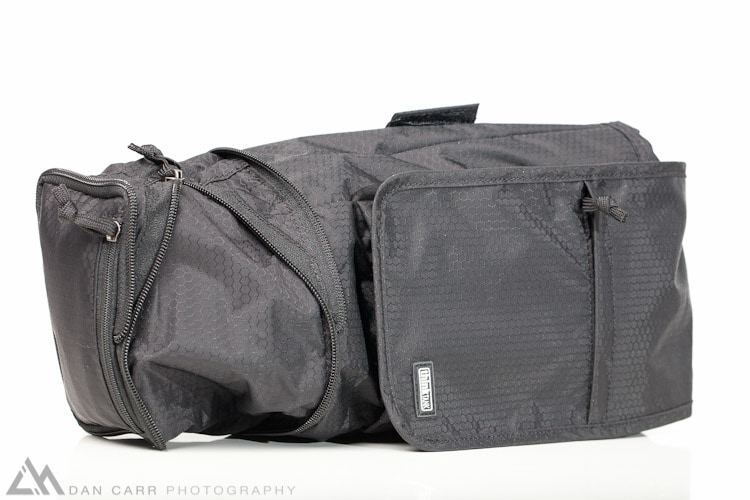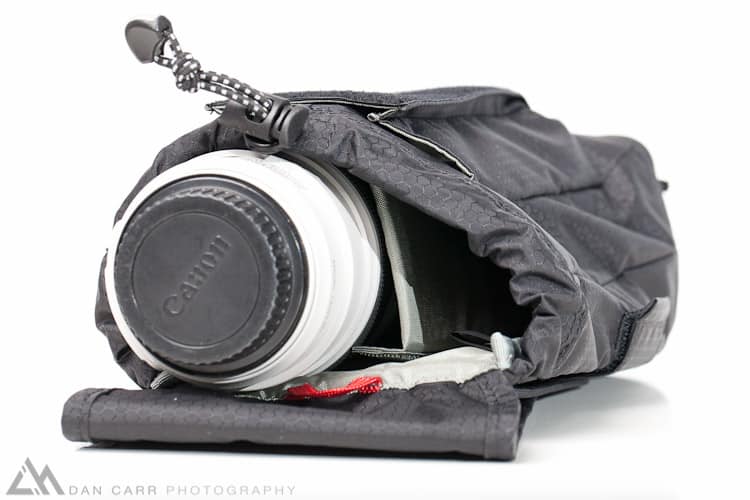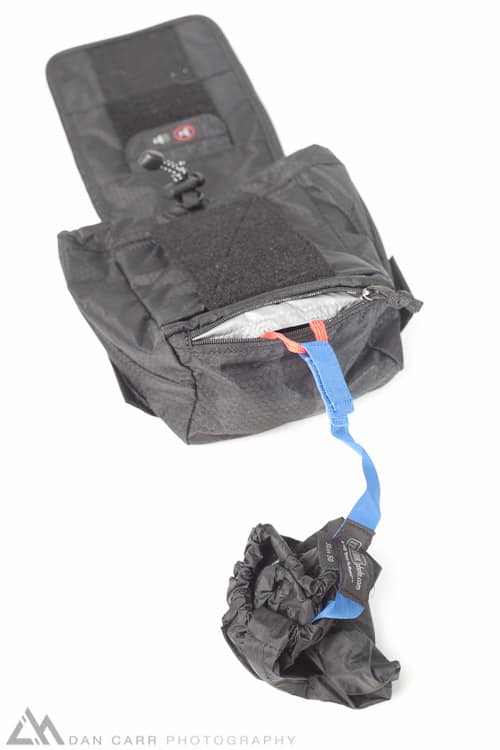 All the components come with a waterproof rain cover stowed away in the bottom.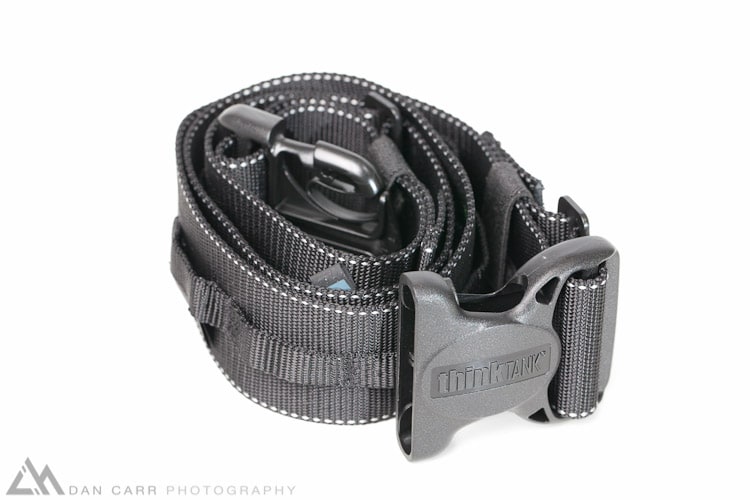 The Skin belt offers less padding than the regular modular belt which again is nice for packing into a smaller bag. You could use either belt with the system but having used the Skin belt all week on this assignment I felt that it offered plenty of comfort for a load capable of fitting into the 50 and 75 pouches.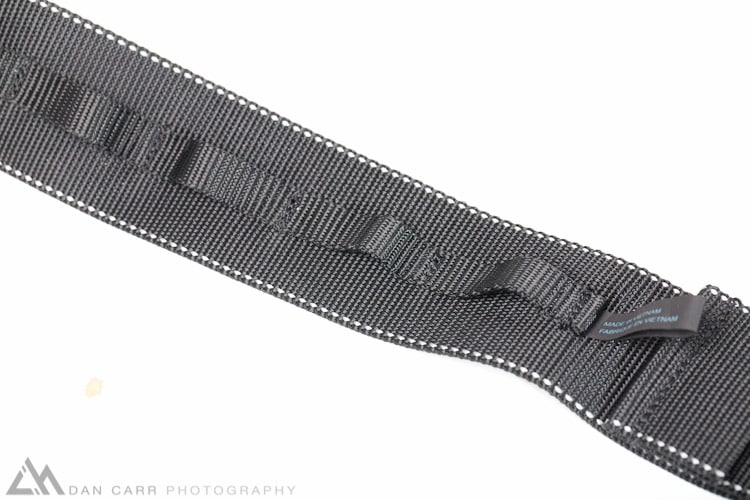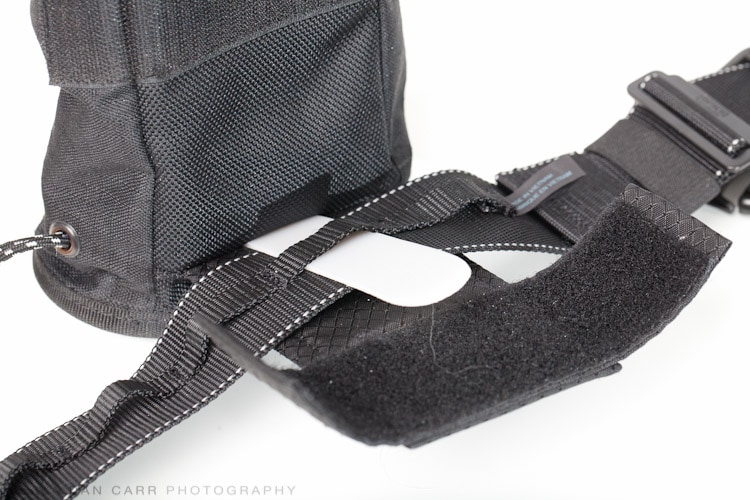 This simple solution featured on all Think Tank's modular components means that the pouches are locked into place on the belt.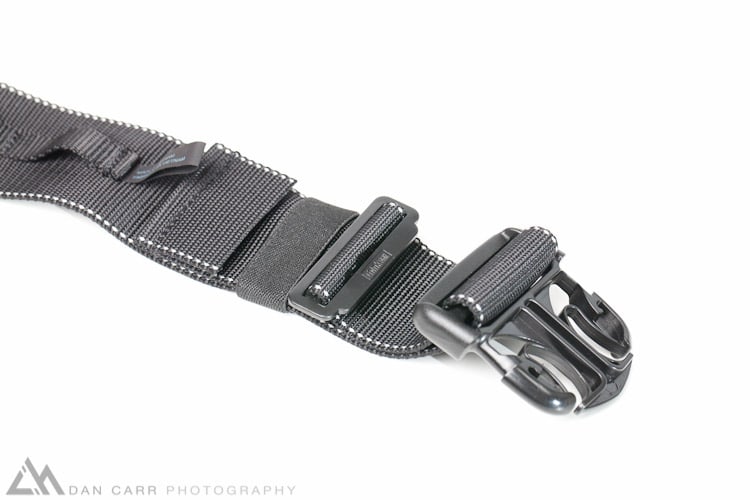 And this metal buckle behind the belt clip assures that once the length of the belt is set, it doesn't elongate as you get to work and move around. It works perfectly so you'll never find yourself having to tighten the belt half way through the day.
Conclusions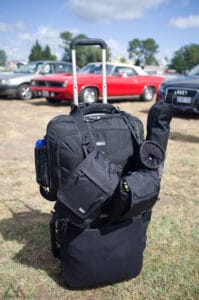 The combination of all these little features adds up to a near perfect solution for event work. I didn't miss the padding that you find in most other such solutions including their own regular modular system and far preferred not feeling too bulky as I walked around with my gear. If you travel a lot to get to your shoots then the SKin system would be the way to go as it just saves so much room in your bag. I was pleasantly surprised to see how much gear you could fit in these two pouches as well. The Skin Doublewide and Chimp Cage must be truly cavernous ! Think Tank really built their reputation on these kind of quality solutions so it's no real surprise that I can't find a lot to speak negatively about. The pricing of the components is very reasonable and a discount is even available if you purchase the whole set. My one tiny gripe is that I found the zippers on the bottom that allow access to the rain covers to be very fiddly. When closing them the zippers got caught on the rain cover almost every time because the tiny compartment for the cover to go into was barely big enough. Other than that I can say that this is a fantastic solution as long as you don't require the padding for your lenses. When the pouches are in place, the clever locking system and design of the belt means you won't be constantly fiddling and adjusting things throughout the day or in my case even the week. Set it up and forget about it, it just works.
Get a FREE bag from Think Tank!
If you spend more than $50 in the Think Tank online store by clicking through the links on this page, or this one HERE then you will be able to select a free product (from a selection of 4 or 5) at the time of checkout.