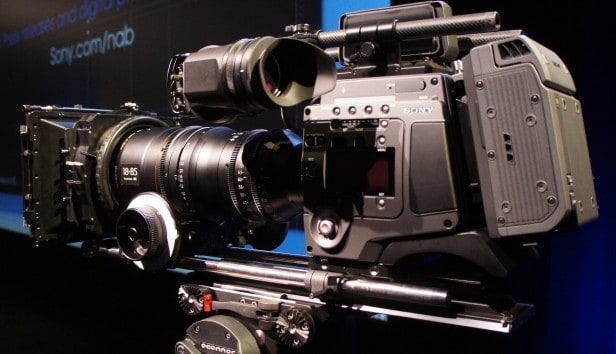 Sony kicks off the big NAB 2011 announcements with the unveiling of their new F65 8K video camera.  Whilst 4k is expected to be the next standard Sony is clearly already thinking towards even bigger things!  For now things top out at 4k but Sony says that updates in the future will allow much more.  Read on for full release and more info.
Press Release
LAS VEGAS, April 10, 2011 – Sony is revolutionizing digital cinematography with the official unveiling of its much-anticipated next-generation CineAlta camera. The F65 raises the bar in the quest for the "look" of 65mm film, and delivers on its promise to derive true 4K resolution and beyond – at the point of image capture.
Sony's unique 8K image sensor, with approximately 20 megapixels, offers higher image fidelity than any other camera. With 16-bit RAW output, the F65 establishes the gateway to a complete, end-to- end 4K mastering workflow.
"Sony's new F65 digital motion picture camera combines true 4K resolution with an expansive dynamic range that enables a more nuanced reproduction of fine textural and tonal details," said Curtis Clark, ASC. "Along with excellent contrast and exceptional color reproduction the F65 produces images that have a rich filmic look and feel, providing filmmakers with significantly enhanced creative photographic possibilities."
At the heart of the F65 camera is Sony's newly developed 8K sensor, which will deliver pristine HD, 2K, and true 4K resolution today — and will go far beyond 4K in the future, as industry needs evolve. The Sony imager is also the first to provide a dedicated green photosite
for each pixel in the 4K output image. This is twice the amount of green resolution compared with traditional 4K Bayer pattern sensors, providing a significant improvement in image resolution that is ideal for VFX processing.
---
"Sony already has a successful track record in developing 4K technology, with our 4K digital cinema projection system re-defining the movie-going experience," said Alec Shapiro, senior vice president, Professional Solutions of America, Sony Electronics. "However, Sony is committed to driving every aspect of a 4K workflow – starting with acquisition. This camera is the pinnacle of 30-plus years of research, experience and engineering breakthroughs and is the latest example of Sony's ongoing pursuit of the highest quality content creation and production."
The 8K CMOS sensor can run up to maximum 120Fps. This sensor performance combined with 16-bit RAW output makes the F65 the first image capture system designed from the ground up to support the Academy IIF-ACES, Image Interchange Framework, Academy Color Encoding Specification.
The F65 has also been designed for multiple production applications, including 3D rigs and Steadicam, and will offer a compact and lightweight detachable camera T-head for these configurations. In addition, an optional mechanical rotary shutter will be available for eliminating motion artifacts that are inherent with other CMOS sensor technology.
A dockable SR memory recorder – model SR-R4 – attaches to the camera to record directly on to an SR memory card of 256 GB, 512 GB or 1TB capacity with data security and sustained throughput of 5 Gbps. The recorder will enable ultra high speed recording of16-bit RAW data.
A 1TB memory card recording at 24 fps will store 50 minutes of footage in 4K 16 bit RAW. As with previous generations of CineAlta systems, Sony continues to work closely with the industry to develop this next generation digital motion picture camera technology and storage, workflow system.