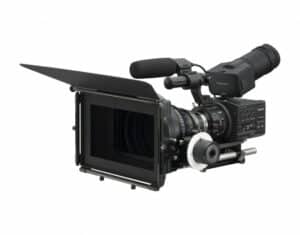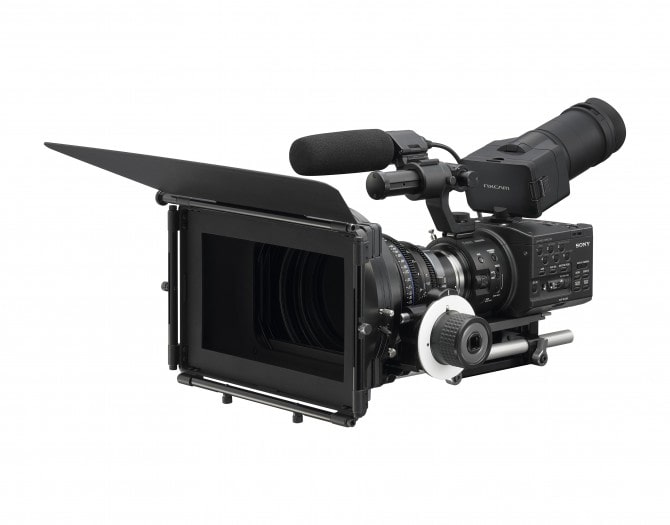 We new it was coming, Sony teased some specs and initial design drawings of it many months ago but now we have a full spec sheet, price point and final production name for the NEX FS 100.  The Sony F3 was released just a few months ago, featuring a Super 35 sized digital sensor it was met with much acclaim but a $10,000 + price tag will keep it out of reach for many people.  With this new FS 100, Sony is aiming squarely at those filmmakers considering the Panasonic AF100 or a DSLR setup.  The FS 100 also features a Super 35 sized digital sensor which makes it a little larger than the m4/3 sensor of the AF100, and a little smaller than a APS-C crop sensor of something like a Canon 60d.  Sony have gone for a modular nature with the design so you can have a small handheld rig not much bigger than  DSLR, or you can rig it up with all the trimmings and create a tripod based movie making monster.As I wrote in an article for ProPhotoCoaliton a few months ago, I believe that the life of the DSLR for movie making is coming to an end.  It was only a matter of time before manufacturers took the benefits of large sensor , interchangeable lens film making and incorporated it into a package that was designed from the ground up as a movie making tool and not a photo making tool.  This is exactly what Sony has done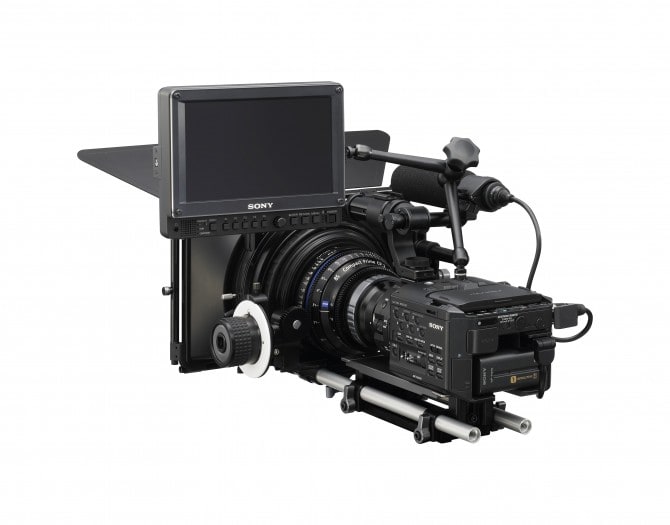 with the FS100.  Features such as 2 XLR mic inputs and 4:2:2 video signal from the HDMI output instantly sets it above DSLR solutions in terms of ease of use in a professional environment.  The 4:2:2 output in particular is a great feature meaning an uncompressed signal can be recorded on an external recorder instead of using the on-board AVCHD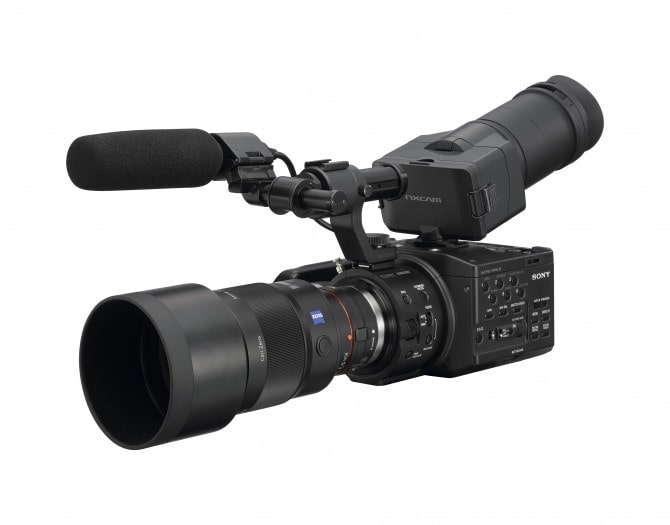 codec.  For now you can use Sony NEX and Alpha mount lenses but I'm sure there will be PL mount adapters in a short time.  Other notable features include 1080 60p just like the Panny AF100 and peaking and zebra stripes as you would expect on a decent video solution.  The built in touch screen looks good but the eyepiece looks like a laughable solution for something in the $6000 price range.  Looks like the manufacturers of EVFs for DSLRs are still going to have a market to sell to.
Check out this video introduction of the new camera and also a music video shot with it.  Some impressive results indeed.
NEX FS 100 Video Blog from Den & James on Vimeo.
Full Press Release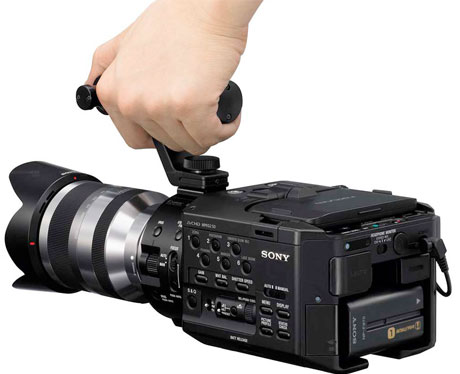 BASINGSTOKE, UK, March 23, 2011 – Sony today revealed two new professional camcorders based on extensive customer feedback in the "NXCAM™" line-up. The NEX-FS100E is a new E-mount professional camcorder equipped with a Super 35mm motion picture sensor and is a further addition to Sony's 35mm line-up. The HXR-NX70E is the world's first rain and dust proof professional HD camcorder and is ideal for use in unforgiving environments. Sony's expanding NXCAM line-up, including the existing HXR-NX5E provides a superb solution to many shooting applications.
The NEX-FS100E – Digital Super 35mm made affordable.
Originally announced in November 2010, Sony can now reveal the full specifications of the new NEX-FS100E. The NEX-FS100E is equipped with an 'Exmor™' Super 35 CMOS sensor specifically designed for shooting motion pictures. This large, super 35mm equivalent sensor is capable of producing footage with a shallow depth of field similar to that of a film camera. Thanks to this cutting edge sensor technology, it is possible to record the image in 1080/50p AVCHD format as well as capturing 1080p quality slow and quick motion.
"The NEX-FS100E NXCAM Super 35mm camcorder enables budget content creators and videographers to experience a new level of cinematic expression" said Bill Drummond, Strategic Marketing Manager, of Sony Professional. "Sony has responded to professional user feedback to create this new camcorder with an ergonomically designed body and accessories offering really flexibility in use."
The NEX-FS100E adopts the Sony E-mount interchangeable lens system used in the "?" series NEX-5, 3 and NEX-VG10E "Handycam®". It's very short flange back distance (the distance between lens mount surface and sensor surface) allows various "?" A-mount lenses be mounted via a mount adaptor (LA-EA1). It is also possible to attach a huge range of other lenses, such as PL mount lenses using third-party mount adaptors*. With such flexibility, users will be able to experiment with numerous creative options by exploiting the characteristics of different optics.
* Not all types of adaptors and lenses are guaranteed. For details, please ask the adaptor manufacturers.
The NEX-FS100EK lens kit model comes supplied with the E18-200mm F3.5-6.3 OSS zoom Lens which gives users optical Steadyshot™ and auto focus.
The NEX-FS100E accepts affordable and readily available Memory Stick PRO Duo™ or SDHC cards. It is capable of recording images at various frame rates providing the added creative freedom of slow and quick motion with full HD. The camera operator can simply adjust the frame rate without using converters or editing software, making the camera ideal for commercials and music videos, as well as action scenes in budget movies for example. The grip, handle and hybrid LCD viewfinder are detachable also making it ideal for handheld scenes and shooting in confined locations.