Clip-on LCD monitor from Sony for HD video shooting with Interchangeable Lens Digital cameras
13 January 2011
No word on pricing of this monitor but it looks like a decent mid range solution for DSLR movie making if you want a compact setup. The built in swivel is a nice touch and means no need to get an articulating arm or a small fiddly extra ballhead.  You can of course use this on ANY DSLR with HDMI output, not just Sony cameras.  No word on how this screen deals with the weird output signal from a Canon 5dmkII though…
• Clip-on LCD monitor attaches to DSLR camera
• Large (5″) WVGA panel offers superb high-resolution view while shooting HD video
• Tilt/swivel for comfortable viewing at any angle
• Colour peaking and pixel magnification for precise focus confirmation
Full press release :
A new clip-on LCD monitor from Sony gives DSLR camera owners a bigger, better view of their footage while shooting HD video.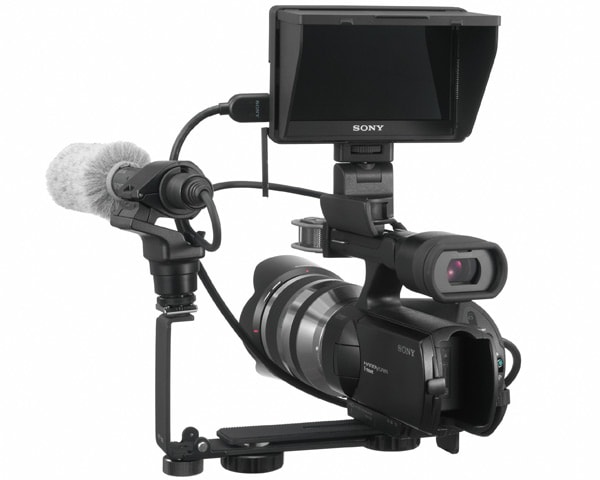 The CLM-V55 is a portable video monitor featuring a high-resolution WVGA (800 x 480) (5″) LCD panel. Attaching easily to most Interchangeable Lens Digital cameras and compatible HD camcorders via the supplied adaptor, it displays video footage during shooting/playback with excellent clarity and a wide viewing angle.
The clip-on screen tilts and swivels to any angle for comfortable framing in any position – even self-shooting when you're in the picture.
The CLM-V55 is loaded with pro-style features to help photo enthusiasts and videographers shoot high-quality HD video footage with their Interchangeable Lens Digital camera.
Pixel magnification mode assists with accurate focus confirmation, giving an enlarged pixel-perfect view of a selected portion of the Full HD image. It's complemented by a colour peaking function that highlights the edges of accurately-focused areas of the video image.
An intuitive control wheel allows quick, positive adjustment of a wide range of monitor settings without interrupting shooting. Adjustable parameters include aspect ratio (16:9/4:3), volume, brightness, contrast, colour tone (phase), colour temp and auto dimmer. On-screen markers aid precise framing by giving precise indication of a TV's 16:9 or 4:3 actual display area. The LCD monitor's on-board mono speaker is complemented by a headphone jack for accurate audio monitoring during shooting.
The CLM-V55 attaches easily to a wide range of Interchangeable Lens Digital cameras from Sony and other manufacturers that support HD video shooting. The supplied adaptor simplifies mounting on any camera or HD camcorder that features an auto-lock accessory shoe or ISO shoe. Signal connection from camera to monitor is via the supplied HDMI cable, while power can be supplied using a battery pack or AC adaptor (both optional). The CLM-V55 comes with a detachable LCD hood for more comfortable viewing when shooting outdoors in bright sunlight.
The CLM-V55 LCD video monitor by Sony is available from March 2011.