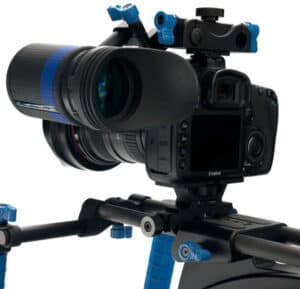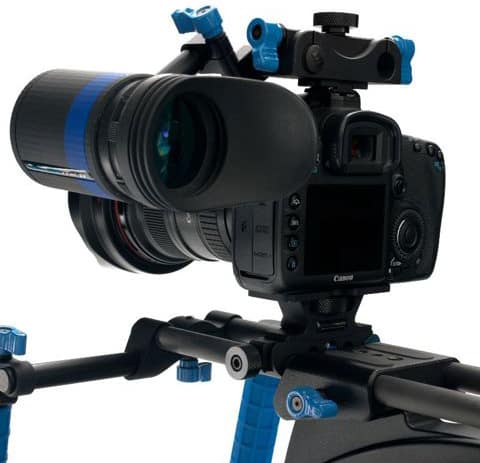 Full release:
Redrock Micro Announces New "microEVF" electronic viewfinder for HDSLR Cameras Ultra compact, Ultra high resolution EVF Sets Standard for Size, Performance, and Price Hollywood, CA – Redrock Micro, the recognized leader in affordable professional-quality cinema accessories, today announced the new patent-pending Redrock microEVF electronic viewfinder for HDSLR cameras. This is the first electronic viewfinder designed from the ground up specifically for HDSLRs, emphasizing compact lightweight design, superior resolution, and incredible affordability.
The popularity of HDSLRs such as the Canon 5D MKII for video and motion photography has skyrocketed in recent years, but the camera body is not ideal for video. The first generation of solutions for monitoring currently available –attaching an optical viewfinder to the back of the camera's LCD screen –severely limit placement of the viewfinder and camera body and eliminate possibility of using additional monitors for camera assistants or directors. The new Redrock microEVF is an external electronic viewfinder that connects to the camera body and can be placed anywhere for maximum comfort and stability, and can be part of a multi-monitoring solution. The microEVF uses a custom made state-of-the-art backlit LED fitted in an attractive, ergonomic housing.
Key features of the microEVF include:
A full color HD viewfinder designed specifically for the compact, lightweight needs of HDSLR cameras. The microEVF weighs in at less than 8oz.
Ultra-high resolution display that is higher resolution than the Canon EOS cameras' rear LCD and even the Red BOMB EVF from Red Digital Cinema.
LED backlight maintains bright crisp picture with minimal power consumption
Electronic assist features that will be announced closer to production release
Infinitely configurable mounting options to position the microEVF exactly where desired
Self-contained battery and low power consumption for a full day's continuous viewing
"We feel it's time for a better approach to HDSLR camera monitoring," said James Hurd, Chief Revolutionary for Redrock Micro. "The microEVF meets this need with an elegantly designed, compact solution that is not only affordable, but also sets a high standard for features and performance."
The microEVF also compliments advanced camera crews by working alongside external monitors, such as a monitor for the assistant cameraman, or one for a director or video village. The microEVF is compatible with any HDSLR or video camera that provides HDMI output while recording. Cameras known to be compatible include the Canon 5D MKII, Canon 7D, Canon 60D, Canon T2i, Canon 1D MKIV, Nikon D3s, Nikon D300s.
Pricing and Availability microEVF is amazingly priced at $595. Availability has not yet been announced. More information can be found at www.redrockmicro.com/evf
About Redrock Micro Redrock Micro revolutionized independent film production in the early 2000s with the M2 Encore cinema lens adapter, and reinvented digital filmmaking in 2008 with HDSLR cinema rigs and accessories. Today, Redrock Micro continues to lead the industry in innovation with its award-winning depth-of-field adapters, support rigs, focus controllers, and advanced cinema accessories. More information can always be found at redrockmicro.com.