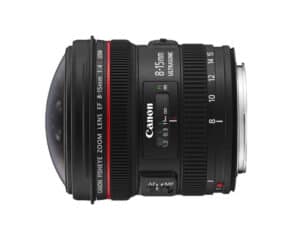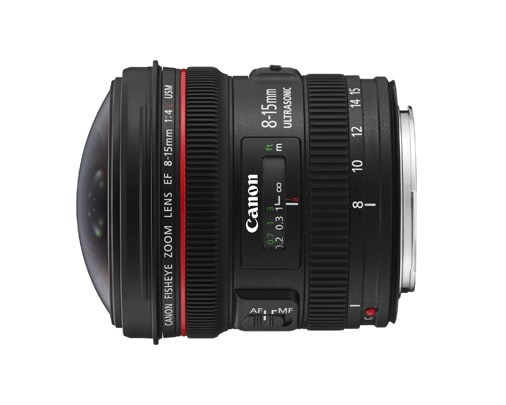 Canon has today announced a brand new lens for their EF lineup, the 8-15 f4 L lens. Of all of the rumors I read in the run up to these announcements I think this is the one lens that nobody was expecting. Until this point, the only Canon fisheye was the 15mm f2.8 but this was an old design that pre-dated digital crop sensors and Canon never released a lens that was wide enough to be a full 180mm fisheye on either of their crop sensor formats. This lens aims to address that problem by providing a circular 8mm fisheye at one end, zooming to a 15mm fish at the other end. In between these extremities lies points in the focal length that will provide a full 180 degrees of view on both 1.6 and 1.3 crop cameras and of course at the 15mm end, the same view on a full frame camera as is currently available with the 15mm prime lens. Additionally, going wider than a horizontal 180 view will produce a circular fisheye type image that vignettes in the corners but provides a full circular view. Something which no Canon lens has ever done before. This is a niche look to images, but it can be fun and Sigma has been making lenses that do this for sometime with some success. Cleverly then Canon has, with this lens, answered a lot of requests. Nikon users have long had the brilliant little 10mm fish for their crop cameras and now Canon users have something of their own. In the past few years the Tokina 10-17 had proved to be very popular amongst many people that I know as the only way to get a full 180 degree fisheye view on a 1.3 crop 1 series camera so presumably Canon wanted to address this too.
A clever zoom lock feature allows the lens to be locked into the best position for your particular crop of camera.
Personally I have a sigma 15mm f2.8 fisheye but it has always frustrated me that its not a full fish on a 1.3 crop and as I also use full frame cameras I didnt want to get multiple lenses of this type. This lens then is something I have been waiting for though honestly I did not think that they would make it and when I heard about it a few weeks ago I was quite shocked. I will definitely be getting one of these to test out so stay tuned! I think this could be a very cool lens!
This diagram shows the versatility of this lens.

It looks like we might not see this lens until  January of 2011 for an approximate retail price of $1,400. Adorama are taking orders right now so yo can get in line.  They will not charge your card until the lens actually ships.   B&H will keep you informed when all of these new items become available for purchase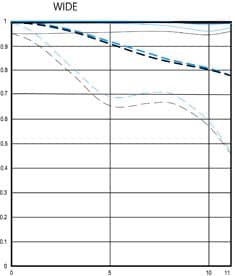 Full Press Release Info:
London, UK, 26 August 2010 – Canon today unveils the world's first fisheye zoom lens offering both circular and full frame images, thanks to an extreme wide-angle focal range of 8-15mm. Replacing the EF 15mm f/2.8 fisheye, the new EF 8-15mm f/4L Fisheye USM is the latest addition to Canon's L-series range of professional lenses, providing outstanding image quality, constant aperture throughout the zoom range and a robust design for reliable shooting in challenging weather conditions.
When paired with Canon's full-frame DSLR bodies, such as the EOS 5D Mark II or the EOS -1Ds Mark III, professional photographers can choose to capture circular or full-frame fisheye images, allowing them to view a scene in a completely new and unique way. This new level of choice provides enhanced creative flexibility when shooting scenes such as the night sky, where the full 180º horizontal and vertical fields of view (FOV) allow every detail to be captured with incredible clarity in one single image.
When used with EOS bodies featuring APS-C or APS-H sensors, the EF 8-15mm f/4L Fisheye USM produces a more traditional, full frame fisheye view. A zoom-lock mechanism on the lens body allows the range to be limited to the focal length that ensures the best possible full-frame view without unsightly vignetting around the edge. 'C' and 'H' markings can be found next to the zoom operation ring, indicating the wide-angle zoom position where vignette-free shooting is possible with either sensor, allowing photographers to achieve optimum results with any EOS body.
Advanced optics for professional imaging
The EF 8-15mm f/4L Fisheye USM showcases over 70 years of Canon's optical engineering heritage, boasting 14 lens elements in 11 different groups, including one aspherical and one Ultra-low Dispersion (UD) element to correct chromatic aberration and produce high-quality, high-contrast shots with excellent colour reproduction.
Ghosting and flare caused by strong light sources can be a particular challenge when shooting at such a wide angle, and, in order to counteract these artefacts, all lens elements have been covered with Canon's Super Spectra Coating. The inner surface of the front element also features Canon's SubWavelength Structure Coating (SWC), which uses tiny cone-like structures, shorter than the wavelength of visible light on the surface of the lens element, to gradually slow light down until it is at the same speed as it travels through glass, removing the risk of flare occurring before the light reaches the sensor.
To maintain optimum image quality, the front and rear lens elements also feature a Fluorine Coating which actively repels water, dust and dirt, making it easier to clean the lens and leaving it unobstructed by particles.
Fast, accurate focusing and low light performance
The ultra-wide angle zoom of the EF 8-15mm f/4L Fisheye USM offers a fresh take on sporting action or architecture shots, while the constant f/4.0 aperture allows faster shutter speeds to be employed for natural-looking images in low light.
A ring-type ultrasonic motor (USM), provides quick and accurate focusing when shooting and enables a full-time manual focus functionality allowing photographers to adjust the focus of any shot, even when the AF system is activated, for even greater control over image capture and improved creative flexibility.
Built for professional performance
The EF 8-15mm f/4L Fisheye USM features a high-grade physical design that reflects its elite performance. High resistance to both dust and water enables it to be used in a range of challenging situations, and, when used with a professional EOS body, it allows continued shooting in the harshest weather conditions. The external design also features the new exterior texture, for a high quality look and feel indicative of all new L-series models.
High quality accessories
The EF 8-15mm f/4L Fisheye USM is supplied with a dedicated lens cap, lens pouch and a felt-lined lens hood EW-77 for use when using the zoom at the 15mm setting, preventing lens flare.