Continuing with the major camera announcements, Sony is now taking their turn in the spotlight with 4 new cameras and a collection of Sony Alpha lenses.  But there is something different about the new A33 and A55 cameras that fit into the lower end of Sony's camera lineup.  Normally I would post all the details but in this instance I'm less interested in the overall release and far more interested in some new technology that Sony introduced.  Well , half new technology.
The standout feature of the A33 and A55 is the so called semi-translucent mirror technology or pellicle mirror.  This part of the design is actually nothing new and was something that both Canon and Nikon experimented with back in the 1970s !  But for some reason they never stuck with it and now Sony has seen fit to dust off some patents and resurrect an old idea, with a few new twists.  With a semi-translucent mirror ,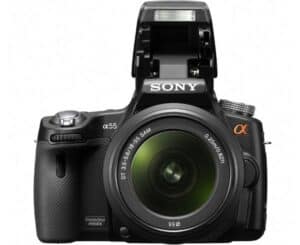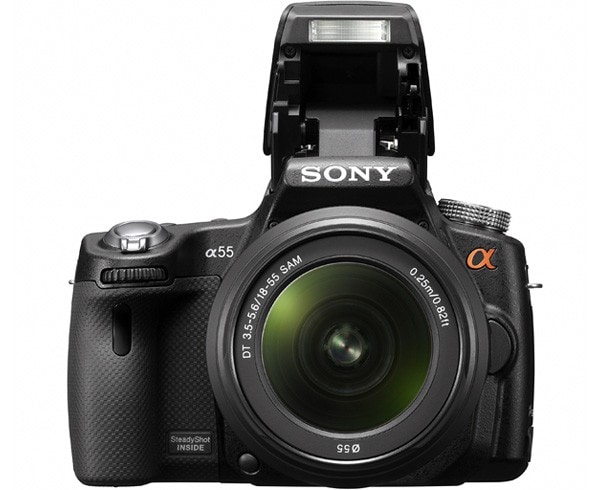 the mirror no longer needs to flip up to expose the sensor to the light.  Instead, 70% of the light passes straight through the mirror to the sensor and the other 30% is bounced up to the phase detection autofocus systems.  This has several immediate effects, firstly it is not possible to have an optical viewfinder so the camera must use an EVF.  EVF quality is on the rise though and gives some interesting opportunities to display more information to the shooter.  You also get 100% coverage from the EVF which you would only see on much more expensive optical viewfinders.  The next advantage is that the autofocus system is always receiving light, no breaks for a mirror to flip up!  This means extremely fast AF is possible during video shooting and also stills shooting.  On top of that, without having to physically flip a mirror, the shooting speed can be increased.  The sub $800 Sony A55 shoots at 10fps!  Nothing else in the price range comes close to that.
So whilst I'm not overly interested in the specific gear Sony announced today, I think it would be wrong to overlook some of the "new" technology that comes with it.  The fact that Sony has introduced a very fast autofocusing video shooting SLR at this price point is remarkable and they clearly mean business in this market!  I would also expect to see some of this technology trickle up to their large cameras in the very near future.  Imagine the shooting speed you could get on a pro body with this technology…. sure it has a couple of downsides, but its early days.  My hat really goes off to Sony for pushing things so far so fast.  With these new cameras, the NEX-VG10 and the smaller NEX cameras Sony seems to be working harder than anyone else out there right now and I think its only a matter of time before they put out a pro level camera that really gets me interested….
Both these new cameras are available to order now from B&H Photo