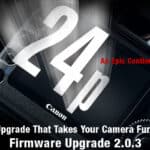 Today Canon has finally released the much awaited firmware update that adds 24p and 25p recording modes to the 5dMKII. Since the camera's introduction more than a year ago, Canon has released several firmware updates. The first major one last year added manual exposure control to the video mode, but video professionals around the world were clamoring for more. Since it's introduction the 5dMKII has been hampered by true 30fps recording (not 29.97) and no other frame rates. Petitions were signed and websites created in order to try and convince Canon to create an update to change this, thankfully Canon listened.
You can download the update HERE
But it goes further than simply adding these new frame rates and you really have to applaud Canon for this. In fact for all of this. They could have sat back and not added this functionality until the 5dMKIII, i'm pleased to see them taking this approach. They were caught off guard by the incredible success of the video recording and initially at least never expected people to be using these cameras to shoot high-end TV commercials and even Hollywood movie scenes with them. The firmware to fix the problem has been in development for many months, and we can assume on many movie sets. There's going to be a lot of happy film makers out there this evening!
So lets see what this firmware adds then:
NTSC:
1920×1080 : 30 fps (changed actual 29.97 fps)
1920×1080 : 24 fps (added actual 23.976 fps)
640×480 : 30 fps (changed actual 29.97 fps)
PAL:
1920×1080 : 25 fps (added actual 25.0 fps)
1920×1080 : 24 fps (added actual 23.976 fps)
640×480 : 25 fps (added actual 25.0 fps)
Adds a function for manually adjusting the sound recording level (64 levels).
Adds a histogram display (brightness or RGB) for shooting movies in manual exposure. This is very useful! Unlike most video cameras, the 5dMKII doesn't display zebra stripes on over-exposed areas. Canon have now added a live histogram that can be displayed on the screen so you can check your exposure on the scene before you record. The histogram does not remain on the screen during recording.
Adds shutter-priority AE mode (Tv) and aperture-priority AE (Av) mode to the exposure modes for shooting movies.
Changes the audio sampling frequency from 44.1 KHz to 48 KHz.