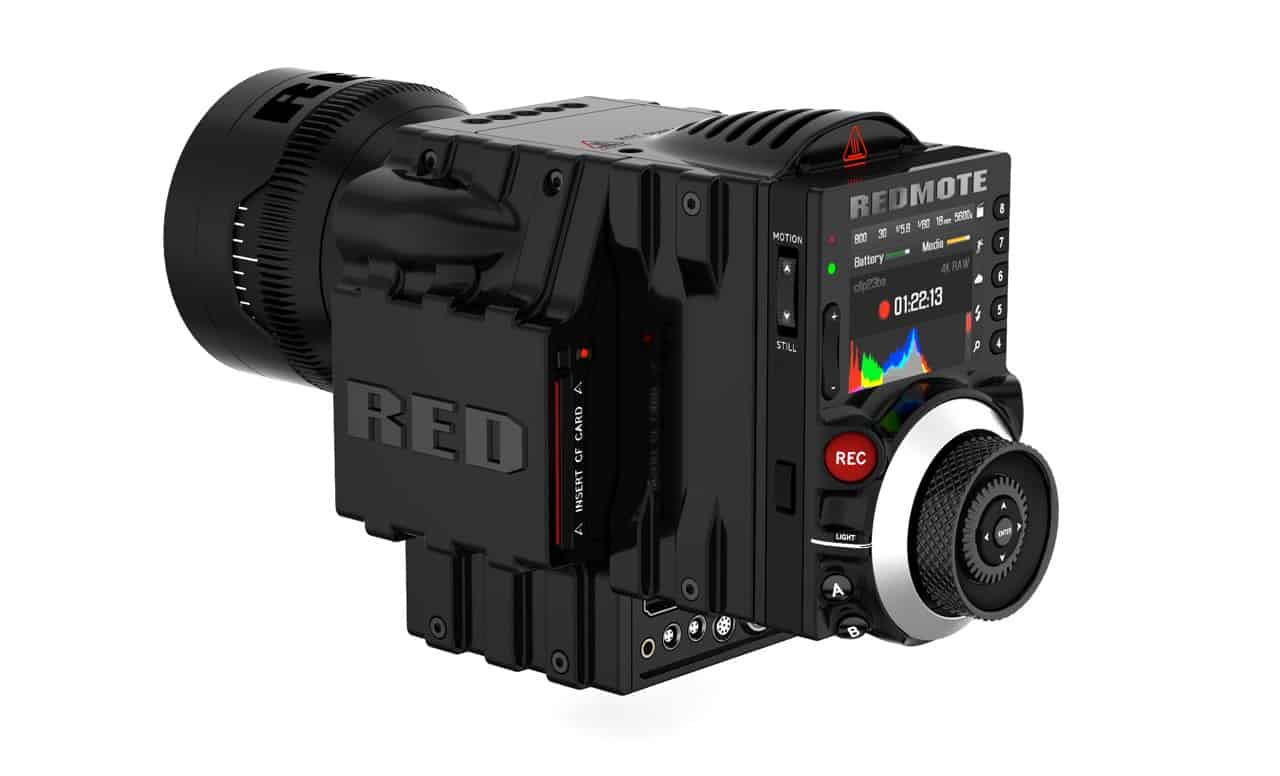 Almost exactly a year ago I posted some information about the RED Scarlet Camera. Since that time there have been a number of "announcements" from the company but most of them have said more or less the same thing. "The cameras are delayed , but here is some more computer generated graphics of something that might possibly look like the camera when it finally arrives". I would imagine that Jim Janard and his crew at RED have had to re-think a few elements of their designs in an attempt to combat the surprising success of Canons DSLRs in the video field. A year ago, nobody really saw it coming, but today its no surprise at all to find Canon 5dMKIIs and 7ds on the set of hollywood blockbuster movies attached to Panavision prime lenses. ( Funny story… Panavision has actually gone and melted all of their Panavision to Canon lens converters because they are sick of seeing so many of their lenses not being mounted on their cameras!) Canon seems to have swooped in (or stumbled into) to the exact market that RED was targeting with their Scarlet plans so it's really no surprise that things went back to the drawing board for a while in order to add a few more features. A few people out there (myself included) were a bit worried that the Scarlet project was doomed to vaporware status. Continuous updates to CGI models, but no actual camera to play with. After all, most companies do not tend to announce cameras until they are nearly complete, shrouding the whole development process in secrecy. But Scarlet has been on the table for some time, or at least drawing of it anyway……
For some time though Jim Jannard has been throwing around the November 30th date though as a day when we would learn more info about scheduled release and pricing. Their motto though is "Everything is subject to change , count on it!" so i'd be very surprised if this information stays the same up to the release date. None the less, they have provided a little more information about the cameras than usual so this time i thought it would be worth posting about it. I know that there are still some stills photographers out there that don't see the point in learning about shooting video, and those guys might want to skip this post. But i'm still firmly in the camp that believes that convergence is inevitable, and if I keep my finger on the pulse then it won't be such a shock when it comes!
There are 3 cameras then that we now have more information on. The Scarlet is to come with 2 sensor variations, 2/3 and full frame. The 2/3 will ship (hopefully) in may-june 2010 and the FF35 version will be Summer 2010. The 2/3 version comes in 2 options , either with a fixed 8x zoom lens or as a "brain" with the option of adding components and prime lenses. Specific details are laid out below in the table. The FF35 version is only available as the kit which allows you to totally customize the accessories that you attach to it. The list of accessories and pricing is also laid out below. My initial thought is that the 8x zoom 2/3 version seems like a good deal and will be very popular for people filming action sports like skiing and snowboarding (a field in which i know many people).
If you are looking to build up a kit with the 2/3 sensor brain then the mini prime lenses are looking great, and very compact. But the problem I see with that is that if you decide to upgrade to a FF35 brain later…. your lenses won't work. If you are looking to build up a rig with the FF35 kit then you'd better be ready to drop some serious cash! The pricing is not even close to the same league as buying a Canon DSLR and shooting with one of those, so these Scarlets had better be damn good!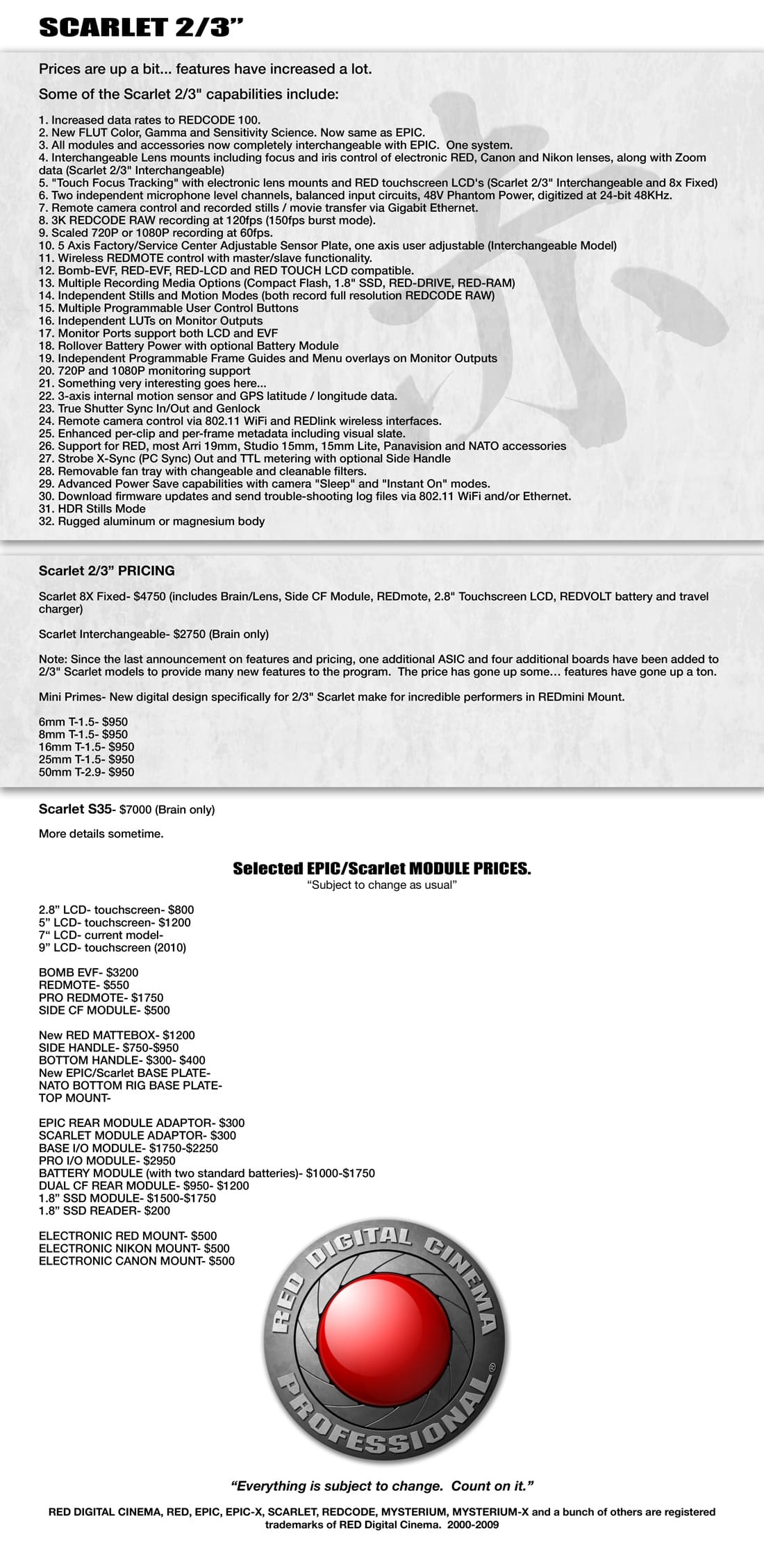 A few things jump off the features list at me. HDR photo mode for one, this could go either way. Personally i'm not a fan of HDR photos and I hope that this is not a gimmick. Most camera companies have shied away from adding this so far though i'm sure that they could if they wanted to. I just hope that its not too over the top and that it is user configurable. For the most part the camera is really geared for video and not photos. At the beginning of the development cycle it was touted as a stills camera a lot more but there seems to be less and less mention of this these days. For one, it looks incredibly un-ergonomic for a stills camera anyway…..Touch focus tracking is a nice addition though and something that i'm sure we will see on all cameras within 2 years, just like on the iphone, touch the part of the screen you want to focus on. So simple. I'll leave you with a few more photos of the camera and also a rather cool looking " RED Station" which seems to be a high speed multi-card reader. Cool idea. I also see that the " Bomb EVF" has a built in heater for use in extreme cold environments!