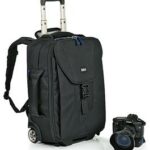 Regular readers of my blog will know that I am something of a fan of Think Tank products. I own many of their bags and they all have very different and specific uses for me. One thing that they have become very well known for, is their line of roller bags for airport travel. There are several bags in the range that are suitable for both international and domestic flight.
The new bag in the range is called the Takeoff. And what makes this one special is the shoulder straps that lie concealed in the back panel. A roller bag is ideal in many airport situations, but occasionally you can come across a time when it pays to have shoulder straps. For example…. try dragging a roller bag across gravel or other rough surfaces! Last month I found myself in bit of conundrum on a photo trip to New Zealand. I had a roller bag (Think Tank Airport International) and a rolling pelican case (1610) as well as a rolling ski bag. Three roller bags and only 2 hands is fine when you have a luggage trolley, but when a bus drops you in a city center 500yds from a taxi rank…….problem! I could have done with shoulder straps in that situation.
With airline carry on restrictions getting tighter by the day, I have also noticed an increasing trend. Rolling bags get weighed when boarding a plane, backpacks do not…… could this new bag help you sneak a few more KG of gear onto the plane? maybe, just maybe.
The deployment of the straps is ingenious and they are very smartly hidden behind a panel when they are not needed. But when they are needed, these straps are nice and chunky and will spread the weight of the pack very well.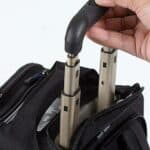 The sizing of the bag is slightly smaller than the airport international which is also welcome as size allowance also seems to be shrinking. Its also quite a bit lighter when empty. The front pocket will accommodate a laptop sleeve and they have provided a locking cable to secure that to the bag.
If you decide to purchase any of the bags, Think Tank has a special offer on at the moment. If you visit their website via this link to buy their products, you will receive a free gift/bag at the checkout!

Tech specs:
ID: 13W x 18.5H x 5.25 " 6.75D (33 x 47 x 13 " 17cm)
ED: 14W x 21H x 8D (35.5 x 53 x 22cm)
Weight: 8.6 " 10.3 lbs (3.9 " 4.7 kg) (depending on accessories used)