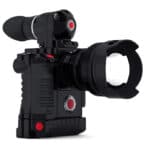 Jim Jannard, billionaire ex-owner of eye wear giant Oakley, announced today a new camera system that should give most professional photographers some considerable food for thought. Jannard's company, RED, has already caused quite a stir in the movie industry over the last couple of years with the introduction of what is widely held as the best digital cinema camera, RED One. Today the company unveiled a new system that not only aims to continue their domination of digital cinema technology, but at the same time take the company into the world of high-end digital still photography. Two industries that have recently taken some considerable steps towards each other with the advent of the Nikon D90 and Canon 5D MKII, the first SLR cameras to offer video capture as well as high quality photo capture.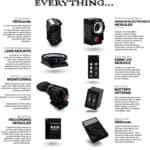 So how does the new RED system differ from these two current offerings? The system is modular, a central " brain" unit can be purchased and then any number of compatible accessories attached to the "brain" in order to create the perfect camera for your needs. This means that if you decide to upgrade your system, you don't have to start from scratch every time. Simply upgrade your "brain" to a bigger sensor if that's what you desire, or select different add-ons to create a familiar camera but with an entirely new purpose. No word yet on pricing for the accessories, but expect them to to be at least half the price again of the Scarlet brain.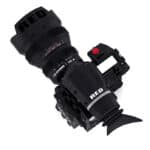 The "brain" comes several in versions, based around two main bodies, the Scarlet and the Epic. Specifications can be found in the table below. Thankfully for us they have included the ability to use current Canon and Nikon lenses on some of the bodies so our existing lens collections are still useful. The S35 provides a sensor that is slightly larger than current APS-C sensors and will shoot at 30FPS for a cost of $7000. The FF35 Scarlet provides a full frame body with a 24 megapixel sensor capable of shooting still photos and video up to 30 FPS for $12,000.
Moving on up to the aptly titled Epic brain unit there are some simply mind-boggling number being thrown around. The Epic S35 ($28,000)and FF35($35,000) will shoot 13 and 24 megapixel images respectively just like their little Scarlet brothers but both deliver this at a staggering 100 frames per second. The Epic line is also continued further with the 645 delivering 42X56mm 65 Megapixel sensor at 50FPS. Finally to top things out there is the Epic 617 with a 186X56mm 261 Megapixel sensor!!
But what does all of this mean for me and people like me in my industry? RED is a proven quality in the cinema industry but this will be their first attempt at making a stills camera. With the amount if development and experience behind the big two (Nikon and Canon) I think it would be foolish to assume a similar quality photo from the RED sensor, especially with regards to ISO performance and dynamic range. It still seems to me that the Scarlet and Epic systems are targeting the film making audience a lot harder that the photographers out there. From a size and ergonomics point of view the system appears large and unwieldy, especially compared to something like the 5dMKII. There also seems to be many more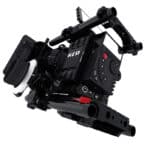 attachments for film making and the lack of a hot-shoe in the design is troubling for someone like me who relies on remote strobe setups that need a hot-shot mounted trigger. I also question whether I need to shoot at 30FPS, let alone 100FPS!! Removing some of the skill from my work is not something I'm too keen on and the work load that would be generated by shooting 100 still shots every second is frankly quite scary, not to mention the storage space required. Can you imagine sitting down and staring at that many nearly identical photos trying to choose the best one?
I guess the proof will be in the pudding as they say, but the question first is will the pudding be served at all? The original RED Scarlet program was canned earlier in the year when Canon threw the 5dMKII curve ball. Jannard's team seem to have been caught off guard by that and went back to the drawing board to create a competitor. With the cheapest of these new models coming in at roughly 3 times the cost of the new Canon camera though, you have to wander if they have achieved their goal or not? I have no doubt that Canon is well into the R&D for their next camera and if they stay one step ahead of RED, we might be faced with a perpetual release of fancy looking 3d designs and ever changing specifications without ever seeing a resulting camera in our hands. If they do hit the shelves I expect to see the indie film makers flocking to them, and probably even Hollywood for the larger sensor versions but photographers? I'm not so sure, we need to see some photo examples first. Its a hugely expensive system to buy into and with the price of other SLRs falling every year I think its going to be a tough sell to all but highly specialized photographers.