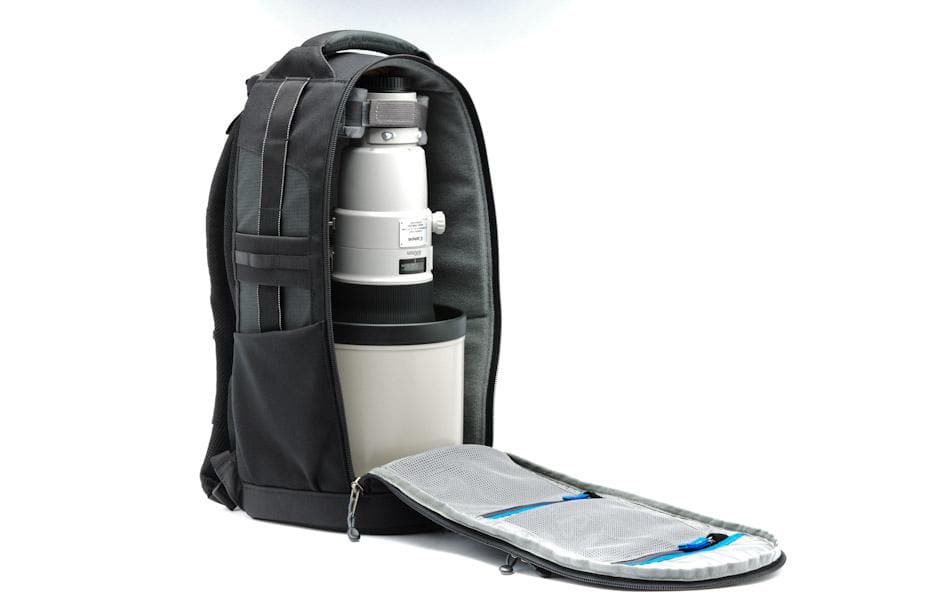 The original Glass Taxi was an innovative pack from Think Tank that designed for carrying 300mm and 400mm which most sports photographers use.  Now Think Tank is updating the lineup with the new Glass Limo, a large pack capable of carrying a 500mm with pro body attached, or a 600mm lens on its own.  It also adds rails on front and sides for attaching the huge range of modular components.
Purchase From Think Tank
By using my link to their site you'll be able to claim a free gift when it's time to check out !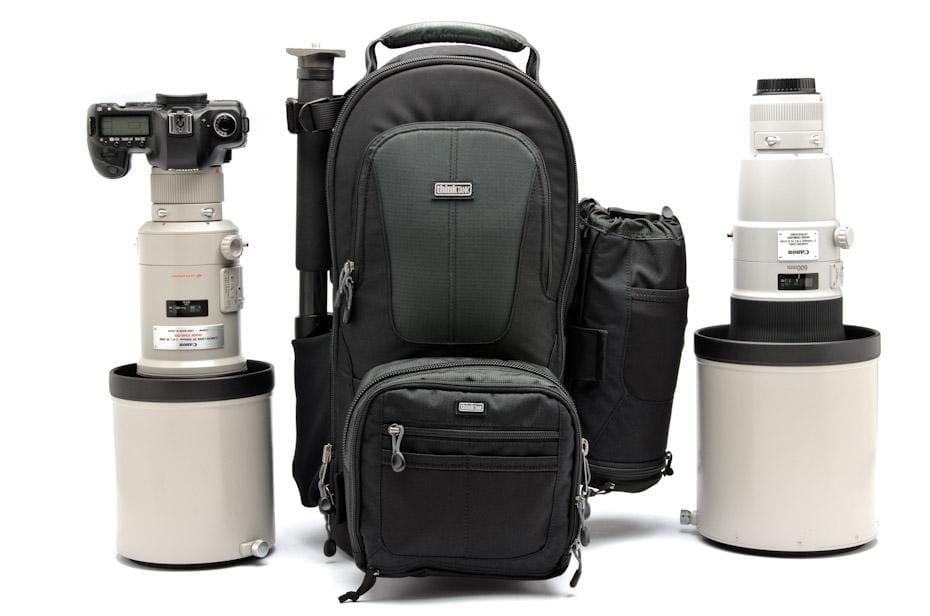 Press Release
Think Tank Photo to Release the Glass Limo™ Backpack
Holds a 600mm f/4 without body attached or a pro-size body attached to a 500mm f/4
Santa Rosa, Calif. – Think Tank Photo announces that in November it will release the Glass Limo™, the photo industry's slimmest profile backpack for carrying "Big Glass," such as a 600mm f/4 without body attached or a pro-size body attached to a 500mm f/4.  And, unlike most bags for carrying large lenses, the Glass Limo complies with airline carry-on requirements, thus allowing photographers to stay near equipment that is among their most expensive and delicate.
"The Glass Limo solves a major functional problem experienced by sports and other Big Glass shooters," which how to keep their large lenses safe while in transit and easy to carry into the field," said Doug Murdoch, Think Tank Photo CEO and Lead Designer.  "This new backpack features Think Tank's famous contoured harness with air channel.  Big lenses may be heavy, but they don't need be a physical burden."
The Glass Limo's features include:
Specially designed donut and yolk for large lenses
Expanded capacity:  add up to three modular pouches
Carry a tripod or a monopod on either side with included straps
Deluxe organizer on front zippered pocket
Two zippered internal mesh pockets for accessories
Water bottle pockets on each side
Comfortable harness
Removable padded waist belt
Can adapt Pro Speed Belt for additional comfort
Padded removable insert
Business card holder on top panel
Seam-sealed rain cover included
The Glass Limo's fabric is treated with a DWR coating while underside is coated with PU for superior water resistance.  It uses YKK® RC Fuse (abrasion resistant) zippers, 1680 ballistic nylon bottom panel, 600D brushed polyester, 420D velocity nylon, 420D high-density nylon, 250D shadow rip-stop polyester, Ultra Stretch mesh pockets, 3D air mesh, and 3-ply bonded nylon thread.
Specifications
External Dimensions:  9" W x 20" H x 9.2" D (22.9 × 50.8 × 23.4cm)
Internal Dimensions:  8.7" W x 19" H x 8.3" D (22.1 × 48.2 × 21.1cm)
Weight:  2.6-3.9 lbs (1.1-1.8 kg)
Support the site - It's easy!
Did you find this post useful and interesting?
- I've invested thousands of hours into creating the content you find for free on this blog. The best way to say thanks is to use the product links in the post when you make your purchases. I may make a small commission when you do this, and that helps to keep the site running. Click
here
to find more links that support the site, or use these primary ones:
B&H Photo|Amazon|Adorama|Think Tank (free gift on $50+ spend)|MindShift Gear (free gift on $50+ spend)
|
Coffee
Thanks for your
support
and readership!