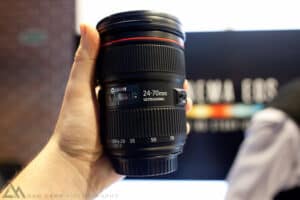 UPDATE: This has now been confirmed by Canon themselves via their website. They also confirmed the 1DX is delayed until mid-June.  Why can't they figure out timelines recently ?  The 5DIII launched on time and in impressive numbers, it seems that was a huge exception.
Disappointingly (and once again) one of Canon's most anticipated new lens releases seems to have slipped down the time line.  Initial reports had it shipping on April 17th but upon inquiring to my local camera store about CPS pricing, the local Canon rep informed the store that this lens will not ship until July!
A couple of months back I had the chance to have some hands on time with this lens and it appears to be one fine piece of glass that I'm very excited to add to my kit, despite the very high price.  If the July date turns out to be true it does seem odd that so close to the anticipated date, the lens could slip a full quarter year but Canon has had a habit of doing this recently.  I'm still waiting for my new 500mm lens some 6 months after it was supposed to be on the market.
Like what you read?
If so, then sign up for updates from my Shutter Muse newsletter and you'll get this FREE 100+ page photography eBook instantly! Find out about the ten amazing tools that help me run a professional photography business!
Support the site
If you enjoyed reading this post and found it helpful, please consider supporting the site by making your next photography purchase by clicking through one of the links below. Thank you!
The following two tabs change content below.
Dan Carr
Founder of Shutter Muse, host of the Shutter Muse Show, full time photographer and creative educator. Dan lives in Whistler, BC, Canada but his wanderlust often sends him in search of images all around the world to meet the needs of clients and readers alike.