Getty images sport's photographers are amongst the best in the world and it's a known fact that Canon and Nikon seek their opinions on various aspects of new products and often lend them new equipment for testing prior to the official launch.  I follow a number of Getty's top shooters on Twitter and an interesting conversation popped up today between a few of them.  Richard Heathcote has been lent one of Canon's new 400mm f2.8 MKII lenses to try out.  Check out his photo of it below which reveals a new style hard case and new style of lens cap for the upcoming MKII super tele lenses from Canon.  Richard even confirms on his twitter account that he used a pre-production version of the 400mm lens last year.
The interesting part of the conversation comes when fellow Getty sports photographer, Clive Mason, who is also a Canon shooter, chimes in to ask his colleague if he was using the 400mm on a MKIV or a MKV for a recent soccer game at Arsenal…… It seems that Clive Mason has recently switched back from Nikon to Canon.  I wander if there was a particular reason for the switch?  Clive is one of Getty's top sports photographers so I'd wager he has tested pre-production equipment from Canon in the past.  Could we see a Canon 1dMKV in August ?  Perhaps a full frame sports camera?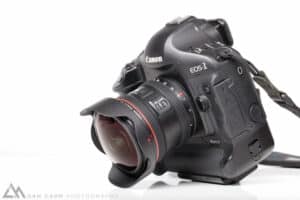 Check out my review of the new Canon 8-15 f4 L Fisheye Zoom lens !

Image linked directly from Camera+ website.
Support the site
If you enjoyed reading this post and found it helpful, please consider supporting the site by making your next photography purchase by clicking through one of the links below or one of the links on our worldwide list of supporting stores and services on this page. Thank you!
Think Tank Photo -As a friend of this site, clicking through to the Think Tank site and spending more than $50 will earn you a FREE bag when you reach the checkout. Choose from several different accessory or modular bags for FREE!
There's a full list of worldwide stores and services that you can use to support this blog HERE.