I always keep one eye on announcements at the Consumer Electronics Show that rolls around in January every year. Whilst major camera launches tend to happen later in the calendar year, CES is often the place where exciting new peripherals are revealed, such as new hard drives and LCD monitors.
This year the product that has got me most excited is the DJI CoPilot from LaCie/Seagate. The naming of this product is confusing though! Some people are referring to it as a Seagate product, and some people are referring to it as a LaCie product. LaCie is owned by Seagate, but clearly they have also partnered with drone manufacturer DJI on this product as well.

What adds to the confusion by using the DJI name in the product title is that many people might dismiss it as a product that is only for drone users. In fact it's not the case at all, and LaCie's own video shows it being used for regular photography before a drone even appears on the scene.
So what is this thing, and why am I so excited about it??
The DJI CoPilot is essentially a backup device that lets you store photos and videos on it without the need for a computer. Devices like this have been around for many years, but the DJI CoPilot has a trick up its sleeve: A wired connection to your phone! This is clearly where the DJI part of the partnership came into play, because they have a ton of experience with building hardware that communicates with mobile devices, since most of their drone remotes rely on a wired connection to a phone or tablet to view the video feed.
With your mobile device wired to the DJI CoPilot, the accompanying app can be used to browse the files on the CoPilot's 2TB drive, as well as sorting them and renaming them. In the past, backup devices of this nature have all relied on clunky wireless connections to the portable drive, which has been far too slow to be of much use. LaCie thoughtfully provides three phone connection cables with the device, so you can take your pick of USB-C, Micro USB and Lightning connection.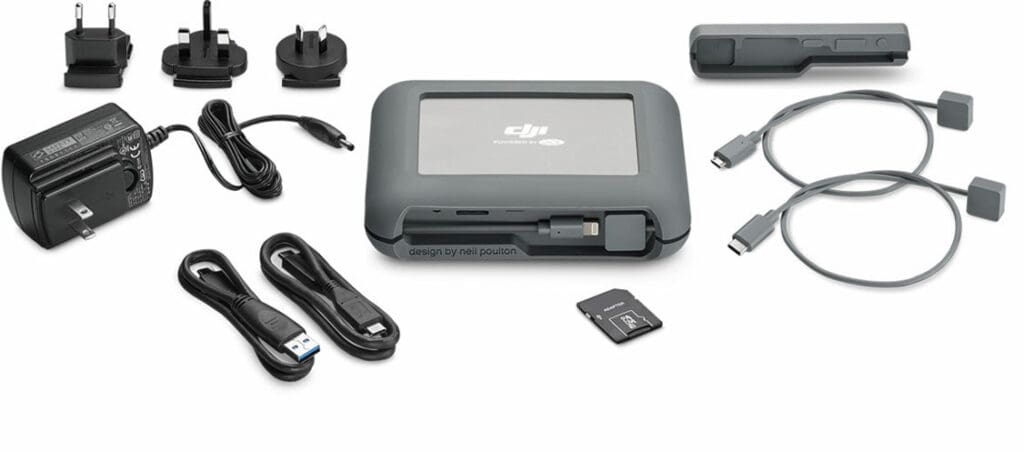 For downloading your photos and video there is a built-in SD card slot, as well as a both a USB-C and USB-A port into which you can plug a memory card reader or a camera. The front of the device has a small screen on it that can tell you the progress of your file transfers, as well as important information such as remaining drive capacity, and battery level in the CoPilot device. Not only is CoPilot battery powered, but it can also charge your mobile device in the field as well!
As far as I can tell, this device ticks all the right boxes for a portable backup solution:
Rugged, for use in the field. (Built just like the LaCie Rugged drives)
Battery powered
Built-in screen for monitoring file transfers
Easy way to browse files on the device (using your phone)
Ability to connect external memory card readers and cameras directly
Built-in card reader for more common card types
It's not always possible to have a computer with you for on-the-fly backups, but LaCie and DJI really seem to have solved this problem in a new and interesting way.
The DJI CoPilot will be available soon for $349