As I mentioned in an earlier post, one of my goals this summer was to develop a lighter backpacking kit that would more easily enable me to get into the backcountry with my camera gear. I already had good quality equipment, but as I had acquired the gear over many years, I hadn't paid too much attention to how light and easy to carry it was as a whole. I have increasingly found myself wanting to get off the grid for some of my photography, but I was always plagued by the decision of what camera and lens kit to bring, and it always came down to weight. I felt like my decisions were being entirely dictated by weight, and this could potentially impact the quality of the photography, or limit my compositional choices if I felt as though I was limited in my lens choice.
I decided that it was time to lighten the load.
The seemingly obvious choice in this day and age is to simply buy a mirrorless camera kit and stop carting around my beloved Canon 5D Mark IV and relatively large Canon lenses. Whilst this was an option, I wanted to make sure I had carefully considered all of my options. The second option, aside from buying a mirrorless kit, was to lighten up all of the main items in my backpacking and camping kit instead.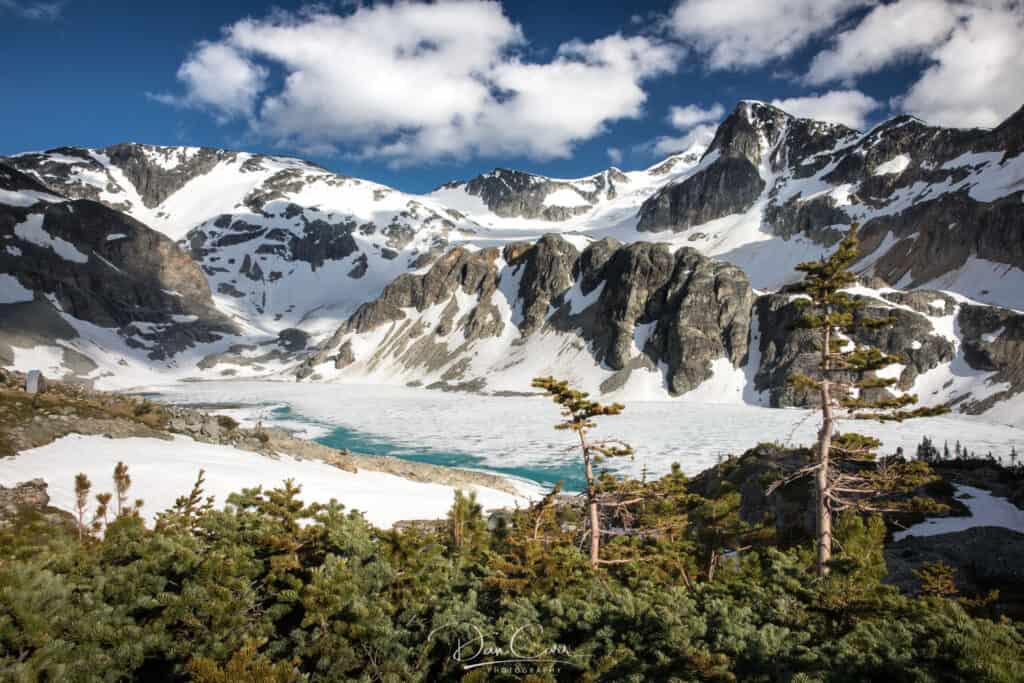 On the mirrorless side of things I considered a Fuji X-T2 kit because I still can't stand Sony cameras and their unintuitive menu system. Also, most of the full frame Sony mirrorless lenses, like the lovely G-Master ones, are on a par with Canon's lenses in terms of size and weight so the overall weight saving would have been minimized.
I used to be an engineer so I like to look at numbers. I decided to compare a common camera and lens pairing for my style of backpacking which mainly aims to capture mountain landscapes.
A Fuji X-T2 and a Fuji 10-24mm lens would weigh 2.03lb / 917g (X-T2:1.115 lb / 507 g & 10-24mm: 14.46 oz /410 g ).
The equivalent setup in my Canon kit would be a 5D Mark IV and a 16-34 f/4 L IS which would weigh 3.32lb / 1505g (5D: 31.4 oz / 890g & 16-35: 1.35 lb /615 g)
In other words, the difference in weight was going to be 588g.
Of course you can take this whole theory to the extreme and lighten both your camera kit AND your backpacking kit, but for my purposes I deemed this unnecessary, and financially difficult to justify. Looking at this relatively small number of 588g though, it quickly became clear to me that the best course of action was to lighten up my backpacking and camping kit by at least 600g, instead of investing in a totally new and much less familiar camera system. I can operate Canon's 5D cameras blindfolded, and they are a known quantity for me, as are the strengths and weaknesses of the 10+ Canon lenses I own.
Either option was going to cost me, and some back-of-the-napkin calculations suggested the cost might be somewhat similar because ultralight backpacking gear doesn't come cheap, and I would need to replace several items in my kit to shave some weight down. At this point though, once I committed to going down the route of lightening my gear and not changing my camera, I felt a huge sense of relief. My Canon cameras and lenses have never missed a beat over the years, and I whilst I know that pixel peepers can prove their are better cameras, you'd have a hard time convincing me that there's a better lens lineup than the Canon L-Series.
With the 588g number in my head, I began to look at my load for a typical overnight camping mission to see where I could potentially save some weight. If I could easily save that weight, perhaps I could take things even further and shave another 795g off, which would allow me to carry a 24-105 f/4 L IS II with the kit as well?
Whilst these numbers are somewhat arbitrary, and everyone will have their own limits, what I did find really helpful was to look at things in terms of camera gear weight. So for example when I looked at new tents and saw that I could shave off 400g from my current 3-season tent by moving to an ultralight one, to me I would envisage that as being half the weight of my 24-105 f/4 L IS II. When I started seeing weight savings as fractions of lenses and camera kits, it became immediately obvious to me where I could save weight, and also just how easy this was going to be to get to my targets!
Over the coming weeks I'm going to show you guys exactly how this all played out and we'll take a look at which pieces of gear I swapped out to meet these goals. What I can say right off the bat though, is that it was all well worth it. This first image shared in the post is Wedgemount Lake near Whistler, BC. The trail is steep and considered to be one of the toughest in the area. Last year I would have dreaded the thought of tackling such a trail with a full DSLR camera kit, overnight camp setup and tripod, but this year I breezed up it with relatively little trouble and I was glad to have my full frame Canon kit with me for overnight star photography.
More to come…