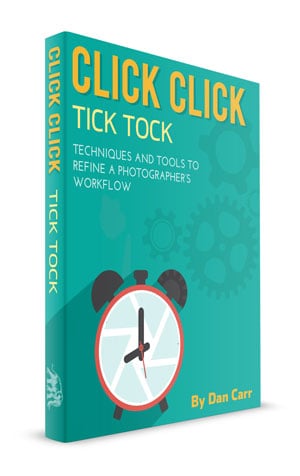 This week my latest eBook, Click Click, Tick Tock, became available exclusively as part of the 5DayDeal Complete Photography Business Bundle.  You can get $1900 worth of photo business training for just $87, but it only lasts a few days and the clock is ticking.
My contribution to the bundle is my new photography workflow eBook, and I thought what better way to introduce you guys to what it's all about, than to let you read the introduction.  I've approached the much-discussed topic of workflow from a slightly different angle, and it's all based on my own experiences and techniques that I use every day.
Read the Book's Introduction Below
Introduction
The life of a professional photographer is typically perceived as being enviably glamorous. Whether it's the assumption of continuous travel to far-off places, exciting adventures full of adrenaline-fuelled moments, or non-stop, camera-based creativity, our profession tends to be idealized by those outside of it.
Can you imagine how nice it would be if that were the case?
We'd certainly have a plethora of photos in our archives and exciting stories to tell, but somehow I doubt we'd have many clients, and as a result, much of a business! The reality is, for the vast majority of us, the actual process of taking photos encompasses a relatively small percentage of our time. More mundane, but ultimately necessary tasks like accounting, marketing, lead generation and to some extent image editing, take up the majority of our days.
A few years ago, I felt the stirrings of what would become an acute awareness of the permanent internal struggle I have between the desire, or even need to create, and the necessity of accomplishing what I might loosely and politely call "all the other stuff". Some days, I substitute a variety of other terms for the word "stuff", and they can be quite…colourful.
To try and mitigate this struggle, I began to make a conscious effort to track my "pain points", or tasks that bogged me down and kept me from getting back to what I really wanted to be doing. I felt compelled to try and find faster or less stressful ways to achieve my desired results, which sometimes meant refining the process of an existing task in my workflow, and occasionally, developing new, valuable ways to achieve something I'd always wished I had time for.
My ultimate goal? Spend more time with my camera in my hands. This should be your goal, too.
As professional photographers, our unique skill lies in the ability to create captivating images, and I truly believe this is where our value is greatest. Whilst time spent on other tasks like marketing is unavoidable, I can quite confidently state that what I could accomplish with that time – and a camera – would produce something much more unique, valuable, and personally, more satisfying for my soul.
However, as I alluded to earlier, many of these other tasks are a necessary evil if you want to create a profitable photography business. I've seen a lot of great artistic talent fall by the wayside because photographers have taken the "build it and they will come" attitude towards their work. Perhaps that was something that worked once upon a time, but these days it's a rarity at best as people pursue their talent and passion for photography thanks to easier accessibility of equipment and education. As a result, the market has become more densely saturated and finding ways to stand out in the crowd is now of supreme importance.
If you're reading this book, I gather that you already appreciate the need to run a tight ship with regards to your business. With so many demands on our attention and focus, it is imperative that we find a balance between what we want to be doing and what we have to do.
It is my hope that this book will help you make the changes needed to regain days and days per year with your camera, without requiring a significant investment of time or money. When you consider that photographers charge hundreds, and often thousands of dollars per day for their services, it only makes sense to tip the balance back towards time with your camera in hand.
Want To Read the Rest of the Book?
When this book becomes available individually later in the year, it'll be priced at $24.99 on it's own, but as long as this clock above is still ticking, you can get this, and another 22 business training products all for only $87.  That's a whopping 95% discount!
If you've ever felt like you don't have the time to take as many photos as you'd like to, this is the book for you. And if you made a New Years resolution to make more money from your photography, this bundle deal is for you. Don't miss it!